Huawei Mate 20 Pro vs iPhone XS Max vs Galaxy Note 9: Camera Comparison!
40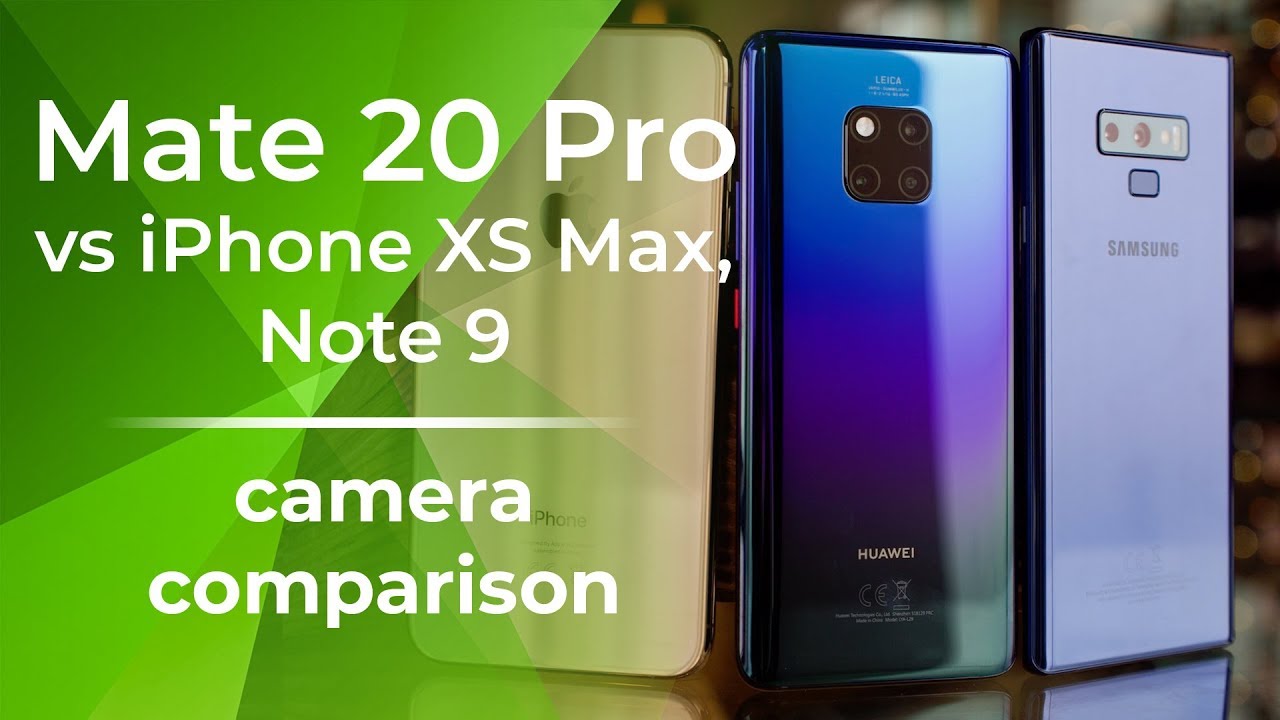 The Huawei Mate 20 Pro is the newest camera beast in town, a phone with three cameras on its back that give you unprecedented freedom to shoot. But how does the Mate 20 Pro camera compare against two of the best cameraphones around, the Apple iPhone XS Max and the Samsung Galaxy Note 9?
This calls for a proper camera comparison, so let's get started.
First, let's get the specs out of the way: on the Mate 20 Pro we have a main, 40-megapixel f/1.8 shooter, a secondary, 20-megapixel ultra-wide angle, 16mm lens, and a third, 8-megapixel telephoto camera with 3X zoom for an equivalent of 80mm focal reach. The iPhone XS Max and the Galaxy come with dual rear cameras, a 12MP main one and a 12MP telephoto one on both phones, and both cameras have optical image stabilization.
With all this handy knowledge in mind, let's take a look at the actual photos, shall we?
1. London 101, The Gherkin
One of our favorite buildings in London, The Gherkin, officially known as 30 St Mary Axe, is an egg-shaped skyscraper that peeks through the old Victorian buildings and provides that contrast between new and old, modern and traditional.
Take a look at how our three phones captured it in photos below:
2. Zoom in (2x)
The Mate 20 Pro comes with a native telephoto lens with 3x zoom, but most other phones out there ship with a 2x optical zoom, so we decided to focus on the 3x and 5x zoom capabilities of the Mate later on and first compare how images zoomed in two times compare. We first have the image and then, a 100% crop so that you can take a closer look at the resolved detail.
3. The Shard
The Shard is a tall pyramid that rises high and almost seems to pierce the London sky. The view from the inside is really something special, but here we take a picture of it from the other side of the Thames river.
4. Cozy Café by the Thames
These cozy cabins by the river seemed like the perfect place to enjoy a meal with friends and an amazing view. Me? I was taking pictures.
5. Tower Bridge
Tower Bridge is probably the most iconic bridge in London and these three phones captured it in a slightly different way.
6. The London Wall
Finally, I love this shot of the London Wall with the new skyrises in the background and the green grass below. It's truly a good depiction of the eclectics that you see around here.
7. Seflie time
Of course, I had to take a couple of selfies at those places. Notice the difference in color and how some phones are doing a better job than others at keeping the background details that are so important here.
8. One more selfie
And one more selfie. Here, the Mate obviously couldn't focus perfectly, but I took three different shots hoping and none of them was in perfect focus, so it is what it is. Notice the differences and see which one you like better.
Final Words
Finally, it's clear that the Mate 20 Pro delivers with a great camera.
We still need to use it a lot more to get a better idea of how it performs, but this first test showed promise. Did it match the iPhone XS Max with its incredible new Smart HDR function? We still like the colors from the iPhone a bit better, but often times we would take an image from the Mate 20 Pro over one from the Galaxy Note 9.
What about you? Which of these phone cameras you liked best? Let us know in the comments right below!
Recommended Stories