Another Galaxy Note 7 catches fire, you should stop using yours right now and return it
92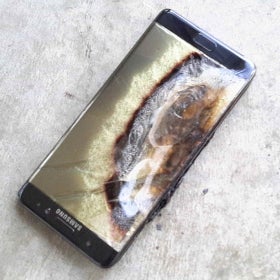 Although Samsung has officially
recalled all Galaxy Note 7 units
released until now (about 2.5 million of them, according to estimates), some users aren't convinced that they should return theirs. But we really need to emphasize this: if you have a Note 7, you should stop using it right away, and contact Samsung or your carrier to see how it can be replaced.
While it's true that only a small number of Note 7 units are defective, if yours
packs a Samsung SDI-made battery
- like most of the units launched until now - it could catch fire at some point. Yesterday, and Australian user learned this the hard way, as his Note 7 exploded in a hotel room while he was sleeping. The device was plugged in and charging via an original charger and cable.
The burning Galaxy Note 7 did some damage to the hotel room, and the user was charged about $1380 for that. Fortunately, the user got away with just a burned finger, while the hotel bill will be paid by Samsung. The user says that hew knew about the Note 7 recall, and yet still chose to rely on the phone.
The bottom line:
if you bought a Galaxy Note 7 prior to Samsung's official recall (September 2), return it
. It's not worth the risk keeping it, even if the device is working perfectly.
Samsung will send you a new Note 7
with a safe battery, or you can get another phone from your carrier (with eventual price differences being reimbursed).
P.S.: You don't need to worry if you purchased your Galaxy Note 7 in China, Hong Kong, or Macau, as these markets are getting the phone's version with safe batteries - just like the ones that will be re-released from now on around the world.
source:
Reddit
via
Ausdroid