Samsung's foldable Galaxy X tipped to be like a bendy Note 8 with an extra screen
14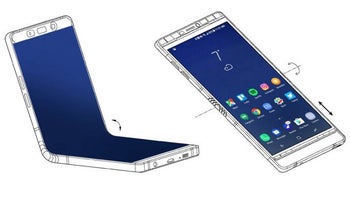 We've been hearing it for years, but it may finally be happening - the
bendable phone
, that is. While
Huawei could beg to be first to market
with one, Samsung may outshine it next year, as the design of its purported
foldable Galaxy X
, or
Wing
, or whatever it names it, is reportedly going to be finished in June, tips Korean media.

Samsung allegedly brought both infolding and outfolding prototypes at a secret meeting around the CES expo earlier this year, and its presentation attracted larger than the usual crowd of investors and carrier reps. The agile Galaxy it outs will likely be of the infolding type, keeping the outfolders for a next generation of bendable handsets, due to their higher curvature when folded, hence the need for increased durability.

If you are wondering what "infolding" means, look no further than Samsung's latest patent on the matter above. As for the actual screen size when unfurled, we've been hearing tablet size, but today's report fleshes out the display specs a bit more. It turns out that what Samsung has showed to the VIP public earlier this year, is a device with the equivalent of two 3.5" halves, and one extra 3.5" screen on the outside to serve as an information ticker when the device is tucked in.
The total footprint of the Galaxy X prototype it showed, is said to be no larger than the
Note 8
when unfolded, meaning that Samsung could have given up on the
phone-to-tablet
idea for the sake of minimizing the handset's footprint. It's still not clear which design will make it to the final production samples this summer, but some part makers have already begun taking orders.
Samsung is reportedly going to make trial batches, and prep for 0.5-2 million units overall, but the Galaxy X is going to land next year at the earliest, claims the source. As to why such caution with the release, one industry insider says that "
As the replacement cycle of smartphones has become longer, Samsung Electronics has been unable to delay the introduction of innovative designs like foldable.
" Mass production of said displays and phones, however, is too big of an undertaking still, even for a company like Samsung, hence the modest shipment goals. We can think of yet another reason to be humble with the sales goals on an eventual Galaxy S - the pricing - but mum's the word on that front just yet.
Recommended Stories