After unveiling the 2018 flagships, Samsung's mobile CEO talks about the foldable "Galaxy X"
21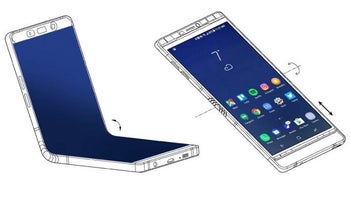 You can't accuse Samsung of sitting on its laurels. The company just introduced its latest and greatest smartphones, and mobile CEO DJ Koh was already talking about the foldable phone that has been dubbed the Samsung Galaxy X. There has been talk that
the phone would go into mass production this November
with a 2019 release on tap. Last month, at CES, an almost finished version of the Galaxy X was shown to certain key industry players.
Samsung will most likely offer first a version that folds inwards. A model with a screen that folds outwards will be offered in the future. The latter will require a screen with more flexibility than needed for an inward folding unit. The Samsung Galaxy X unit that made the trip to Vegas carried a 7.3-inch display.
According to a report published this afternoon, Mr. Koh is concerned that the public will consider the foldable phone to be a gimmick. The executive said, "I need complete confidence that we're delivering the best user experience when we're launching a new category." While Koh wouldn't offer any other information about the long-awaited phone right now, he promised that when the time comes to introduce the Galaxy X (or whatever it will be called), he won't hold back anything.
Samsung isn't the only major tech firm working on a folding device. Through a series of patents, it seems apparent that
Microsoft is prepping a folding tablet/phone
that has been given the code name of Andromeda. With radio silence coming from Redmond, it is unknown how far along Microsoft is in developing this model.
source:
CNET