Samsung brought 'almost finished' foldable Galaxy X to CES, 7.3" display in tow
48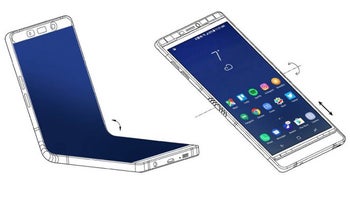 Where there is smoke, there is probably fire, and we've been hearing about Samsung's foldable phone in the last two days more than in the last two months. Turns out that Samsung has actually brought the phone, and showcased it to interested partners at the CES 2018 expo. Granted, Samsung has done this at the previous CES, too, but now the phone looked "almost finished," tipped insiders, at least from a hardware standpoint, and ready for
mass production in November
.
Samsung brought both infolding and outfolding prototypes, but will likely retail the infolding type, keeping the outfolding type for a next generation of bendable handsets due to its higher curvature when folded, hence the need for increased durability. If you are wondering what "infolding" means, look no further than Samsung's latest patent on the matter in the slides below. As for the actual screen size when unfurled, the sources confirmed that
it will be a 7.3" monster
, allowing you to watch videos in relative comfort then simply snap it shut, and tuck in your pocket without a second thought.
"
Samsung attracted more clients to the private meeting compared to last year. The phone development seems to be almost finished, raising expectations for the phone launch
," said a person with knowledge of the CES meeting that took place on January 10, and we can't wait to hear more information about specs and the eventual pricing of this thing. We have a hunch it won't come cheap.