Everything Apple announced at its Education event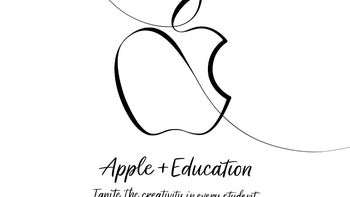 Apple held a special Education-centric event today to talk about the role of the iPad in a classroom and to show to the world a few very cool new software tools for learning.
We are summarizing all of the announcements in this one post here, starting with the star of the show, the new 9.7-inch iPad with support of the
Apple Pencil
.
From there we go through all the new apps: from the new Schoolwork solution for teachers to cool augmented reality apps for kids, and a really awesome 200GB free iCloud storage allotment for students.
Here is everything new that Apple unveiled at its March 2018 Education event...
New Hardware: 9.7-inch iPad with support for Apple Pencil
The star of the Apple Education event was clearly the new 9.7-inch iPad. It looks and feels almost exactly like 9.7" iPad that Apple has been selling in the past year or so, but it now supports the $99 Apple Pencil for drawing, writing and annotating things, and it also has the newer and more powerful Apple A10 system chip. The rest is pretty much the same: the tablet weighs about a pound, has a 10-day battery life and a Wi-Fi as well as a Wi-Fi + cellular connectivity options. One thing that is missing is the magnetic keyboard connector, so you can only use this one with Bluetooth keyboards.
The price remains the same as before: $329 for the 32GB Wi-Fi model and $130 on top of that for cellular connectivity, plus there is a 128GB version, and all of that is available in the three familiar colors, silver, gold and space gray.
New Apps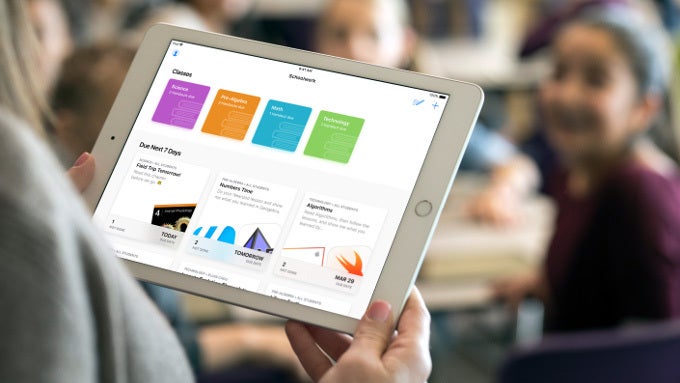 This is a new tool that Apple announced for teachers that will allow them to assign digital handouts to students and they could include written notes, PDFs, and web links. Teachers will also be able to monitor students' progress on their assignments and assignments can be linked to other iPad apps via a new ClassKit developer tool. The big promise of Schoolwork, however, is one of privacy: only the teacher will be able to see the data of students and it should all be secure. Schoolwork will launch in June, so expect to see it in classrooms no earlier than the next school year.
AR apps for the classroom
Apple actually said that iOS is the largest augmented reality platform in the world, and it showed quite a few impressive AR apps including an app that allows you to show a painting as close as the brush strokes, a proximity that you are never allowed to see in a museum, and an app that allowed dissecting a virtual frog using the Apple Pencil (medical students know all about this). Apple says that for too long students have been denied the opportunity to see how actually look on a table and AR brings that possibility.
"There's no doubt that AR is going to dramatically change the way this generation learns,"
Apple said.
Update for iWork suite of apps to support Apple Pencil
Pages, Numbers, and Keynote now support the Apple Pencil, with probably the biggest change coming to Pages (Apple's word documents processing app, an alternative to Microsoft Word), where you can now annotate, write by hand and import drawings to. Annotations are particularly powerful as they are smartly linked to the actual word you are annotating, and are not just a non-smart layer on top of the text as in other similar apps. You can also use Pages now as a tool to create books and there is support for multi-user, group editin. This used to be something that you could do on a Mac with the iBooks Creator app, and now a lot of that functionality comes to the iPad.
Update to GarageBand and Clips
Two rather minor updates include GarageBand that now has a sound pack for kids, with animal sounds that you can use for learning or for music creation. Then, the Clips app also has new filters and posters for kids.
Miscellaneous other new things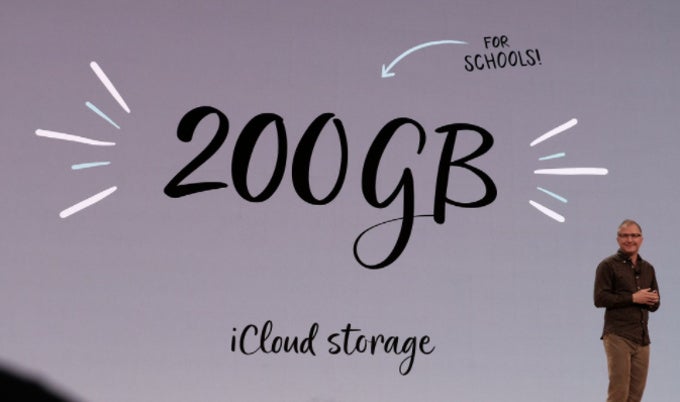 200GB of free iCloud storage for students
Who wants more than 5GB of iCloud storage? Or rather who doesn't... we know, we would not mind. Well, Apple now gives students 200GB of free iCloud storage that can be claimed via a school and that's a great value offer. Usually, Apple charges $3 a month for 200 gigs of cloud storage, so this means $36 of savings for students on an annual basis. Not bad.
This is a feature that allows a school to have one iPad that multiple kids can use. Now, this would come in handy for a regular family as well, but unfortunately Apple has not added such a feature for individual customers.
A third-party Apple Pencil is a completely new concept, but now we have it with the Logitech Crayon. This is an Apple Pencil alternative at half the price also: it costs just $50, while the regular price for the Pencil is $100.