Did you miss Tim Cook's ABC News interview? Watch the whole thing right here
10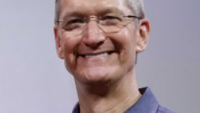 As we told you yesterday,
Apple CEO Tim Cook spoke with ABC News
for 30 minutes yesterday. The discussion centered on the court order issued by the government, requesting that Apple unlock the
Apple iPhone 5c
belonging to terrorist Syed Farook. Farook and his wife gunned down 14 people in a San Bernandino office building on December 2nd, and then were both gunned down by police in a subsequent shootout.
Cook told reporter David Muir that creating a unique version of iOS to unlock the specific phone at the center of this legal controversy is the "software equivalent of cancer." The executive added that devising an operating system that would unlock the phone is dangerous because once in the wrong hands, everyone with an iPhone could lose their privacy.
Apple's decision not to obey the court order, and the response from celebrities and politicians, has turned into fodder for the media. It also has become a political football
with presidential hopefuls like Donald Trump blasting Apple
for not unlocking Farook's phone. Yet, as we've pointed out, the government itself put Apple into this position by changing the Apple ID passcode of the device. Had the government not done that, Apple would have been able to turn over the information requested by the feds simply by backing up data into iCloud over a Wi-Fi network.
Regardless of what side you're on (and you don't have to be an Apple fanboy to think that the government has no business reaching into your phone), you can check out Apple CEO Tim Cook's comments about what has become the story found on newspaper front pages around the world. All you need to do is click on the video below.
source:
ABCNews