Obama: We need to stop fetishizing our phones
99+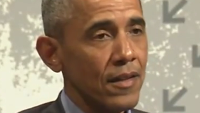 When President Barack Obama first took office in January 2009, the smartphone revolution was just getting underway. Obama, like many CEOs his age, had already been bitten by the BlackBerry bug by the time he took the oath of office and was sworn in as president. Early in his first term,
we had already addressed his BlackBerry addiction
.
Yesterday, Obama visited SXSW; during a talk he tried to convey a sense of balance in the dispute between Apple and the DOJ. The government wants Apple to build a special version of iOS to unlock an iPhone that was used by deceased terrorist Syed Farook. Apple has refused to comply with a court order because of fears that such code would end up in the wrong hands. That would make every iPhone user on earth vulnerable to having the private information kept inside their phone, stolen by hackers. Just the other day,
the DOJ threatened to force Apple to turn over the source code to iOS
along with the electronic signature needed to access it.
But instead of siding 100% with Apple, or 100% with the Justice Department, Obama talked about finding a delicate balance between both sides, adding that he is "of the view that there are very real reasons why we want to make sure the government cannot just willy-nilly get into everybody's iPhones or smartphones…" On the other hand, the president asks "How do we solve or disrupt a terrorist plot? What mechanisms do we have available to even do simple things like tax enforcement if, in fact, you can't crack that at all. If the government can't get in, everyone is walking around with a Swiss bank account in their pocket."
"My conclusion so far is that you cannot take an absolutist view on this. So if your argument is 'strong encryption no matter what, and we can and should in fact create black boxes,' that I think does not strike the kind of balance we have lived with for 200, 300 years. And it's fetishizing our phones above every other value, and that can't be the right answer."-President Barack Obama
At the same time, Obama says that we need to stop "fetishizing our phones above every other value." You can watch his speech by clicking on the video below.
source:
WhiteHouse
via
BGR
Recommended Stories