Trump, other GOP presidential hopefuls, take shots at Apple for refusing to obey a court order
75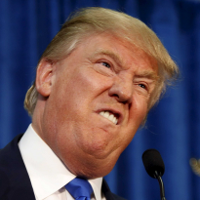 Republican presidential candidates Donald Trump and U.S. Senator Marco Rubio decided to turn their attention to Apple today, both attacking the tech titan for failing to unlock the
Apple iPhone 5c
belonging to terrorist Syed Farook. Trump and Rubio both made it clear that they believe national security is more important than worries about invasion of privacy.
Apple has received a court order from a federal judge,
demanding that it unlock Farook's phone
; law enforcement officials believe that the data inside the handset could be a treasure trove of information about Farook and his wife. The feds are thinking that this information could yield the names of terrorists and groups that worked with the couple behind the scenes, and list potential targets that they were looking at.
Apple said today that it will appeal the court order and
CEO Tim Cook said that there is no software that will do what the court is demanding of them
. The executive says that if such software was built and got into the wrong hands, everyone with an iPhone would be in danger of having their personal information stolen.
Trump, the billionaire real estate developer who is the GOP front-runner, said that it is ridiculous that the government is wasting time when it has information about a possible attack. "The reality is time is of the essence when you're talking about the possibility of a terrorist attack," Trump said. We need to point out here that there is no proof that any such information rests inside the iPhone 5c that is the subject of this court order.
"It's ridiculous that the government has to be put in a position where if they have information about a possible attack, we waste a second because that could be the second that kills somebody."-Donald Trump
Rubio was less hostile than Trump. The senator said that "Ultimately, I think being a good corporate citizen is important." He added that the standoff with Apple shows why talks between the government and the tech industry are necessary.
source:
NYPost