Cydia 1.1 is now available, featuring a number of improvements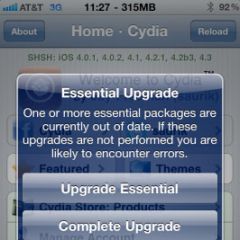 If you jailbroken iPhone users haven't opened up
Cydia
in the last week, you'll be glad to know
there is an update available to Cydia 1.1
. Saurik's newest version of the App Store-alternative brings a number of welcome improvements to the indie app experience.
Cydia 1.1's greatest improvement is the ability to
resume downloads
, rather than having to restart them if the process was interrupted. It also features
faster overall performance, a smaller memory footprint, and improved searches
thanks to improved search algorithms.
After the initial 1.1 build was released, @Saurik warned users that there was a "Hash Sum Mismatch" error appearing, but the repositories should now be featuring the fixed version.
In the first 3 hours of availability, 130,000 users downloaded the update, so many repositories (i.e. BigBoss) struggled to keep pace. But now that the initial rush has dissipated, you shouldn't have any problems. The App Market alternative is only getting better. Sorry, Mr. Jobs.
source:
Twitter (Saurik)
via
Engadget