Burned remains of a Huawei device spotted in the wild
23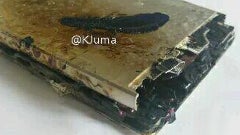 Let's get one thing straight --
smartphones
have
been
exploding
for
years
. Sure, such incidents are typically rare, and
mostly involve fake
or otherwise low-quality batteries, cables and or handsets. Samsung
has brought the issue to the fore
with its
Note 7
, a device that was poised to become the firm's bestselling high-end phablet but instead finds itself in a one-horse race to the Tech Fail of the Year award. Amid the Note 7's exploding battery shitstorm, we've also heard of other devices suspiciously going up in smoke,
including a OnePlus One
and
several other handsets
from
Samsung's collection
. Now, Huawei has apparently joined the party.
Not that it is much of a party
. With
several major releases said to be in the pipeline
, a not-so-timely explosion has occurred of a Huawei handset in the firm's native China. It's suspected that the device in question is
the P8
-- the predecessor to this year's Leica camera-packing
P9 flagship
. The pictures of the crispy, charred handset that have emerged on Weibo don't include any additional information, so at this point, there's no reason for Huawei or its device owners to panic.
If Huawei had a legitimate problem with the P8, we'd surely have heard more by now. The device launched all the way back on April of last year, and with the
numerous cases of fake explosions
that Samsung has had to deal in recent times, this could well be another instance of folks looking to take advantage.
We'll keep an eye out for any further developments with this story. In the meantime, if you do own a Huawei device, there's no need to worry for the time being.