Knock-off Apple iPhone charger explodes, leaving the victim in the hospital for more than a week
38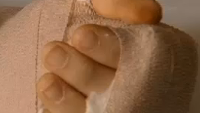 Starting last July, when
a shock from an Apple iPhone 5 was blamed for the death of a 23 year old stewardess in China
, a number of scary events involving shocks and exploding iDevices took place. One even involved a man
who claimed that a shock from his daughter's iPad sent him flying across the room
. Apple immediately declared war on third party chargers, even offering to
sell discounted Apple chargers to those who brought in counterfeit plugs
.
But sometimes, the lure of saving a buck is just too much. Minnesota resident Tim Tyrrell was looking for a second charger for his Apple iPhone. Instead of paying $25 to $30 for a charger from Apple, he paid $10 from eBay for a package of two wall chargers and a car charger. Tyrrell was probably kicking himself for not spending the money for an official Apple charger when his knock-off plug exploded, leaving him with a serious electrical burn that destroyed the plug, and left him with a wound the size of a quarter on his hand.
Making matter worse, the wound became infected, and combined with Tyrrell's diabetes, he ended up in the hospital for more than a week. He also has had to suffer through four operations on his hand. All of this could have been easily avoided, especially since Tyrrell still owns the original recharger that came with his phone.
The lesson to be learned is one that Apple has been pushing since the second of half of last year. While you might save money buying knock-off accessories, you could eventually pay for this decision...with your life.
Thanks for the tip, Izzy!
source:
MyFoxTwinCities