Another Samsung Galaxy S7 edge catches on fire, this time in the Philippines
99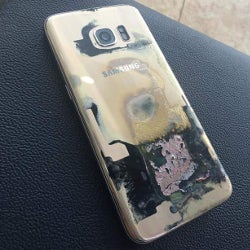 While the defective battery issue that turned the heralded
Samsung Galaxy Note 7
into a torch appears to be a thing of the past, the manufacturer might have a new fire to put out. A gent in the Philippines named Weng Briones turned to social media to post pictures of a burnt out phone that was once his
Samsung Galaxy S7 edge
.
While he didn't give any details on the incident, Briones says that he returned his now crispy handset back to the Samsung Mobile Store inside the Supermall in Taytay. Apparently, the staff there was able to refund him the price of the phone. In his post, Weng praised the staff at the store "for their immediate action regarding my issue."
Earlier this month, we told you that
Samsung has been sued in New Jersey
by a man who ended up with second and third degree burns when his
Galaxy S7 edge
exploded in his shirt pocket. The victim, Daniel Ramirez, had to undergo painful skin grafts on one of his legs. As a result of the incident, Ramirez's suit claims that he has suffered "permanent and life-altering injuries." Before that suit was filed, a consumer reported that his
Galaxy S7 edge caught on fire while charging overnight
.
"We went to Samsung store at SM City Taytay and they have refunded my money in full. Kudos to all the staff of Samsung SM Taytay for their immediate action regarding my issue. In spite of the unfortunate incident, I am however, impressed by their aftersales-support. Much respect to Samsung. Keep safe everyone."-Weng Briones
As we told you earlier today,
smartphone buyers have apparently lost confidence in Samsung
after the Galaxy Note 7 incident. The sad thing about this story is that at the time the Galaxy Note 7 was launched, it appeared that the phablet was going to be an exclamation mark on a kick-ass year for the manufacturer. With talk that the Galaxy Note 7 fiasco will cost it up to $1.5 billion, Samsung is also facing the possibility that future handsets will be shunned by consumers. Judging by his comments however, Briones might not be so quick to leave Samsung's camp.
A Samsung Galaxy S7 edge catches on fire in the Philippines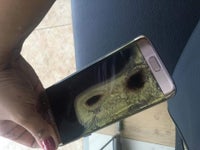 source:
WengBriones