XiaoMi phone catches on fire and explodes, injuring owner
27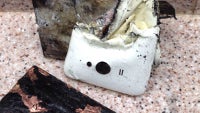 We could tell you that Chinese manufacturer XiaoMi is on fire. The company recently
sold out 100,000 Mi-3 handsets in the space of 86 seconds
. But when we say that XiaoMi is on fire, we mean it literally. Someone in China took the time to pass along the story about a colleague whose
XiaoMi Mi2S
(aka XiaoMi Phone 2S) caught on fire inside her purse. The owner suffered a burned finger while the handset melted into unrecognizable parts and exploded.
Whenever a handset catches on fire and explodes, the first part that usually gets the blame is the battery. Was it an original stock cell, or did the phone's owner replace the latter with a Blammo brand third party cell? In this case, the phone's owner swears that the battery was an original XiaoMi model and claims to have proof of purchase. The owner has been in contact with the manufacturer and an investigation is underway in China, where the incident happened.
,
Looking at the pictures below, you can see that this was one pretty nasty fire. Usually we get to find out the exact cause of the incident a few months later after the investigation is completed. In many cases, we find out later that it was the owner of the device who had either put the phone in a microwave because it fell in a toilet, or the owner decided to use unauthorized replacement parts.
Thanks, Anonymous Tipster!
source:
GSMInsider