LG G3 explodes in bed while charging; no third-party equipment employed
86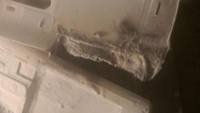 According to a Reddit poster, an
LG G3
belonging to her little sister exploded in bed while it was recharging. Normally when we hear a story like this, we immediately blame a third-party charger or battery. In this case, everything about the phone was supposedly stock. In other words, the device was using the original battery and charger that LG supplied with the handset. The phone was not placed under the sheets or the blanket, and was just lying on top of the bed while plugged into the charger.
The fire caused the destruction of the mattress, which was tossed out the window when the LG G3 continued to burn is way through the material. The phone was used just a minute before the fire started, and the user did not notice anything unusual about the device, which was not even warm.
A series of pictures can be viewed by clicking on the slideshow below. There is a photo that was taken while the phone was burning through the mattress, and other images show what the battery looked like after the fire. Basically, it resembled a large lump of coal. The casing of the LG G3 is burnt and obviously was melted.
Assuming that the story is legit and no third-party equipment was employed, this does seem to be a fluke occurrence. On the other hand, quite often we find out later about the true cause of a fire. You might remember back in 2012
when a Samsung Galaxy S III allegedly caught on fire
for apparently no reason. Eventually, we learned that the phone owner's friend
dropped it in the toilet and had put it in the microwave to dry off
. A year later, another
Samsung Galaxy S III
exploded in 18 year-old Fanny Schlatter's pocket, causing severe burns. A
third-party battery was deemed to be the cause of that incident
.
source:
Reddit
via
RedmondPie