BlackBerry Curve 8530 is now available with Boost Mobile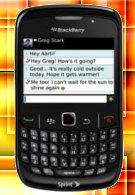 Even though all of the domestic carriers are getting in with the latest BlackBerry Curve iteration, popular prepaid wireless carrier Boost Mobile is now offering the last-gen BlackBerry Curve 8530.
Needless to say that it's nice to see this one make it with them as it only supplements their existing lineup of smartphones. Perfect for the business minded individuals out there, it features 3G data speeds, 2GB microSD card, 802.11 b/g Wi-Fi, GPS support, and that all too obvious Curve physical keyboard. Customers can purchase one either online or through the host on independent indirect retailers for the price of $299.99. If you decide to purchase this online, you'll be happy to know that they're including free shipping with the purchase – so it's not going to bite you in the wallet by purchasing it online. However, it's worth knowing that it'll start to go on sale on October 14th – so mark your calendars if you're intent on getting it.
RIM BlackBerry Curve 8530 Specifications
|
Review
via
BlackBerry Sites