Apple's pinch-to-zoom patent invalidated by USPTO
66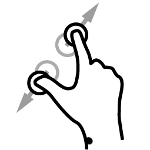 It might just be patent
7,844,915
, but most smartphone users know it as "
pinch-to-zoom
." When Apple launched the
Apple iPhone
in 2007, the gesture became instantly associated with the device. Other manufacturers were a little frightened to use "
pinch-to-zoom
," so much so that when the
Motorola DROID
launched in November 2009,
it did not offer the gesture on the browser
. Meanwhile, the overseas version of the phone, the
Motorola MILESTONE,
did allow for "
pinch-to-zoom
" throughout the handset including the browser. The functionality was finally brought to the DROID browser with a software update. As early as February 2009, speculation was that
Apple had asked Google to keep multitouch off of Android models
.
fairy tales today
. What has changed? The fierceness of the rivalry between Apple and Android manufacturers is now so intense that a cross-eyed look ends up in a lawsuit. Let's keep it real. What kept multitouch and "
pinch-to-zoom
" off Android phones at first, was the fear of a lawsuit. And while
some Android manufacturers settled with Apple, like HTC
, the patent was one of many that Apple accused Samsung of infringing on in the patent trial that ended in August with a $1.05 billion verdict in Apple's favor.
Some good news for Samsung came down from the USPTO on Wednesday when the agency invalidated Apple's "
pinch-to-zoom
" patent after re-examination found previous patents on record. This is the
second major Apple patent ruled invalid
(first was the rubber banding or bounce scroll) and Samsung says it supports its request for a new trial. Judge Lucy Koh, who presided over the patent trial, recently refused Apple's request for a
ban on certain Samsung devices
, saying that the specific product is no longer for sale, or no longer infringes on an Apple patent due to a software update. She also refused to go along with a
request by Samsung for a new trial
based on what Sammy claims were improper and inappropriate actions by jury foreman Velvin Hogan. Samsung believes that Hogan failed to tell the court certain things that might have led Samsung's legal team to
challenge him more forcefully
during jury selection.
But that is all water under the bridge with this new ruling by the USPTO. The ruling could put some teeth in Samsung's request for a new, lower damages amount and might even help the Korean based tech titan earn a new trial.
source:
WSJ