No Multi-touch on DROID browser because Andy Rubin hates two-handed operations?
18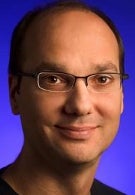 It's the million dollar question in the Android community. Why can the Motorola Milestone, the overseas version of the DROID, support pinch to zoom in the browser while the DROID does not. And now it looks like the same thing is happening between the domestic version of the HTC Nexus One and the overseas model. Some blame some type of legality between Apple and Google that prevents the U.S. version of the Android OS from enabling pinch to zoom. Before we delve into this some more, we need to clear up a misconception. The DROID does support multi-touch, just not in the places where it would be most useful like in the browser, Google Maps and the image gallery. The Milestone supports multi-touch in all of those places. Why?
If you believe Andy Rubin, it is because he does not like two handed operations on a phone. Engadget was able to interview the Google exec and they had the following exchange- Engadget: ""You call this a superphone — 3.7-inch capacitive display, but nokeyboard and no multitouch. Yet it has multitouch outside the US. Whynot America?" Rubin: ""It's not an America versus outside America kind of thing. It's adecision that is a result of the OEM model. I personally don't liketwo-handed operations… there is no conspiracy." Would you believe that the only thing holding back the DROID from having multi-touch in the browser and in Google Maps is Mr. Rubins' hatred of two handed operations even though the rest of the world wants it? Or is it easier to believe that Apple asked Google not to use multi-touch as per a story that
circulated
last February? Despite that story, HTC managed to put pinch to zoom on some of its newer models. Besides, even if Rubin doesn't like two handed operations, multi-touch can be used with two fingers on one hand. Obviously there is more here than meets the eye and until we are given the real reason why multi-touch can't be enabled on U.S. models and is a feature of overseas units, strange stories and theories will continue to spread.
source:
Phandroid