Apple will sell its one billionth iPhone this year
54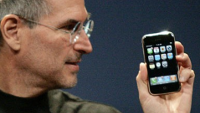 When Steve Jobs held up the
Apple iPhone
in his hands on January 9th, 2007
, could he have imagined that nine years later the product he was showing off to the press would be closing in its one billionth unit sold? That is the position that Apple finds itself in. At the end of 2015, 896 million iPhones had been sold. If Apple sells 50 million units in the first calendar quarter, and another 44 million in the current quarter as analysts expect, the company will enter the summer just 10 million iPhones short of the magic number.
Unless the 4-inch
Apple iPhone SE
suddenly reverses course and takes off
, Apple will sell its one billionth iPhone in July, around three months before the
Apple iPhone 7
and
Apple iPhone 7 Plus
make an appearance. To be more precise, Wall Street analysts are betting that the one billionth iPhone gets rung up on July 20th. It should be pointed out that Apple sold its one billionth iOS device in November 2014. That includes the iPhone, iPad and iPod touch.
The OG Apple iPhone sold 270,000 units in its first two days and sales hit the 1 million mark by September 2007. The
Apple iPhone 3G
sold
one million units during its opening weekend
, a number that shocked industry analysts. Compare that with
the 13 million Apple iPhone 6s and Apple iPhone 6s Plus models
that were sold during last September's opening weekend. With growth like that, you can understand why half of all iPhones sold were purchased just in the last two years.
source:
CNNMoney
via
BGR