More than 13 million iPhone 6s, 6s Plus units sold in the opening weekend, a new record for Apple
99+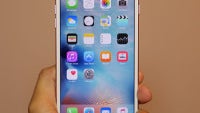 Records are made to be broken and for Apple, records are usually tied with iPhone sales. Given that its new batch of devices officially launched three days ago, on Septmeber 25, in a handful of countries, we were keeping an ear close to the ground, waiting for some news about the early adoption of the iPhone 6s and 6s Plus.
Well, official data is just in: Apple sold more than 13 million iPhone 6s and 6s Plus units during the first three days of availability. That's a record-breaking result, trumping the company's last year 10 million sales during the first two days of availability. However, Apple did not break down sales between the two phones; it also did not reveal sales numbers under the newly-introduced
iPhone Upgrade Program
.
"Sales for iPhone 6s and iPhone 6s Plus have been phenomenal, blowing past any previous first weekend sales results in Apple's history,"
claimed Apple CEO Tim Cook.
"Customers' feedback is incredible and they are loving 3D Touch and Live Photos, and we can't wait to bring iPhone 6s and iPhone 6s Plus to customers in even more countries on October 9."
This phenomenal, record-breaking result would have probably been even more impressive if the two new stars in Apple's portfolio were available in more countries, but at the moment, it's only available in the major markets. Interestingly enough, it was launched in the USA and China on the same day - as a refresher, last year's iPhone 6 and 6 Plus arrived in the Far East a couple of weeks after their US' debut.
Still, Apple just revealed that the devices will be hitting a wealth of new markets on October 9. The newcomers will be Andorra, Austria, Belgium, Bosnia, Bulgaria, Croatia, Czech Republic, Denmark, Estonia, Finland, Greece, Greenland, Hungary, Iceland, Ireland, Isle of Man, Italy, Latvia, Liechtenstein, Lithuania, Luxembourg, Maldives, Mexico, Monaco, Netherlands, Norway, Poland, Portugal, Romania, Russia, Slovakia, Slovenia, Spain, Sweden, Switzerland and Taiwan. On October 10, countries include Bahrain, Jordan, Kuwait, Qatar, Saudi Arabia and United Arab Emirates. iPhone 6s and iPhone 6s Plus will be available in India, Malaysia, and Turkey. By the end of 2015, the two devices will be available in more than 130 countries, Cupertino also revealed.
Make sure to check out our handy and thorough guide on
how to get yourself a new iPhone 6s or 6s Plus
. Our reviews are coming really, really soon, so stay tuned!