Apple iPhone Xr vs iPhone Xs: all major differences to expect
41
It's almost been a year after the most unique iPhone in years was announced, and one can't help but wonder
what comes after X
? Thankfully, there is already a treasure trove of details from diverse and credible sources who have proven themselves in the rumor race about Apple's future plans.
Surprisingly, it's not the iPhone Xs or the
eventual Xs Plus
(or whatever Apple names the X successors) that are the most heavily rumored, but rather a
lowly iPhone Xr
that will apparently be responsible for
50% of Apple's 2018 crop shipments
.
It will reportedly take the place of the
iPhone 8
in the roster, at least regarding Apple's lowest 2018 price tier, so let's list the expected differences with the higher-end
iPhone Xs
that will allow it to both fit a
TrueDepth
camera in its notch, and still go for $700-$800, according to analysts and "supply chain sources" that have chimed in on the matter.


TL;DR
| | Apple iPhone Xc | Apple iPhone Xs | Apple iPhone Xs Plus |
| --- | --- | --- | --- |
| Displays | 6.1" LCD (828x1792) | 5.8" OLED (1125x2436) | 6.46" OLED (1242x2688) |
| Dimensions | 5.94 x 3.01 x 0.33 inches (150.9 x 76.5 x 8.3 mm) | 5.65 x 2.79 x 0.30 inches (143.6 x 70.9 x 7.7 mm) | About the size of the 8 Plus, or 6.24 x 3.07 x 0.30 inches (158.4 x 78.1 x 7.5 mm) |
| Colors | 5 (black, white, golden, red, blue) | 3 (black, white, golden) | 3 (black, white, golden) |
| Chipsets and modems | 7nm A12, dual-SIM version | 7nm A12 | 7nm A12, dual-SIM version |
| Memory | 3GB RAM, 64/256GB storage | 4GB RAM, 64/256/512GB storage | 4GB RAM, 64/256GB/512GB storage |
| Cameras | Single 12MP OIS | Dual 12MP OIS | Dual 12MP OIS |
| Battery | 2700mAh | 2800mAh | 3400mAh |
| Price | $749-$849 | $899-$999 | $999-$1199 |
| Release date | 10/19-11/2 | 9/21 | 9/21 |
Name, size, displays, SIM trays
This one required a ton od deductive reasoning, but the three new handsets Apple will announce on September 12 will go by different names than the company's conventional titling scheme.
A leaked slide from China Mobile depicts an iPhone Xr, Xs and Xs Plus are about to be unveiled, going for a 6.1", 5.8" and 6.5" displays, respectively. Don't let the exorbitant $860, $1079, and $1225 price equivalents fool you, though - in China, the iPhones cost about 20% more in USD than in America. Also, the alleged dual-SIM version of the Xr may be China-exclusive only.
The smallest iPhone in the crop will be the X's 5.8" successor, at about 5.65 x 2.79 x 0.30 inches (143.6 x 70.9 x 7.7 mm) dimensions, followed by the 6.1" LCD model at 5.94 x 3.01 x 0.33 inches (150.9 x 76.5 x 8.3 mm), and the largest 6.46-incher will likely be roughly the size of the 8 Plus now.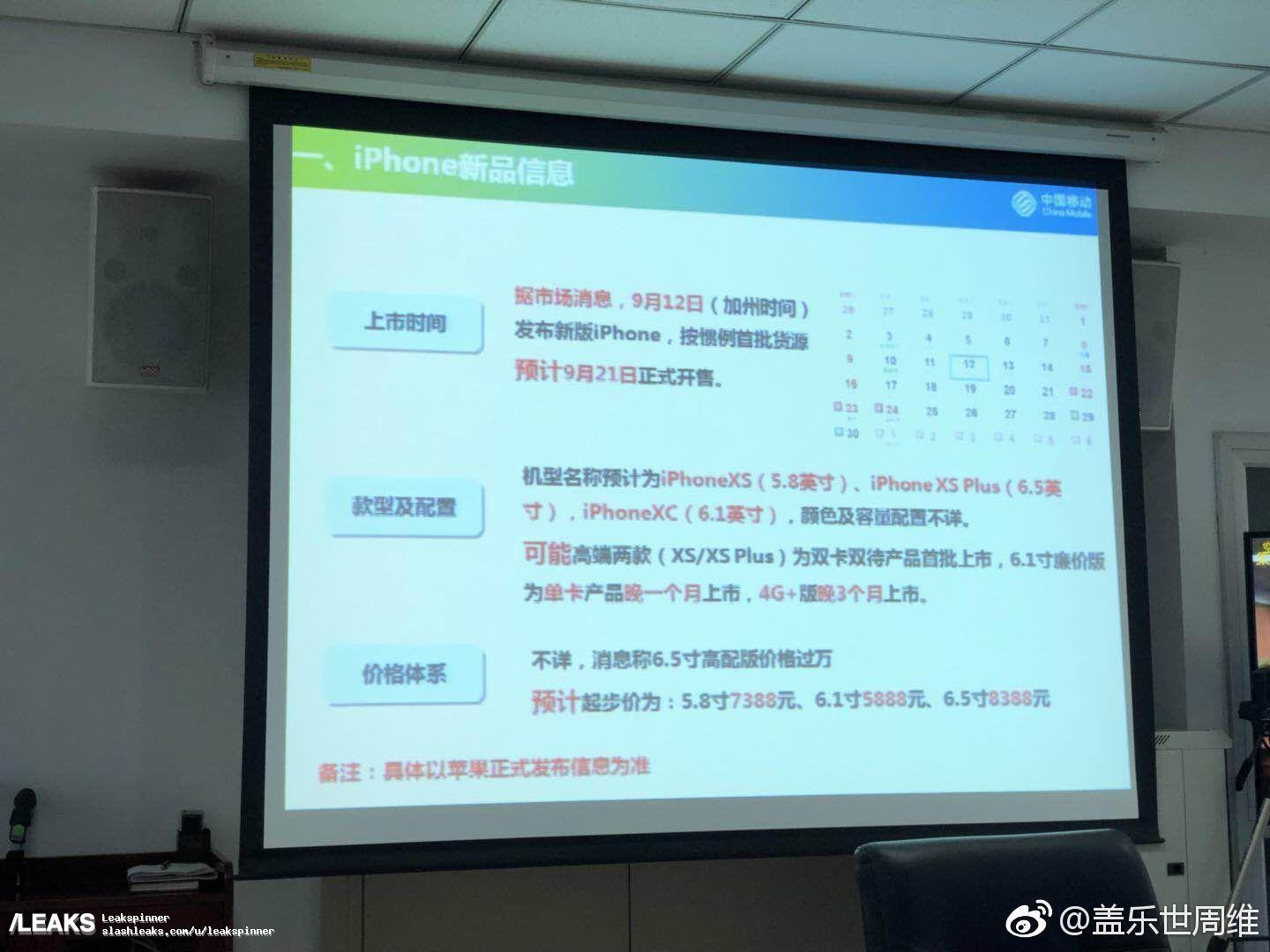 Full metal jacket? Not!
Just aluminum vs steel frame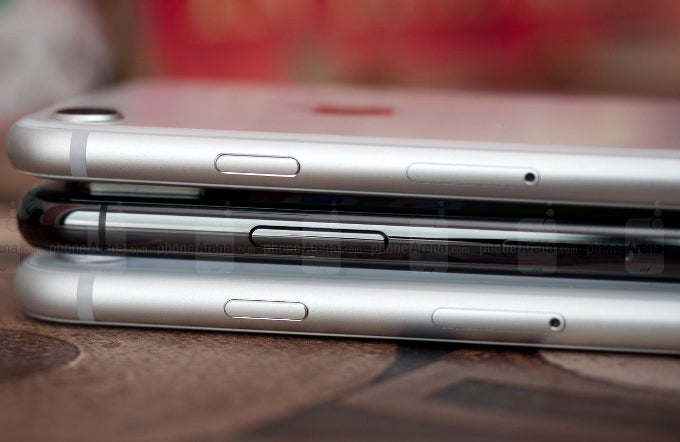 The iPhone Xr may sport the aluminum frame of the 8 and 8 Plus to keep costs down, while the Xs/Plus would keep the stainless steel band of the X
While at first, we heard that the "affordable" iPhone Xr will
sport a metal
, instead of glass body, KGI Securities' analyst Ming-Chi Kuo now
lists only "aluminum frame"
as the difference between the bodies of the iPhone Xs and the iPhone Xc. The iPhone X has a
stainless steel frame
, which is sturdier and more expensive to make, so either Apple will keep the iPhone Xc's casing costs down by going back to a metal unibody design, or by swapping the expensive steel frame for a 7000-series aluminum alloy one, but keeping the glass back - something that it is already doing with the iPhone 8 and 8 Plus - and the reason might be wireless charging.
Qualcomm, for instance, has the resonant inductive coupling technology needed to wirelessly charge a metal phone without heating its body too much, called
WiPower
, but if you place such a phone on a regular Qi pad, the joke will be on you, hence the proliferation of all-glass phones lately, which seems to move in sync with the proliferation of this technology in retail gear. Given that glass makes wireless charging much easier, we would bet on an aluminum frame and glass sandwich design, unless Apple decides to eschew wireless charging for the iPhone Xc - highly unlikely, given that the iPhone 8 and 8 Plus have it, and they will be cheaper than the Xc when it lands.
One camera to rule them all
Dual shenanigans are for the rich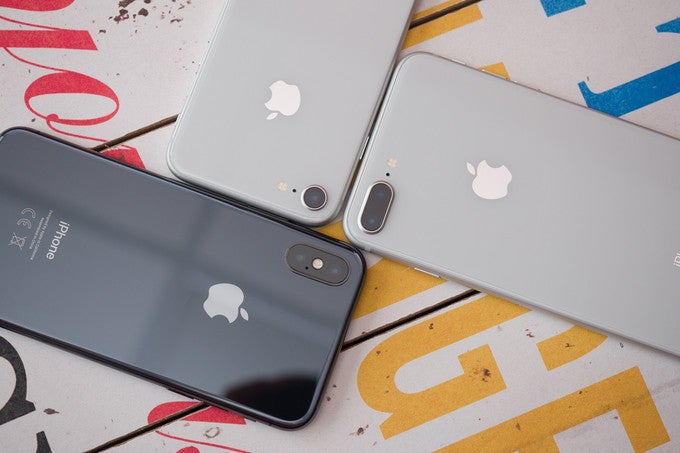 Single lens on the iPhone Xr, dual vertical camera on the Xs/Plus are in the cards
There aren't many details yet about the cameras on the three expected iPhones, but at least we know with relative certainty which ones will getthee current dual-OIS kit of the X - you guessed it, the Xs and Xs Plus. The iPhone Xc is said to make do with a single lens camera on the back, making it a true iPhone 8 successor.
There could still be the eventual sensor and/or optics upgrades, if Apple manages to pull these off by the time the phones are released, though it's hard to imagine how you can beat a camera that does 4K HDR recording at 60fps. With a new A12 chipset, though, everything is possible.
Perhaps an instant continuous autofocus like on Dual Pixel phones, or more than 2x optical zoom are in store? Remains to be seen, but for now, those who pick the iPhone Xc, as opposed to the iPhone Xs, won't be zooming losslessly into the void, it seems.
Notch horns go LCD
LCD or OLED display, the notch is here to stay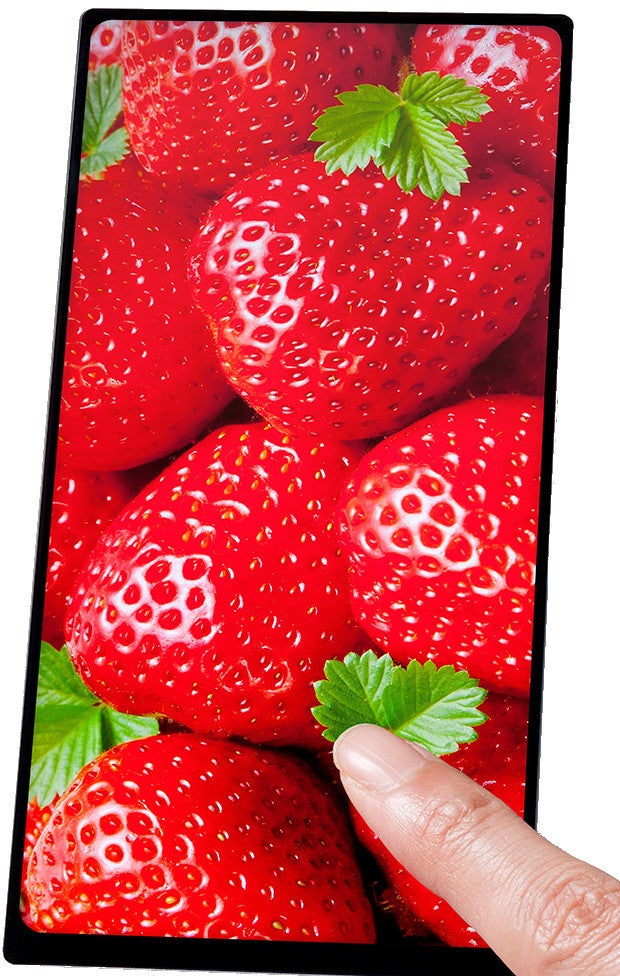 JDI's Full Active flexible LCD display tech may end up in an iPhone Xr
Apple is
said to issue three notch-y phones in 2018
, all with a
TrueDepth
camera set at the front, even the eventual more
affordable model with LCD screen panel
. JDI's Full Active screens are the prime candidate to land in the first iPhone with Face ID and LCD display, and we have a detailed breakdown of what it would mean for the iPhone Xr.
Not only has JDI developed an LCD screen that offers most of the advantages of flexible OLEDs (save for the deep blacks, of course), but it actually excels in a few parameters besides cost. JDI called its darling a Full Active display, as it managed to shrink the frame to just 0.5mm on all sides, paving the way for all sorts of "bezel-less" designs, as current LCDs or OLEDs typically have frames that are twice thicker, or even more at the bottom, where the display circuitry resides.
Apple usually works with suppliers to tailor the size, resolution, and color fidelity to its own desired specifications. There are tips that Apple will employ the Full Active's 18:9 ratio directly, but we kind of doubt that, as this will make developers have to write for three different app scalings. Thus, the only characteristics of the
already-announced 6" 1080x2160 panel
left over by the time JDI starts shipping for Apple may be the Full Active ones - flexibility, durability, almost no bezels, and what it calls PixelEyes, encompassing technologies like in-cell touch and deeper black levels than what conventional LCDs are capable of.
What this means is that the iPhone Xr may sport a pretty cool display still, albeit not of the OLED variety, allowing Apple to keep its price lower by skimping on non-essential features. Thus, the
iPhone Xc may not sport 3D Touch
, but it would still offer access to the Face ID and Animoji staples, bringing them down to millions of people who will now have the opportunity to access all the TrueDepth camera goodies at a much lower starting price.
Same processor, less memory
A common 7nm A12 made by TSMC, but 3GB or 4GB RAM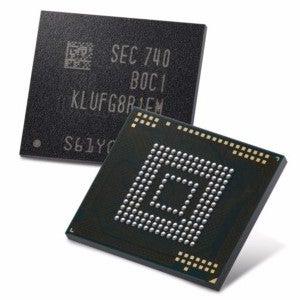 Samsung's out with 512GB mobile storage
While the iPhone Xr, Xs and Xs Plus may be powered by one and the same chipset, the amount of RAM and storage will likely differ - 3GB RAM for the iPhone Xc against 4GB for its OLED brethren. There is also а rumor making the rounds that Apple may go wild with a 512 GB version of the iPhone Xs Plus.
Samsung has already
announced such a flash memory chip for mobiles
, and
has it in the Note 9
, so it's certainly doable, but we cringe at the thought of those models' pricing. The iPhone Xr and Xs, on the other hand, with their alleged $700-$900 price range, will more likely keep with the current 64GB/256GB storage scheme, as you can see from some leaked box labels below.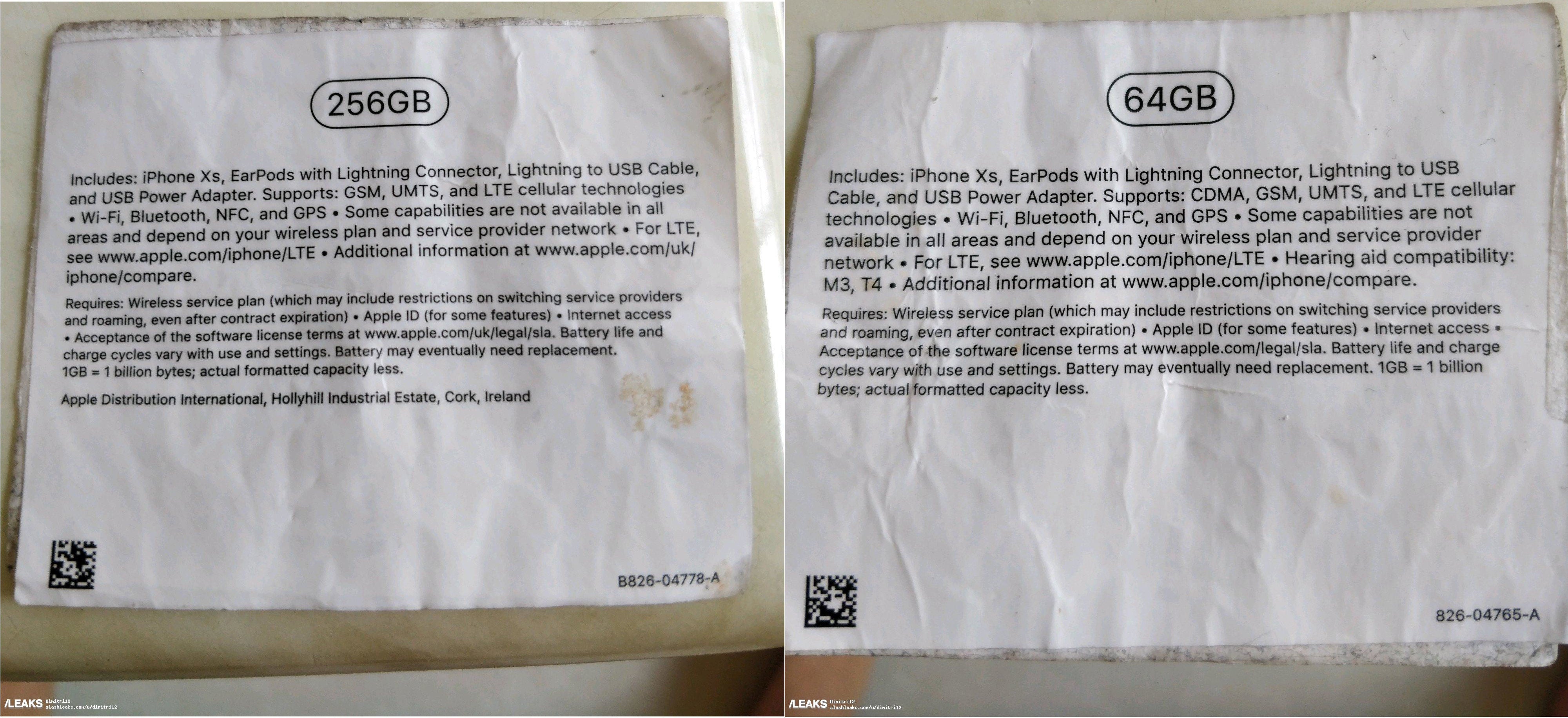 Alleged iPhone Xs box labels show the same 64GB/256GB storage versions as on the iPhone X
Needless to say, we expect a
7nm Apple A12
chipset in all 2018 iPhones, as there are indications that this production process will become available in the second half of next year. There's been a move to a lower node with each subsequent A chip recently, and if anyone can pull off the 100+ million unit orders for high-end silicon to make the 7nm process viable for the
TSMC
foundry, it's Apple, so we keep our hopes high that we will see a 7nm Apple A12 making the next iPhones tick.
Battery and motherboards
L-shaped batteries are for the rich, too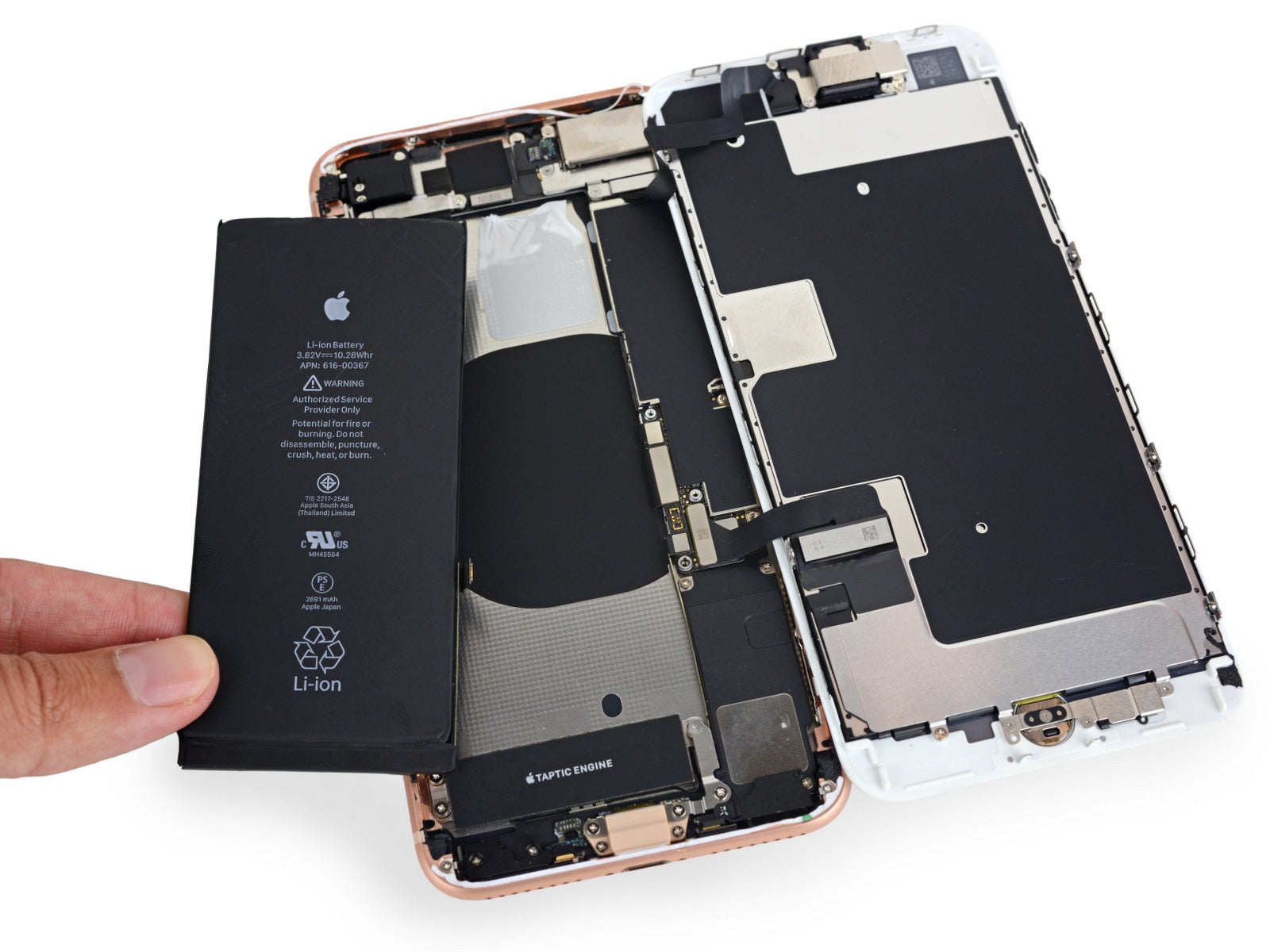 The iPhone Xr is likely to carry over the rectangular battery and non-stacked motherboard from the 8 Plus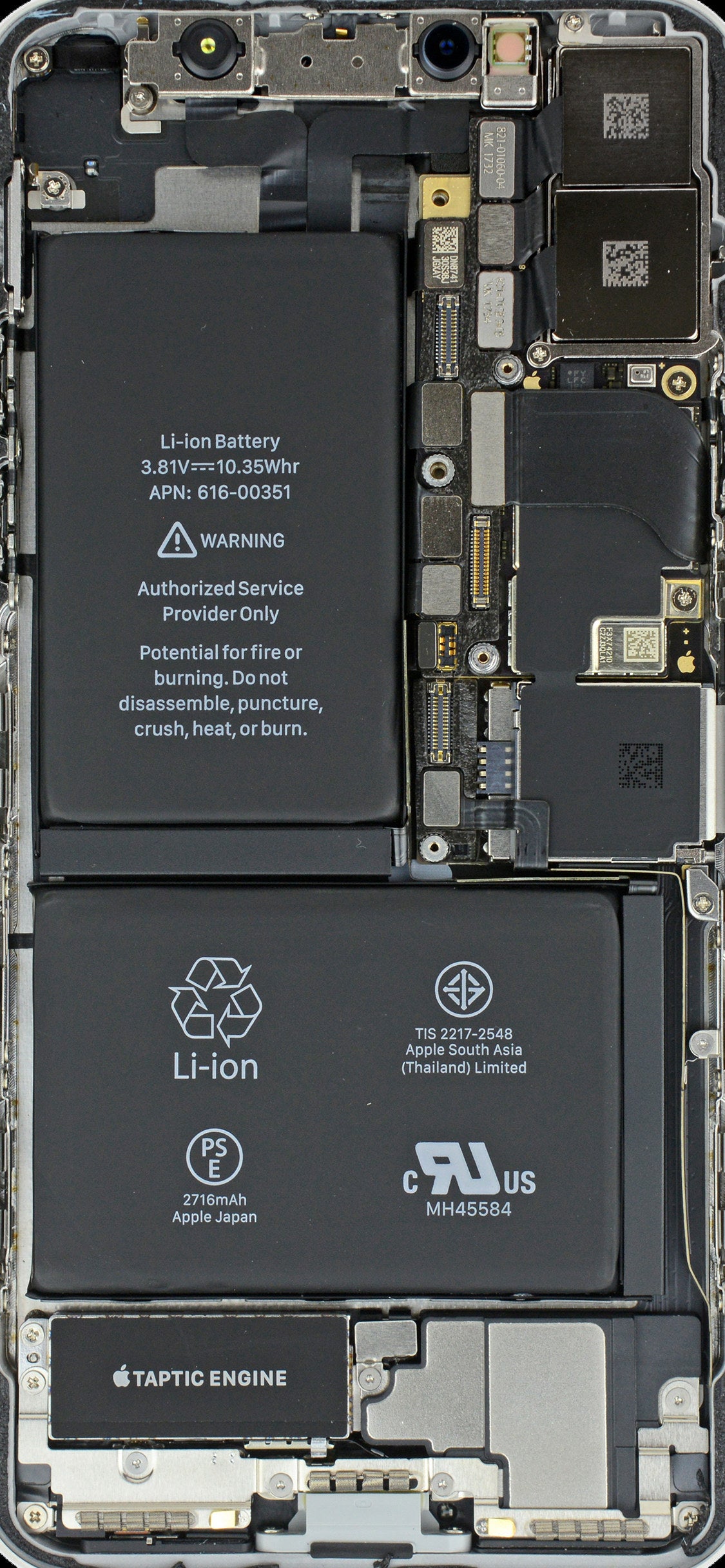 The L-shaped batteries of the Xs and Xs Plus will likely still be 2-cell, with a separator
The rumored
L-shaped battery for the iPhone X
really materialized, albeit consisting of two different pieces. The tricky design extends to the right, fitting extra capacity in a space vacated by using chip-stacking and other miniaturization technologies. In the case of the iPhone X, this has allowed it to gain a 30% higher capacity compared to the rectangular shape, to the tune of 2716 mAh.
Apple obviously
plans to take things a bit further
- as per everyone's favorite iPhone analyst Ming-Chi Kuo, the iPhone X sequel could be equipped with an L-shaped battery, but it may not be of the
single-cell variety
, as previously rumored, so it is likely to keep the current capacity. The 6.5-inch model will eventually be powered by a 3300-3400 mAh battery, tips the analytical guru in a note to clients.
The LCD model with a 6.1" panel would use a more orthodox rectangular battery rated at 2850-2950 mAh, as it won't sport a stacked motherboard like the Xs or Xs Plus. That will allow Apple to keep down costs on this particular model, and at the same time promises quite an extra chunk of battery life added to the 2018 iPhones, especially since the A12 will land as a 7nm chipset indeed.
Price and release dates, of course
Starting at $749, and going to... anyone's guess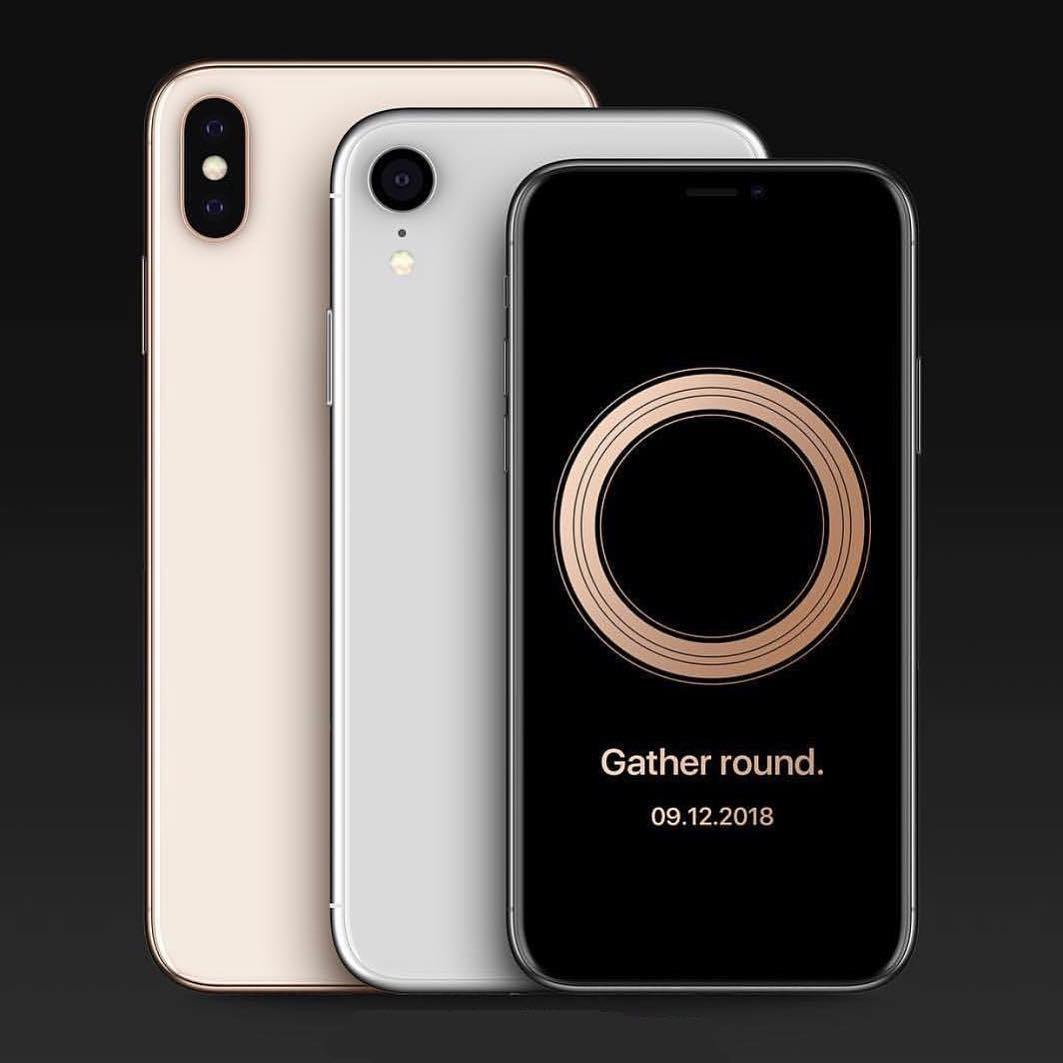 image by @iguruapple
The cheapest 6.1" iPhone Xr model with the LCD display and the single camera is expected to cost $700-$800 in the United States, according to Kuo, while the prices for the Xs and the eventual Xs Plus are anyone's guess.
Given the inevitable cut in component prices that happens a year after launch, Apple might decide to lower the starting tag of the Xs a bit compared to the X, launching it at, say, $849-$899 for the base version, while the rumored Xs Plus with a
6.46" OLED screen
could fill the $999 shoes.
We'll leave it to you to predict Apple's pricing for an eventual 512 GB version of an eventual iPhone Xs Plus. Will we see the first Apple iPhone to break the $1000 barrier at its base storage tag this year? The
ever-rising average selling prices
are an
encouraging
ominous sign for that to happen. In addition, the LCD model is likely to launch at the end of October or beginning of November, rather than September 21 like its more expensive OLED siblings. Which one would you get?