It's official, phone prices hit a record in 2017, buoyed by the Note 8 and iPhone X
10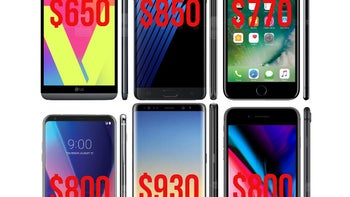 Ever since smartphone subsidies were removed by carriers, we've seen a much more pronounced rise in flagship phone prices, until we reached "the year of the $1000 phone" with the
iPhone X
or
Note 8
. Not only has the concept of the
$400 flagship
gone the way of the dodo bird, as Chinese makers have also increased their starting tags, but there's never been a launch price increase for high-end handsets as drastic as last year.
As if to confirm this observation, research firm GfK ran the numbers, now that 2017 is behind us, and made the record increase in phones' average selling price (ASP) official. It turns out that the ASP increased a full 10% year-on-year, to $363, while the number of phones sold globally increased just 1%. The ASP increase was less drastic in North America, but places like China and Eastern Europe bore the brunt of it.
2017 saw the most drastic average phone price increase on record
Retail prices for high-end phones from the big three brands in the US - Apple, Samsung and LG - have been steadily rising from the very beginning of the race when the
OG iPhone
was introduced to our unsuspecting wallets, as you can grasp from the last chart below. That one was $500 at launch, but now the
iPhone 8
starts at $700, and you are left with a dollar. The first
Samsung Galaxy
was also priced $500, while last year's
Galaxy S8
blasted off at the shameful $750. When we add expensive, but popular outliers like the Note 8 or iPhone X, we can easily explain the record average phone pricing increase registered last year.
As you can see in the slides below, every major phone's successor last year was more expensive than the previous edition, sometimes drastically so, raising the average year-on-year price significantly, to the highest ever. We aren't even including Google's own phone line, which used to be the best value-for-money before the search giant decided to vertically integrate, and we are now left with a
Pixel 2 XL
that costs north of a thousand euros, for instance.
There are plenty of reasons which can be cited for that jump, and corporate greed is not even highest on the list - 2017 phones got drastically overhauled in terms of design and materials used, 18:9 HDR displays became obligatory, and the basic storage amounts got bumped. Still, we hope that this unpleasant trend of ever-rising smartphone prices doesn't continue this year, as people are already at the limit they are willing to spend on a handset.