Apple's first 6.1-inch iPhone won't feature 3D Touch, according to famous analyst
18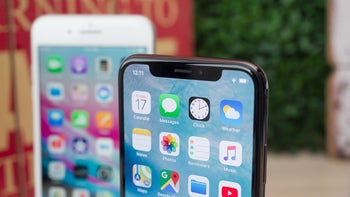 Having launched three different iPhone models in 2017(iPhone 8, iPhone 8 Plus, and iPhone X), Apple is reportedly planning tointroduce at least four new handsets this year. Rumors have it that, throughout2018, Apple intends to release a new iPhone SE, a 5.8-inch successor to theiPhone X, a 6.5-inch iPhone Xs Plus, and a 6.1-inch iPhone.
According to MacRumors and KGI Securities analyst Ming-Chi Kuo(famous for often being right when it comes to Apple's future plans), the6.1-inch iPhone might account for half of the 2018 iPhone lineup's shipments. Reportedly, the 6.1-inch iPhone won't be as expensive as thenew 5.8-inch and 6.5-inch devices, possibly costing around $700 - $800 (whilethe other two models could be sold for prices starting at around $1,000).
A large-screen iPhone that might not be (too) expensive
Ming-Chi Kuo suggests that the 6.1-inch iPhone will be amid-range handset featuring a single rear camera. Unlike the upcoming 5.8-inch and 6.5-inch iPhones - which, similarto the current iPhone X, are expected to sport OLED screens - the 6.1-inchmodel should pack an LCD display. Kuo further notes that the 6.1-inch iPhonewon't have 3D Touch (the technology that allows users to perform various tasksby applying different levels of pressure to a touchscreen).
3D Touch has been included on all Apple handsets sinceSeptember 2015 (when the iPhone 6s and 6s Plus were launched), with theexception of the affordable iPhone SE. It remains to be seen if the featurewill be omitted from both the 6.1-inch iPhone, and the 2018 edition of the iPhone SE.
Another difference between the 6.1-inch iPhone and the5.8-inch and 6.5-inch models will be related to build materials. Allegedly, themid-range phone will have an aluminum frame (like the iPhone 8 series), whilethe other two handsets should use stainless steel frames, just like the iPhoneX.
For now, it's unclear what final names Apple's 2018 iPhones willhave. In any case, the company's new iPhone SE is expected to be unveiledbefore the first half of the year ends, while the larger models should be announced and released in September or October.