Samsung begins mass-production of 512GB embedded storage solution, could we see it on the Galaxy S9?
33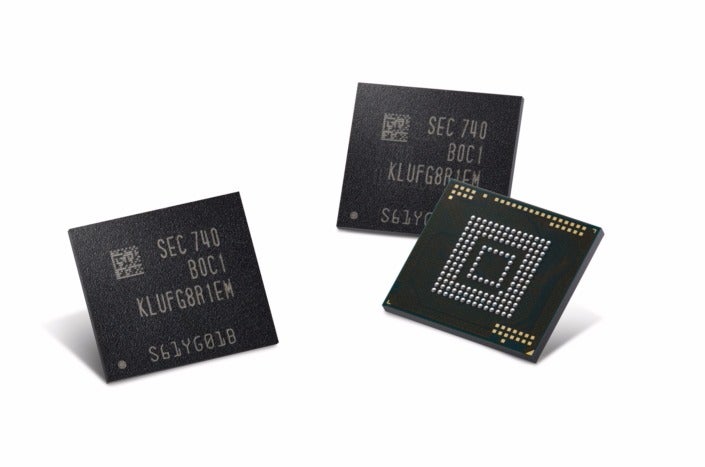 Samsung made a rather interesting announcement today. The Korean tech giant revealed that it's now mass-producing a 512GB embedded Universal Flash Storage (eUFS) solution. A eUFS this big is a first for the industry, and Samsung says that it plans to use it on its next-gen smartphones and tablets.
Jaesoo Han, executive VP of Memory Sales & Marketing at Samsung Electronics, has commented on the matter:
The new Samsung 512GB eUFS provides the best embedded storage solution for next-generation premium smartphones by overcoming potential limitations in system performance that can occur with the use of micro SD cards. By assuring an early, stable supply of this advanced embedded storage, Samsung is taking a big step forward in contributing to timely launches of next-generation mobile devices by mobile manufacturers around the world.
The company says that it has managed to cram eight 64-layer 512GB V-NAND chips and a controller into a eUFS case that's identical in size to a 256GB eUFS. Read and write speeds can reach up to 860MB/s and 255MB/s respectively. This allows a 5GB file to be transferred in about 6 seconds, which is over eight times faster than a regular microSD card.
The half-terabyte eUFS allows a flagship smartphone to store approximately 130 4K (3840×2160) video clips of a 10-minute duration. This is 10 times more than a phone with 64GB of internal storage.
Samsung plans to gradually increase the production volume of these 512GB chips while also expanding operations for their 256GB counterparts. As stated above, the new eUFS will be featured in Sammie's upcoming flagships, and we certainly hope that we will see a Galaxy S9 version with this amount of storage.