Apple beats its own earnings estimates, calls Honeycomb tablets "vapor"
5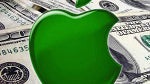 Steve Jobs strategically chose to announce his medical
leave of absence
from Apple when the stock market was observing the Martin Luther King Day. Yesterday Apple shaved just 2.25% off its stock price, whereas the last time he announced a medical leave, on January 14th 2009, the stock plunged 7% after hours, and 2.75% in regular trading. He
returned back
at the helm in June 2009 then.
Today the stock is already up in pre-trading, since Apple released its record revenues yesterday, to offset the news about Steve's break. The company sold
16.24 million iPhones
and
7.33 million iPads
in the fourth quarter. Revenue was
26.74 billion
, with a tidy net profit of
$6 billion
for Apple's perusal as it pleases. These profit margins are more than what Goldman Sachs makes moving vapor money around, and Apple actually produces something everyone wants.
So are you concerned that
Tim Cook
will be taking over for an undisclosed amount of time until Steve Jobs gets better? He seems to have his work cut out for him, at least in 2011. Apple's COO confirmed that "
the iPad team are building the best iPad for the future
", but didn't disclose any further details. He said that the company has some backlog of orders, i.e. they can't make iPhones fast enough to meet all the demand.
On the topic of the
Verizon iPhone
Tim Cook is expecting huge sales, that he cannot even predict right now. The most important take is that it certainly looks like the exclusivity deal with AT&T is somehow over - Apple said it signed a multi-year deal with AT&T, but it is now non-exclusive, and all the other exclusive deals around the globe have expired.
We know you have to sound confident at investor calls, but we think Cook overdid it a bit. He utterly dismissed the iPad competition, saying that "
there's not much out there.
" According to him on one side we have "
big, heavy, expensive
" Windows slates with "
weak battery life
", and Android, on the other, where "
the operating system wasn't really designed for a tablet
".
What about all the Android 3.0 Honeycomb tablets that
stole the show
at CES?: "
There's nothing shipping yet, and so I don't know. Generally, they lack performance specs, they lack prices, they lack timing. And so today they're vapor. We'll assess them as they come out, however, we're not sitting still. And we have a huge first mover advantage, and we have an incredible user experience from iTunes to the App Store and an enormous number of apps and a huge ecosystem, and so we're very, very confident with entering into a fight with anyone.
"
The man certainly has a point, but we are gradually having Windows slates like the Samsung Sliding PC 7 Series and the
Evolve III Maestro
, which are slim, functional, affordable, and get 8-9 hours of battery life running full-blown Windows, on one hand, and like
Asus Eee Slate EP121
, which is a real powerhouse, on the other. Not to mention the upcoming
Android tablets onslaught
with innovative form factors that is sure to bring tablet prices to rock-bottom this year.
Will the rumored
increase
in the iPad screen's resolution and a
dual-core chipset
be enough to allow the iPad 2 sell like hot cakes in 2011 as well? We'll see, but Apple is on a roll - Tim Cook said
88%
of the Fortune 100 companies are now deploying the iPhone, and 80% having or piloting the iPad. These are already mindblowing numbers, but when we consider the record average selling price (ASP) of the iPhone was $625 last quarter, on roughly $200 of expenses, we see where Apple is getting their confidence at. For comparison, Samsung's ASP in Q3 was $122 - it really pays to be on the
high-margin
side of things like Apple.
source: Apple via
AppleInsider