Steve Jobs shows up for work at Apple on Monday?
4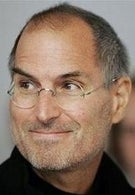 A Reuters reporter says that he saw Steve Jobs at Apple's headquarters on Monday. If correct, it would mean that the company's co-founder and CEO has possibly returned to work from health related issues right on schedule. Back in January, the man considered the visionary behind the iPhone
announced
that he was stepping down until June for health reasons. As we
reported
, reports circulated this past week that the pancreatic cancer survivor had a liver transplant two months ago. The reporter says that the 54 year old Jobs was wearing his usual attire, jeans and a black turtleneck sweater.
Jobs also was quoted on Monday in an Apple press release for the first time in many months. "Customers are voting, and the
iPhone
is winning," Jobs said in the statement. Apple had no comment on whether or not its CEO had returned to work, although in the past the company claimed that he had been involved in making decisions at Apple.
source:
Yahoo