Evolve III Maestro $600 tablet boots Win 7, Android and MeeGo, lasts 16 hours in Android mode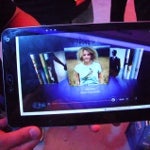 Hiding inside the Intel booth like a yelled-at puppy, the Evolve III Maestro tablet might be the most astonishing tablet at
CES
, where
tablets
stole the show for the first time. The first version on display can dual-boot either Windows 7, or Android, while running the single-core Intel Atom N475.
The rest of the specs are 10" capacitive screen with 1024x600 pixels of resolution, 32 or 64GB of internal storage, 2GB of RAM, and the cool
two pounds
of heft. The Australians from Evolve III said that this one is available now for $500. It is also relatively thin, at
0.55
inches.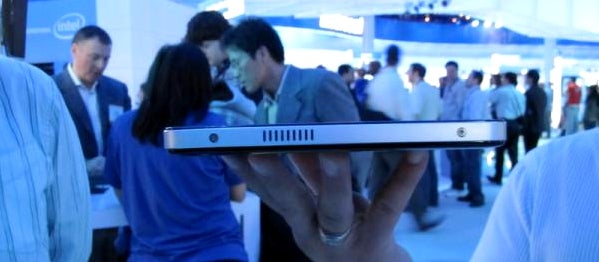 Evolve III 10" tablet profile
The real show-stopper though, is coming in the second quarter, around April, right after Intel releases its dual-core
Oak Trail
mobile chipset. Then the Evolve III Maestro will be adding MeeGo to the list of available operating systems on the tablet, making for the ultimate trinity of OS choices, battery life and productivity. Oak Trail is supposed to last a Windows 7 tablet around eight hours. Company reps had an early demo of the triple-booting device, and said it lasted six hours running an intensive Flash-based demo, so eight hours should be totally achievable. Moreover, when you boot Android, they've been getting 16-20 hours on a single charge, which is downright impressive.
There is no quick way to switch between Android and Windows 7 for now, rather than rebooting, but you can boot Windows 7 from the MeeGo interface with ease. Speaking of MeeGo, this might be the first comprehensive demo of the mobile OS on a tablet we've seen. The company has done a great job making a tablet-friendly MeeGo interface for their slate, and if you go to the link in the source, you can play around with the
interactive demo
. They are also working closely with Microsoft on the Windows 7 interface, which will have a
touch-friendly overlay
for the most used functions, similar to Android.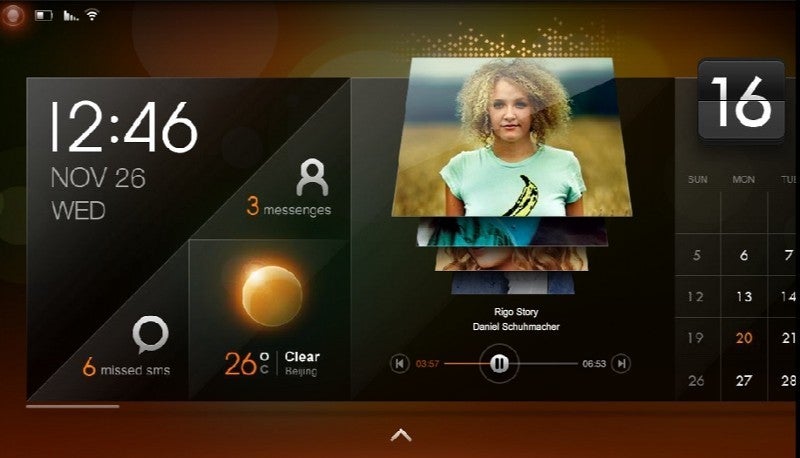 The MeeGo interface on Evolve III
The Oak Trail version is the one we are looking forward to, it should cost $100 more than the current single-core edition, and is even thinner. The only downside for us is the lack of an HDMI port, but a few accessories will be available at launch, including a dock with HDMI and additional USB ports, as well as a clamshell type keyboard.
We'll reserve judgment for the final unit, but it sure sounds like a sweet deal, and the real threat to both the iPad, and to Android-only slates. What do you think about such hybrid Windows/Android devices, is it the best of both worlds? It's certainly tempting that in Windows 7 mode you can last
more than eight hours
on a charge, with the vast driver and software support of Microsoft's OS, and twice that when just wondering around the Internets with Android.
source:
EvolveIII
&
TabletPCBuzz
via
Engadget