Steve Jobs takes a leave of absence for medical reasons
13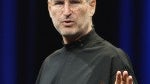 No wonder Apple's Chief Operating Officer Tim Cook was there when
unveiling the Verizon iPhone
last week. Apple's CEO Steve Jobs announced that he is taking a leave of absence from Apple for medical reasons, but will still remain the CEO, and will be involved with strategic decisions. It is just that the day-to-day grind will be taken over by Tim Cook, the COO, or at least that's what it is made to sound like, probably not to scare the investors, or give fuel to rumormongering.
Last time he took a medical leave of absence in 2009, Steve Jobs was gone for six months following a liver transplant, hopefully it is something less serious now. Here is the whole text of the email, sent to Apple's employees:
"
Team,
At my request, the board of directors has granted me a medical leave of absence so I can focus on my health. I will continue as CEO and be involved in major strategic decisions for the company.
I have asked Tim Cook to be responsible for all of Apple's day to day operations. I have great confidence that Tim and the rest of the executive management team will do a terrific job executing the exciting plans we have in place for 2011.
I love Apple so much and hope to be back as soon as I can. In the meantime, my family and I would deeply appreciate respect for our privacy.
Steve
"
What do you think, now that the next generations of the iPad and iPhone seem to be
in full swing
, does it matter that Apple's stock on Wall Street will probably take a beating? Is Apple resilient enough to withstand the withdrawal of its charismatic CEO, who obviously needs a break?
source:
Apple