Apple iPhone 13 vs Samsung Galaxy S21 FE
5
We may earn a commission if you make a purchase from the links on this page.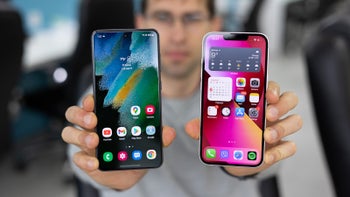 The iPhone 13 fixed a lot of what was wrong about the previous model with improved battery life, and it also brought bigger camera sensors and an even faster processor. But it might just face unexpected competition from a more affordable phone made by Samsung - the Galaxy S21 FE!
Short for "Fan Edition", the Galaxy S21 FE undercuts the iPhone in price, while offering a larger screen, a zoom camera that you won't find on an iPhone, and all the customization options that come with Android and Samsung phones.
Despite being more affordable, the Galaxy also offers premium features like a 120Hz Adaptive refresh rate that you won't find on a similarly priced iPhone, but how much of a difference does this really make? It's time to find out in our detailed comparison!
iPhone 13 vs Galaxy S21 FE in a nutshell:
iPhone is more compact
Glass build on iPhone vs plastic on S21 FE
Larger, 6.4" screen on Galaxy, plus it has 120Hz
Faster Apple A15 chip on iPhone
Bigger battery size on Galaxy
iPhone has two cameras, Galaxy has three
Both come with 128GB storage in base model
Galaxy is more affordable
Display and Design
No clear winner
Most smartphones these days look the same, but it's not hard to tell the iPhone apart from the Galaxy. First, because it's the smaller device, but also the in-hand feel is different with a more premium, glass back on the iPhone versus a plastic back on the Galaxy. Opinions on plastic phones are split: they don't feel as nice, but they contribute to a lighter weight, and the larger Galaxy actually weighs less than the much smaller iPhone!
In a sign of the times, both lack a headphone jack, but the iPhone does have a convenient mute switch, which you won't find on the Galaxy. Those who care about the details will also notice that the borders on the Galaxy are slightly thinner for a more refined look.
Speaking of displays, both phones use AMOLED screens with beautiful colors and can play back HDR content. The iPhone has a 6.1-inch panel, while the Galaxy is expected with a more spacious, 6.4-inch display. The big advantage of the Galaxy, however, comes in the form of 120Hz non-adaptive refresh rate, meaning the you get buttery smooth scrolling, while the iPhone maxes out at half that, or 60Hz.
The iPhone also has a very bright display that can go up to 1,000 nits, quite impressive. Take a look at direct comparisons of the screen quality below:
Display measurements and quality
Face ID is also still on the iPhone, but this time you have a 20% smaller size for the notch. Still, the Galaxy wins that battle when it comes to looks with a more discreet punch hole design.
For biometrics, Face ID is still not ideal in these Covid times, while the Galaxy is expected with an optical fingerprint scanner embedded under the screen (not the fastest around, but no major issues and reliable enough), plus it does image-based face recognition, which is definitely not as secure as Face ID, but still useful.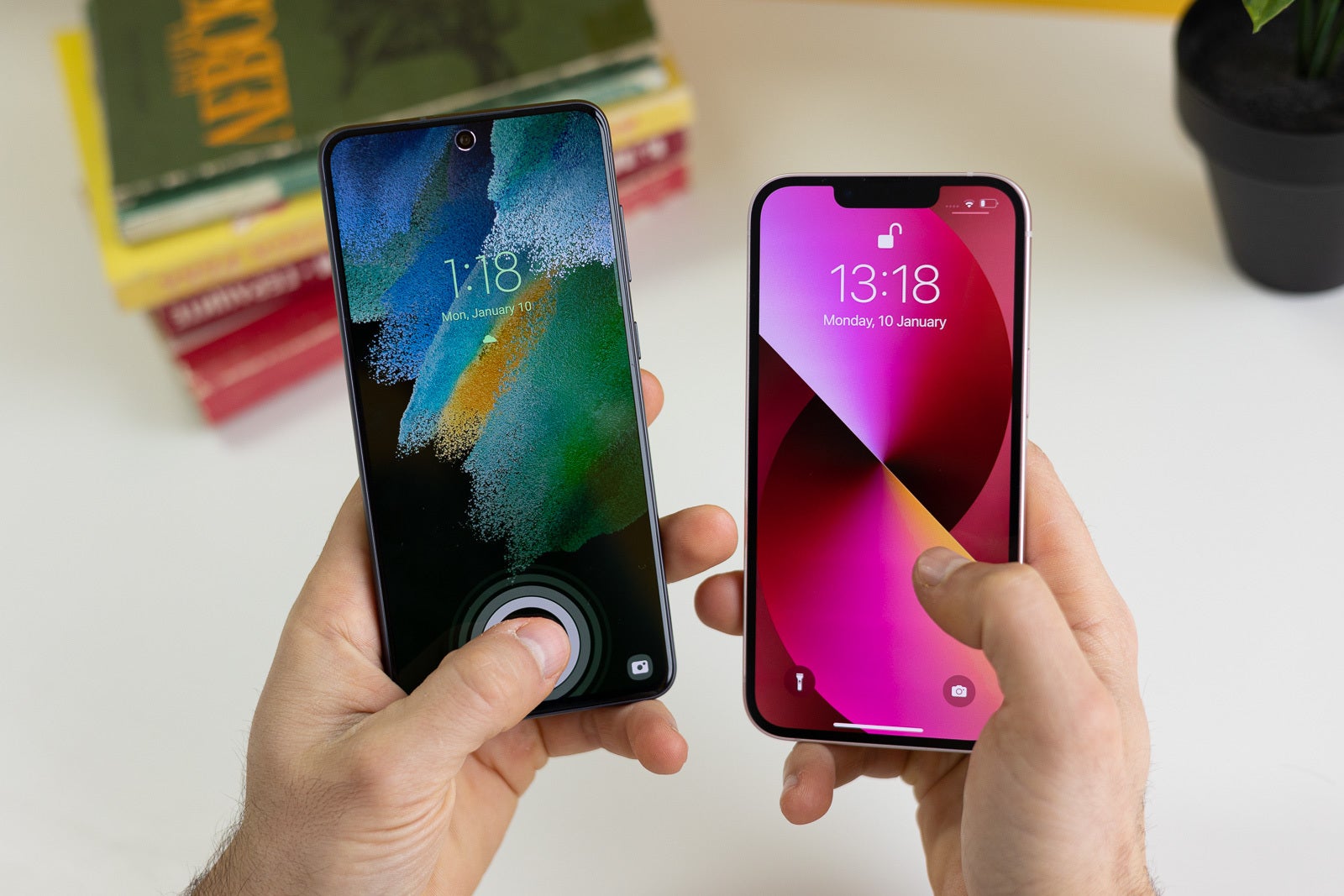 There is also no difference in practicality between the two with identical IP68 dust and water protection on the two.
Battery and Charging
Galaxy has bigger battery, but iPhone has more frugal software
The iPhone 13 signature feature has got to be the improved battery life, but how does it compare against the much larger battery that you get on the Galaxy S21 FE?
First, here are the exact battery sizes: 3,227mAh on the iPhone vs 4,500mah on the Galaxy, quite the difference.
We are comparing different operating systems, though, so it's worth mentioning that iOS is typically more frugal, so the actual battery life difference might not be that huge. We have to put this to the test, and below you will find our independent battery test results.
On our YouTube video streaming test, the iPhone actually outlasted the Galaxy by nearly an hour, an impressive showing for the smaller iPhone.
On the charger front... well, let's start with the bad news: there is no charger in the box on either one! If you don't already own a fast charger, plan on spending an additional $20-$30 bucks to get one.
The iPhone maxes out at 20W charging speeds, while the S21 FE supports up to 25W charging via a wire, and both support the USB Power Delivery standard. We measured about 1 hour and 50 minute charging time from 0 to 100% on the iPhone, while the Galaxy should charge quite a bit faster, in just a bit over an hour.
On the wireless front, the iPhone supports MagSafe, while the Galaxy lacks those fancy magnets, but both charge wirelessly at the same sweet 15W speeds.
Cameras
iPhone lacks a zoom camera, but might make up with software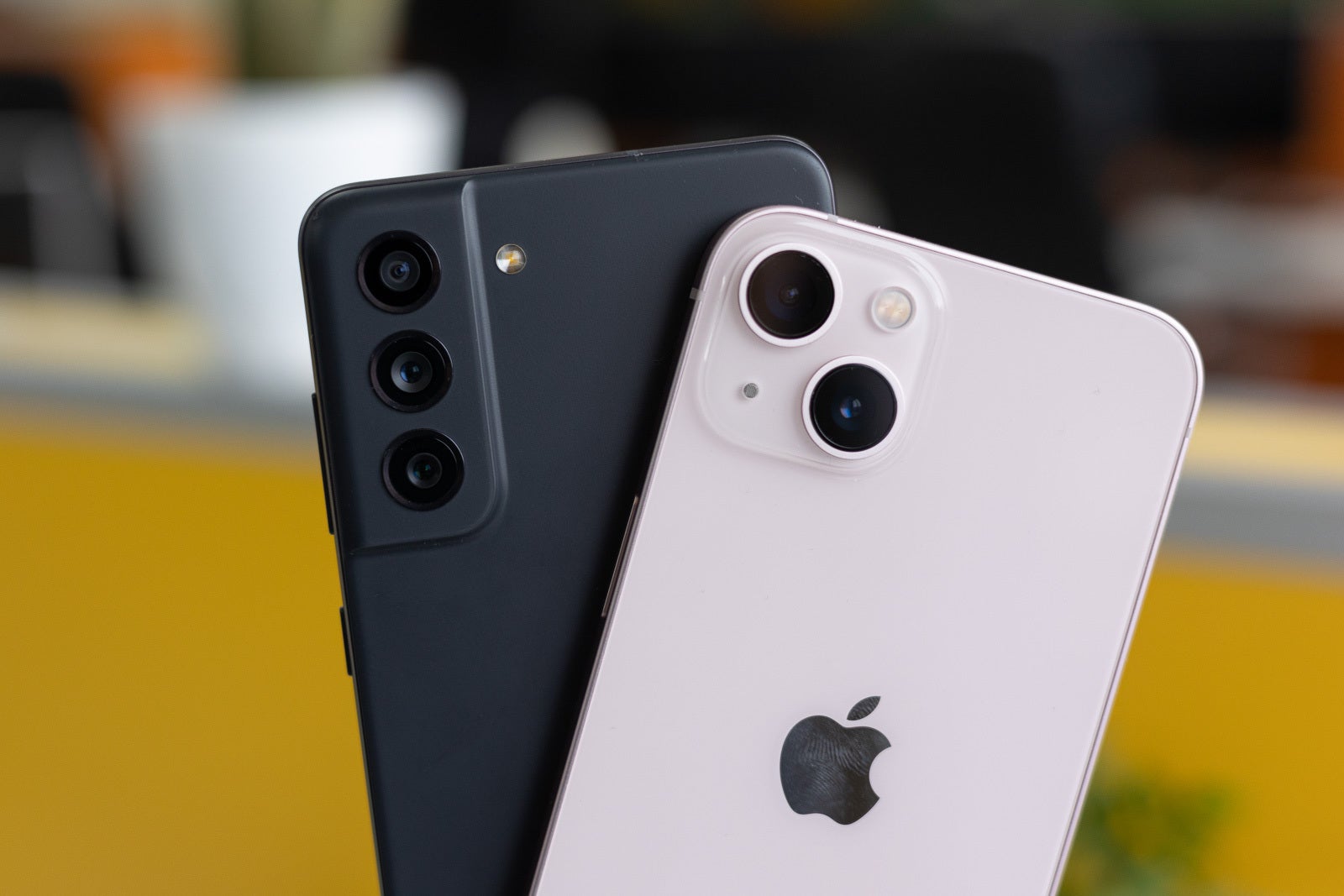 A quick glance at the back of the phones, and you notice that the iPhone only comes with two cameras, while the Galaxy features three cameras, the one extra being a telephoto zoom lens.
Before diving deeper in image quality, here is a quick comparison of the camera specs:
| Camera Specs | Resolution | Sensor Size | Pixel Size | Lens |
| --- | --- | --- | --- | --- |
| Main iPhone 13 | 12MP | 1/1.9" | 1.7µm | 26mm, f/1.6 |
| Main S21 FE | 12MP | 1/1.76" | 1.8µm | 26mm, f/1.8 |
| Ultra iPhone 13 | 12MP | 1/3.4" | 1.0µm | 13mm, f/2.4 |
| Ultra S21 FE | 12MP | 1/3" | 1.12µm | 13mm, f/2.2 |
| Tele S21 FE | 8MP | 1/4.4" | 1µm | 78mm (3X), f/2.4 |
Interestingly, the main camera on the cheaper Galaxy actually uses a slightly larger sensor and has bigger individual pixels, which gives it a theoretical advantage. The iPhone uses a wider aperture, though, which balances their light-gathering abilities.
We really wish Apple included at least some sort of a zoom cameras, as it's easy prey for the Galaxy S21 FE which has a dedicated 3X zoom lens that should capture much cleaner zoomed photos and allow longer zoom range.
Below are actual photos captured with both phones.
During the day, both phones do an excellent job, capturing lively colors that will please anyone. The Galaxy tends to go for the slightly more vibrant colors and usually goes for a slightly brighter exposure, but the similarities seem to be more than the differences. One area where the Galaxy does have a clear advantage is zooming, notice the birds on the beach above, detail is so much cleaner in this shot using the 3X zoom camera compared to the mushy detail on the iPhone.
Another thing about photos and colors is how the iPhone now has
Photographic Styles
. This allows you to save a preset that will be automatically applied every single time you open the camera app, and it allows controlling contrast and color warmth.
On the video side, both phones capture footage at up to 4K60 quality, and both have support for HDR video recording (enabled by default on iPhones and disabled on the Galaxy).
Video stabilization is great on both devices, with just a slight edge in favor of the iPhone, and colors on both usually look excellent with the same slight differences where the Galaxy tends to be a bit more aggressive with saturation and a bit brighter exposed.
In low light and challenging situations, however, the iPhone clearly emerges as the better phone. Notice in the low light videos (the second half of the above sample) how whenever you have bright lights the quality drops and those brighter areas burn out on the Galaxy, while the iPhone is able to maintain a clear detail and overall excellent dynamic range.
Audio Quality
iPhone has much more impressive loudspeakers
While both the iPhone and the Galaxy are equipped with a dual speaker system consisting of a main, bottom-firing speaker and a secondary one, embedded in the earpiece, there is a difference in audio quality.
Playing back music on the Galaxy, you have decent audio quality, but nothing impressive and there is no depth to the sound. The iPhone, on the other hand, sounds impressively boomy and rich, with a bass you don't expect to hear on a phone. It really is a next level kind of experience on the iPhone and if you care about loudspeaker quality, well... the iPhone gets an easy win.
Performance and Storage
The iPhone is faster all around
Apple has the lead in performance in the smartphone space, and the iPhone 13 only proves that as it's much faster than the Snapdragon 888 chip used on the Galaxy S21 FE. Keep in mind that S21 FE international models are due with an Exynos 2100 in lieu of the Snapdragon chip used in US models, and the Exynos version is a tiny bit slower.
One advantage the Galaxy has comes in the form of 6GB of RAM on board vs 4GB RAM on the iPhone.
Here, you will also find benchmark results from both phones:
As you can see, the iPhone smokes the Galaxy with a much faster processor that will buy you faster performance in the present and peace of mind for the future of your device.
On the network side, you have 5G connectivity on both phones, including mmWave support for US models.
iPhone 13 vs Galaxy S21 FE: Specs Comparison
And here is a detailed specs comparison between the iPhone 13 and the Galaxy S21 FE.
iPhone 13
Galaxy S21 FE
Size and Weight
146.7 x 71.5 x 7.65mm, 174g
155.7 x 74.5 x 7.9 mm, 170g (6.0oz)
Display
6.1" OLED, 1170x2532px, 60Hz
6.4" OLED, 1080px, 120Hz *non-adaptive
Processor
Apple A15 Bionic
Snapdragon 888 in the US

RAM
4GB
6GB
Storage
128G / 256G / 512GB, non expandable
128G / 256G, non expandable
Cameras
12MP wide camera, f/1.6
12MP ultra-wide camera, f/2.4

12MP wide camera, f/1.8
12MP ultra-wide camera, f/2.2
12MP 3X zoom camera
Battery size
3,227mAh
4,500mAh
Charging speeds
20W wired, 15W MagSafe wireless
25W wired, 15W wireless
Prices
starting from $800
starting from $700


With the iPhone 13 price set at $800 and the Galaxy S21 FE expected price of $700, the price gap between the two is only $100, which is definitely not a huge difference.
Investing just a bit more for the iPhone gives you an edge in performance speed, as well as arguably the best video quality of any smartphone. Plus, you buy into the iOS ecosystem, which supports gadgets like the Apple Watch, AirPods and others, and comes with about 5 years of guaranteed software updates. The Galaxy, on the other hand, despite being cheaper and slower, actually has a larger battery and a bigger screen, and it doesn't make any big compromises really. Samsung is committed to 3 years of software updates, and the ecosystem is far more customizable.
So... which one of these two would you go for, and why?