Apple iPad Pro (2021) vs Samsung Galaxy Tab S7
8
We may earn a commission if you make a purchase from the links on this page.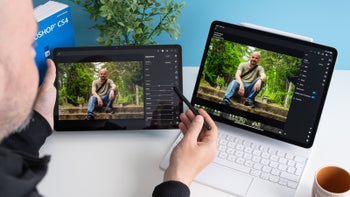 Apple
rocked the mobile world by launching two tablets packaged with its desktop-grade M1 processor. Those were the
iPad Pro 11 (2021)
and
iPad Pro 12.9 (2021)
— hot, pretty, and expensive slates for more than just Netflix binging.
Samsung
took a while to hit back with the
Galaxy Tab S8 series
, but they are now out. However, it's still proudly selling its
Galaxy Tab S7
and
Galaxy Tab S7+
from 2020. Do they have the chops to compare, especially now that two years have passed and the Apple silicon in the iPads has basically changed the game?
Save on the Galaxy Tab S8 and S7 at Best Buy now
iPad Pro (2021) vs Galaxy Tab S7 summary
If you are already in one of the two manufacturers' ecosystems, it goes without saying that you will probably prefer to get their respective tablet. An iPad can work as a second screen for your iMac. A Samsung Tab communicates seamlessly with Samsung Windows laptops and Galaxy phones.
But, let's say you don't care too much for that and just want the best tablet for you. Here's a summary of how the two tablets differ:
The Apple Pencil and S Pen are both superb-feeling styli
Galaxy Tab S7 comes with S Pen in the box. Apple Pencil is a separate purchase
Both have exquisite displays, but the tech varies slightly
The speakers of the iPad Pro (2021) are better than the Tab S7
The iPad Pro (2021) user interface is very smooth and lightning-fast, but kind of limited
The Galaxy Tab S7 user interface is jankier but can do better at multitasking
Both the iPad Pro (2021) and Galaxy Tab S7 support 5G on their cellular variants
iPad Pro (2021) vs Galaxy Tab S7 display and design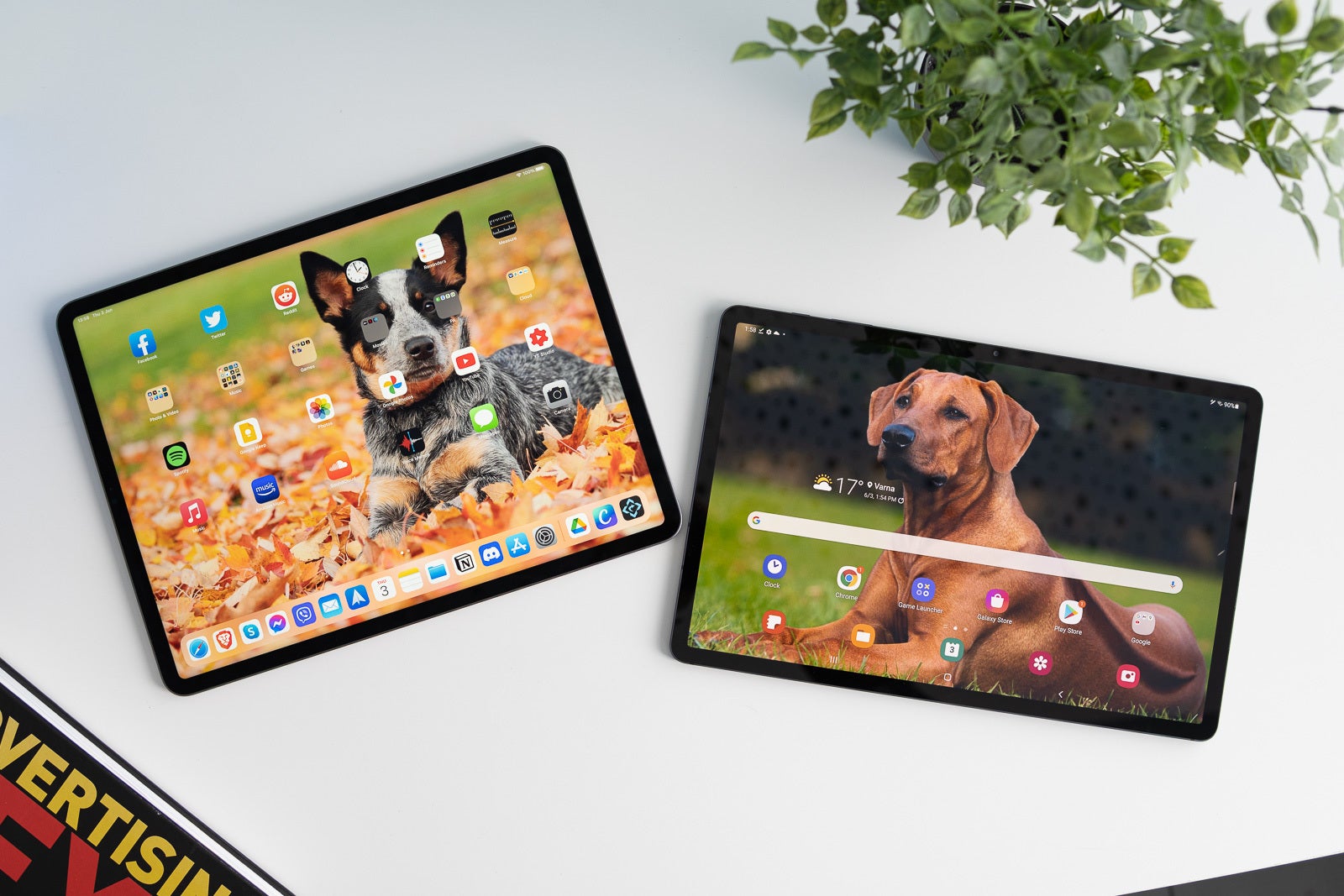 To start, let's make it clear that all the iPad Pro 11 (2021), iPad Pro 12.9 (2021), Samsung Galaxy Tab S7, and Galaxy Tab S7+ have 120 Hz screens that feel smooth and responsive and will have you not wanting to go back to 60 Hz.
The iPad Pro 12.9 (2021) has a brand-new display tech to flaunt on its display — Mini-LED. It's basically a marriage between the concepts of LCD screens and OLED panels. It still has a backlight, but it's provided by a total of 10,000 Mini-LEDs. This allows the tablet to light up the screen in precise locations, producing better contrast and deep "true" blacks (because wherever there is a black color, the tablet just turns the backlight off).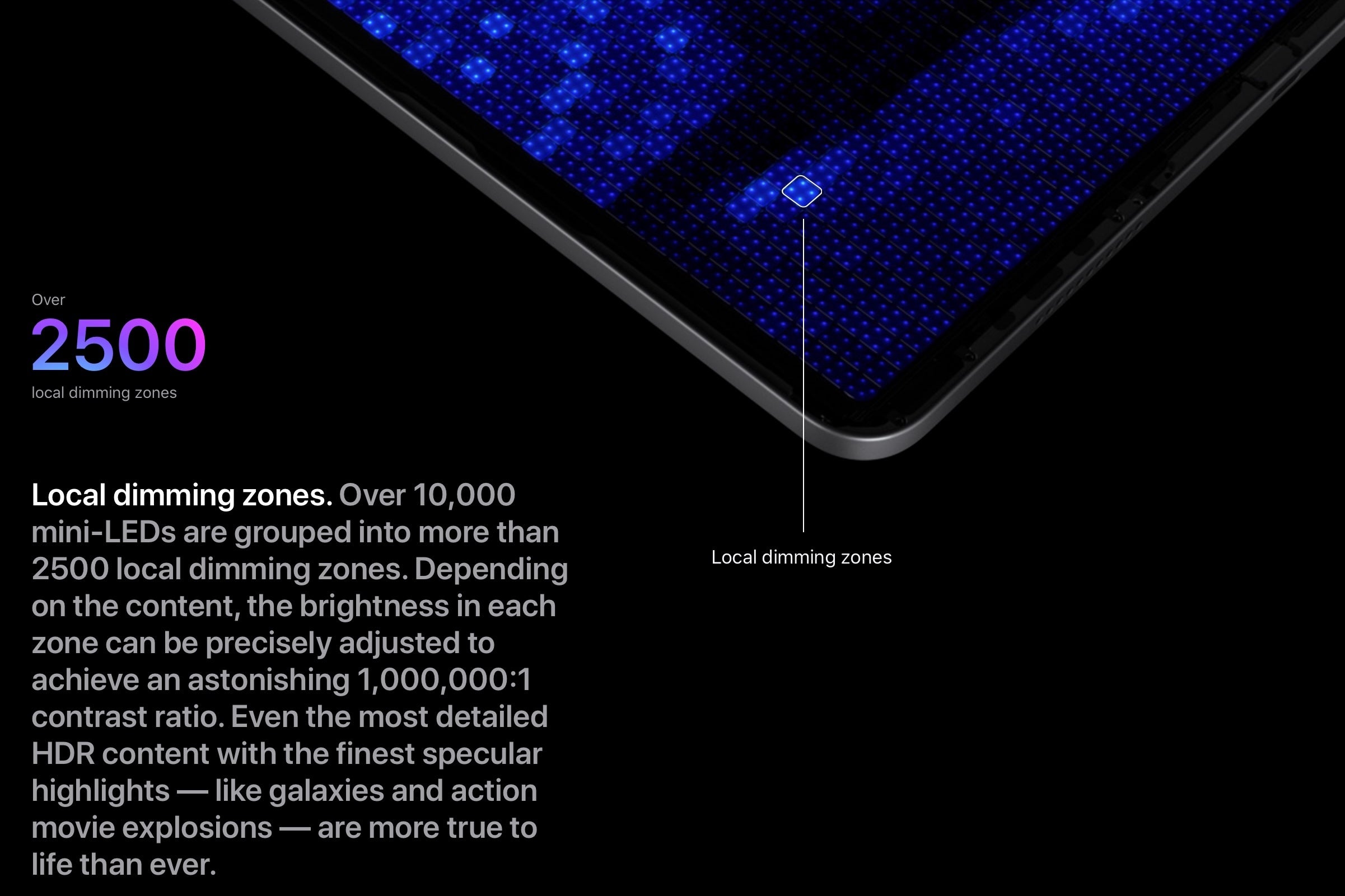 The screen looks lovely — Apple's LCD panels already looked great on last-gen iPad Pro units, but the new Mini-LED tech gives it a little extra oomph to wow you. It can't be caught on picture and it can't be shown on video — you need to see it for yourself.
It is worth noting that the small iPad Pro 11 (2021) still uses the classic LCD panel, so its screen is arguably slightly worse than what the Galaxy Tab S7+ and iPad Pro 12.9 (2021) have to offer. Its colors are still great, but its contrast is not as dazzling.
The same can be said about the Galaxy Tab S7 and Tab S7+, though. While the Galaxy Tab S7+ employs Samsung's stunning Super AMOLED tech to achieve deep blacks and vibrant colors, the regular Galaxy Tab S7 uses an LCD panel, just like the smaller iPad Pro.
So, let's focus in on the main event here — Samsung's AMOLED vs Apple's Mini-LED. Which screen looks better?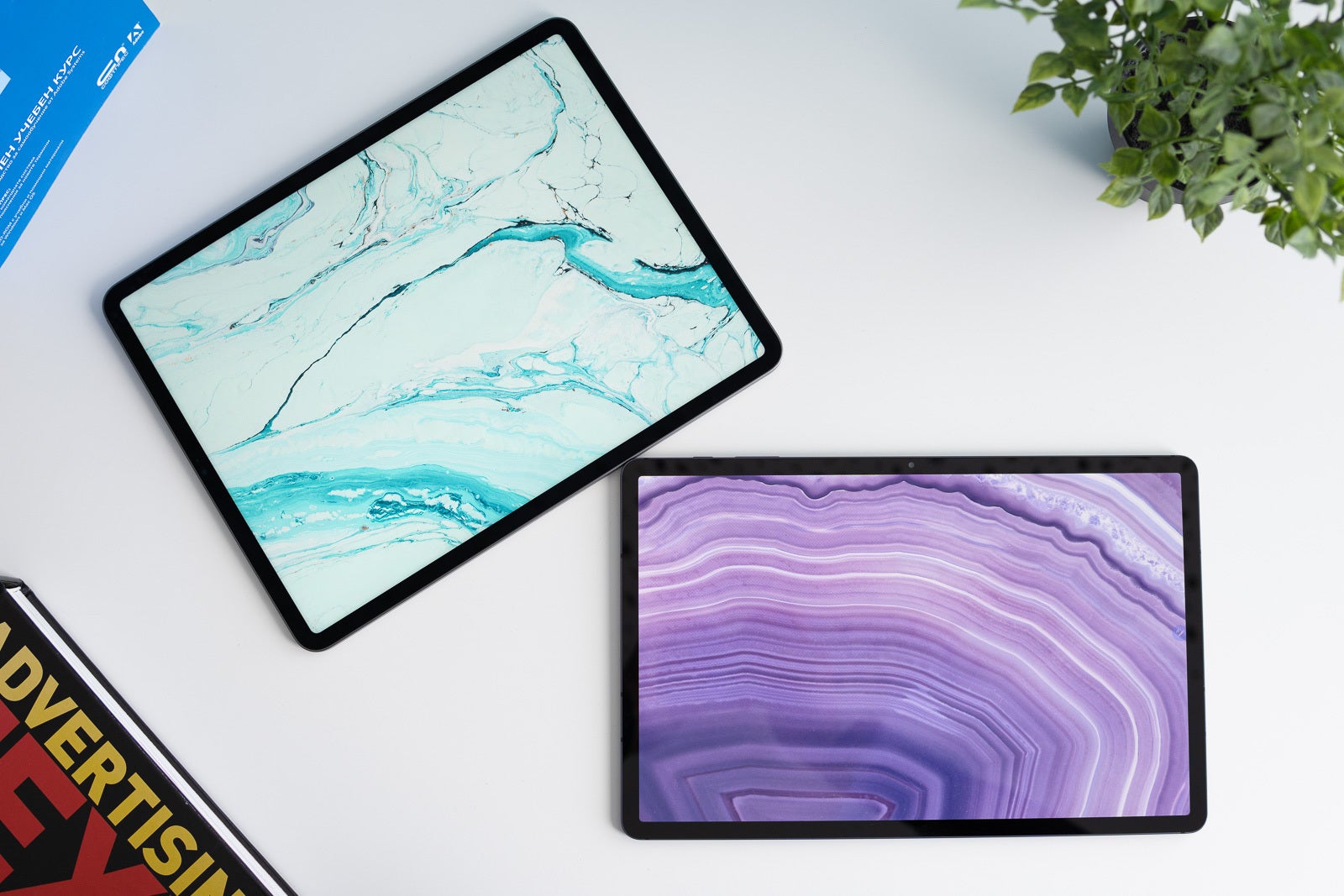 Well, they are both fantastic. The Galaxy Tab S7+ gives you a couple of color profiles to pick from — you can go for a super-vibrant Vivid mode or a more subdued and realistic Basic mode. As for the iPad — you know Apple, there isn't any choice. But the good news is that the iPad Pro's screen is calibrated great. Colors pop out without being too vibrant, and they stay in the realm of reality.
We do find that the Galaxy Tab screen a bit finnicky to work with. For some uses, the Basic mode is a bit too washed out and warm and Vivid mode is a bit too over the top and kind of cold-ish. Pretty sure one can get used to it, though. Both tablets can be used to confidently edit images and video.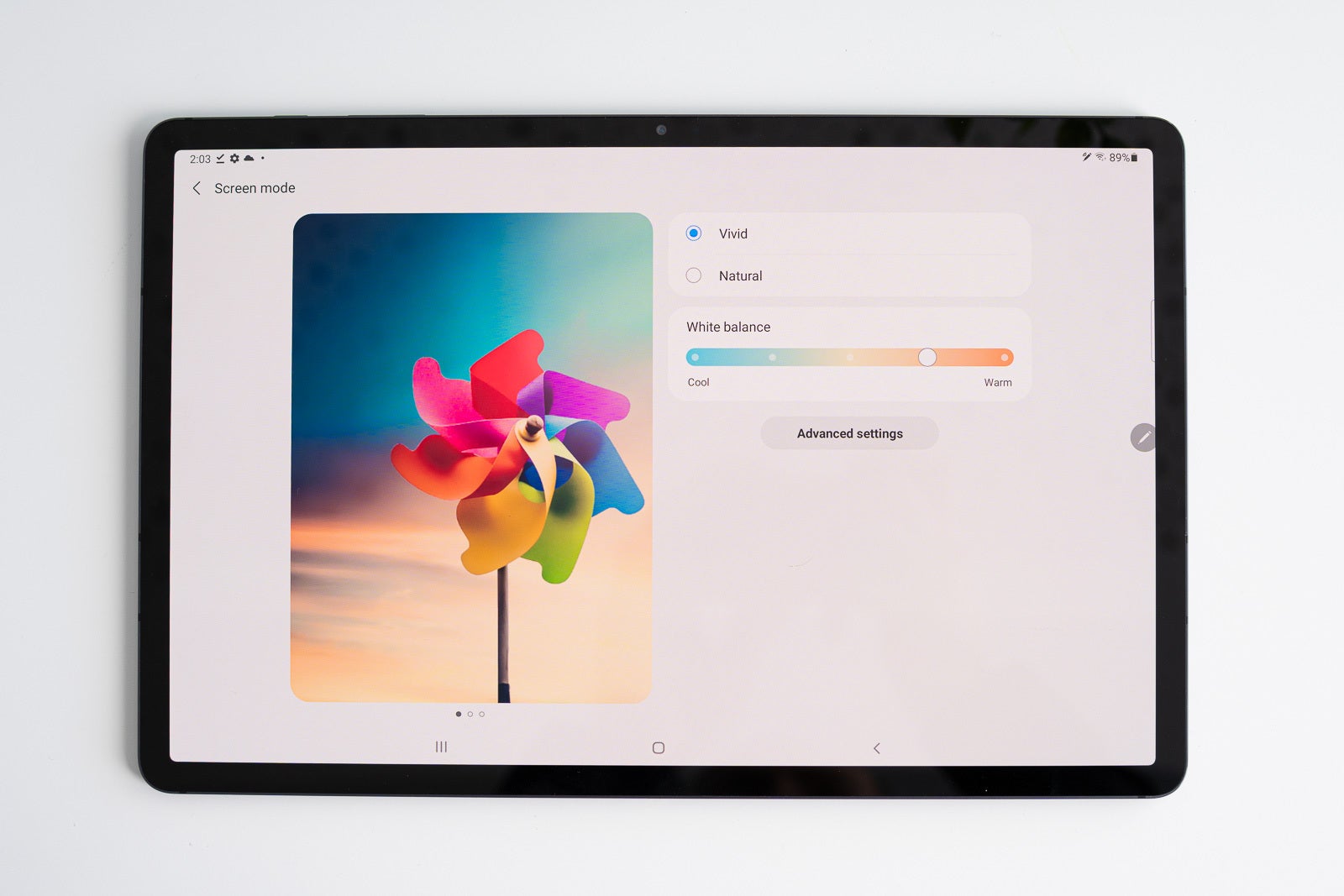 As for the actual design of the slates — at first glimpse, there's nothing special here. You've got huge, metal rectangles with almost all-screen fronts. Both Apple and Samsung made sure to leave enough bezel on the side to make it possible to hold the iPad Pro and Galaxy Tab without accidentally tapping the screen (... too much).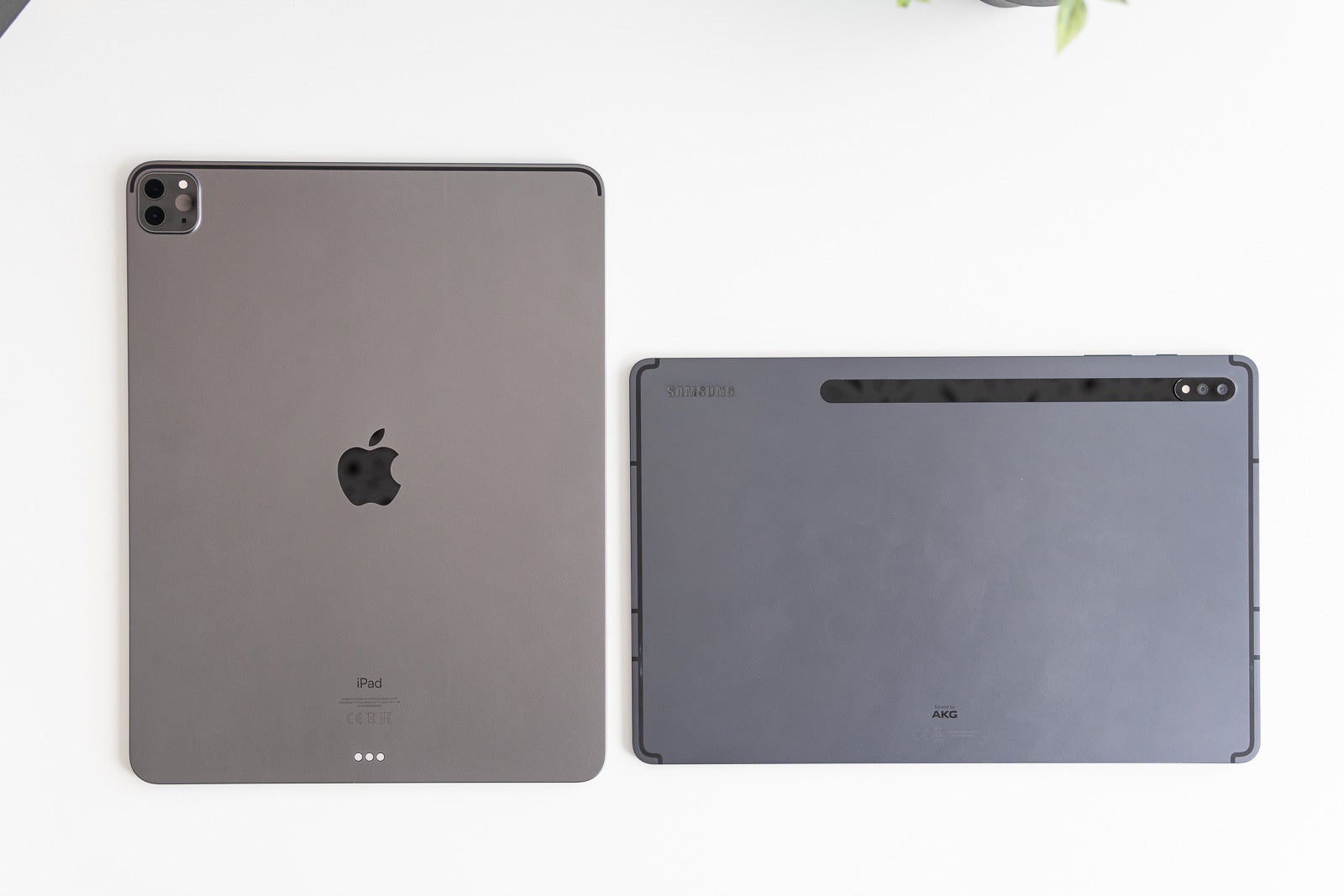 But it's important to take their aspect ratios into account. The iPad Pro 11 (2021) and iPad Pro 12.9 (2021) have an aspect ratio of 14.3:10, while the Galaxy Tab S7 and Tab S7+ have a more cinematic 16:10 aspect ratio.
This means a couple of things. For one, the Galaxy Tab S7 will show less letterboxing when watching movies — the picture will fit more comfortably on the screen with thinner black stripes on the top on bottom, ergo wasting less real estate.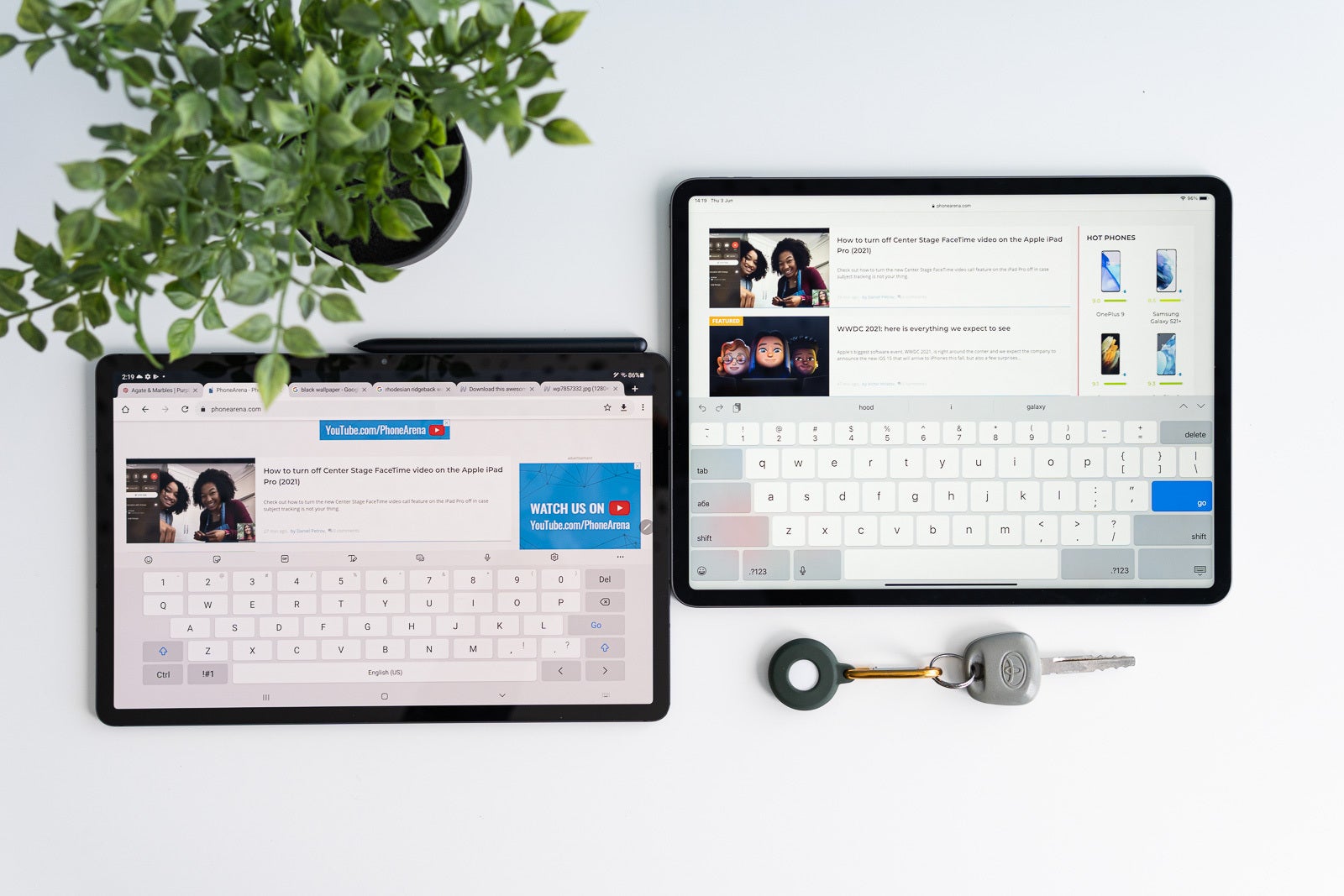 On the flip side, if you are planning to get a keyboard to work on your tablet, the Galaxy Tab's elongated ratio results in a slightly wider keyboard, which kind of looks and feels squished. The iPad Pro keyboard cases feel much more natural and instantly recognizable to the typing fingers.
For picture editing software, it's a mixed bag. Sometimes the Galaxy Tab's longer screen lets you fit more toolbars horizontally. But, in Lightroom here, we see the iPad Pro get more UI elements on screen.
"That's nitpicking!" we hear you say. And to be truthful, yes it is. In terms of design and screens, these tablets are immaculate and that's that.
Display measurements and quality
Face ID vs fingerprint scanner
Apple's iPad Pro has been using the secure face-scanning Face ID since 2018 — the tech that first appeared on the
iPhone X
and is slowly creeping its way into all of the manufacturer's top-tier products.
You use Face ID to unlock the tablet and authorize new app downloads or purchases through Apple Pay.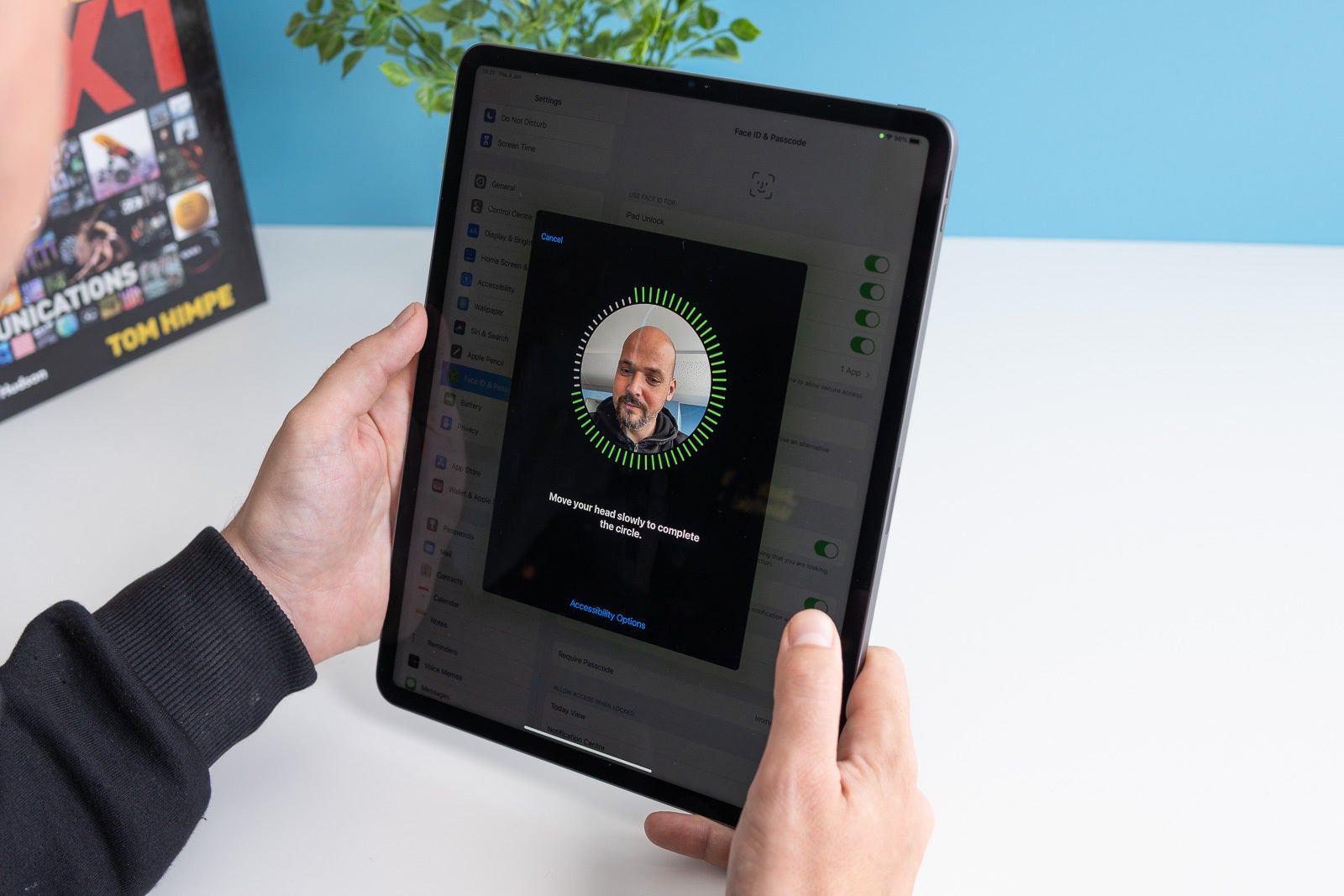 Over the past couple of years, we'd say, it has been working pretty flawlessly on iPhones. But it's still a bit awkward on tablets — sometimes you are holding the iPad in a manner, which blocks the camera. Sometimes, the tablet is laying on a table and your face is out of bounds. Sometimes, you are a bit too far from the tablet and you need to awkwardly lean in.
The Galaxy Tab S7 makes use of an under-screen fingerprint scanner for any secure authorizations you need. This one is also sometimes awkward to use — depending on what angle the tablet is currently positioned in. Also, sometimes, your finger may be a bit smudgy so the scanner doesn't unlock the slate instantly. You can set up a face scan for tablet unlock, but that only uses the selfie camera, which is not very secure. It's very fast in ideal lighting but doesn't work well in the evening.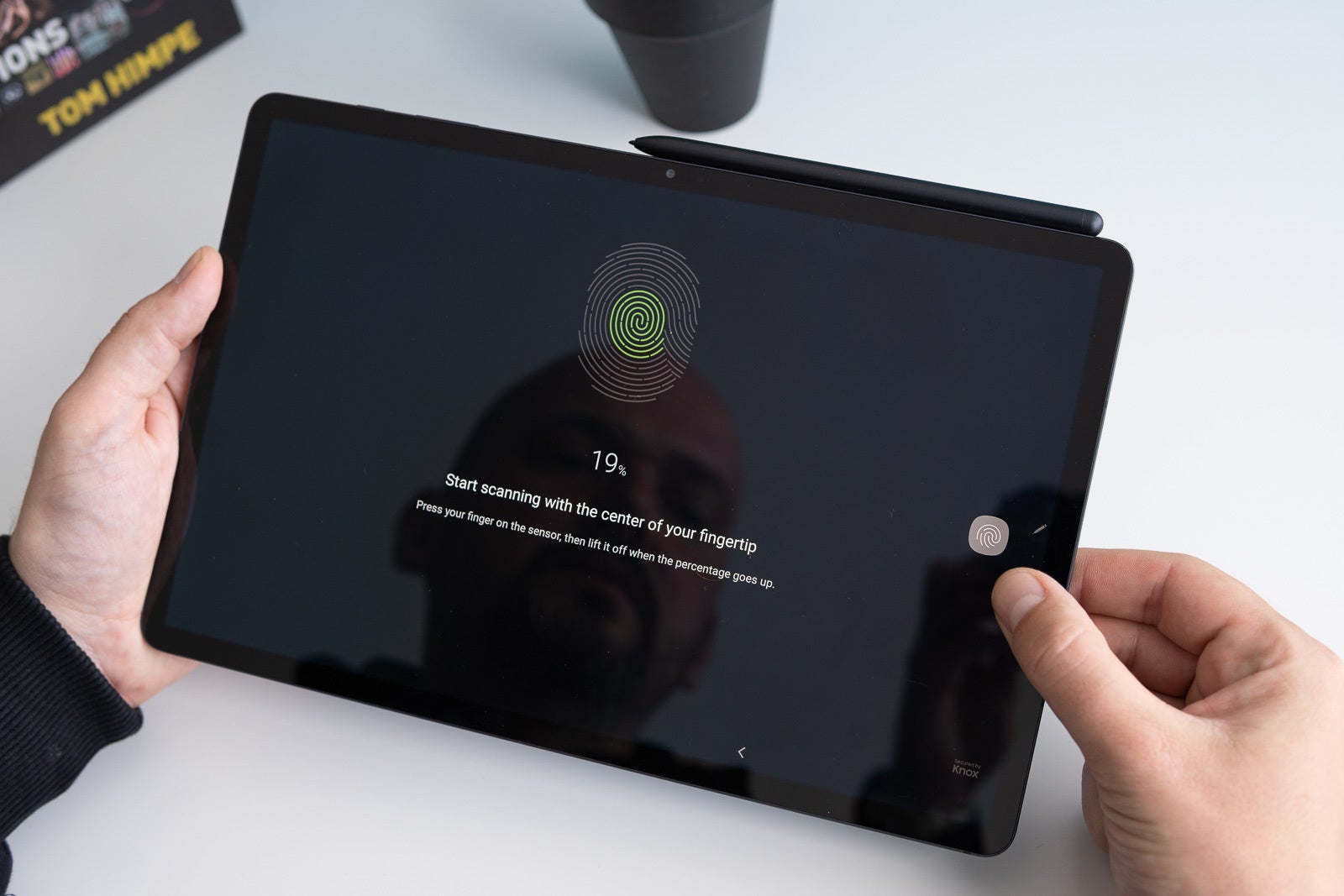 In any case, both tablets are locked tight and secure, and authorization is quick, but each has its own quirks.
Apple Pencil vs S Pen
The Apple Pencil hasn't grown much since it was originally introduced in 2015. Nowadays, we have the Pencil (gen 2), which has been the same since 2018.
It attaches magnetically along the iPad Pro's right frame where it gets its charge. The replaceable tip is plastic, so it always clanks and slides along the glass display in an awkward fashion. Some pro users recommend getting a "Paperlike" screen protector for your iPad, since it provides some friction and makes the experience more "pen-like". But then, you sacrifice the sharp, pristine look of the screen, since any and all paperlike screen protectors are matte, ergo they distort colors and details at least by a little.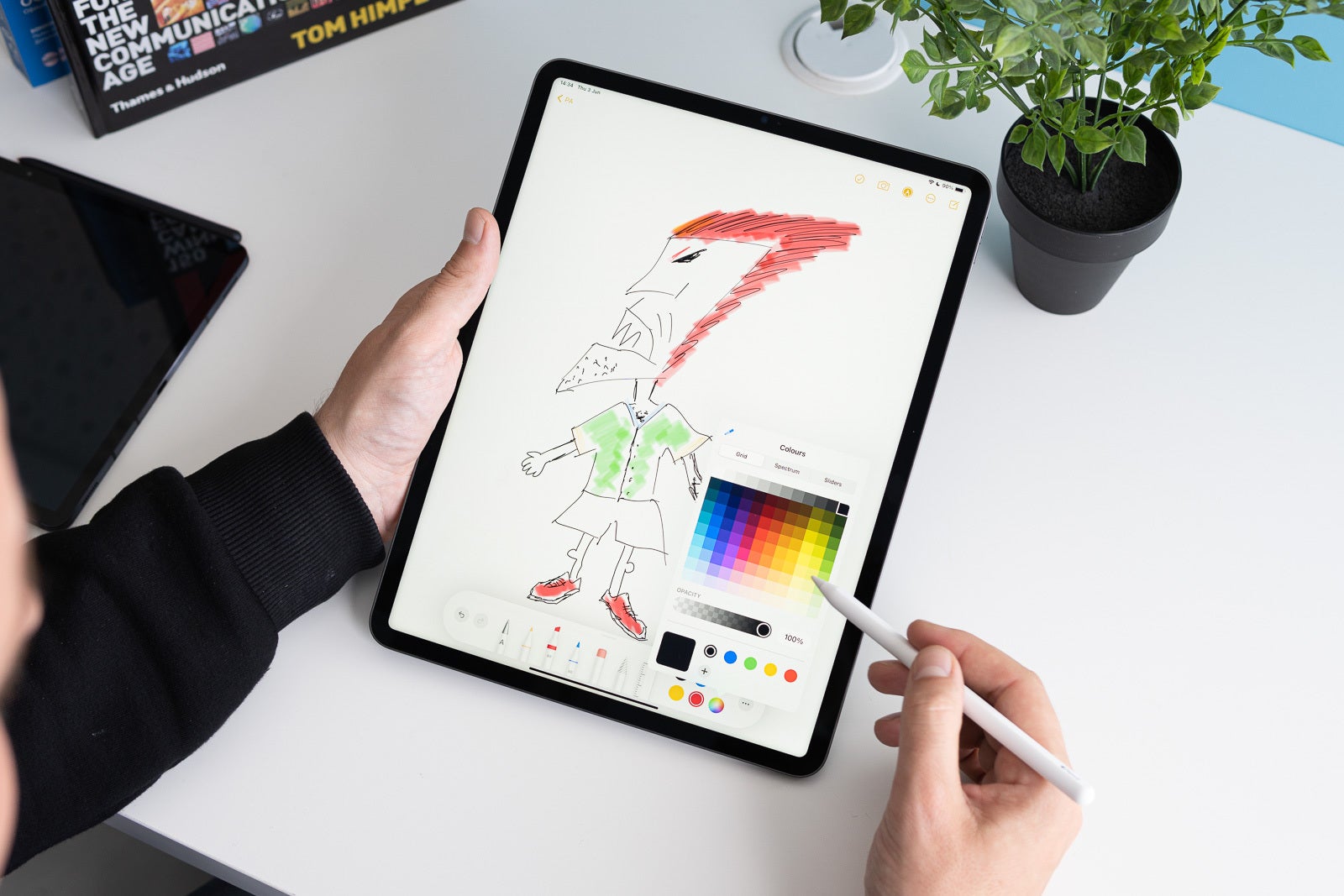 The Apple Pencil also supports limited gestures — tapping on the Pencil while holding it allows you to swap between drawing tools and the eraser.
The ultimate downside of the Apple Pencil is that it's a separate purchase, and is quite costly.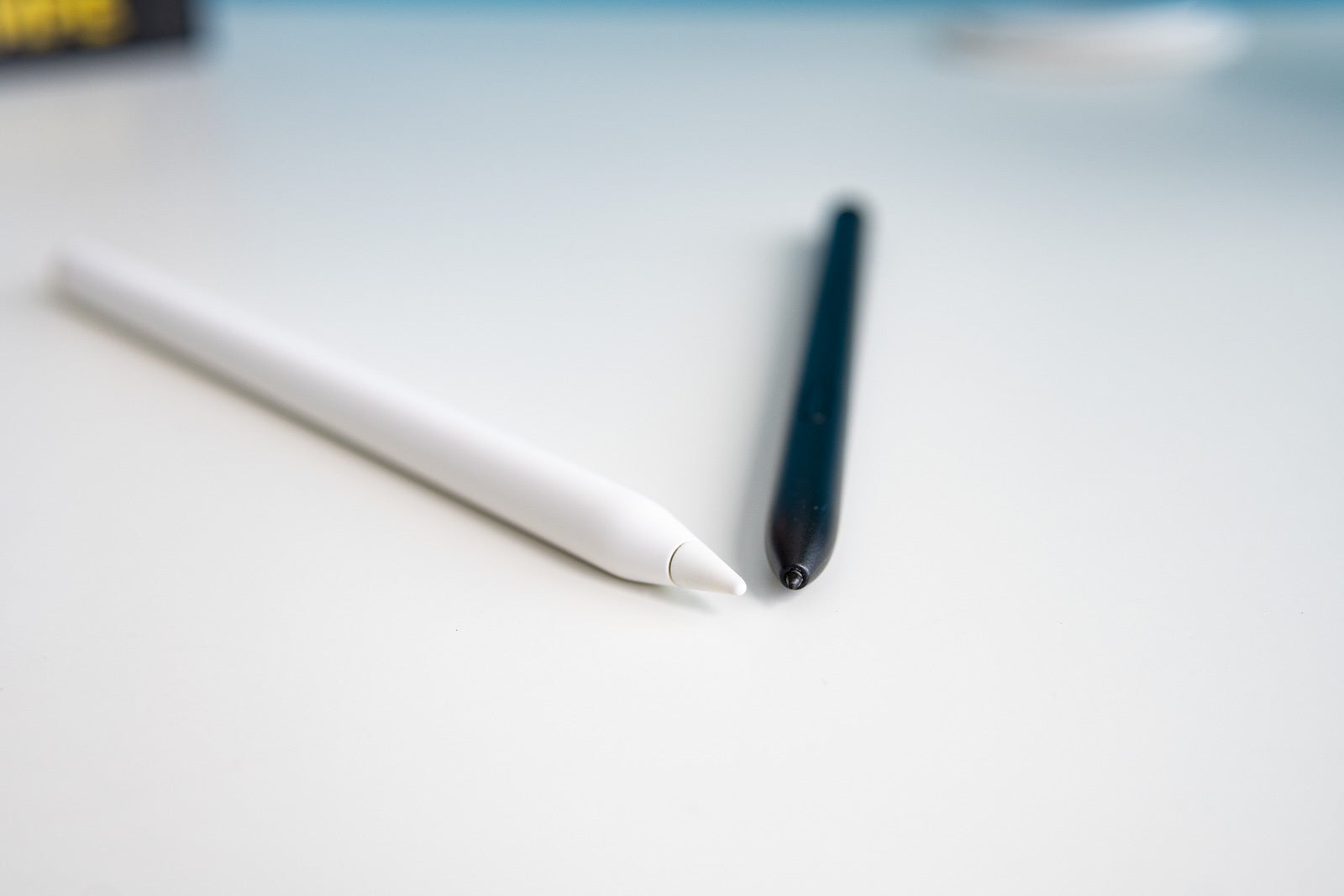 Apple Pencil has a plastic tip, S Pen has a rubber one. Both user-replaceable
Samsung has been perfecting the S Pen experience ever since it released the original Galaxy Note, back in 2011. By today, it's — hands down — the best stylus on a smartphone. Of course, the S Pen has also made its way to the top-tier Galaxy Tab slates and some laptops and Chromebooks.
The Galaxy Tab S7's S Pen comes in the package, no extra purchase necessary. It attaches magnetically to the Galaxy Tab S7 in two locations — along the back of the device, where you charge its battery for Bluetooth gestures, and along the right frame of the tablet for quick pick-ups and drop-offs.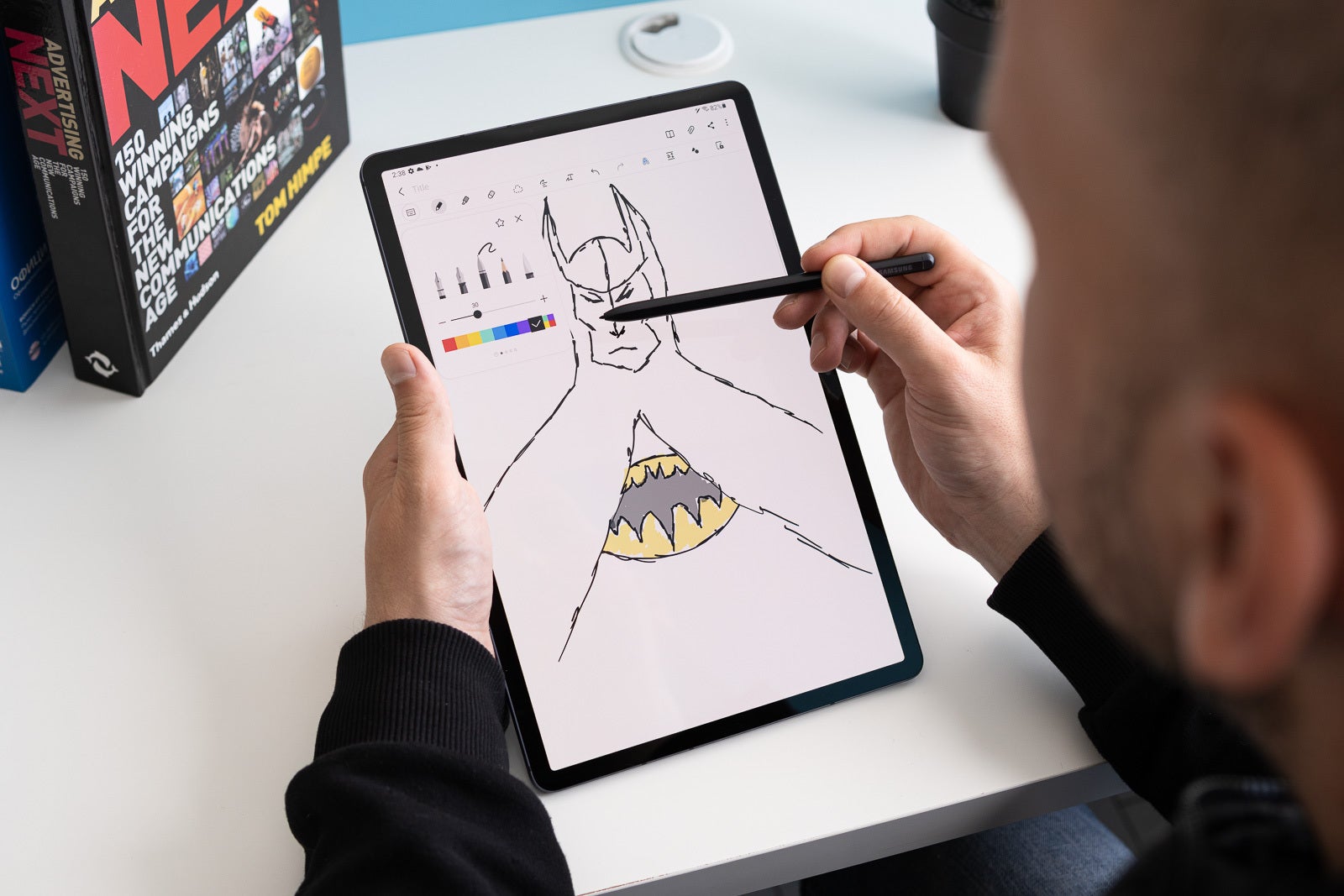 It has a rubber tip, which provides some resistance when scribbling across the glass screen, and it immediately feels better than the Apple Pencil, no extra accessories required. It also has more gestures thanks to the dedicated hardware button that's right on the S Pen. You can use them to pick between drawing tools, start new notes, mark text, or even for remote control functions.
All in all, we think the S Pen is still the better stylus experience overall, but both of these styli are capable of great feats thanks to super-fast response times, very fine pressure sensitivity (4096 levels on the S Pen, unknown on the Apple Pencil), and tilt (angle) detection.
iPad Pro (2021) vs Galaxy Tab S7 speakers and cameras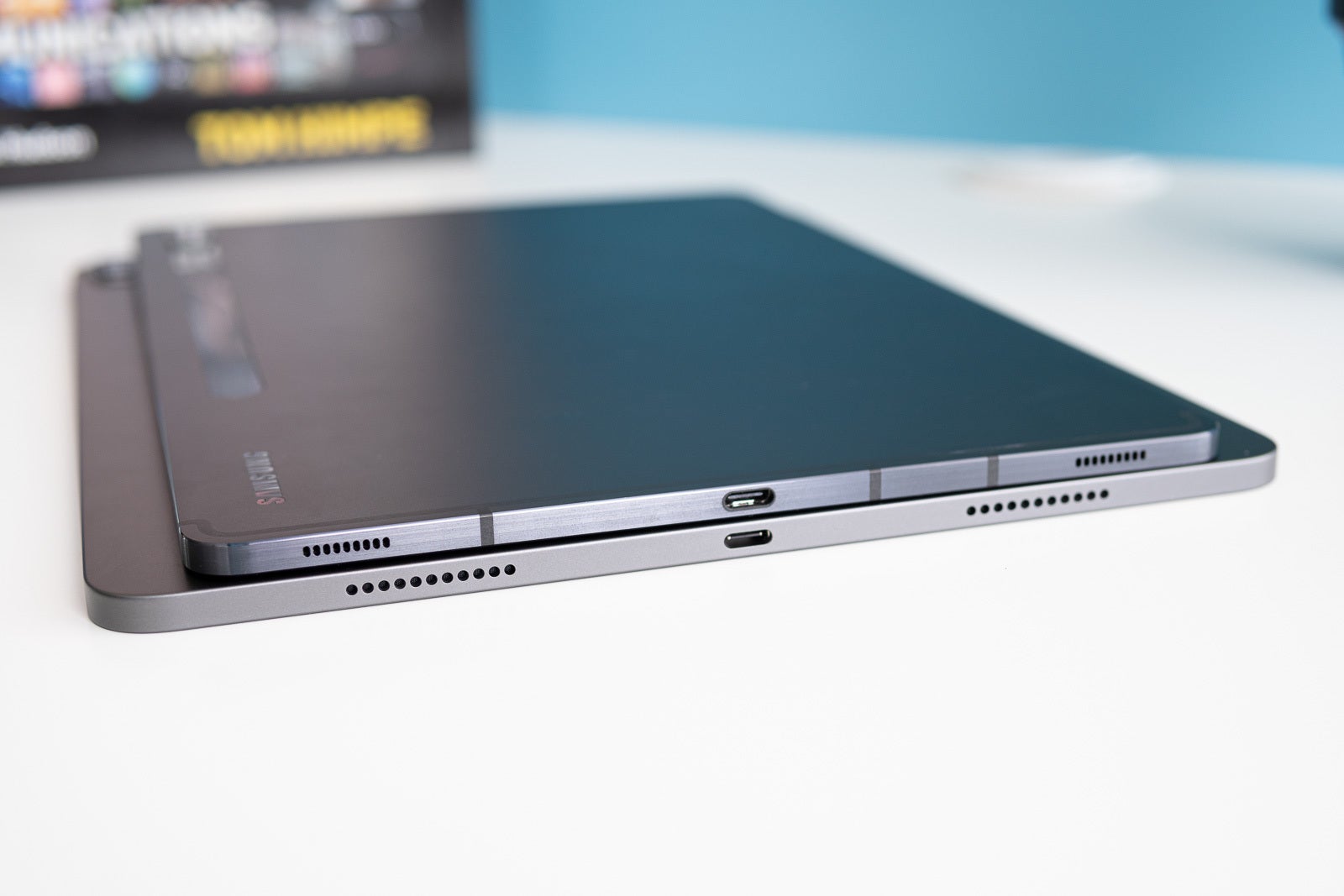 Both of these tablet lines are also great at playing media. Their pretty screens make sure you can enjoy your TV shows and movies, while their quad speakers punch out meaty sound in stereo.
But, hands down, the iPad Pro 11 (2021) and iPad Pro 12.9 (2021) push out a more balanced, detailed, loud, and bassy sound. Make no mistake, the Galaxy Tab S7 and S7+ still have OK speakers. But they can sound a bit middy and lack in bass.
That said, the Galaxy Tab S7 does have 3 different Dolby Atmos settings and an independent EQ. But, no matter how we tweaked it, there was always a compromise to be made.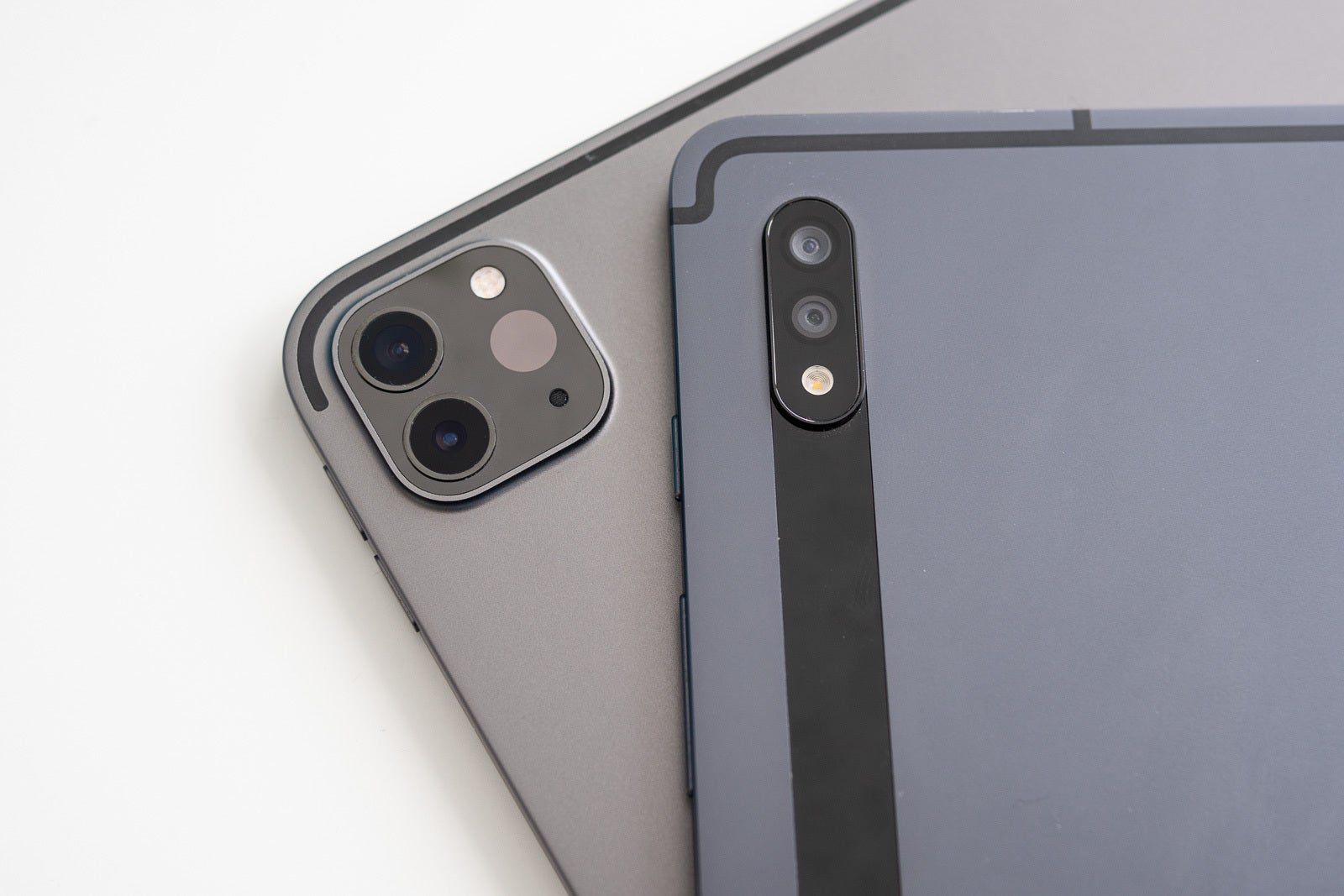 Let's talk cameras — the iPad Pro (2021) has a new, 120-degree, ultra-wide camera on the front with a 12 MP sensor. Apple developed this mainly to add the new Center Stage feature for video calls, and it does make sense.
Those of us that use their tablets for work primarily use the selfie camera for video calls. And who would wave a 12.9-inch slate around to make a new TikTok, right?... right?
In any case, we tested Center Stage and it works great. But it's worth noting that the selfie camera suffers due to the new ultra-wide-angle lens. If you are trying to take a "normal" selfie or just want to turn Center Stage off, the selfie camera will crop in, simulating a "normal" lens. Even with the new 12 MP sensor, we see a loss of sharpness and soft details.
The Galaxy Tab S7 and Tab S7+ have an 8 MP camera on the front — nothing too fantastic, but it does have a regular wide lens, so it doesn't need to digitally zoom in. As a result, pictures with it are more detailed, for what it's worth.
On the back, the iPad Pro has a 12 MP main camera, a 10 MP ultra-wide camera, and a LiDAR sensor for distance and depth measurements.
In all seriousness, we do think the LiDAR sensor is impressive and it's fairly accurate. But we still haven't found a use for it that totally wows — not on iPads, not on iPhones. It's convenient when you don't have a ruler on hand, but you always need to be cautious because it can be a few fractions of an inch off. It's great for Augmented Reality apps, but has AR picked up yet?
The Galaxy Tab S7 has a 13 MP main shooter and a 5 MP ultra-wide camera.
Both tablet models have competent cameras, really. They are sharp enough to scan documents with or just share the occasional photo image during a chat. We can't imagine anyone takes an 11-inch or 12.9-inch tablet outside to take landscape photos with. But hey, if that's your thing — they can definitely do it. Here's some samples:
Both of these machines have pretty big screens and it would be a waste if they didn't have a good deal of multitasking tools, right? Well, they do.
iPad Pro (2021) vs Galaxy Tab S7 software
iOS vs Android. Or in this case — iPadOS vs Android. That's an eternal battle in the tech world. Both systems approach user experience slightly differently and each has its own flock of devout fans.
So, which one is better for you?
As of writing this, iPadOS 16 is on the cusp of being released. It works like iOS on steroids — it's super fast, it offers Slide-over and Split-view (a.k.a. floating window and split-screen), and it supports a wireless mouse or touchpad. Plus, Apple is now adding a new way to organize your homescreen — Center Stage, which finally gives the iPad the freedom to run multiple windows on one screen. This should enhance multitasking on the iPad Pro (finally) but Center Stage has had a rough start during the iPadOS 16 betas and Apple is still tweaking it (hence why iPadOS 16 was delayed to October, we hear).
All of the animations and transitions on iPadOS are super-fast and satisfying on the iPad Pro (2021), no small thanks to the crazy M1 chip that the new slates come with.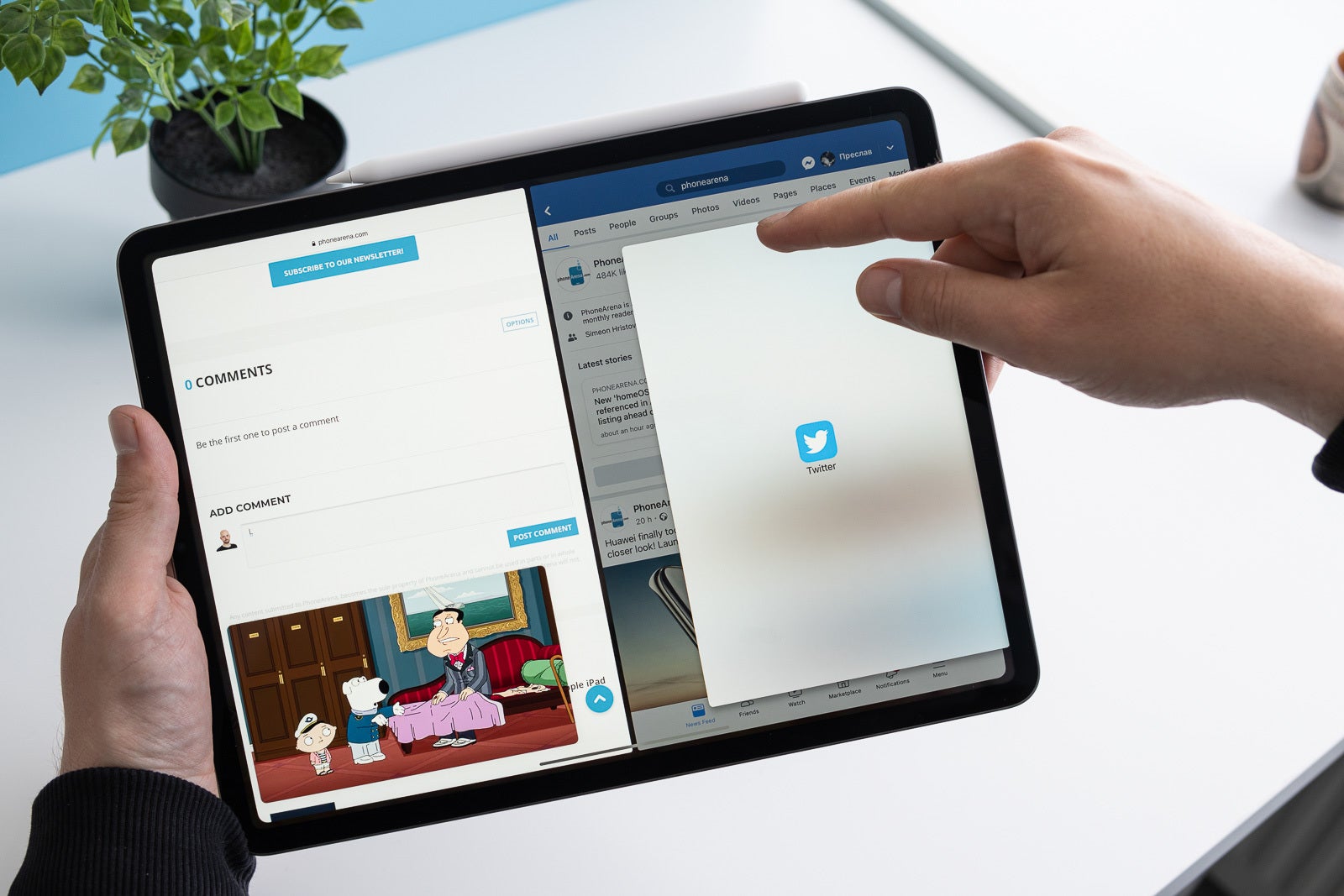 So the iPad Pro is slowly, but surely, leaving its comfort zone of being a "one trick pony". It was pretty good at doing single-focused tasks — documents, image and video editing, light audio work, and keeping up with your socials and communications. Center Stage is about to open it up for those that are looking to move more of their work to the iPad.
The Galaxy Tab S7 has split-screen, pop-up view (around 5 apps in windowed mode), and supports Picture-in-Picture. Whenever you are in a fullscreen app, you can swipe in from the side for a tray with all your apps. Drag one of them in and you are in windowed mode. The animations look clunkier in comparison, but they work just the same.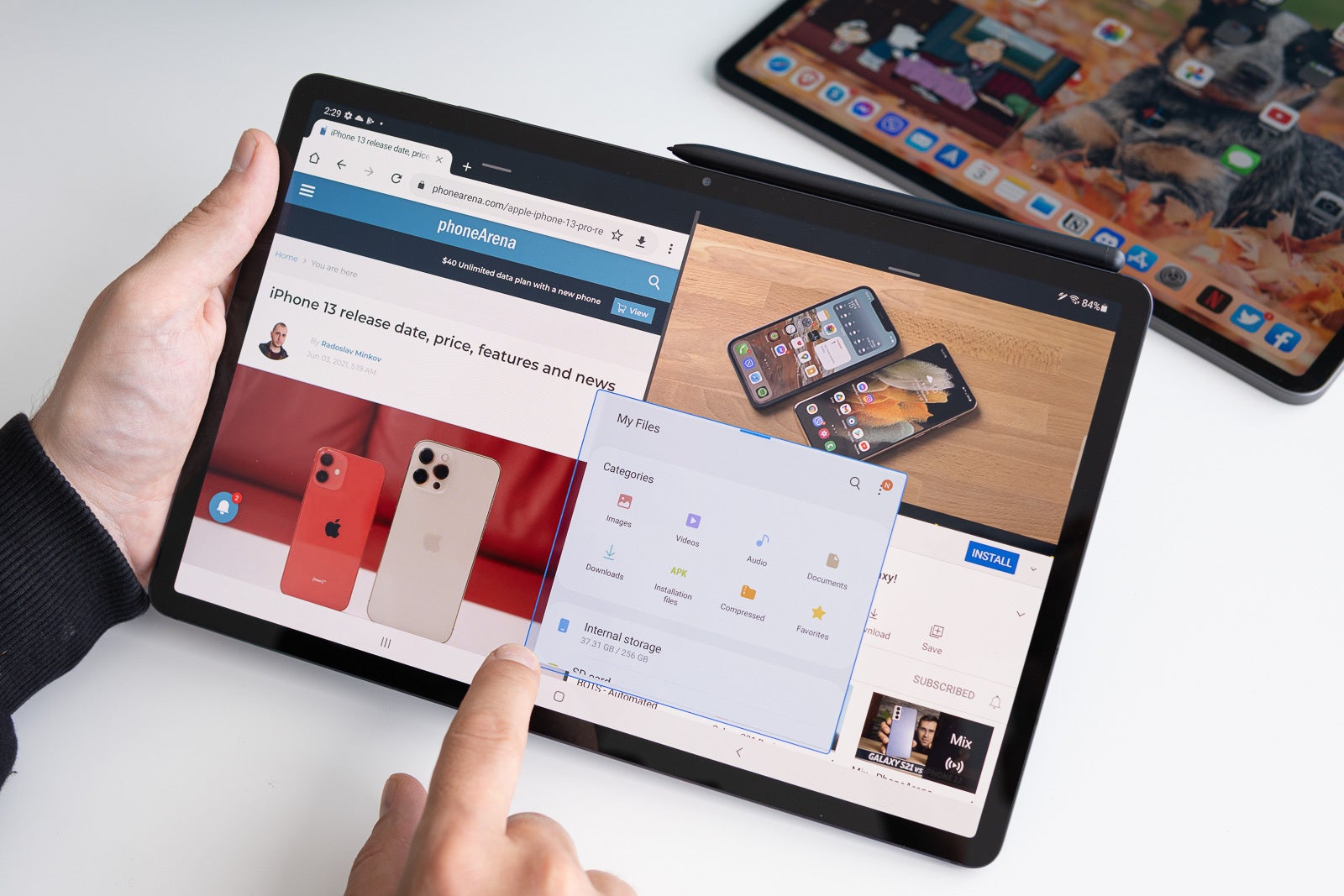 Then, the Galaxy Tab S7 has DeX mode. The tablet transforms into a desktop work machine — still powered by Android, but it looks and feels like a Chromebook or Windows laptop. Whenever I am working on a Galaxy Tab, I keep it in DeX mode at all times — there's just no reason not to.
A lot of 3rd party apps don't work fantastic with DeX — they can get frozen when their window is not in focus and they may need to fully restart when you want to maximize their window to full screen. But the workflow still beats the iPad's one-thing-at-a-time approach.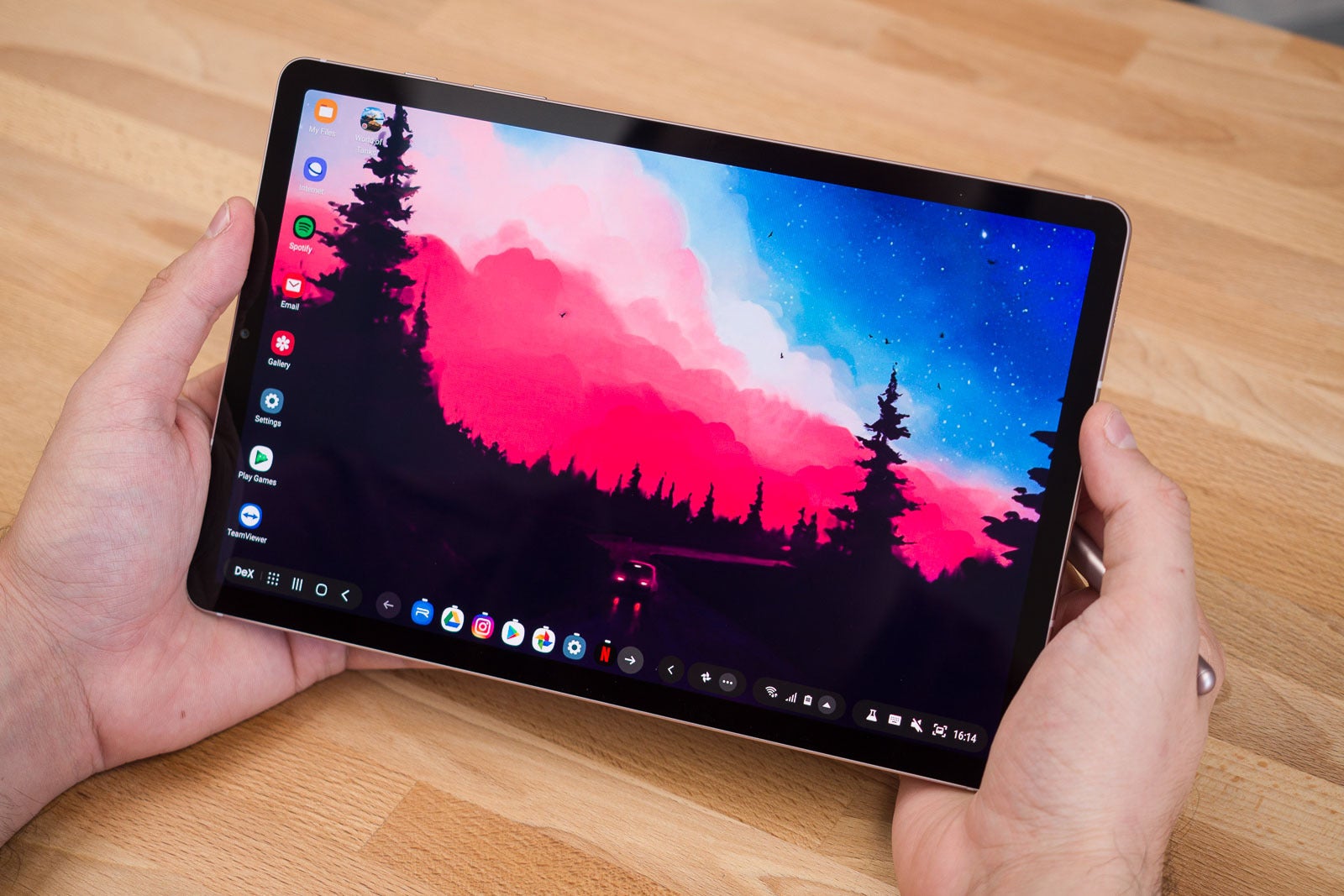 Where Apple products shine is the way they integrate into the ecosystem. An iPad can be used as a second screen for your Mac via the SideCar feature and it works with a simple tap. Or you can control the iPad with your MacBook's mouse and keyboard for super-seamless switching, which honestly still looks like magic. That and AirDrop sharing should make the iPad a no-brainer choice for anyone who owns an Apple computer.
Samsung is still working on a fleshed-out integration between its devices and Windows computers, so you won't get the same seamless experience there.
iPad Pro (2021) vs Galaxy Tab S7 hardware
Hands-down Apple just went over-the-top with the iPad Pro hardware in 2021. An M1 chip in a tablet, really?
It is literally the same chip that Apple put in the 2020 iMacs, MacBook Pro 13", MacBook Air, and Mac mini.
To top it off, the 128 GB and 256 GB variants of the iPad Pro have 8 GB of RAM and the 512 GB and 1 TB versions go up to 16 GB. That much RAM on a mobile Apple device feels like overkill, really. Apple has historically skimmed on RAM because iOS (and iPadOS) treat background apps in a "freeze it for later" manner.
But now, we know that Apple was prepping the iPads for their multitasking feature, so the RAM bump makes sense.
As far as how the iPad Pro (2021) compares against the Galaxy Tab S7 — well, it blows it out of the water. The M1 chip is so far ahead of the Snapdragon 865+ that's in the Galaxy Tab S7 that it's not even funny.
But that's just "raw power" talk. Truth be told, Apple has been taking its time to actually utilize that power with iPadOS. The new update is definitely a step in the right direction, but Samsung's Tab series on the other hand always squeezes the hardware hard and delivers everything it possibly can from the get-go.
Since that's out of the way, here's my take on how these tablets perform and feel in the real world.
The iPad Pro (2021) just flies and it's not even funny. With a Magic Keyboard attached, we can blast through all our open apps, with Videoleap (video editor) we can export large video files before we have our morning coffee, with Lightroom we can color-correct our latest photos before we have time to change our mind on white temperature. It's just insane.
The Galaxy Tab S7 is... sorry, Samsung — a bit janky. It still has quite some power on tap, but the UI drops frames, some apps sometimes take a bit to "wake up", and editing videos on the tablet is just not as fun. Provided, this may also be because the Play Store doesn't have some of the more well-polished apps for the job. Samsung did scare big points when it partnered with Luma-Touch to bring LumaFusion (amazing video editor) to the Galaxy Tab S8 line. However, it has still not trickled to other Android devices, including the Galaxy Tab S7.
So, for smooth creative work, the iPad Pro (2021) does have the edge here... a sharp edge. The Galaxy Tab S8 line is definitely more competitive, but the Galaxy Tab S7 can still work for you if you are more into editing stills, documents, and managing socials and websites.
iPad Pro (2021) vs Galaxy Tab S7 5G
Of course, these tablets have cellular options. Samsung was first to introduce 5G to their slates — both the S7 and S7+ support it. But 2021's iPad Pros have finally also joined the 5G flock. Upgrading to a cellular model is a bit costly — especially for Apple's slates — so maybe consider
if you need a cellular tablet at all
.
iPad Pro (2021) vs Galaxy Tab S7 battery life
Needless to say, these are both long-lasting machines. Depending on what you do, you can melt the batteries in about 6 hours (*ahem*gaming instead of working*ahem*). But the iPad Pro consistently attempted to wow us by pushing up to 9-10 hours of constant screen-on time with regular work. The Galaxy Tab S7 is a bit weaker, maybe giving us 7-8 hours of battery if we squeeze hard enough.
Recommended Stories