iPad Air (2022) review: The best all-around tablet for (almost) everyone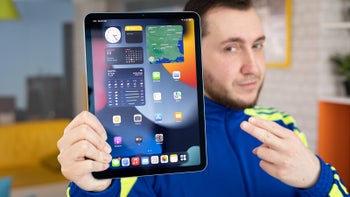 Apple's iPads are excellent tablets, which — slowly but surely — are creeping up to that area of "portable screen that you can actually do work on". Especially the iPad Pros with their excellent screens, Apple Pencil Gen 2, and Magic Keyboards.
But those Pros are expensive. Thankfully, Apple does give us a middle-of-the-road solution. The iPad Air is placed between the entry-level, cheapish base iPad and the way too expensive iPad Pro. It cuts some corners — there's no 120 Hz ProMotion display and no Face ID (there is Touch ID though), but it still gives us Apple Pencil Gen 2 support, Magic Keyboard 11" support, and that all-screen design that looks so modern.
Oh, also the iPad Air has the M1 chip, which powers MacBook Pros, iMacs, and Mac minis out there — that's quite a lot of power in a tablet. Thus, the iPad Air also supports the new Stage Managed multi-tasking and external monitor operation, which gives you kind of a desktop-ish feel if you hook it up to a screen or a USB hub.
The
iPad 10th gen
might be looking like a good deal, since it also has a keyboard accessory of its own and does support the Pencil Gen 1. But we'd like to point out that this base iPad does not support Stage Manager and its keyboard will be basically useless if you decide to upgrade to an Air or a Pro down the line. We still maintain that the iPad Air (2022) is the best option if you are looking for a "productive iPad" that's cheaper than a Pro.
So, is the
iPad Air (2022)
good? Let's take a deep dive into its performance, features, and battery life!
iPad Air (2022) design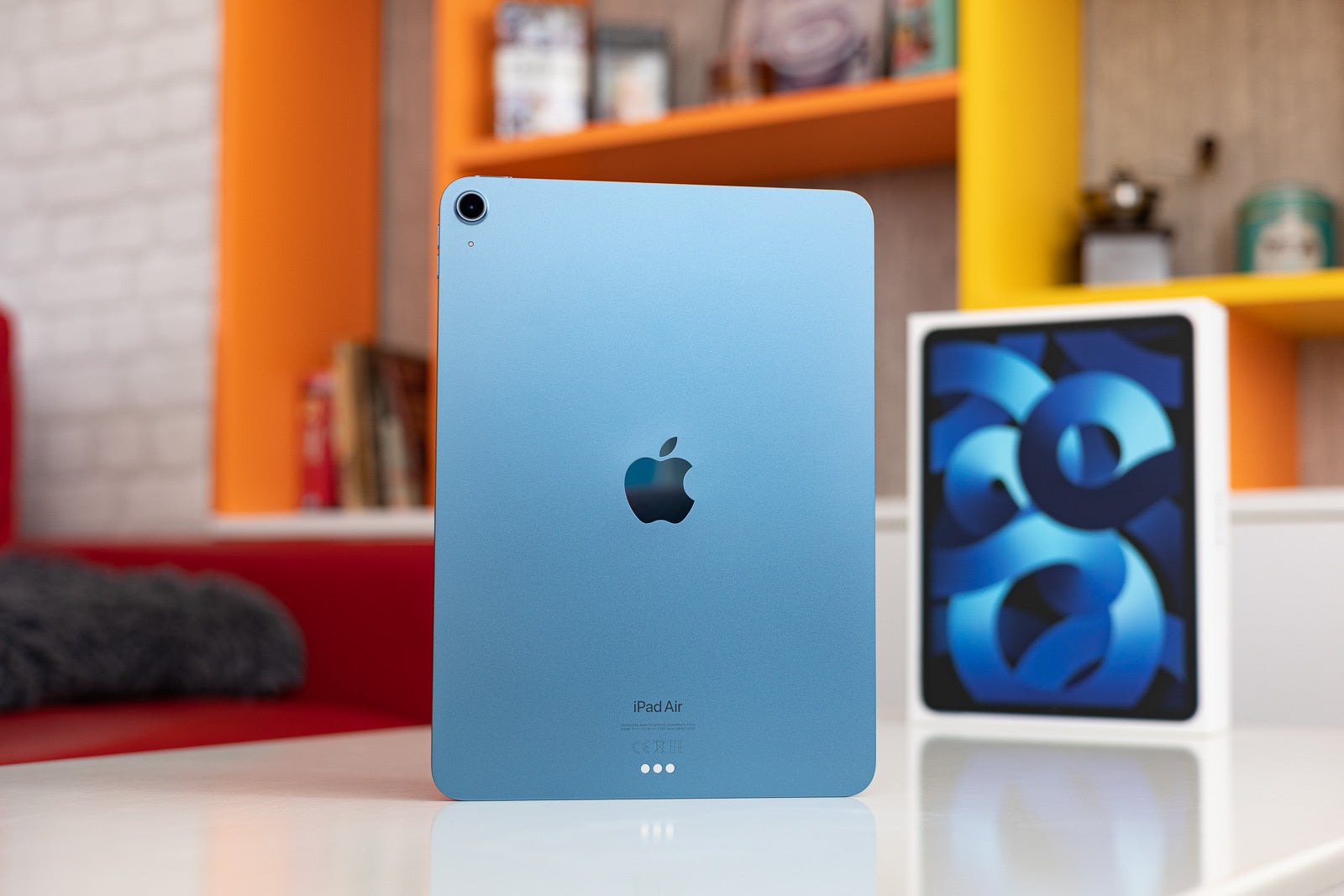 No huge surprises here – it's the same slate as before. We've seen this design on the iPad Pros, and on the previous
iPad Air (2020)
, and here it is again.
But keep in mind – the iPad Air has a 10.9-inch screen, meaning its bezel is ever so slightly thicker than on the iPad Pro 11-inch.
Not a big deal? You are correct, it is not. It barely makes an impression and the larger bezel kind of gives your thumb more space to rest on, to speak the truth.
What is a big deal is the amount of colors you get to pick from with the iPad Air line. It's kind of disheartening that if you spill a bag of cash on the serious Pro models, you get to pick between darker gray and lighter gray, while the iPad Air adds Blue, Purple, Pink, Silver, alongside Space Gray into the mix. We have the Blue one here, and it's beautiful.
The fact that the iPad Air 5 comes in the same form factor means it will still be compatible with all the accessories that fit the iPad Air 4 and even the iPad Pro 11" line. That includes the excellent (and pricey) Magic Keyboard, which this writer here is quite addicted to. Or the more affordable, lightweight (but also finicky) Smart Keyboard Folio. And last but not least – any of the Smart Covers for those two tablets will work on this new iPad Air 5.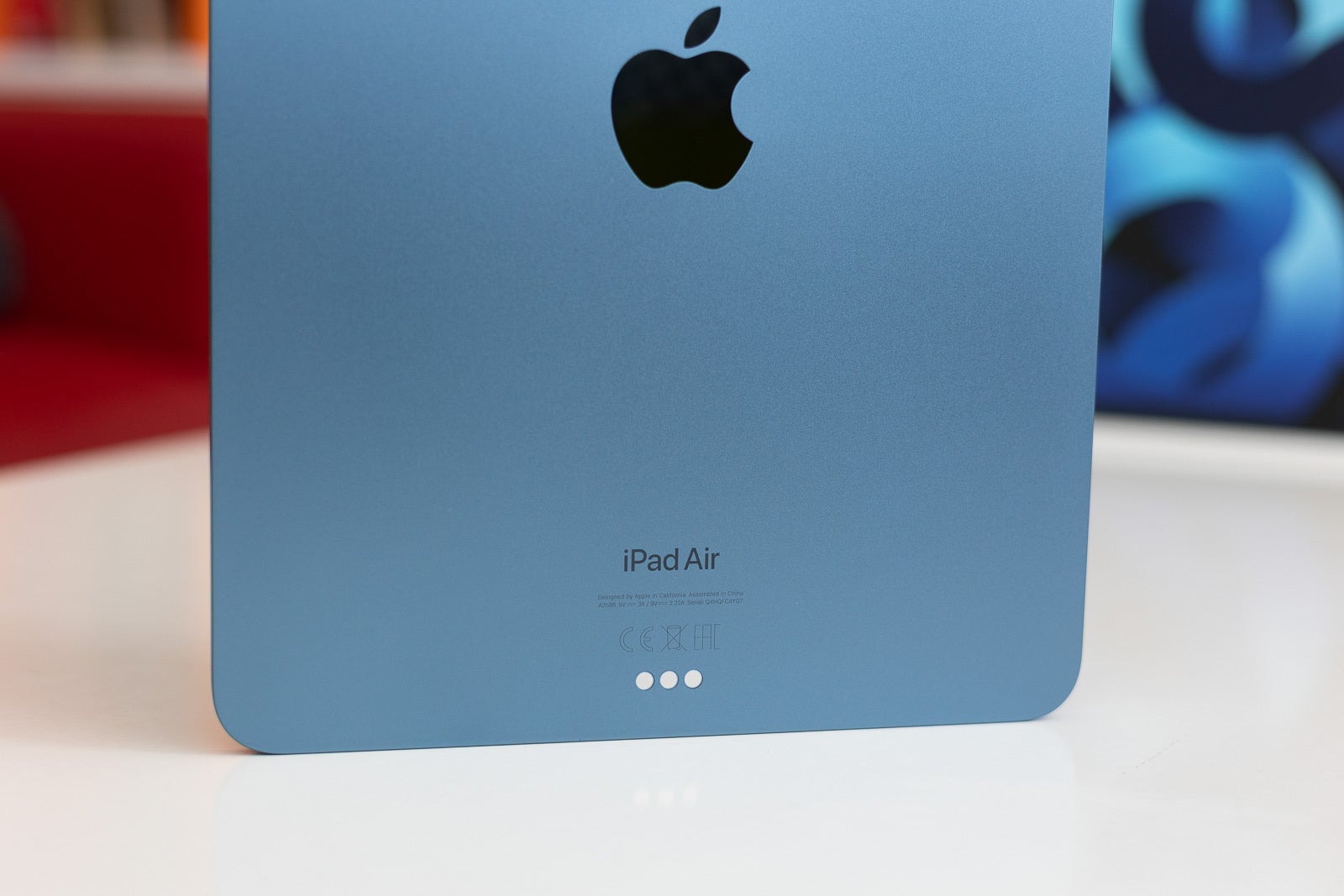 In any case, the build quality on the iPad Air 5 is excellent – glass on the front, metal everywhere else, beautiful flat edges… and it's reasonably light to hold too.
There's still a USB Type-C port on the bottom and we again have dual speakers firing in stereo when the iPad is in a landscape position. So, if you are holding it upright, they are top and bottom speakers.
As we mentioned, the iPad Air 5 doesn't use Face ID. Instead, it has a Touch ID scanner embedded into the power button, just like on the Air 4 or the iPad mini 6. And Touch ID here is pretty easy and painless to set up, and quick. Personally, I've grown very accustomed to Face ID on the iPad Pro, but I can definitely live with "just" Touch ID.
iPad Air (2022) screen
While it kind of looks and acts like an iPad Pro, the iPad Air takes a couple of hits in the screen department.
For one, Apple adamantly refuses to give the Air line a refresh rate above 60 Hz. So, yeah, if your eyes are spoiled by buttery-smooth 120 Hz animations, you will feel that here. Whether or not it's worth it to jump to an iPad Pro just for the ProMotion display, it's up to you.
Secondly – and there's probably no need to say this – there's no mini-LED tech on the screen. This feature is still exclusive only to the biggest and baddest iPad Pro 12.9-inch, not even the 11-inch iPad Pro.
But still, you can rest assured that Apple has its LCD tech on point. The iPad Air 5 looks fantastic, with very accurate colors, great brightness, and good sharpness. Nothing seems to have been improved over the previous Air 4, but then again – if it ain't broke…
And there's still True Tone on board, which is on by default, and easier on the eyes than a screen's default color temperature. But if you're a graphic designer and need accurate colors – you can turn that off.
If you just want to watch movies and videos, play games, and generally use this as an entertainment tablet – you'll likely be more than happy with the display. Sure, we would've loved to see mini-LED or AMOLED technology on this display, with its pitch blacks, particularly welcome when watching movies at night… But hey, this is the "mid-tier" iPad after all.
Display measurements and quality
iPad Air (2022) hardware and performance
And here we have half the reason why this update came about. The iPad Air 4 (2020) was powered by an Apple A14 Bionic chip, this new model comes with an Apple M1 chip. Yeah, you read that right – the same chip that powers the newest iPad Pro, the $999 MacBook Air, MacBook Pro 13", Mac mini is in this "mid-tier" iPad.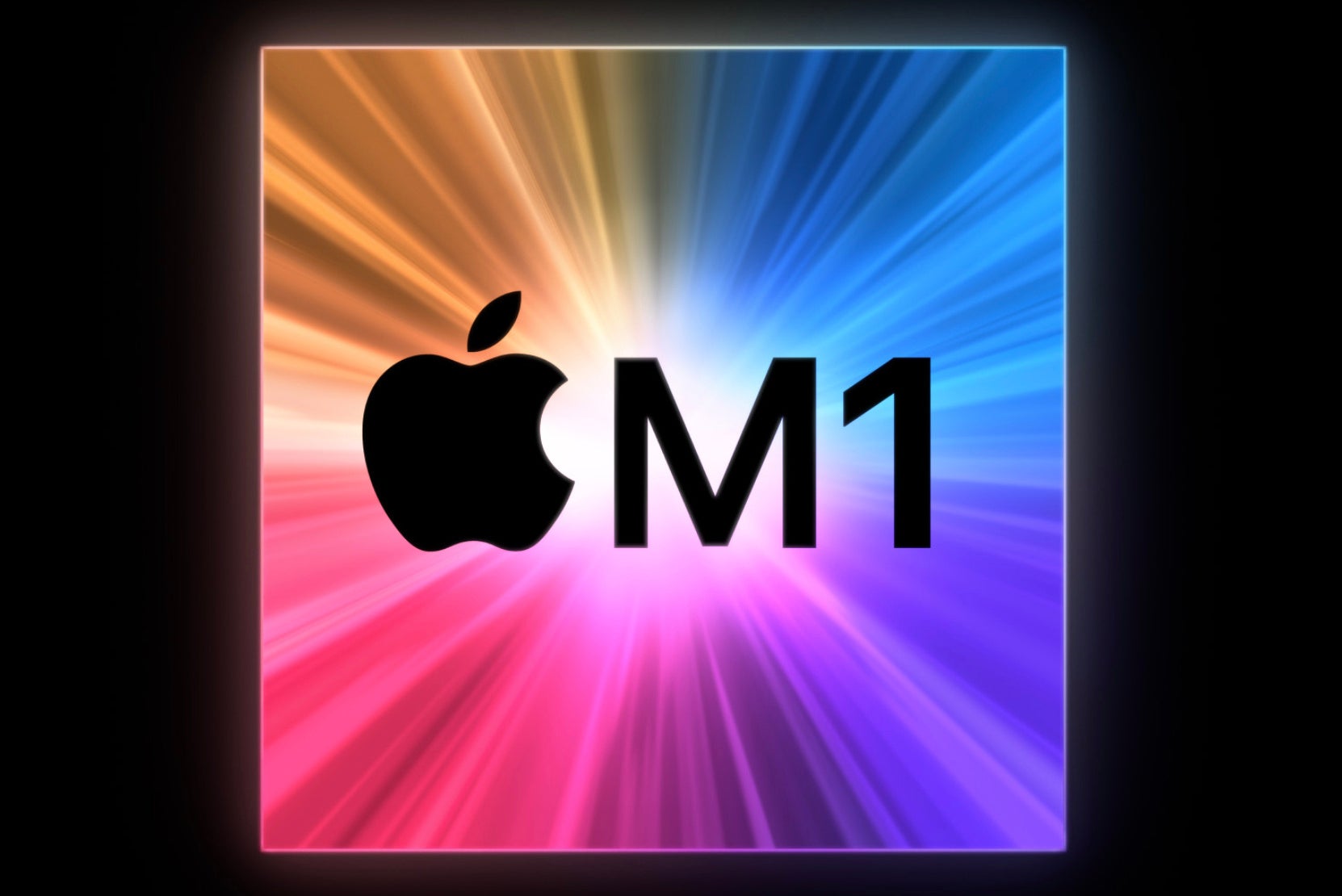 So should you sprint to the stores to upgrade from your 2-year-old iPad Air? Well, the M1 does unlock the power of Stage Manager, which finally... finally gives us actual external display support (not just screen mirroring) and multitasking on the iPad (however clunky it might feel right now).
As we can see from our benchmark tests above, the single-core performance jump of this M1 iPad Air from the previous A14 Bionic one isn't huge, but the multi-core difference is significant. And most notably, it beats the current 11-inch iPad Pro! Though, the results are reverted in graphics tests.
In terms of RAM – the iPad Air 5 gets a huge bump up to 8 GB of RAM. That's double what the iPad Air 4 had and it's equal to the RAM of the iPad Pro. Now
that
you may notice, if you do lots of multitasking – as more RAM means more apps can stay open in the background, for longer, and not have to refresh when you get back to them.
The only place where the 2022 iPad Air's hardware drags behind is storage. That $599 price is for the 64 GB base storage variant. And, come on, for a machine that can edit 4K HDR video in a flash, 64 GB is kind of a joke. Especially with iPadOS, which just loves to create unique copies for your files whenever you are working on them in different apps. You really need to think twice before buying the 64 GB version – whether that would really be enough for you. At least if you're a creator – it likely won't.
More on storage options and buying decisions in the conclusion.
It's also worth mentioning that the iPad Air (2022) is now capable of 5G connectivity. The Air (2020) had an A14 Bionic chip, which powered the iPhone 12 line, but capped out at 4G for one reason or another.
iPad Air (2022) speakers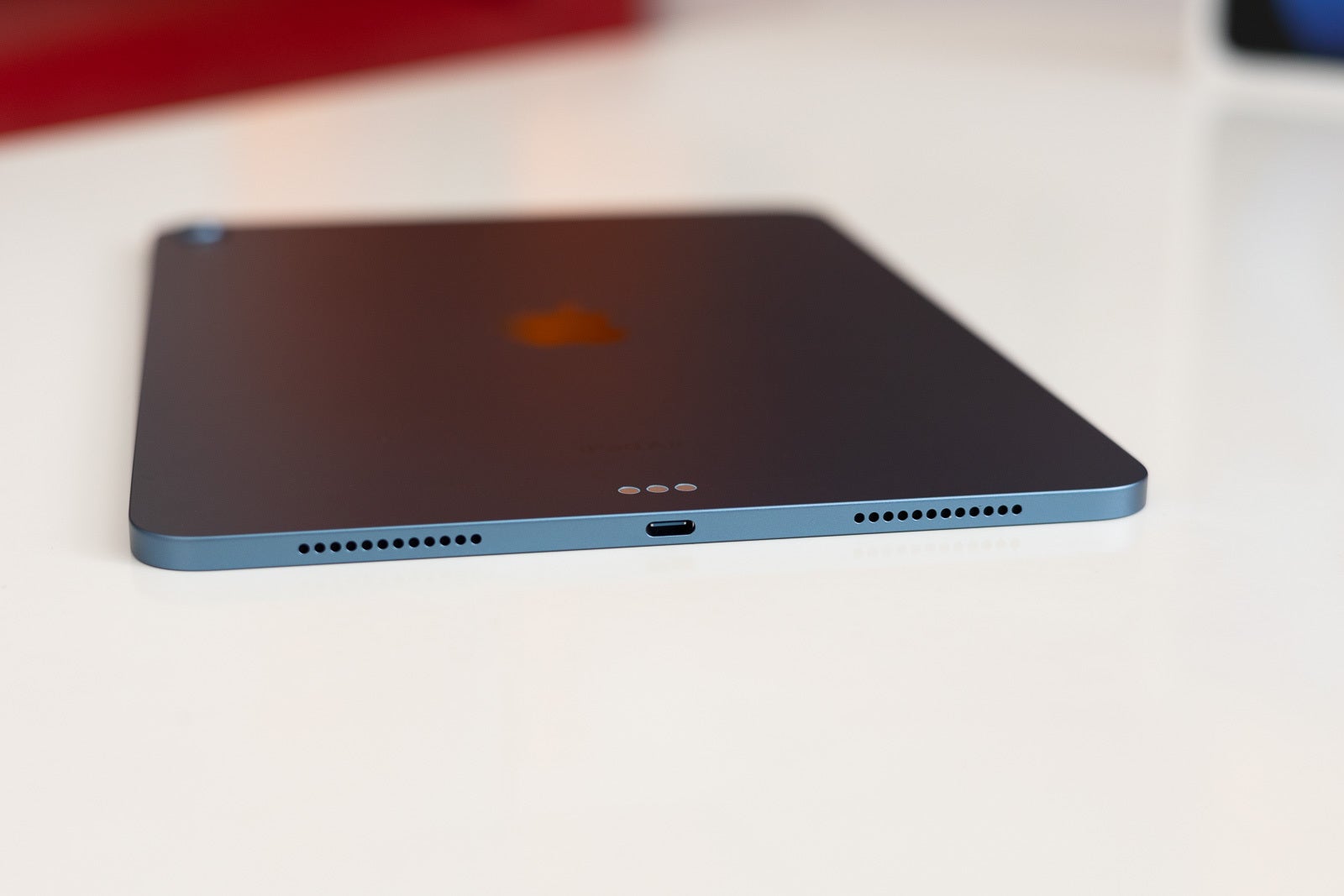 The iPad Air 5's speakers are really good. Don't let the four speaker grills fool you though, like with its predecessor, the iPad Air 5 has only two stereo speakers. They don't have an edge over the quad speakers of an iPad Pro – the latter definitely sound a bit deeper, more well-defined, and most notably – louder.
But if you aren't A/B testing them, you'll find that the iPad Air's speakers are really good, especially for a tablet. They get loud, have good stereo separation, and when you're holding it, you can even feel a hint of bass.
Apple has been on top of audio for some years now, and it shows in all the latest products we've had in the office.
iPad Air (2022) camera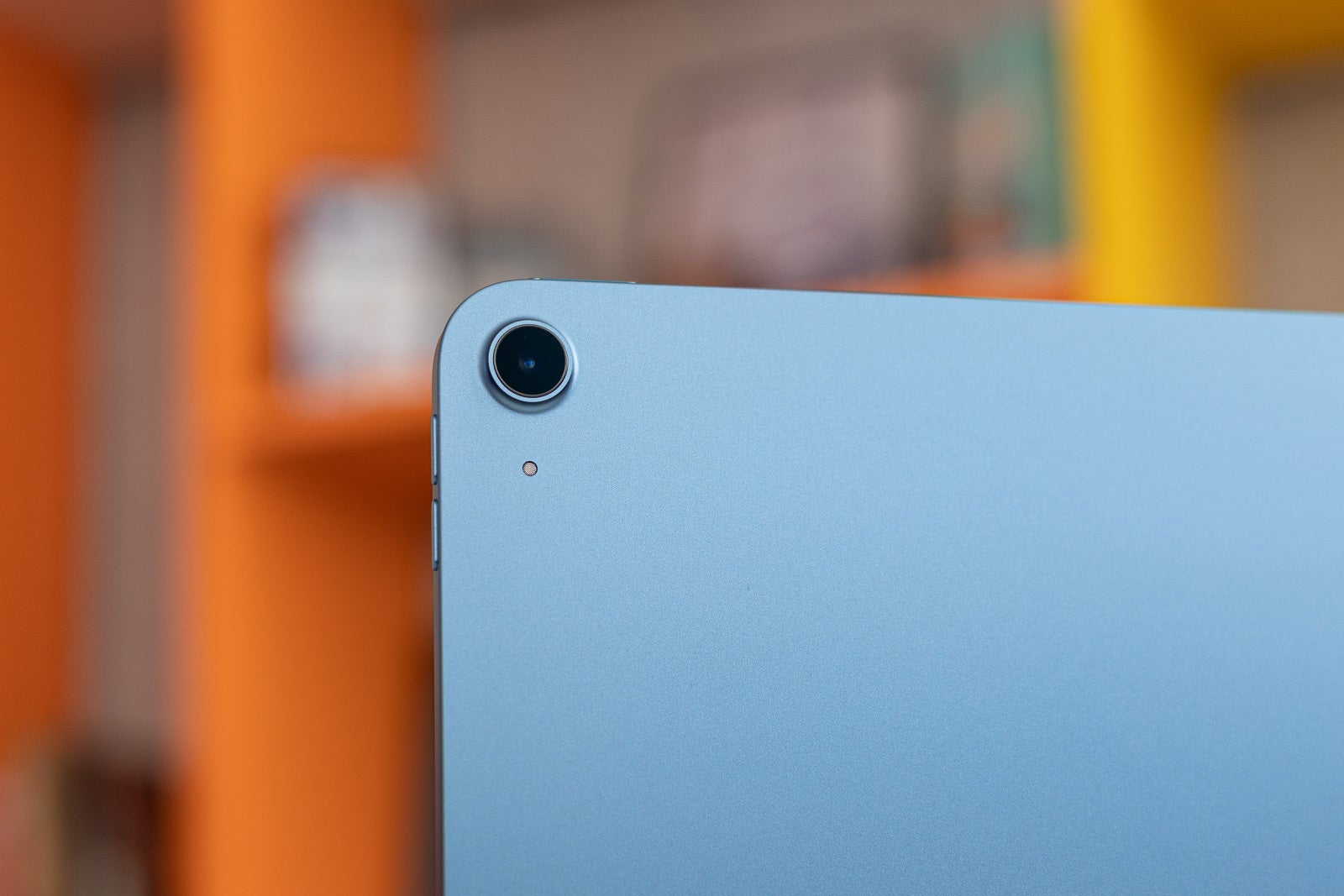 Yeah, I know, nobody takes a tablet out to take pictures with (or do they?). But tablet cameras have proved useful for light office-related work – you can use the back camera to scan documents via a plethora of useful apps. And, of course, you use the front camera for video calls, whether for work or school.
And this is where we have the other major upgrade — or the second half of the reasons why Apple needed to upgrade the Air line. The iPad Air 4 was the only tablet in the entire iPad lineup that didn't have the ultra-wide selfie camera with Center Stage.
Well, now the iPad Air 5 has it. In case you were out of the loop, Center Stage is a software feature that zooms in on the ultra-wide angle camera footage and follows your face around. It's kind of cool – like you have your personal camera operator. You don't need to be nailed to your tablet while calling the relatives – you can sort your groceries and be confident that the camera is still on your face.
The main camera on the back is seemingly the same 12 MP snapper as before. And honestly, I don't find this to be a pressing problem. In fact, it's a pretty good main camera for a tablet. You can even record up to 4K, 60 FPS (frames-per-second) videos with it.
And in our sample 4K, 60 FPS video below, recorded with the main camera, you can also hear the iPad Air 5's microphone sounding pretty good. Especially considering we challenged it by filming in windy weather. So like I've said in previous articles and reviews, if you're one of many aspiring YouTubers, all you really need is good lighting and an iPad Air or Pro to both film and edit your videos, until you can move on to better equipment.
iPad Air (2022) software features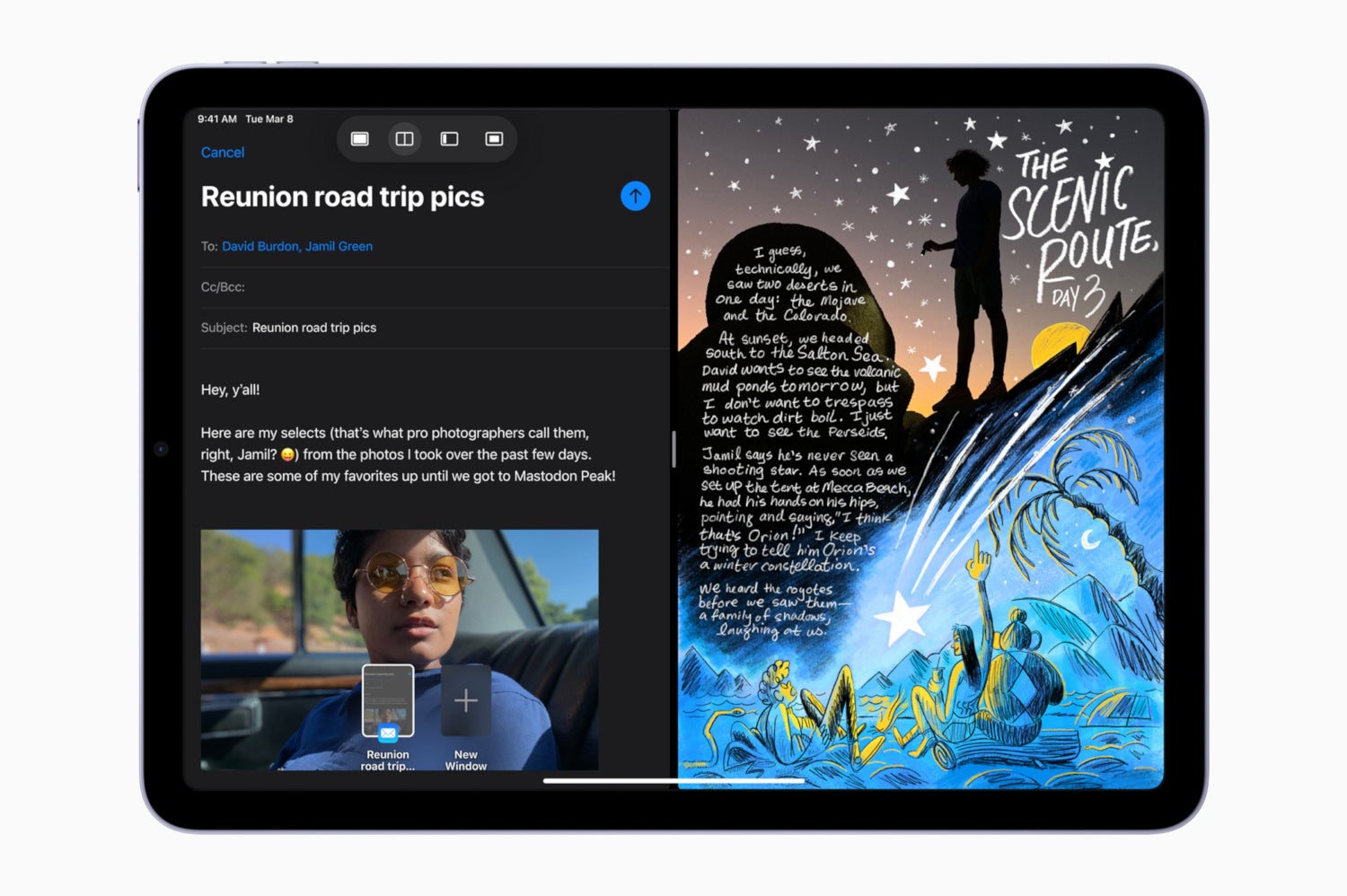 The new iPad Air comes with iPadOS 15 out of the box, with all the features you also can get on the Pros, the old Air 4, the mini 6, or even the base iPad. It's just how it is.
So, Split-View, Slide Over, mouse compatibility, multiple instances of the same app, Apple Pencil 2 and Magic Keyboard compatibility, the new, updated iMovie, anything you can find on the App Store – they all work, very well too.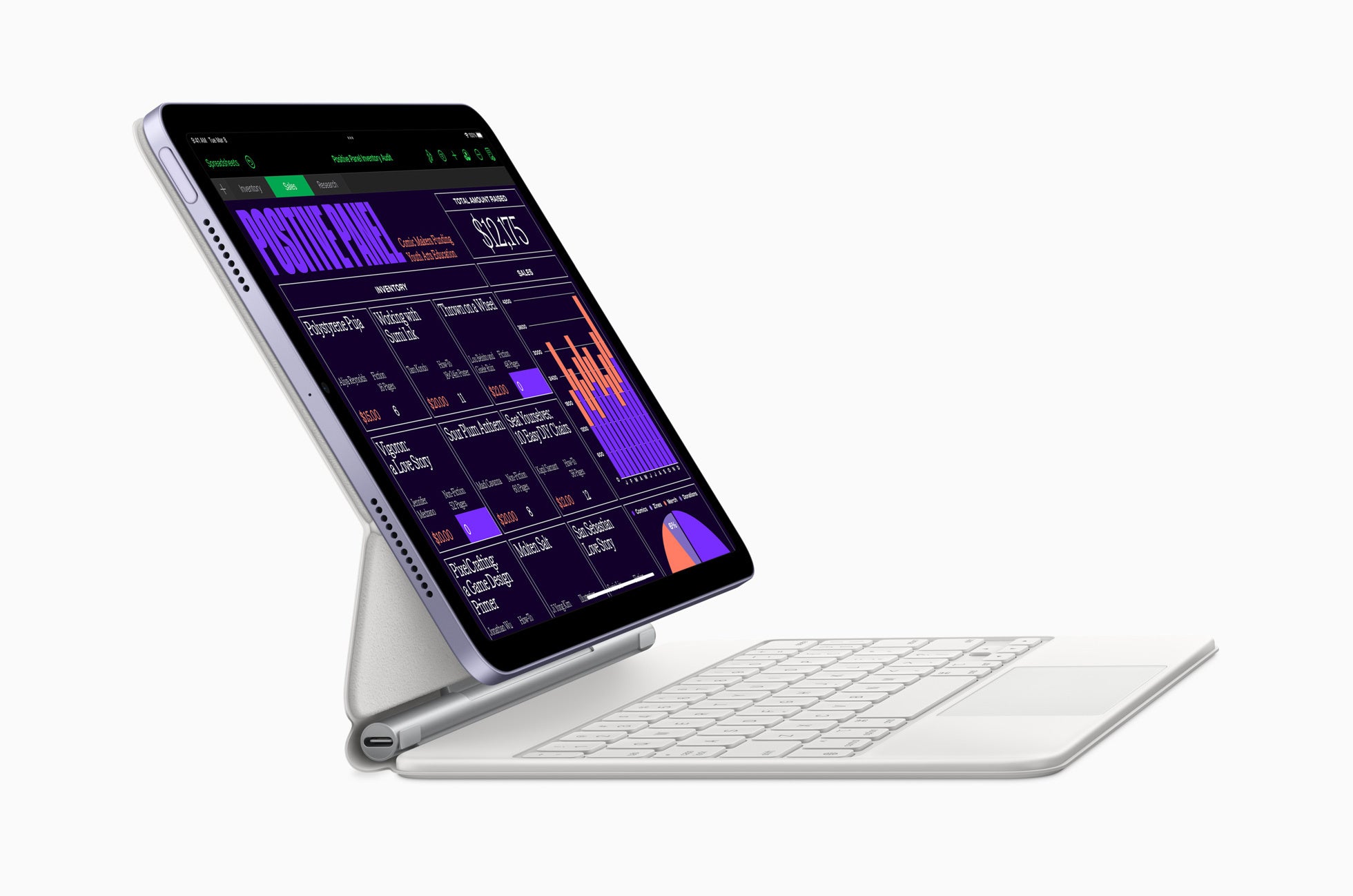 And yeah, this is why a lot of people are calling the iPad Air an "iPad Pro killer". It looks the part, it has all of the basics, and it runs like a beast.
If you can swallow the fact that it doesn't have a 120 Hz refresh rate, you are golden.
But if you're planning on replacing your PC with the iPad Air 5, do keep in mind that iPadOS 15 still doesn't have windowed apps for desktop-like multitasking, let alone desktop apps.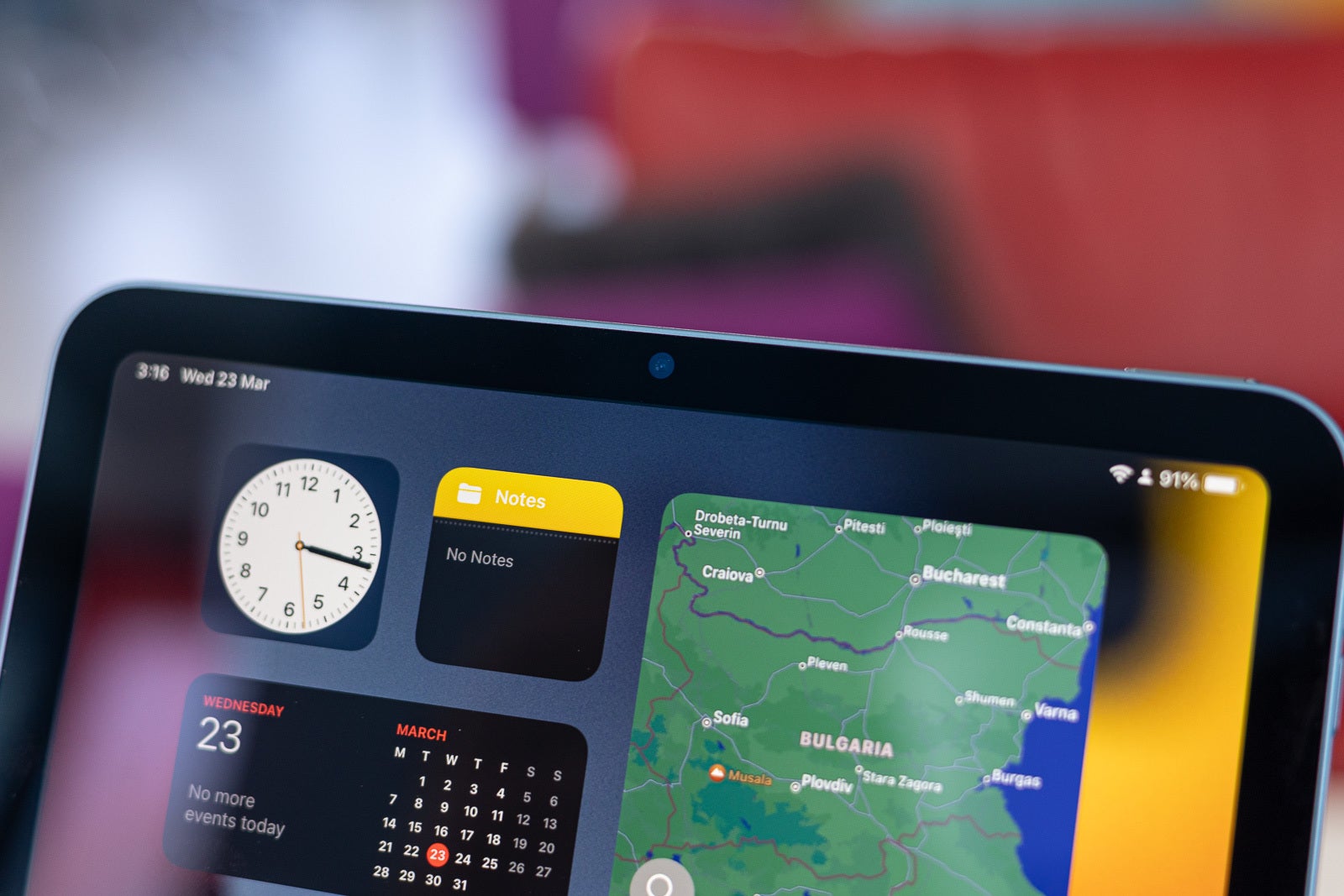 So you'll be relying on those mobile apps your iPhone also has, for everything. The good news is the Safari web browser on iPad behaves like a desktop browser, meaning it loads the full versions of websites. This is good enough for some creators, but definitely not for everyone. It could be a great tablet for school, though.
Should you buy the iPad Air (2022)?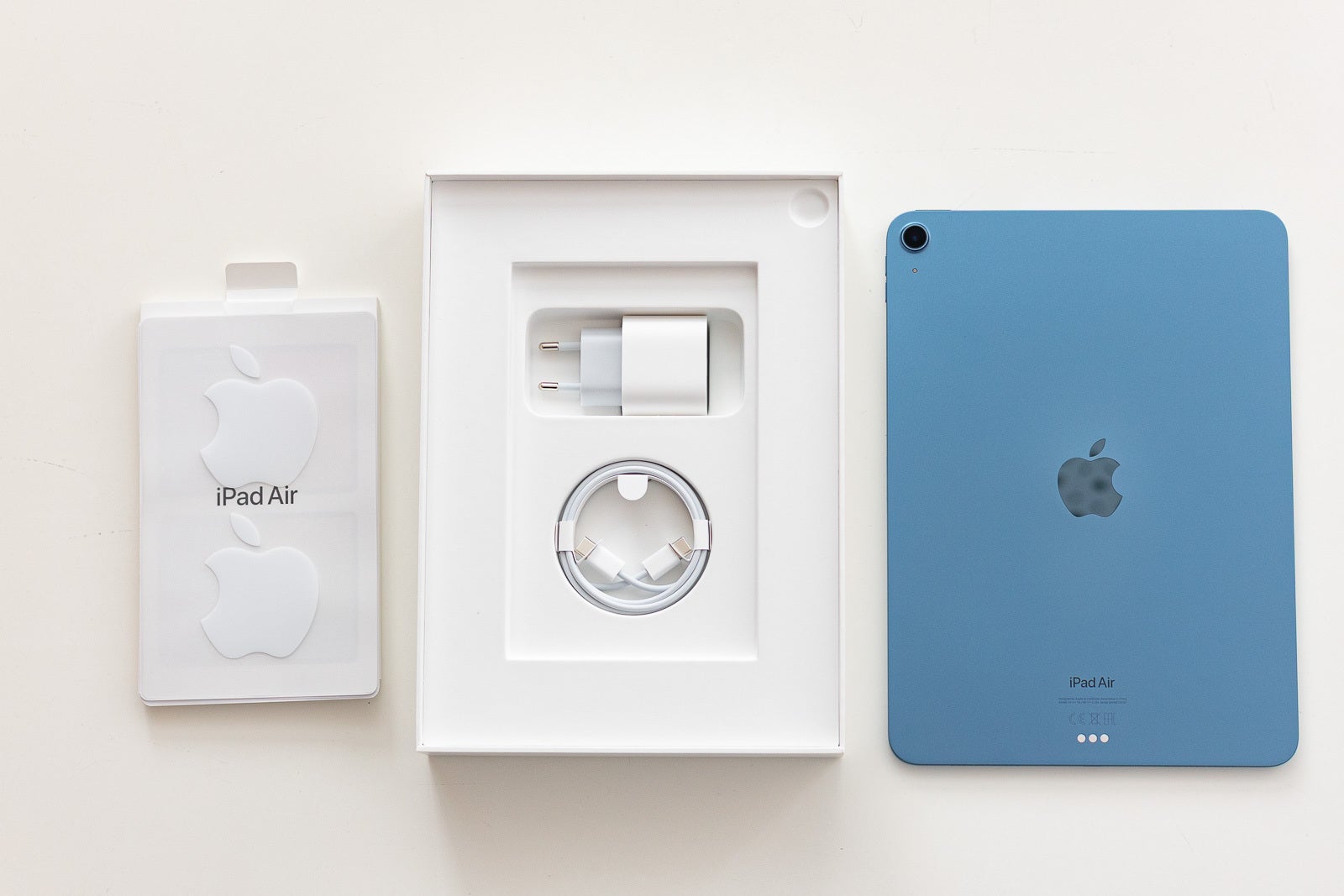 Check this out, an charger in the box! A rare sight these days...
So, should you buy the iPad Air 5? To be fair – yeah, it is very hard to recommend the iPad Pro over it.
You basically get all of the power of the Pro and access to the same accessories – the Apple Pencil and Magic Keyboard.
Still, if you are considering an iPad as your serious work machine, the big screen of the iPad Pro 12.9-inch definitely gives you more real estate to play with.
But I feel the main comparisons will be drawn between the iPad Air (2022) and iPad Pro 11 (2021). They basically have the same specs, but the iPad Pro 11 has 120 Hz ProMotion display, a Thunderbolt USB C port (faster transfers), and there are slightly different storage options.
Let's ponder that a bit – what storage options we have with the iPad Air 5 and which one you should probably go with.
iPad Air (2022) with 64 GB storage – $599. It's a massive value for the money that will be powerful and productive for years, but these 64 GB will feel claustrophobic if you intend to do video work on it, or download lots of movies, shows, music and games.
iPad Air (2022) with 256 GB storage – $749. That's still $50 cheaper than the base iPad Pro 11 (2021) and it's plenty of storage for you to play around on.
iPad Pro 11 (2021) with 128 GB of storage – $799. You get a 120 Hz screen, quad speakers, and Face ID. And 128 GB of storage feels comfortable – I've been using an iPad Pro with 128 GB for a year now and I am currently at 62 GB full. But when putting all these specs side to side… it's very hard to recommend to a budget-conscious buyer to go for an iPad Pro over the new iPad Air!
Preslav Kateliev has contributed to this review.