iPhone 13 vs iPhone 12
23
We may earn a commission if you make a purchase from the links on this page.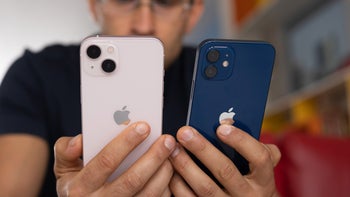 The brand new iPhone 13 is here and with the most reasonable price and size of all four new iPhones, it will probably be the best-selling one too, but how does it compare against its predecessor, the
iPhone 12
?
There are only a few design changes with a smaller notch and a slight gain in weight, but the more important improvements are under the hood as Apple has boosted the battery life significantly, upgraded the cameras and given us a few other surprises (but a 120Hz is not one of them).
So, what is the iPhone 13 all about? These are the key features that will define the new model and the differences with the predecessor.
iPhone 13 vs iPhone 12 in a nutshell:
Similar design and size, iPhone 13 is heavier though
Same 6.1" screen size,

both have 60Hz

only
A15 Bionic chip on iPhone 13 vs A14 chip on iPhone 12
Dual cameras (wide and ultrawide) with some upgrades on the 13
Longer battery life
Display and Design
6.1" OLED screen, but no 120Hz ProMotion
For the most part, the iPhone 13 keeps the size and design styling of the iPhone 12, and that also means it will come a flat, 6.1" screen. This size has proven to be a great middle ground, a bit larger and more useful than the smallish 5.8-inch screen that Apple used to have on the
iPhone X
, XS and 11 Pro, but not too big either.
What the iPhone 13 does not have is 120Hz ProMotion technology for smoother scrolling, which is available on the
iPhone 13 Pro series
.
There are some new colors and some old colors are gone. For example, you no longer have a green model, but you do get a pink version in the iPhone 13. And yes, the two cameras are now aligned in diagonal rather than a straight line.
The change that you may feel though is that the iPhone 13 now weighs 174 grams, a bit more than the 164 grams of the iPhone 12. Plus, the phone is just a tad bit thicker at 7.65mm vs 7.4mm on the iPhone 12. We also welcome the 20% smaller notch which still keeps the awesome Face ID feature.
Cameras
Dual camera setup, upgraded
In the past couple of years, Apple has adopted a clear strategy to differentiate iPhones, equipping the non-Pro models with two cameras, but no dedicated telephoto zoom lens that you get only on the Pro models. The iPhone 13 also skips the telephoto lens, but does bring upgrade to its two rear cameras.
Here is the camera hardware on the iPhone 13 and iPhone 12, it looks identical:
Wide camera — 12MP on both, 26mm, f/1.6 aperture on both
Ultra-wide camera — 12MP on both, 0.5X, or 13mm; f/2.4 aperture on both
At the same time, changes are present as the main camera comes with a new sensor that is able to capture more light, up to 47% more, for better night shots, and plus you get new sensor-shift OIS for better stability.
There are a few new software features too:
Cinematic Mode
— similar to Portrait mode, but for video. The new iPhone will analyze video footage in real time and blur the background for a so called bokeh effect, leaving only the subject in focus
Photographic Styles
— way more powerful than traditional filters. These new AI filters will allow you to adjust colors, highlights and shadows on individual elements of a photo (be it an object or a person)
While early rumors claimed the iPhone 13 will get a LiDAR scanner, the final phone does not have it, and this sensor is left for the Pro models only.
Performance and new Apple A15 chip
Apple makes its own A series of chips for iPhones and they have led the market in terms of performance in the past few years, and this lead only continues with the new Apple A15 Bionic processor.
The iPhone 13 also has the same 4GB of RAM as the iPhone 12, but the base model now has 128GB of storage, double the predecessor at the same price and that is awesome.
The Apple A15 chip is built on 5nm technology, same as last year, but it has 15 billion transistors vs 11.8 billion transistors on the A14 chip.
Below, you can find benchmarks comparing these two:
There is slight improvement in speed, and analysts have pointed out that it is probably due to Apple bumping CPU speed for better single-core scores and increasing the cache that helps with multi-core results.
Battery and Charging
iPhone 13 has longer battery life
The iPhone 13 brings a battery boost, and while Apple does not provide the battery capacity numbers, official records with battery registrars reveal that the iPhone 13 has a 3,240mAh battery cell vs 2,815mAh in iPhone 12, a nearly 15% increase in capacity.
What Apple does confirm is that you will get 1.5 hours longer battery life on average, and digging further in Apple documents we find that the iPhone 13 can now last 15 hours of non-stop video streaming, a huge upgrade over the 11 hours that the iPhone 12 can handle. These are official Apple numbers, folks! Very impressive, and we're looking forward to actually testing that.
On the charger front, Apple "innovated" by not including a charger or headphones in the iPhone 12, and this beautiful innovation carries over to the iPhone 13. Apple paints this as an eco move, but you can easily also see this as a simple price-cutting manoeuvre. Whatever it is, plan on spending an additional $20-$30 bucks for a fast charger for the iPhone 13.
As to charging speeds, Apple has been slow to adopt the super fast charging that we see on many Android phones. We have the same 20W wired charging speeds for iPhone 13 and 15W wireless charging speeds with a compatible MagSafe charger.
iPhone 13 vs iPhone 12: Specs Comparison
And here is a detailed specs comparison between the iPhone 13 and iPhone 12.
iPhone 13
iPhone 12
Size and Weight
146.7 x 71.5 x 7.65 mm, 174g
146.7 x 71.5 x 7.4 mm, 164g
Display
6.1" OLED, 60Hz (120Hz ProMotion available in iPhone 13

Pro

models only)
6.1" OLED @60Hz
Processor
Apple A15 Bionic
Apple A14 Bionic
RAM
4GB
4GB
Storage
128/256/512GB, non expandable
64/128/256GB, non expandable
Cameras
12MP wide camera with sensor shift stabilization
12MP ultra-wide camera, f/2.4
12MP wide camera
12MP ultra-wide camera, f/2.4
Battery size
*3,095mAh
1.5 hours longer battery life on average
*2,815mAh
Charging speeds
20W wired, 15W MagSafe wireless
20W wired, 15W MagSafe wireless
Prices
starting from $830
after iPhone 13 launch, iPhone 12 prices drop by $100 to a base of $730
Finally, the
iPhone 13 release date
is set for Friday, September 24th, while prices remain absolutely the same, but you do get double increase in storage and all the new features. We can definitely see Android phone makers worried as Apple improves the biggest sore point in its devices, the battery life, and yours truly is actually very excited to try the iPhone 13.
But what about you, do you think Apple has delivered with this iPhone 13 upgrade over the iPhone 12?
We're looking forward to hearing your thoughts in the comments section below!