Honor Magic Vs Review: Finally, some good competition to Galaxy Fold 4!
4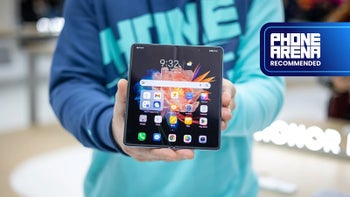 Honor Magic Vs Intro
Quickly growing brand Honor out of China has a brand new foldable phone and unlike the likes of Xiaomi and Oppo which only release their foldables in China, this one is coming globally and will make some much needed competition for the Samsung Galaxy Z Fold 4.
This new phone is the Honor Magic Vs, and after using it for a while, we came away impressed with the slim design with zero gap when it's closed, and the icing on the cake is that Honor has managed to fit in the largest battery ever on a folding phone in this slim body. The price is still more expensive than a regular smartphone, as Honor says we should expect the phone to cost around 1,500 euro in Europe, but that is still more affordable than the 1,800 euro Samsung is asking for its Fold 4.
So... is this finally the phone that can beat the Galaxy Z Fold 4? Let's find out.
What's new about Honor Magic Vs
Sleek design, thinner than a Galaxy Fold 4
Folds with zero gap
Larger screens than a Galaxy Fold 4
Largest battery ever in a foldable
Fast charging
Triple camera system
Honor Magic Vs Specs
Specs
Honor Magic Vs
Size and Weight
Unfolded: 160.3 x 141.5 x 6.1mm
Folded: 160.3 x 72.6 x 12.9mm
Weight: 261 g (9.2 oz)
Display
Interior: 7.9-inch OLED with 90Hz, 2272x1984 pixels
Exterior: 6.45-inch OLED with 120Hz, 2560x1080 pixels

Processor
Snapdragon 8+ Gen 1
RAM and Storage
12 GB RAM + 512 GB storage

Software
Magic OS 7.1 (based on Android 13)
Cameras
Rear Cameras:
54MP IMX800 main, f/1.9
50MP ultra wide, f/2.0
8MP 3x zoom, f/2.4 with OIS

Front Cameras:
16MP f/2.45 on external screen
16MP f/2.45 on internal screen
Battery Size
5,000 mAh
Charging Speeds
66W wired
no wireless charging
Price
from 1,500 euro
Honor Magic Vs Design & Colors
Sleek design, thinner than a Galaxy Fold 4 and folds with no gap
The breakthrough that comes with the super slim design of the Honor Magic Vs is just how it is very close to the feeling of using a regular smartphone. Gone is the weird, chubby feel that comes with a design like that of the Galaxy, and we appreciate the improvement.
The phone closes tightly with no gap, and Honor representatives were eager to show us a demo where they place a piece of paper, then slap shut the phone with the paper between the two halves, and then they just hand the whole phone on that piece of paper. That is a cool demo and it really shows that the phone closes super tight, unlike the Galaxy.
We did find a bit hard to unfold though, as you have so little space for your thumb to unfold it.
In terms of colors, we have the Cyan one on the photos, a pleasant light blue with a matte finish so that it does not attract fingerprints, but there is also a black model with a glossy finish.
The hinge is also not quite as impressive as on the Galaxy, but for that read on below.
Honor Magic Vs vs Samsung Galaxy Z Fold 4 design
Compared to the Galaxy Fold 4, the Honor is noticeably slimmer and looks a bit less weird than the Fold 4 which, let's face it, has an external screen that is still way too narrow.
The Magic Vs has an external screen that feels much like using a regular phone, which we find an important advantage of this form factor.
The hinge and folding, however, feel superior on the Galaxy, as it feels sturdier and the Samsung phone can hold an angle (it stays firmly in place mid-way), while the Honor practically cannot do that. The reason for that is Honor prioritizing the no-gap closing which is apparently tied to this hinge design.
If you are wondering about the durability of the hinge, Honor says it is tested to withstand a whopping 400,000 folds, so you probably should put worries aside.
The Honor, however, does not have an official water resistance rating as does the Samsung.
Both phones have a noticeable crease in the middle.
Honor Magic Vs What's In The Box
Here is what you get in the box with the Magic Vs:
Phone
Comes with pre-attached protective film for both inner and external screens
Honor SuperCharge charger
USB Type-C Cable
Quick Start Guide
SIM Tool
PU Protective cover
Honor Magic Vs Displays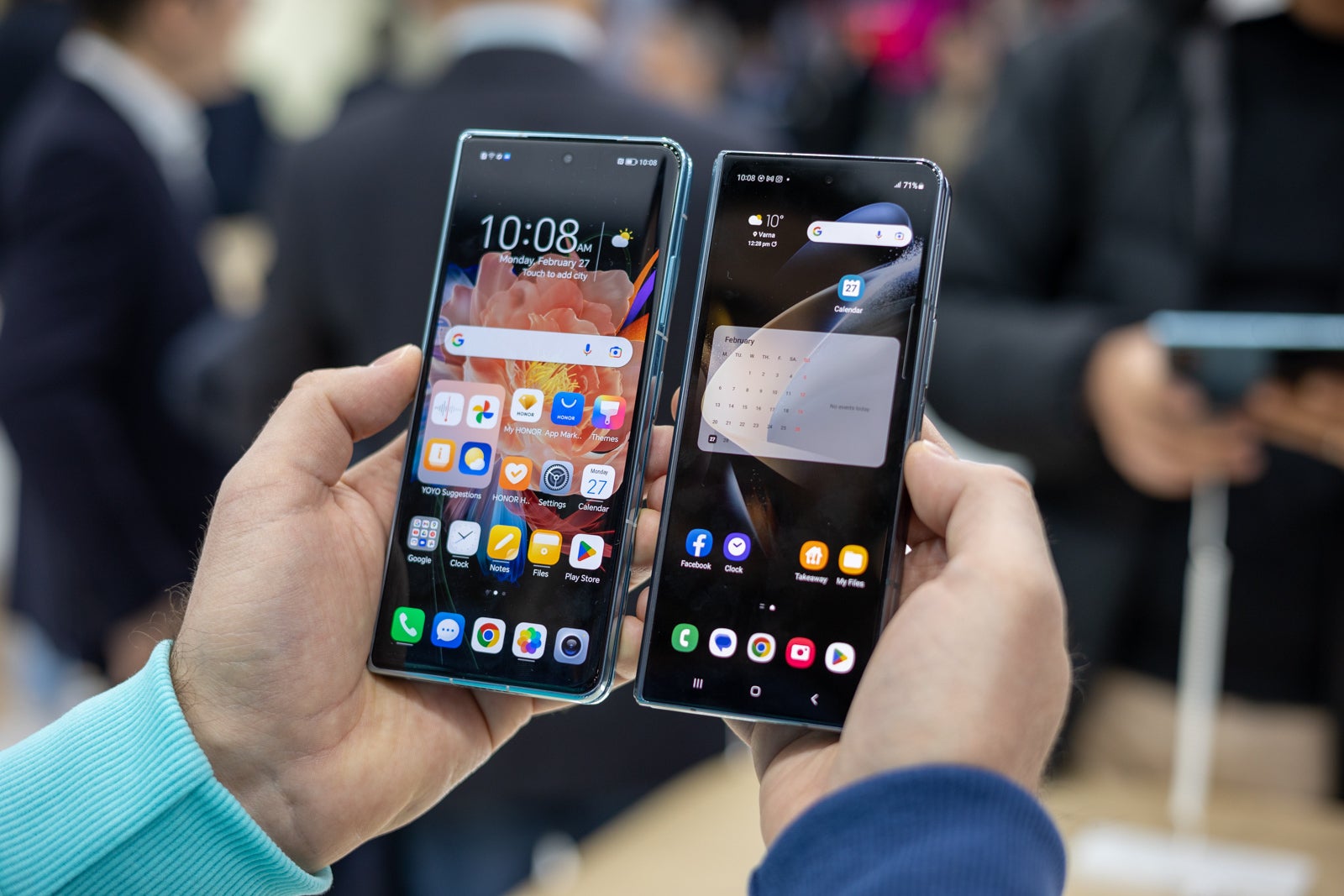 (Image Credit - PhoneArena)
Just look at the difference in screen space for the external screen of the Honor Magic Vs and the Galaxy Fold 4! It's a huge difference, and it means that it would be far easier to use the external screen on the Honor. Take a look at the screen sizes below:
Honor Magic Vs Exterior Screen: 6.45-inch OLED with 120Hz, 2560 x 1080 pixels
Galaxy Z Fold 4 Exterior Screen: 6.2-inch OLED with 120Hz, 2316 x 904 pixels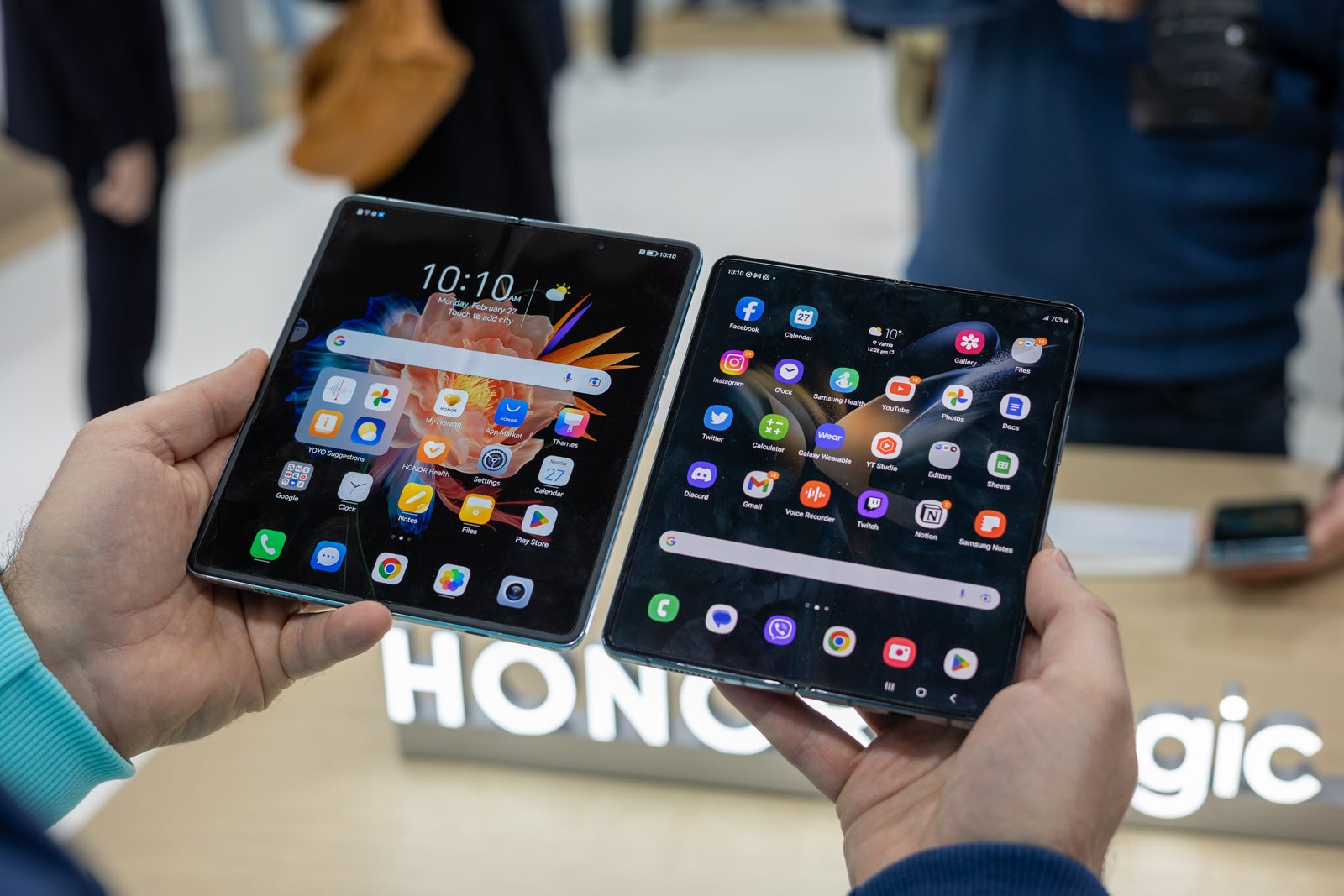 (Image Credit - PhoneArena)
The Magic Vs also has a considerably larger inner screen than the Fold 4. Despite those 0.3 inches of difference not sounding like much, they are in reality. What's similar is the crease in the middle, which is pretty visible and you can also feel it on both devices.
Honor Magic Vs Inner Screen: 7.9-inch OLED with 90Hz, 2272x1984 pixels
Galaxy Z Fold 4 Inner Screen: 7.6-inch OLED with 120Hz, 2176 x 1812 pixels
This main screen is 90Hz rather than 120Hz as on the Galaxy, but to be honest we did not find much of a difference and both felt quite smooth to us. As you can see from our detailed display tests below, the screen of the Honor Magic Vs is pretty bright (a tad brighter than the one in the Z Fold 4), and also color-accurate with an average detlaE below 2.
Display measurements and quality
For biometrics, the Honor Magic Vs features a side-mounted fingerprint scanner embedded in the power button. That's the standard, go-to biometric solution for most foldables, so no surprises here. In all fairness, this capacitive side-mounted scanner works flawlessly and beats many under-display solutions when it comes to accuracy and response time.
Face unlock is also present as an option for unlocking your Honor Magic Vs but it's less secure as it's using information from the front camera only for facial recognition.
Honor Magic Vs Camera
A triple rear camera system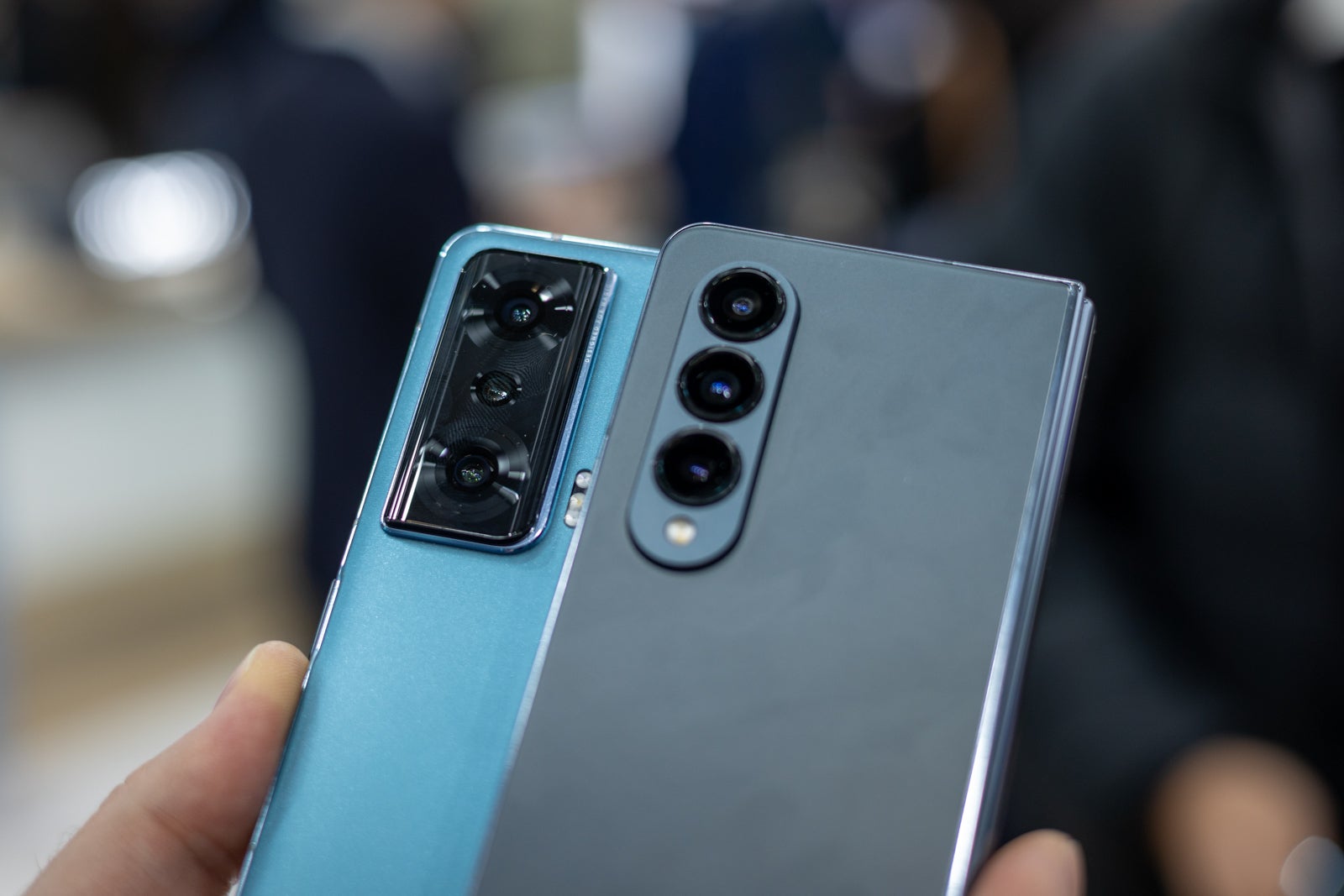 (Image Credit - PhoneArena)
The Honor Magic Vs sports a triple rear camera system and it has two selfie cameras, one on the innter and another one on the exterior screen.
The main camera is a 54-megapixel one and it uses the Sony IMX800 sensor with a 1/1.49" size, which is considerably smaller than most other flagship phones on the market. A bigger sensor is an advantage as it allows capturing more light for impressive night shots. Honor uses the same IMX800 image sensor in its Honor 70 series, so you can expect a similar quality of images with the main camera.
The images took with the main camera look pretty good, somewhat on the soft side but colors are natural, and exposure and dynamic range are both good. The optical image stabilization helps a ton with focus, even in less than ideal lighting conditions.
You also have a 50-megapixel ultra-wide shooter with a faster than usual f/2.0 aperture, as well as a 3X zoom lens with OIS and f/2.4 aperture. The ultrawide camera is pretty decent but the angle is too drastic for closer shots - you almost get a fisheye effect. The good news is that there's almost no color shift between the main and ultrawide, and generally speaking both cameras produce similar, high-quality shots.
The dedicated telephoto lens produces mixed results, in bright sunlight the images look crisp and with a lot of detail, but indoors there's some loss of clarity, probably due to the f/2.4 aperture, as well as the 8MP sensor resolution.
The ultrawide camera can do macro shots, and there's a separate setting in the menu if that's your thing. In practice I wouldn't call this shots "macro," they are just closeups with varying quality, depending on your hand and lighting conditions.


Last but not least, we have our low-light or night camera samples. Here's the thing - no matter what you do, there will be some level of enhancement applied to your low-light photo. I've observed this behavior in numerous Honor models, and the Magic Vs is no exception. Night mode could be off, but if the phone decides it's too dark, a notification saying "sharpening the image" will pop-up and the stitching will commence.
What this does in practice is render the phone unable to snap really dark shots, which you might want for artistic effect. You can always use the Pro mode, but it would've been nice for Honor to turn off the night post-processing when Night Mode is off.
The selfie situation is... complicated with this phone, to say the least. You have one hole-punch camera in the cover display, one in the inner folding display, and you can also use the main camera and the cover screen as a visor to take amazing selfies. You can see the results from the three above, and of course, the most pleasant looking portrait shot was made with the main camera.
One thing worth mentioning is that there's no way to tap on the cover display to initiate а shot, and you should use a timer (which is a big nuisance, and I hope it will be fixed in future software updates).


The video quality is pretty good overall, with good level of detail, exposure and stabilization. There are a few bizarre things worth mentioning. First, you can't control the image stabilization, there's no toggle in the settings menu, nothing. The phone decided when and whether to apply it or not. The other interesting thing is that you can't record using the ultrawide camera. You can zoom in but there's no option to zoom out, and no option to start a video recording in ultrawide mode. Pretty strange.


All strange software choices aside, the Honor Magic Vs captures decent videos with great detail even in gloomy conditions. The auto-applied image stabilization is also decent, nothing too drastic but gets the job done.
Honor Magic Vs Performance & Benchmarks
Snapdragon 8+ Gen 1 inside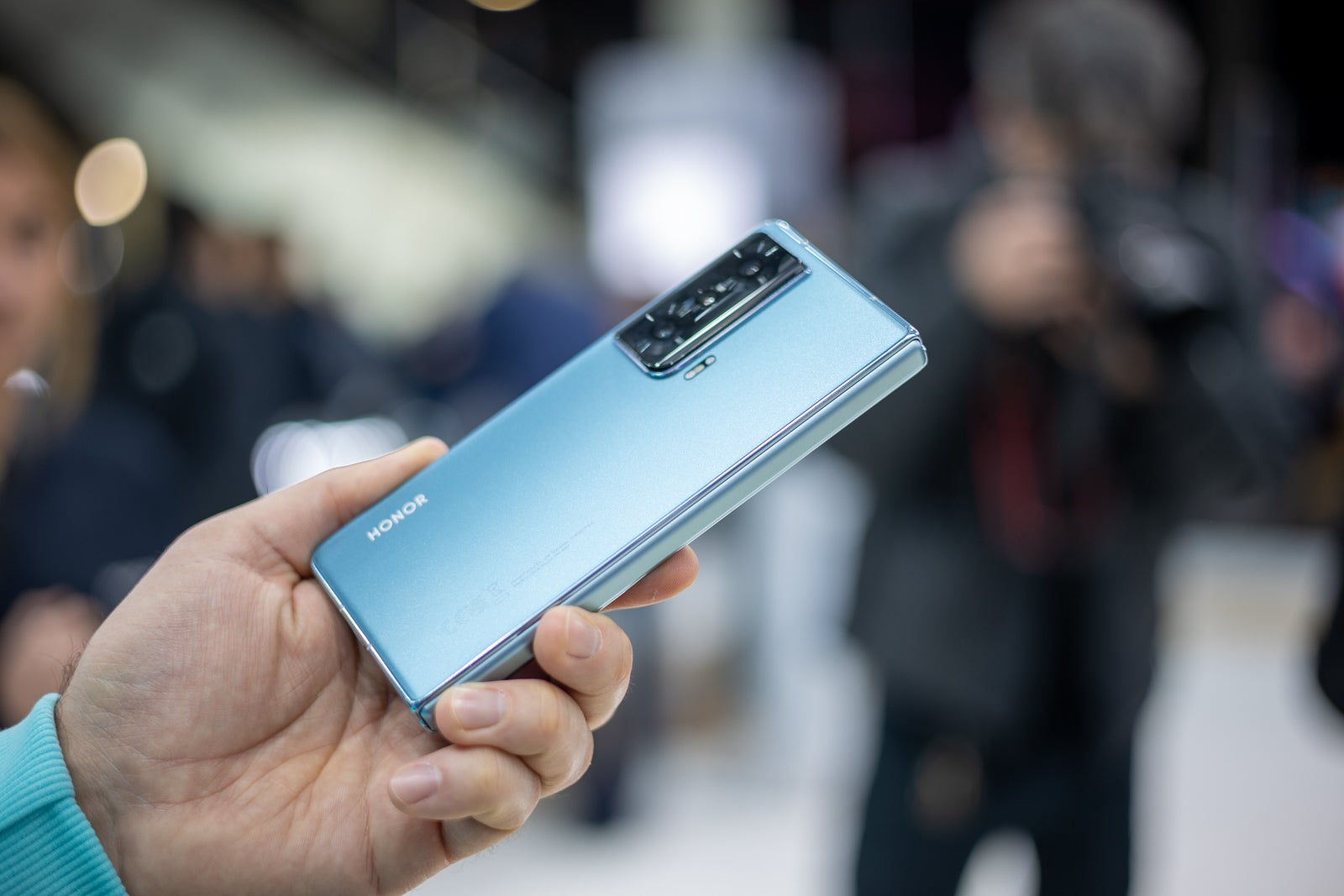 (Image Credit - PhoneArena)
The Magic Vs features on the Qualcomm Snapdragon 8+ Gen 1 chip on the inside, which is just a step below the newer Snapdragon 8 Gen 2 processor. This is the same chip that Samsung uses in its Fold 4, so we have absolute parity here. Both are flagship-grade devices with fast performance, and we did not notice any stutter or slowdowns while using the Magic Vs.
In terms of RAM and storage, the global version of the Magic Vs is expected to come in just one, very powerful configuration features 12GB of RAM and 512GB of storage. Good stuff!
As you can see from the synthetic benchmarks above, we're looking at nearly identical performance between the Honor Magic Vs and the Galaxy Z Fold 4. The real-life experience with the Magic Vs mirrors the benchmarks - the phone feels very fast and fluid.
For those not familiar with Honor's take on Android, the Magic Vs runs on the company's Magic OS 7.1 based on Android 13. You get the full Google Mobile Services on board, so you should not worry about that.
It's a quite simple interface, a bit Huawei-like as such are its roots. It supports split screen multitasking and will remember your opened apps while you switch from the exterior to the larger inner screen, which is a nice touch. And you can also float individual apps as well.
One of the strengths of foldable phones is the ability to perform true multitasking, and it's a pleasure with the Magic Vs. You can float windows, you can minimize them, and they will dock on the left or right side of the screen as tiny icons, and you can also open the side bar and browse all opened apps if there are more than two of them.
Needless to say, if you use productivity apps such as Excel, Word, Access, or anything that requires precise input and copy-pasting between apps, the Magic Vs is a real workhorse in such scenarios.
Honor Magic Vs Battery
Largest battery ever in a folding phone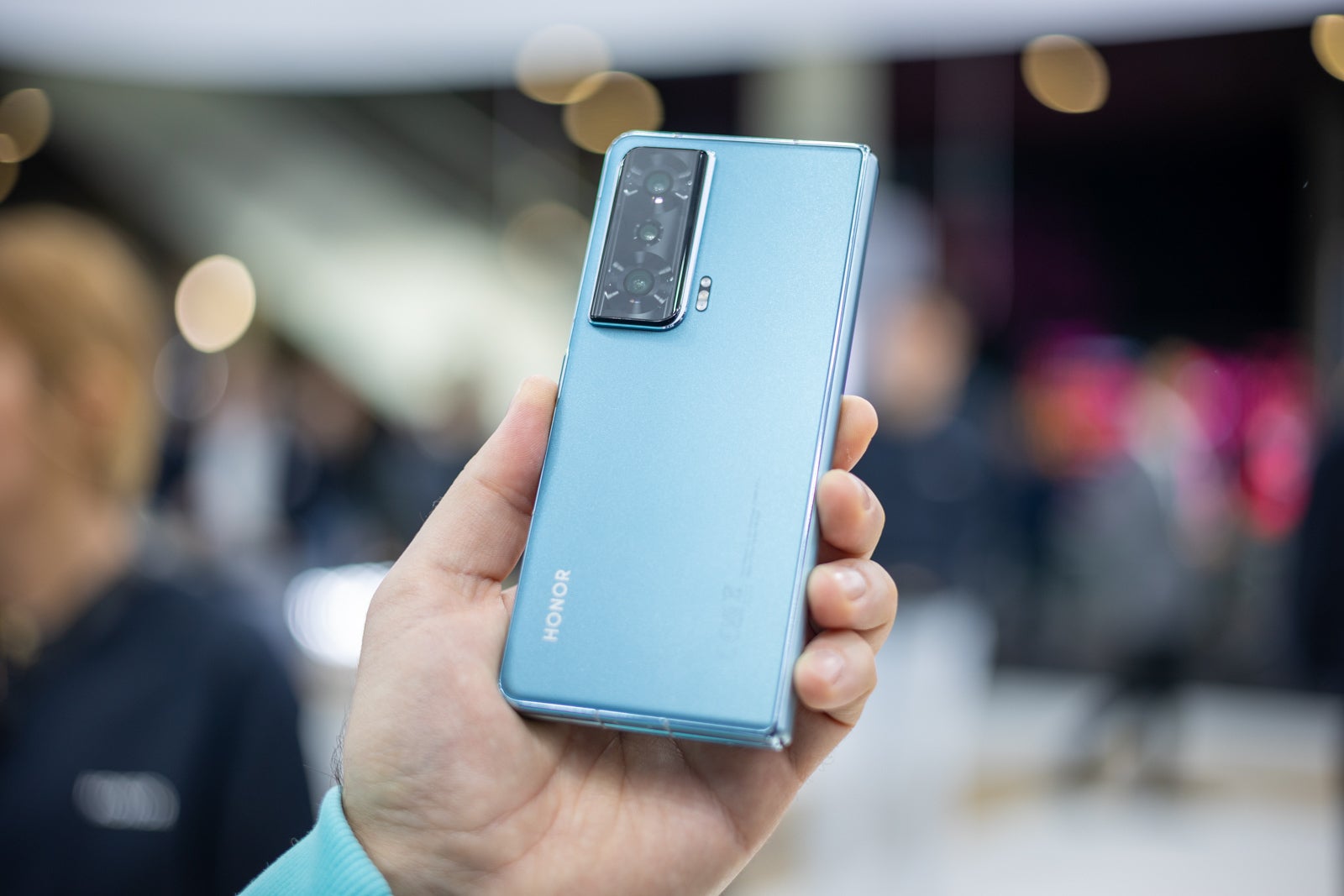 It's really impressive how Honor managed to cram in the largest battery ever in folding phone in this slim design. We've got a 5,000 mAh battery size for the Magic Vs, nearly 15% bigger than the 4,400 mAh battery that the Galaxy Fold 4 uses.
Unfortunately, the way Honor manages screen brightness in its devices renders them incompatible with our battery tests. Which is a shame really, because this phone has what it takes to really challenge the Fold 4 when it comes to battery life.
One thing we can say for sure is that you can get a full day of pretty heavy use, with hours of productivity, gaming, watching videos, or chatting with friends, sometimes all at the same time. If you use the main screen in moderation, and rely on the perfectly capable cover display, you can stretch the lifespan on a single charge to two full days.
Honor Magic Vs Charging Speeds
The Magic Vs supports 66W charging speeds and it comes with Honor's proprietary charger included in the box for free, which is a nice touch.
Honor definitely beats the Galaxy Fold 4 in the charging speed race. A full top-up of the 5,000 mAh battery on the Magic Vs takes just around 50 minutes (49 minutes to be exact), quite faster than the 1 hour and 20 minutes that it takes the Galaxy Fold 4 to charge using the Samsung recommended 25W adapter.
Honor Magic Vs charging profile:
In 15 minutes - 50%
In 30 minutes - 84%
Full charge - 49 minutes
However, the Honor Magic Vs lacks wireless charging support, while the Fold 4 does support wireless charging at 10W speeds.
Honor Magic Vs Audio Quality and Haptics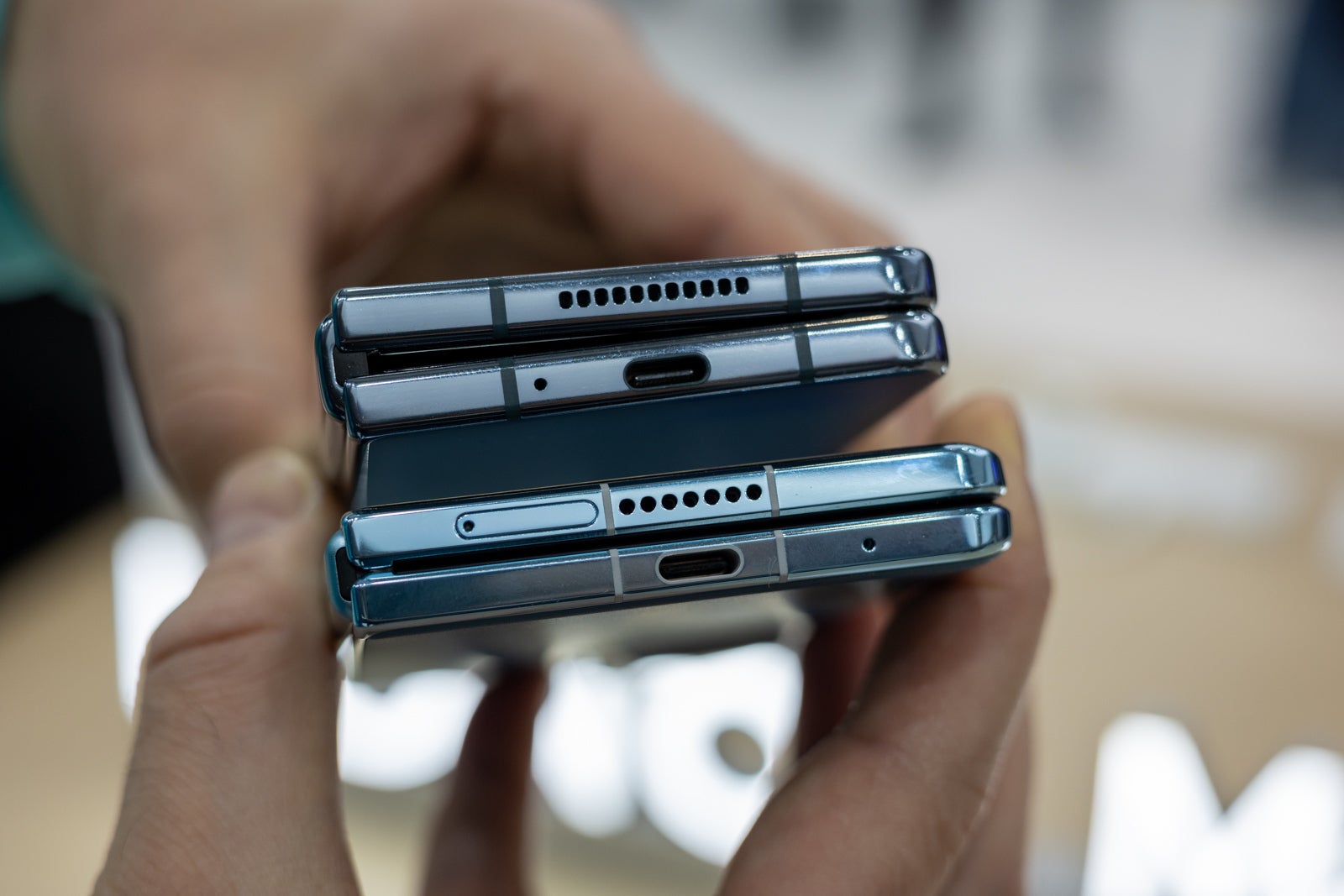 (Image Credit - PhoneArena) Galaxy Fold 4 on top, Honor Magic Vs on the bottom
The Honor Magic Vs comes with your typical dual speaker smartphone setup with a main down-facing speaker and a secondary speaker located in the earpiece. The larger form factor of a foldable usually allows for boomier sound compared to a regular phone, and that's exactly what we have on the Magic Vs, nice and pleasing loudspeaker output.
There is no 3.5mm headphone jack, in case you were wondering. In terms of haptics, the Magic Vs offers the ability to set your vibration for certain elements (such as keystrokes) between 10ms and 100ms, which translates to snappier shorter vibration or long and more pronounced haptics. All in all, the haptics on this device are quite strong, something to be expected given the sheer size and form factor of the Magic Vs.
Honor Magic Vs Competitors
The Magic Vs comes as a welcome alternative to Samsung's Galaxy Z Fold 4 on the global scene, but there are other competitors on the Chinese market, so let's take a look:
Galaxy Z Fold 4 — global phone, more refined software and cameras, but bulky design, less usable outer screen, and more expensive
Oppo Find N2 — unique small form factor, lighter weight but thicker, has same fast processor and also supports fast charging
Xiaomi Mix Fold 2 — impressive razor thin design, but only available in China
Honor Magic Vs Summary and Final Verdict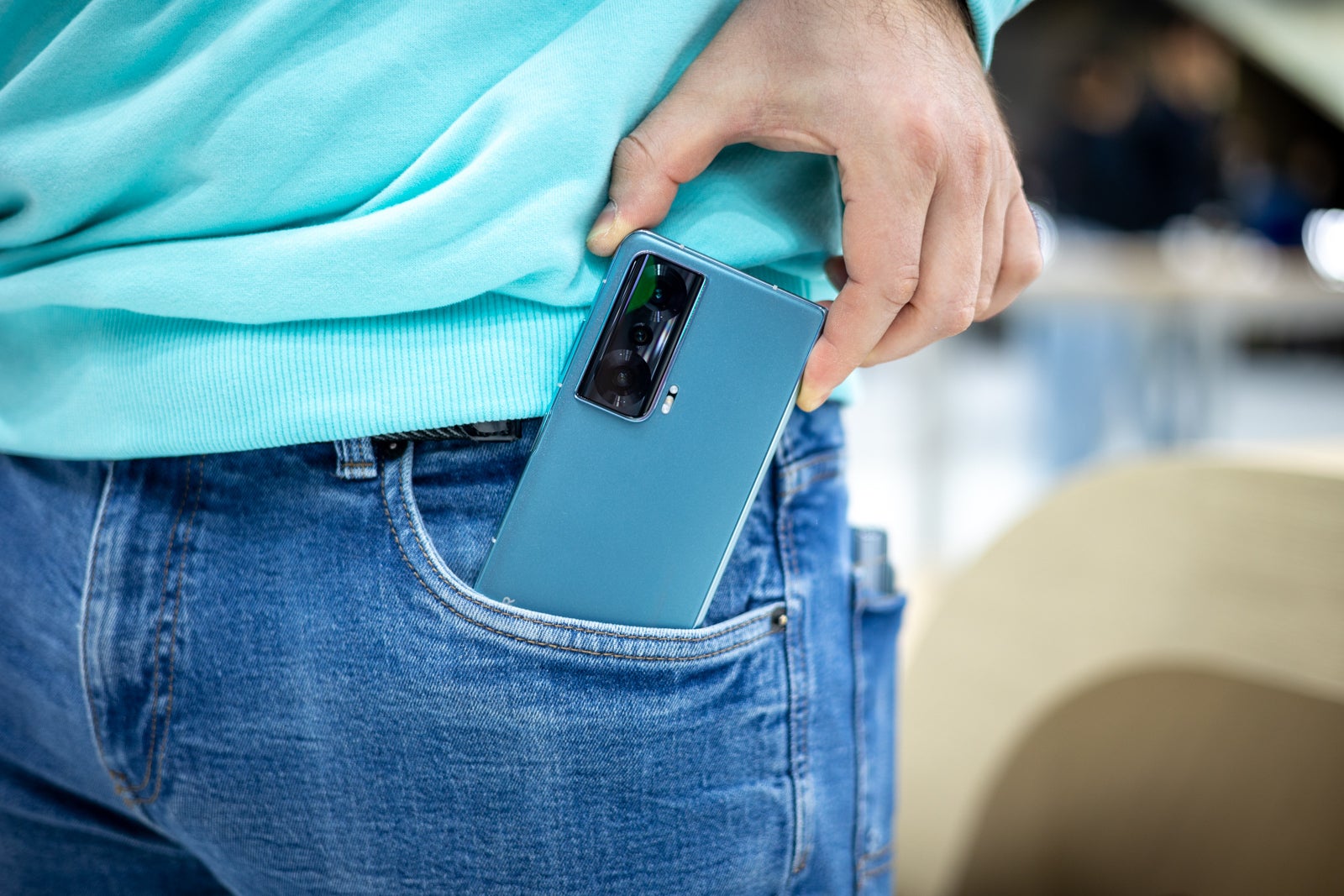 (Image Credit - PhoneArena)
At the end of the day, the Honor Magic Vs does some things better than the Galaxy and it costs less, but it's still not as affordable as a regular smartphone.
We think you should give it a try: notice how much easier it is to use the outer screen which is bigger, and consider the advantages of this thinner design and longer battery life, along with things like fast charging. The camera system is also pretty flexible with great shots throughout the whole set of snappers - main, ultrawide, telephoto, and both selfie cams.
The Honor Magic Vs might be a first-gen foldable for the company, but it feels refined enough and it is some much needed competition that will push the folding form factor forward, and we like that.