Apple iPad mini 6 vs iPad mini 5: What to expect
2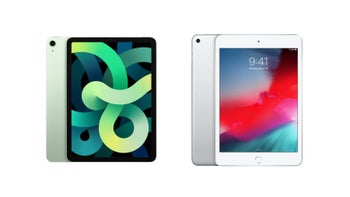 The iPad mini 6 is likely going to resemble a small version of the 2021 iPad Air shown above (left) for reference.
After two years, the
iPad mini 5 (2019)
is finally about to receive a successor – the upcoming 2021
iPad mini 6
. Will this new mini tablet from
Apple
be a worthy modern successor to what is arguably the most powerful and reliable small tablet currently available?
If the rumors and leaks are to be believed – the answer is a resounding yes. Let's take a look at how the iPad mini 6 is shaping up to fare against the currently-available iPad mini 5.
You may also find interesting:
Apple iPad mini 6 vs iPad mini 5 release date and price
Apple released the iPad mini 5 in March of 2019, and it's still the most current iPad mini you can buy, with a starting price of $399 for the base 64GB model.
The iPad mini 6 is expected to be announced sometime around the
iPhone 13
Apple event on September 14, 2021, and will possibly start shipping on Friday, September 24.
While its price and base storage are up for speculation, it's more than likely for both to remain $399 and 64GB respectively, although a redesign also suggests that a price hike isn't out of the question.
Apple iPad mini 6 vs iPad mini 5 design and display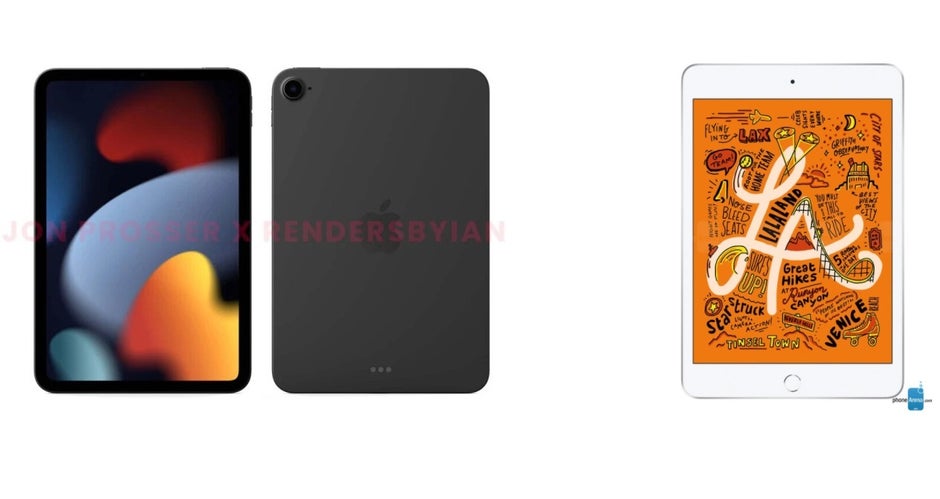 The most striking difference between the iPad mini 5 and the upcoming iPad mini 6 is expected to be in the design department.
The 2019 iPad mini 5 has a classic iPad design with big top and bottom bezels on the front, holding the FaceTime camera and a Touch ID sensor for secure unlocking, right below the display. It has smooth, curved edges, a 7.9-inch IPS LCD screen with a resolution of 2048 x 1536 and an aspect ratio of 4:3, the latter of which is like on all iPads.
By many accounts, the 2021 iPad mini 6 has been redesigned (like the
2020 iPad Air
was) to look more like the
iPad Pro
models. This means smaller, equally-sized bezels around the display, flat edges, and Touch ID likely moved to the side, embedded into the power button.
Alleged iPad mini 6 aluminum chassis, courtesy of
xLeaks7
.
Smaller bezels also mean that the iPad mini 6 will have a larger display than 7.9 inches even if it retains the same overall body size as the iPad mini 5. As for its display, the latest rumors claim that
it won't be a mini-LED
one like on the
2021 iPad Pro
, so we can again expect an IPS LCD screen.
Apple iPad mini 6 vs iPad mini 5 speakers and ports
The iPad mini 5 has only two speakers on the bottom, which means there's no stereo effect when watching movies in landscape or when gaming. Despite the lack of a true stereo experience, the iPad mini 5 has decent speakers for its size, and notably – it has a 3.5mm headphone jack. For charging it uses Apple's proprietary Lightning connector.
The iPad mini 6 is likely going to also have two speakers (yet four speaker grills like the 2020 iPad Air), but each speaker would be on an opposite of the tablet, thus watching movies and playing games would be a better experience thanks to this set-up delivering true stereo sound.
The iPad mini 6's rumored redesign also suggests that it will now be using USB Type-C instead of Lightning, but, of course, it won't have a headphone jack anymore. There's a small chance that it might also have a keyboard connector, but this seems somewhat unlikely for a small tablet like that.
Apple iPad mini 6 vs iPad mini 5 camera
The iPad mini 6 sports a 7-megapixel front (FaceTime) camera capable of 1920x1080 (Full HD) video recording. Its main camera on the back is 8 megapixels and can record video in the same resolution, but at up to 120 frames per second.
We're yet to learn anything about the camera specs of the iPad mini 6, but we do know that the camera placement will remain essentially the same, despite its rumored redesign. We can expect a single front camera in the top bezel above the display, and a single main camera on the back top left corner. Those will likely not impress, but it's reasonable to expect that the front camera will be more than sufficient for video calls.
Apple iPad mini 6 vs iPad mini 5 software
The iPad mini 5 can be updated all the way up to the latest iPadOS 15 this fall, while the iPad mini 6 will come with it out of the box.
As we covered in our
iPadOS 15 hands-on
, it comes with easier multitasking, homescreen widgets, a redesigned Safari browser (capable of desktop internet browsing) with web extension support, a new Translate app, FaceTime updates and more.
Apple iPad mini 6 vs iPad mini 5 specs
Below we have the specs compared between the two tablets. Stay tuned for updates as soon as more information on the iPad mini 6 becomes available.
| | iPad mini 5 | iPad mini 6 |
| --- | --- | --- |
| Display | 7.9-inch IPS LCD | Over 8-inch IPS LCD |
| Processor | Apple A12 Bionic | Apple A15 Bionic |
| Base storage | 64GB | 64GB |
| Maximum storage | 256GB | 256GB |
| Weight | 10.87 oz (308.2 g) | |
| Cameras | 7MP FaceTime, 8MP main | |
| RAM | 3GB | 6GB |
| Battery | 5058 mAh | |
| Headphone jack | Yes | No |
| Charging port | Lightning | USB Type-C |
| Apple Pencil support | Yes, Apple Pencil gen-1 | Yes, Apple Pencil gen-2 |
| Software at launch | iPadOS 13 | iPadOS 15 |
| 5G variant | No | Yes |
| Unlock | Touch ID | Touch ID |