iPad mini (2019) Review
11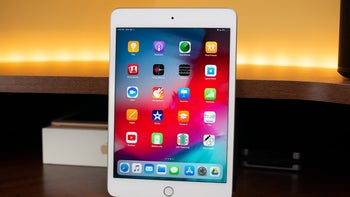 The iPad mini is back, apparently by popular demand. Many thought the mini might be gone for good, but much like Apple's release of the
iPhone SE
, the company's meeting users' demands for a smaller, up-to-date device with the
2019 iPad mini
. It's a simple formula really: use the same mini form-factor, but stuff it with the company's latest and greatest internals. After nearly four years with no new iPad mini releases, it seems Apple is pretty confident that fans of the mini will spring for the upgrade. But should you?
In the box:
iPad mini (2019)
USB Lightning Cable
USB Power Adapter
Quick Start, Safety Guide, and Stickers
Design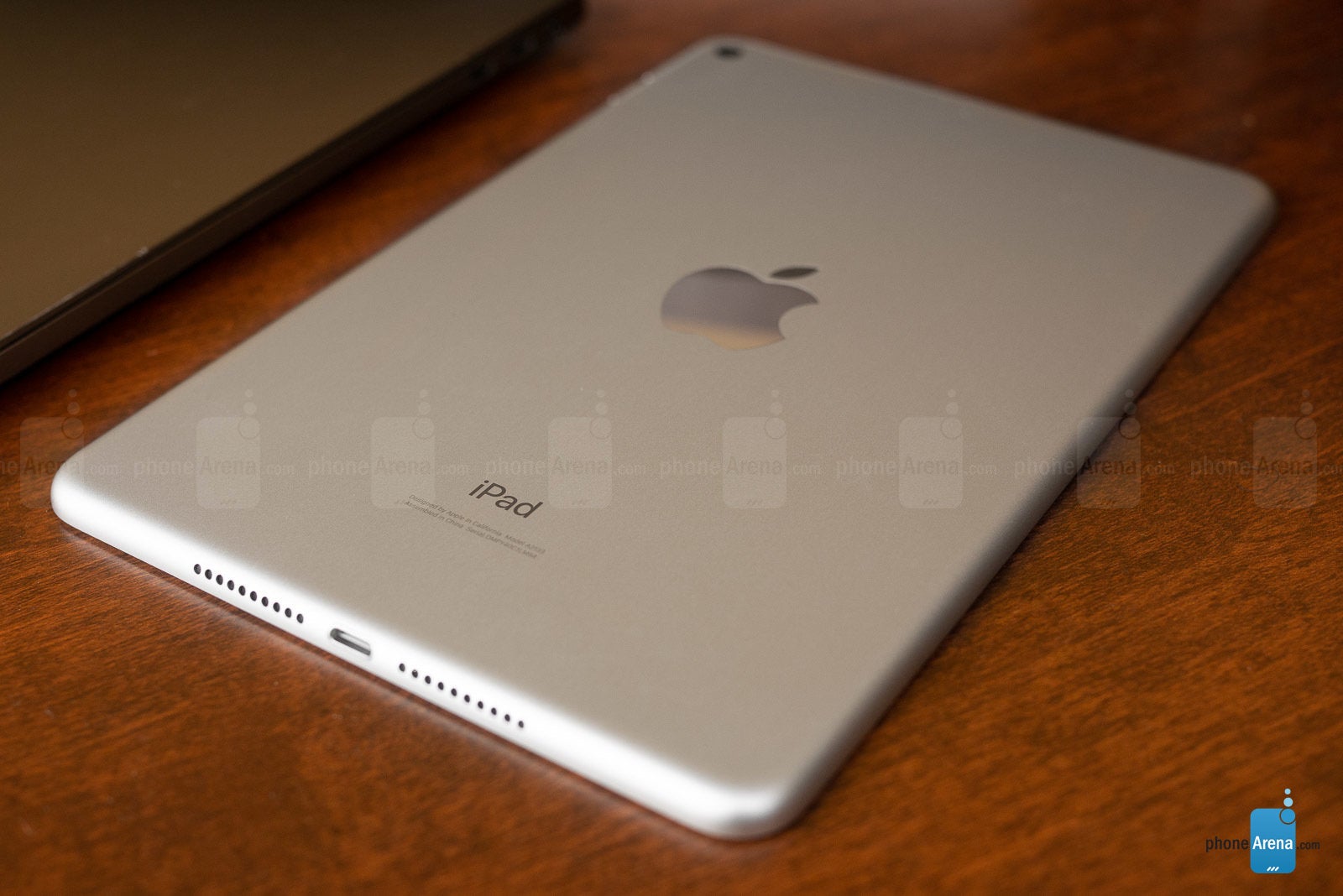 Yes, it looks pretty much identical to its predecessor. That can be a tough bite to swallow for some, as its predecessor, and even the first iPad mini from 2012, are pretty hard to tell from one another. Still, it's a 7.9-inch tablet – a size which is in short supply in the premium tablet market – and in that context it still looks pretty darn good. It has Apple's typical iPad styling with a glass face and aluminum chamfered edges curving into the aluminum metal back. it's a solid fit and finish, as it's always been.
Sure, it has a prominent forehead and chin but a new, "bezel-less" design would be rather impractical, especially on a device of this size. You can't use the iPad mini with one hand in the same way you would a phone, and most users won't be propping it up it sideways to use with a physical keyboard as is the case with the larger iPads. In fact, we find that holding it, as is, can be tough to avoid accidentally touching the display, so the bezels are perfectly OK with us.
All in all, it's a light, balanced, well-made little tablet that just feels like the perfect size for such a device immediately when you first pick it up – so long as it's not your computer replacement.
Display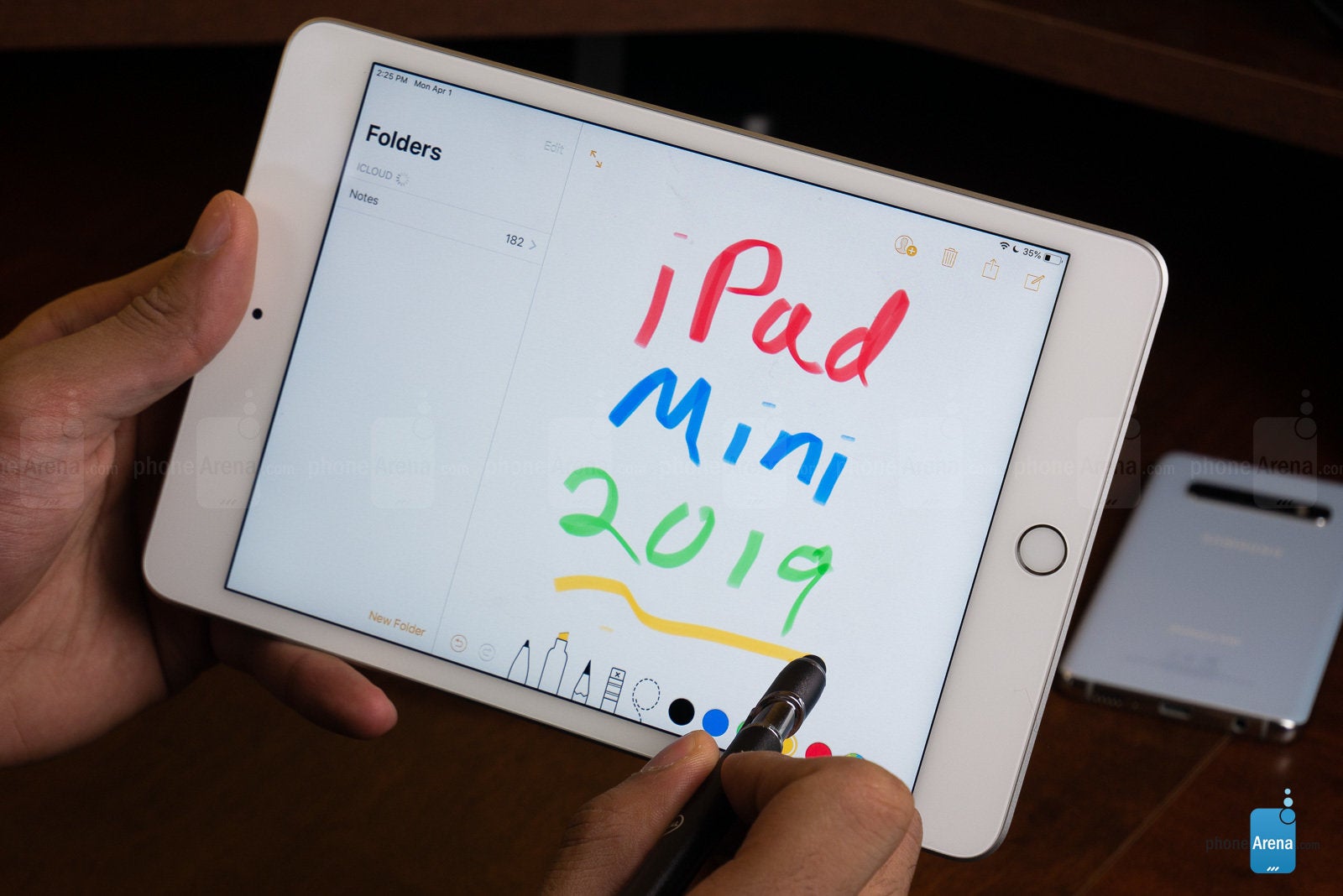 The new iPad mini arrives with a fully laminated display, just like its predecessor, the mini 4. We're happy to see this feature return as it ensures good outdoor visibility. So far, only the cheaper iPad 6th gen from 2018 doesn't have display lamination.
The iPad mini's screen size remains the same at 7.9 inches, as does the resolution (2048 x 1536 pixels and 326 ppi), meeting its Retina standard. But the latest iPad mini now supports the wider, DCI-P3 color gamut while also integrating Apple's True Tone display technology. The wide color gamut will aid the mini in the presentation of HDR content and the True Tone display helps the tablet adapt its display to the ambient lighting of various situations. As we've seen on iPhones before it, this technology does a fine job of matching the display with its environment by not getting noticeably too warm or exorbitantly cold in various situations. Without the True Tone function enabled, colors showed a slight bluish tint in our deeper screen tests, but it's largely unnoticeable in everyday use. Viewing angles are very good on the mini, portraying little-to-no change when viewed from various angles.
Display measurements and quality
Interface and Functionality
The 2019 iPad mini runs iOS 12.2 out of the box – the latest iOS iteration. With this you'll find the same set of useful, but to some extent, redundant gestures, as Apple's compiled many of the older iPad gestures – four finger swipes to switch between full-screen apps, for instance – with newer iPhone gestures, like a lift and swipe gesture at the bottom of the screen which also switches between full-screen apps. Then there's the still-present home button, which, as always, brings you home with one click and opens multitasking with two, but also shares these functions with a flick from the bottom of the screen, or a four-fingered pinch, respectively. Essentially, you'll have a sort of "choose your own adventure" for getting around the iPad mini. Some may like this sort of "gestures a-la carte" approach, but for our part we'd prefer a more-uniform, less-redundant navigation experience.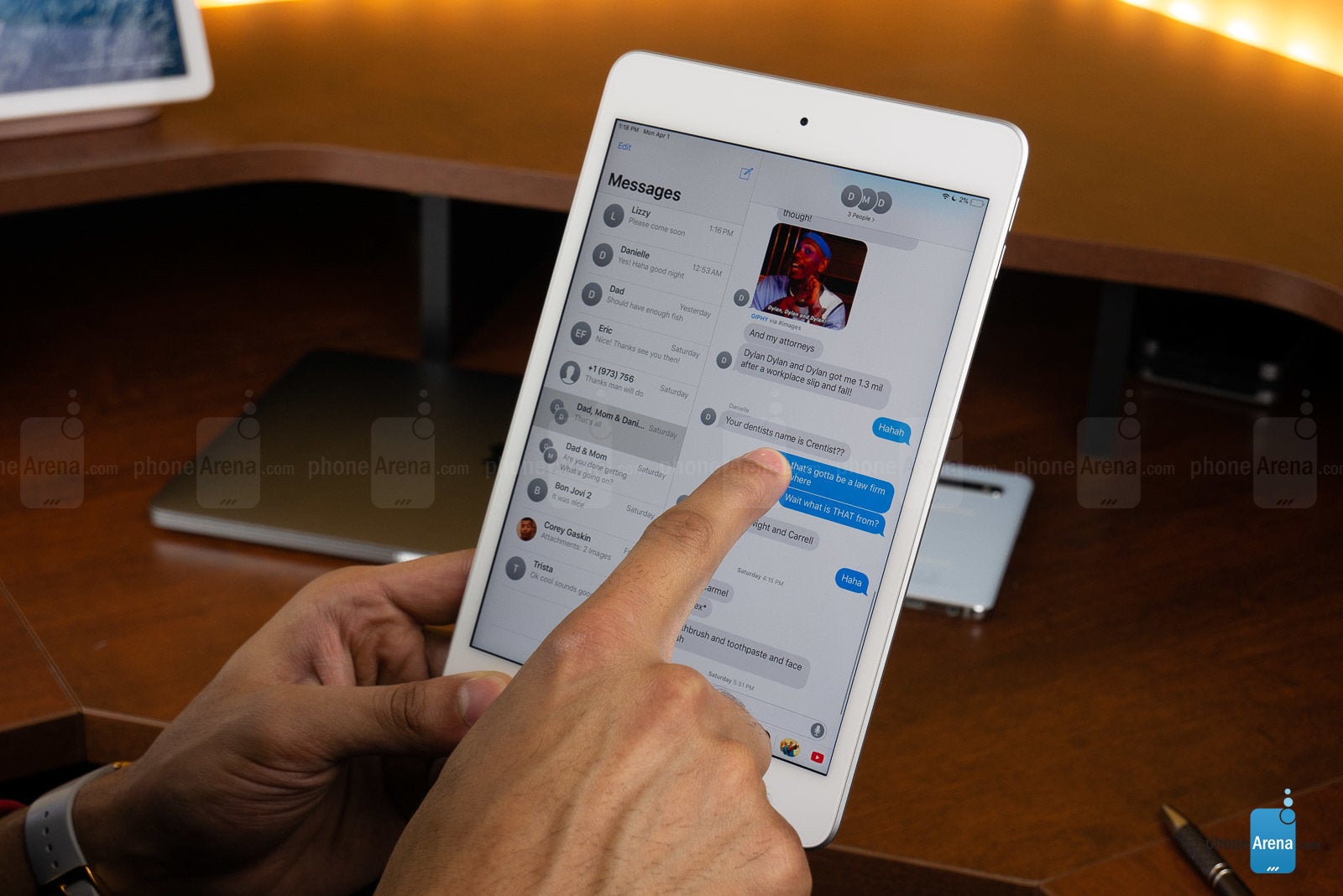 Gestures for multi-tasking on the mini, although not necessarily more straight-forward, are at least more succinct. When in an application, pull up from the bottom gently to reveal the dock, then drag and drop an app onto the left or right side to open an overlapping window. You can then pull down on the overlapping window to snap it into a true side-by-side window mode. It's a fairly simple process once you learn it, but again, it's not exceedingly intuitive.
Apple's also added support for the first-generation Apple Pencil, which should appeal to the creatives who like to sketch on their slabs, as well as those who truly value a more "pen-and-paper" experience. The size of the iPad mini also helps in this regard, making it easy to hold the iPad in one hand, and jot down notes with the other.
We will say, although this latest mini is more a refresh than anything else, it would've been really nice to have a new device with Face ID. Especially with a tablet where your thumb isn't naturally at the bottom center when picking up the device, Face ID would be much more convenient, quicker, and more natural of an interaction to get into your tablet.
Processor, Memory, and Performance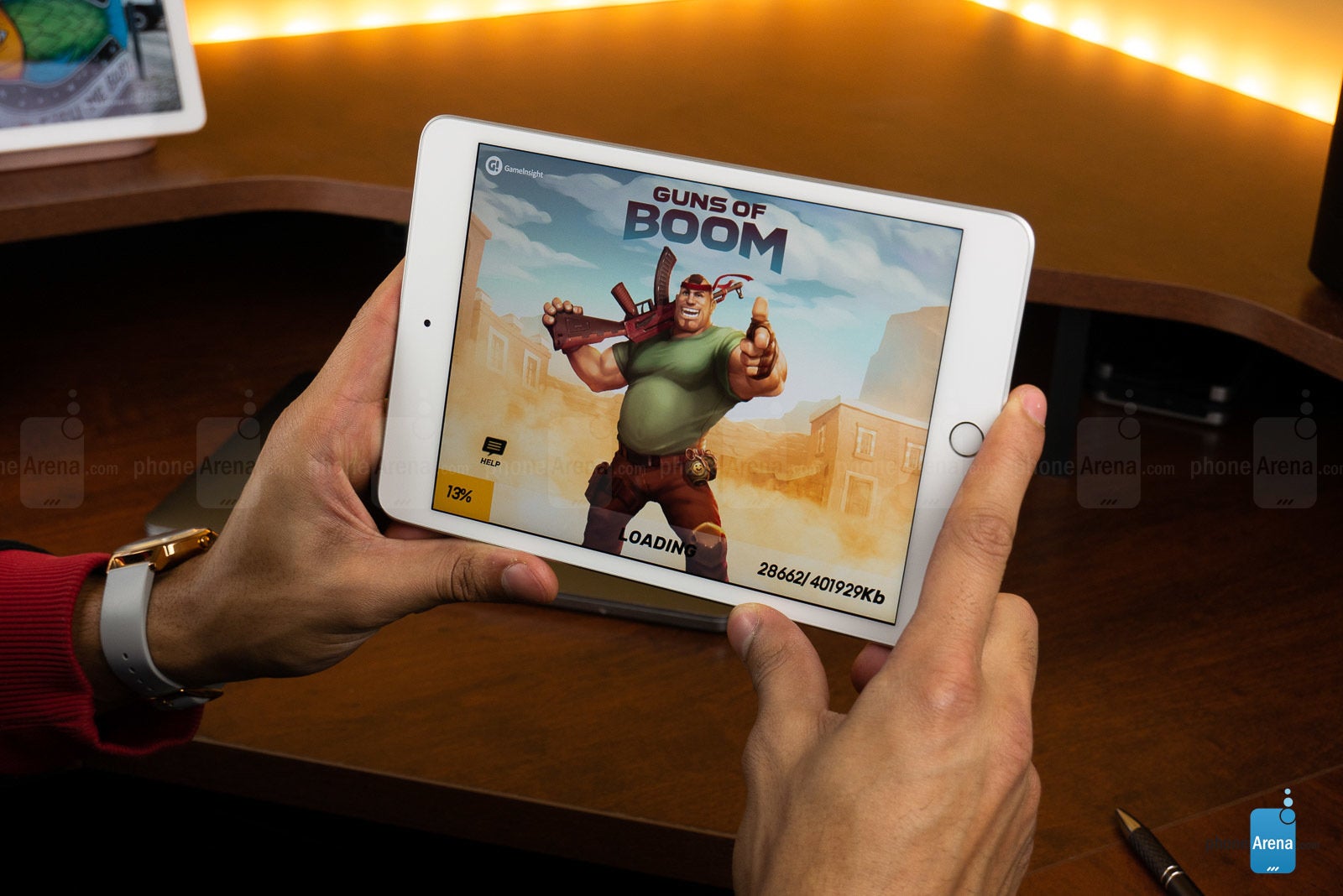 Between the iPad mini 4 and the latest iPad mini 5, one of the most appreciable upgrades is found in the jump from Apple's A8 processor to the latest and greatest A12 Bionic chipset. RAM size on the mini has also been upped to 3 GB – a modest bump up from the fourth-gen's 2 – while storage capacities also get a bump, starting at 64 GB's and jumping right up to 256, compared to the 16 GB starting capacity and 128 GB cap on the fourth-gen. So, what do all these changes amount to?
Well, a lot.
The iPad mini 5 is leaps and bounds faster and more powerful than its predecessor; there's really no competition. The A12 Bionic chip powering the iPad mini is the best mobile processor in the game right now and it makes short work of any task on the mini. Apple's A8 processor, as found on the iPad mini 4, was the best of its time too, but that time was almost four full years ago. In that space, both Apple and its competitors have made significant advances in processing and the benchmarks will show you what we mean.
Apple's always taken pride in making devices that run at the speed of thought, and that's exactly how this latest iPad mini functions. We did work, surfed the web, watched videos, played games, and even edited 4K videos on the iPad mini – all without so much as a hiccup, and certainly no freezes. Even editing and exporting a nearly four-minute 4K from iMovie seemed effortless and quick.
Will this be a replacement for your computer? Of course not. But with these capable new internals you'll have to jump up to the iPad Pro line to find a more capable tablet.
Connectivity
When it comes to connectivity you won't find much new aside from the upgrade to Bluetooth 5.0 up from 4.2. Otherwise you'll still find dual-band Wi-Fi and cellular connectivity options as was the case with the previous mini. All models can be had unlocked or hooked up with one of the four major carriers.
Camera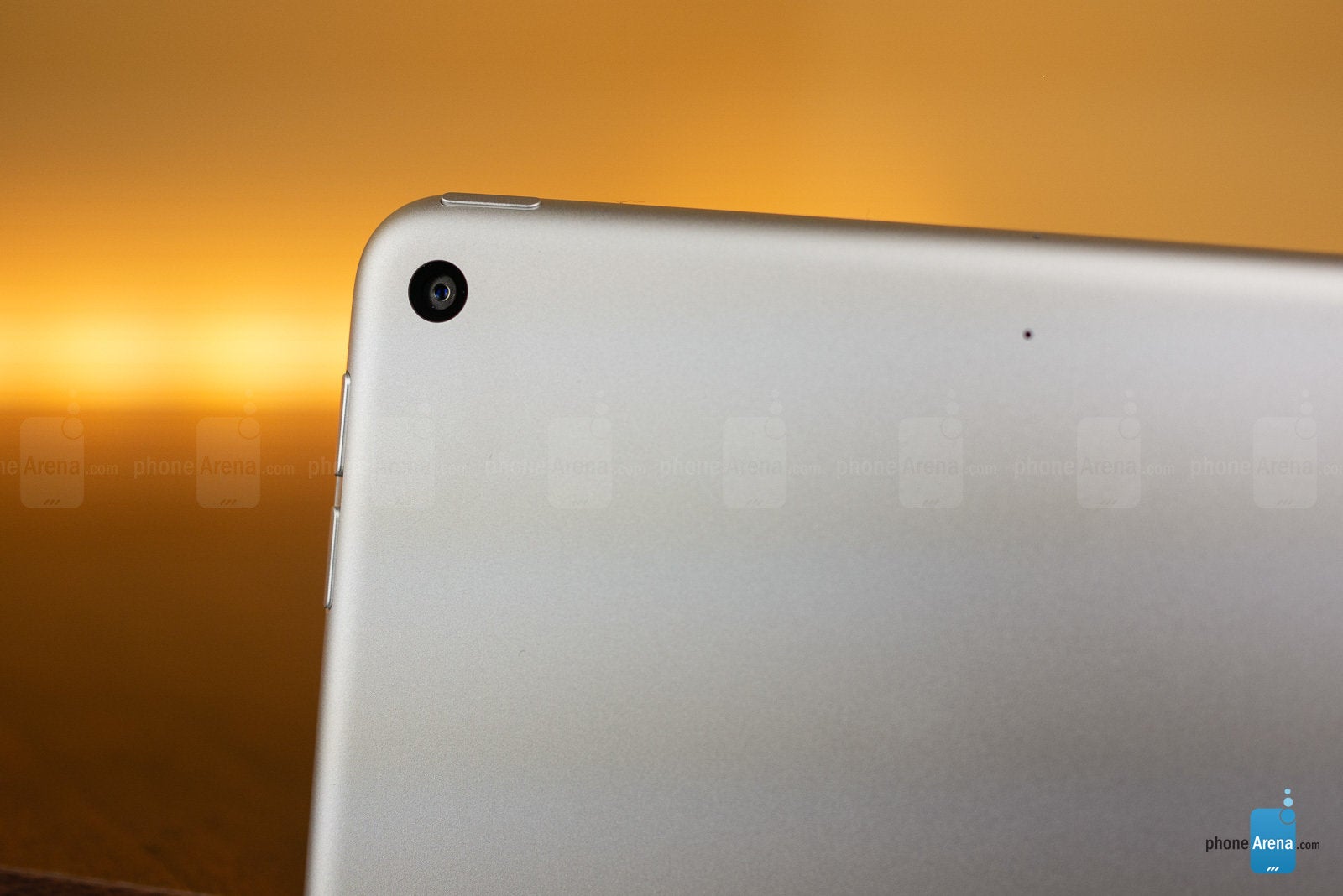 Taking pictures on a tablet likely won't be the first thing you consider when purchasing one, but sometimes it's the quickest, or only option you have to capture a fleeting moment. For such instances, you'll want to feel confident that you're not compromising much to snap that pic from your tablet, and Apple's done fairly well here in the past.
The company hasn't changed much of the mini's camera hardware since the last generation, using the same 8 MP sensor in back but upgrading the front-facer significantly with 7 MP and HDR capability versus the 1.2 MP sensor on the iPad mini 4.
So, how do these cameras fair in some typical use cases?
Image Quality
Photos captured on the iPad mini, for the most part, are pretty impressive for a tablet. In bright outdoor lighting, the mini captures very well-detailed shots with accurate colors and impressive dynamic range. Of course, the handling of dynamic scenes isn't quite on the level of the latest iPhones – very bright areas can wash out, and in those instances, overall color composition does a bit too – but we were able to snap some pretty and accurate shots with the iPad mini, otherwise. It's good to know you won't sacrifice much in well-lit scenes.
Video
There haven't been any upgrades to the video recording experience on the iPad mini, and while the experience is good, we'd very much like to see 4K video recording and continuous autofocus – two additions that this iPad could easily handle and well use. Slo-mo video capture at 1080p would be nice too, as it's currently capped at 720p.
Recording 1080p video on the mini yields decent results. Videos look quite smooth with Apple's electronic stabilization; shutter roll, for the most part is a non-factor. There are some instances of glitchy or otherwise ineffective stabilization, but overall, movement looks pretty good. Focusing switches pretty easily, but the lack of continuous autofocus means you won't want to record long, dynamic videos on the iPad mini.
Multimedia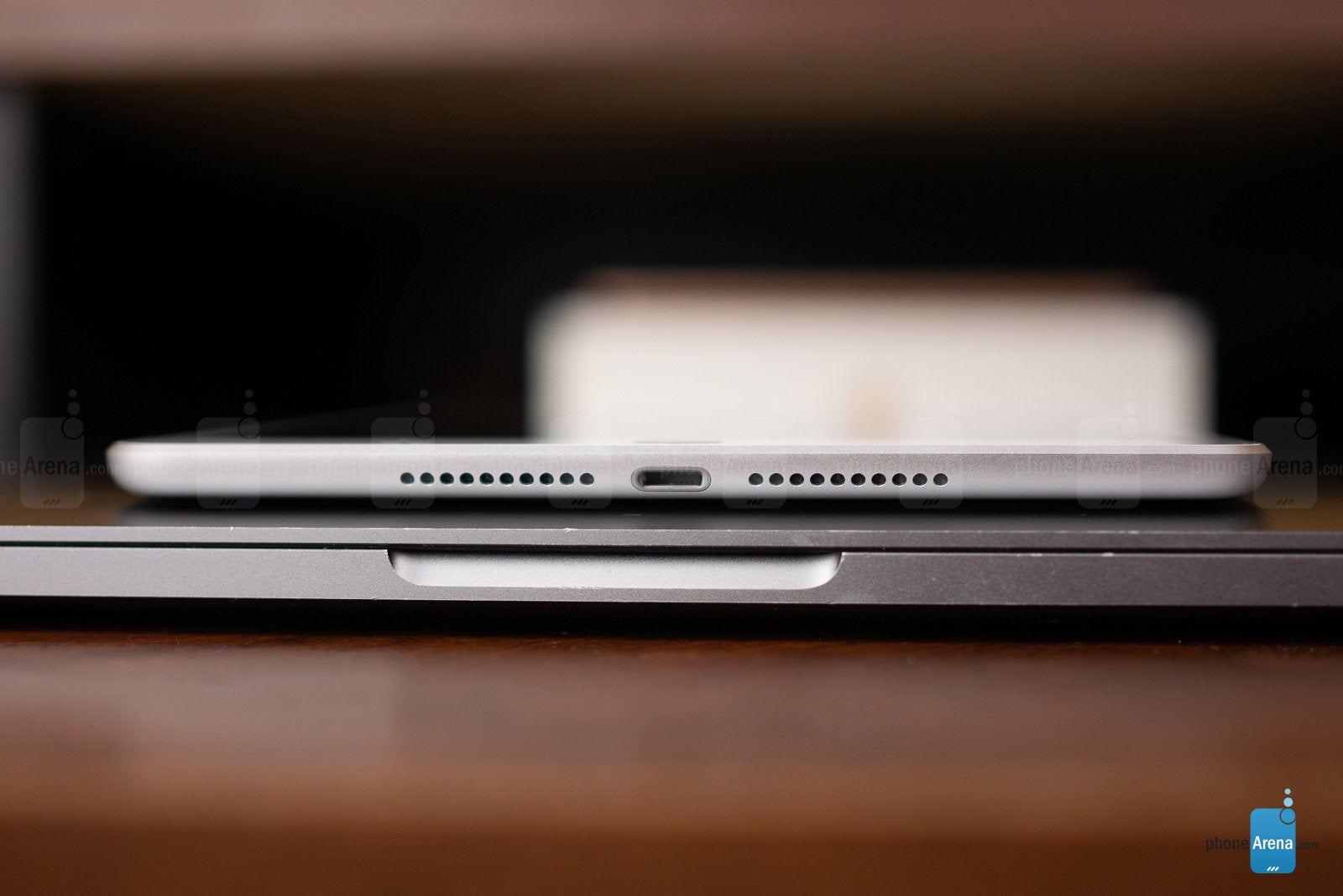 For many, the multimedia performance is the main drive for purchasing a tablet of any kind, and iPad's have always done well in this area. The latest iPad mini is no exception; the downward-facing, dual-speakers get plenty loud for a single, or multi-person listening experience, and the richness of the audio is quite satisfying. As far as mobile speakers go, these carry more bass than most phones we've tested while keeping clarity top-notch, but we can't help but wish they were forward-facing and on either side of the display, rather than both at the bottom. And, of course, we have the beloved 3.5 mm headphone jack for those of you still not rocking AirPods.
Battery Life
While leaps in performance are naturally expected from the newer A12 Bionic chipset, how well does it do with efficiency? Apple claims the mini can run for 10 hours of web-surfing or watching videos, and given our experience, we'll happily corroborate those claims. Our custom battery drain test has the mini tapping out just over the 9.5-hour mark – over an hour longer than the iPad mini 4.
In our personal experience with the tablet full-day battery life was effortless and we could easily get multiple days with more sporadic use. The mini should hold up superbly for even the heaviest of users.
Recharge times, on the other hand, were anything but dazzling. In fact, the latest iPad mini takes about a half-hour longer to charge than its predecessor, requiring just under four hours to charge from 0 to 100.
Conclusion
So, should you trade in your
iPad mini 4
and snatch up a shiny new 2019 model? Here are some reasons why you should.
First and foremost, it's a much more capable device in terms of processing power. Apple's done quite a nice job of making older devices run like new, especially recently, and, to begin with, none of these devices are slow, anyway. The main advantage gained here is protection against obsolescence – whether it be to run the latest games in the coming years, or to handle larger video editing projects, or whatever your fancy may be.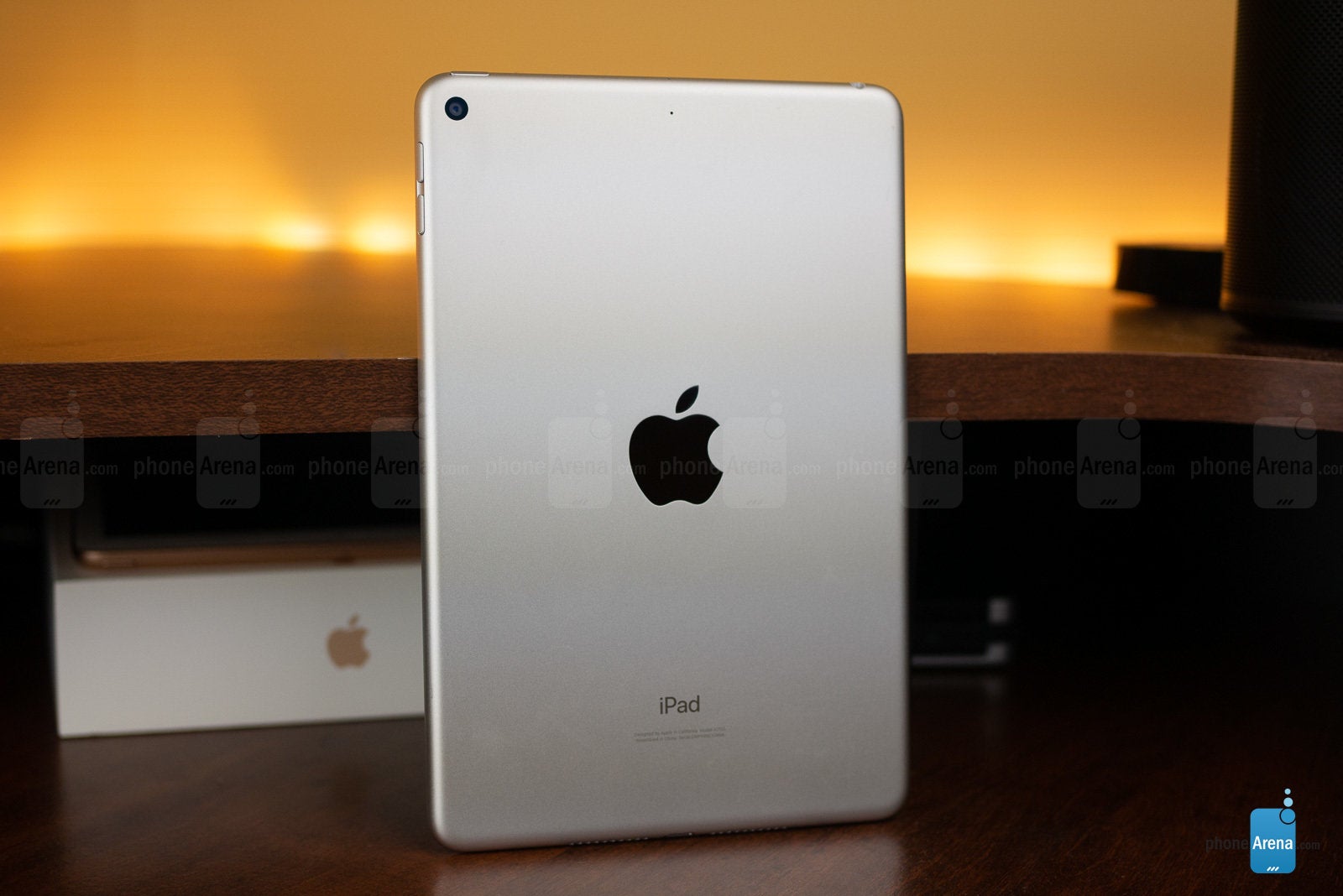 Next, if you do a lot of reading or browsing in extremely dark (in bed or at night) or bright (outdoors) situations, then the addition of True Tone technology and the low reflectivity could be quite welcome upgrades to your tablet experience.
Lastly, there's the Apple Pencil support. There's something about good old-fashioned writing that can't be beat and the mini is a great size for note-taking. Of course, artists can sketch on here too, but it may be a little small for drawing anything too complex.
In short, yes, the 2019 iPad mini is leagues ahead of its predecessor in power alone, but depending on what you use it for, we couldn't blame you for waiting a little longer to save a few bucks on the upgrade. You've waited this long; what's another few months?
For those of you who are new to the mini altogether and looking for a tablet of this size, you truly can't do better than the latest
iPad mini
, and the $399 and $549 prices for the 64 GB and 256 GB, respectively, will deliver you value for years to come.
Update

: You can now read our Apple iPad Air (2019) review!