Samsung Galaxy Nexus Preview
94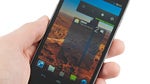 Introduction:
The advent of the third Nexus handset has been one of the most anticipated events in the mobile universe this year. Why so? Because these Nexus phones represent important milestones for the Android operating system. Produced in tight partnership between Google and a major phone manufacturer, each Nexus arrives to the scene along with an important update to the OS, introducing lots of new features and goodies for consumers and developers. While the first device in the series, the
Google Nexus One
, was manufactured by HTC, the production of the following model, the
Nexus S
, was taken over by the largest Android phone manufacturer in the world today – Samsung. The South Koreans have obviously managed to establish some pretty good relations with Google, as they have kept the privilege to work on this year's model as well – the
Samsung Galaxy Nexus
.
So, what does the Galaxy Nexus bring to the table in order to excite cell phone fanatics? The answer seems pretty obvious – it brings the latest iteration of the Android operating system –
Ice Cream Sandwich
. And this is not your usual update like Gingerbread or Froyo. Ice Cream Sandwich is a much more ambitious project, aiming to completely redesign the Android platform in and out. We now have a prototype unit of the Samsung Galaxy Nexus, so let's explore this amazing package and see where its ups and downs might be hiding.
Design:
The Nexus smartphones are special, not only because they come with a brand new version of Android, but also because they offer something which other, more "typical" Android handsets lack in most cases – they actually look good. The Nexus One was one of the most considered Android devices from design standpoint, while the Nexus S came with that attractive curved glass on top of its display. Now, with the Samsung Galaxy Nexus, we again witness this curved design, as well as some other little treats. For example, the back cover uses the so-called
Hyper Skin
finish, which provides a better grip, and an overall nice feel to the touch. However, the phone's body is still entirely made of plastic, which translates to a relatively light weight, but also to a somewhat standard feel, which fails to captivate or wow the user. There's nothing premium with the build quality and construction of the Samsung Galaxy Nexus, and this is our biggest disappointment with its design.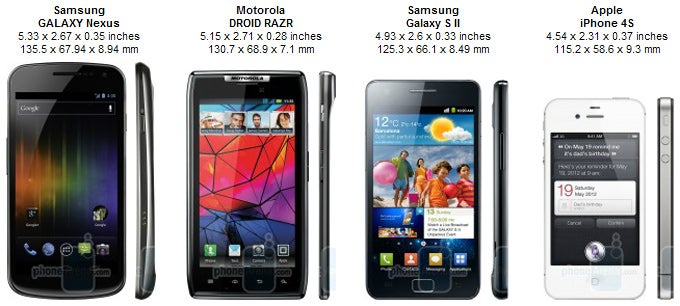 You can compare the Samsung Galaxy Nexus with many other phones using our
Size Visualization Tool
.
Yes, there's still this curved glass, but we don't consider it as being something beneficial in any way. The curve is actually very slight, so we really see no difference between this and a completely flat glass. Otherwise, the display below it is quite impressive. The Galaxy Nexus sports an enormous 4.65" screen with an HD resolution of 720x1280 pixels. And even with a screen this big, we're happy to report that the pixel density is 316 ppi, which means that all kinds of fine details and small text that appear on this display remain clearly visible. The Galaxy Nexus sports an HD Super AMOLED screen, which uses an RGBG PenTile matrix for pixel arrangement. This actually shouldn't trouble anyone, as we don't find the overall image quality to be inferior compared to what you see on standard RGB matrix-based displays. More on this can be read in our dedicated article. Naturally, having an AMOLED screen, the Galaxy Nexus offers those characteristic high contrast levels and very saturated colors that kind of bring images to life.
For the first time in an Android handset, you won't find any buttons below the screen. That's because the Galaxy Nexus has been designed to run Ice Cream Sandwich, which now features on-screen keys for navigation in Android, just like in Honeycomb tablets. As a result, the front side of the device is completely clean and looks very cool.
Around the device
we find a standard microUSB charging port, 3.5mm headset jack, volume rocker and a power key. Interestingly, there is also a three-dot connector on the handset's right side, which will be used for docking the device with some kind of a docking station. On the back side is what many would consider the Galaxy Nexus's downfall – a 5MP camera, instead of something more contemporary like an 8MP one. While we would have really liked it more if it had an 8MP shooter, we'd still be satisfied if the Galaxy Nexus manages to produce some good-looking results.
Samsung Galaxy Nexus 360-degrees View: