LG Spectrum vs Samsung Galaxy Nexus
32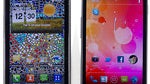 Introduction:
Being the new kid on the block, the
LG Spectrum
has a lot to prove if it stands any chance in trying to stay afloat amidst a sea crowded top-notch 4G LTE smartphones from Verizon. Without hesitation, we're pitting it against the most memorable smartphone of them all in recent memory, the
Samsung Galaxy Nexus
for Verizon, for the simple reason that it's seemingly at the top of the list amongst all Android smartphones. Of course, they both come to the table packing some serious firepower under the hood to blow most devices out of the water, yet, there can only be a single device to rise from the ashes once the dust has settled.
Design:
Mainly due to its overall clean appearance, better build quality, and surprisingly smaller footprint, the Samsung Galaxy Nexus is by far the preferred choice when we look at their designs. Moreover, its plastic exterior seems substantially tougher than the frail feeling plastic shell of the LG Spectrum – plus, its textured hyper-skin backing provides for a much better feel and grip in the hand. In contrast, the glossy back plastic casing of the LG Spectrum is notorious for attracting nasty fingerprints, and it's even more prone to scratching. Overall, the curvier Samsung Galaxy Nexus essentially outshines the boring design approach of the LG Spectrum.
Sporting 1.3-megapixel
front cameras
, they're there for all our video chatting needs and inexplicable self-portrait shots, but it's the Galaxy Nexus that relies on it for its face unlock feature.
Even though we're able to easily feel them out on both smartphones, the
volume rocker
and
dedicated power button
on the Galaxy Nexus has the more prominent feel and response. Meanwhile, their
microUSB ports
also allow us to gain video-out functionality with the aid of an optional MHL adapter.
Turning our attention around their backsides, the Spectrum packs a higher count 8-megapixel auto-focus
camera
with LED flash, while the Galaxy Nexus sizes up with a 5-megapixel snapper with flash too.
Displays:
So what's nice about these two devices is that they both feature snazzy looking 720p displays. With the LG Spectrum, it's a 4.5" True HD IPS TFT display that packs the higher pixel density of 329 ppi, whereas the Galaxy Nexus features a larger 4.65" Super AMOLED display with a pixel density of 316 ppi. Obviously, we can argue which of the two has the superior detail, but honestly, it doesn't matter much because it's nearly impossible to tell distinctively from a good distance away. However, when it comes to color production, the Spectrum boasts the more realistic looking colors, as opposed to the overly saturated, but eye-catching tones of the Galaxy Nexus. Overall, it's a hard call because they're both gorgeous in their own way.
LG Spectrum 360-degrees View:
Samsung GALAXY Nexus 360-degrees View:
Recommended Stories