Android 4.0 Ice Cream Sandwich Review
62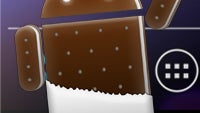 Progress in the industry is often made one step at a time. Little by little. Very rarely do we see a company make significant move forward, bringing radical changes, with only a single product. Take for example, RIM, which has been very consistent with updating its BlackBerry OS, adding a new feature here and there, changing the appearance of a few icons, implementing a new browser... but when you look at the whole picture, BlackBerry is still the same, old and tired OS we've been treated to so many times. And one would think that given RIM's disadvantageous position, it'll be quick to innovate its mobile platform more seriously. Obviously, this isn't as simple as it sounds.
South of the border though, Google has recently shown how the big boys should play. With Android's market share constantly expanding, and no real competition save for the iPhone, which is very stable, but doesn't grow as fast, one would think that Google doesn't have too many reasons to worry about its influence on the mobile sector, so why should it rush to innovate? Well, think again, as the Mountain View company recently undertook a complete redesign of its platform. A bit risky, you say? Probably quite a few analysts have quoted the "if it ain't broke, don't fix it" saying, but you know what? In our opinion,
Ice Cream Sandwich
is probably the best thing that has ever happened to Android.
In our
Samsung Galaxy Nexus Review
, we praised the phone for being extremely capable and pleasant to use. However, we wouldn't have given the Nexus such a high rating, if it wasn't for Android 4.0 ICS. This new software managed to get us really excited, and now we're simply looking forward to having ICS on more and more handsets. However, until these start popping up on the shelves (hopefully sooner rather than later), we wanted to take our time to sit down and write a few words to describe our feelings about the new mobile OS by Google.
The looks
So, what is it that's making ICS such a big deal? Not that it's all about the looks, but we must admit that the appearance of a product, no matter if it's a phone, tablet, app, or even an OS, is very, very important. The crude stock interface of all Android releases, up to 2.3, was among the main issues of the platform, and with ICS, Google has fixed just that. Actually, the company took Android 3 Honeycomb, which was used on a number of tablets, and used it to build ICS on top of it, meaning that there isn't a single trace of Gingerbread. That's a good thing no matter how you look at it, as we are now treated to some of the best visuals one can find in a mobile platform. Not only have all the graphical elements been redrawn, the OS is also full of other little eye-candies like fancy 3D transitions and effects. As a whole, ICS retains the
predominantly futuristic appearance
of Honeycomb, but refines it even further to make it seem a bit more approachable even to not that tech-savvy users.
Probably the best thing about all this is that even with all of this eye-candy,
everything runs buttery smooth
, at least on a high-end phone like the Galaxy Nexus. Well, you can observe an occasional slowdown here or there, but as a whole, Android 4.0 leaves an impression of being a very fluid and fast platform.
Streamlining the experience
If ICS was only better on the outside, and the same on the inside, it wouldn't have had so much of an impact on the Android ecosystem. However, Google has made sure to enhance its innards as well, so we're happy to report that your overall experience with the OS will not only look better, but will also be more streamlined as well. What we mean here is that there have been made dramatic changes with regards to how you operate with it. One of the most important alterations in this respect is the
omission of the context menu key
, which was previously used to display additional options for the app or screen that you've currently opened. All of there options are now part of each app's interface itself, which means that you'll no longer have to look at two different places to find options and settings for an app (the interface of the app and the context menu), but just one – what you see on the screen. This, our friends, is what we call streamlining the user experience, and we're very happy to see Google making the right moves in this direction.
In addition to basic navigation within Android 4.0,
core applications have also received a facelift
. For example, the
People app
now comes with a completely new UI, designed to bring the most important content at the forefront, without being cluttered with all kinds of buttons and options. Other programs, like the
Calendar
, have been enhanced to offer new functionality and better navigation by utilizing gestures. This indeed makes using ICS somewhat more intuitive than using Gingerbread.
Well, the new approach found with ICS might be a more simplistic one, compared to previous versions of the OS, but that doesn't mean you aren't able to customize it the way you see fit. After all, that's where the beauty of Android is, and we just can't see Andy Rubin and company risk losing all of this for the sake of the unknown. Quite the opposite, all of the more advanced options are present, but are now neatly organized within dedicated menus. Speaking of options, it's worth noting that the Settings have also been improved. They are now better organized, allowing you to find your way around more easily, although they aren't perfect yet, due to some small details. For example, getting into the list of available Wi-Fi networks isn't very intuitive. But of course, such issues are easy to fix, and we hope that Google will address them with future versions of the platform.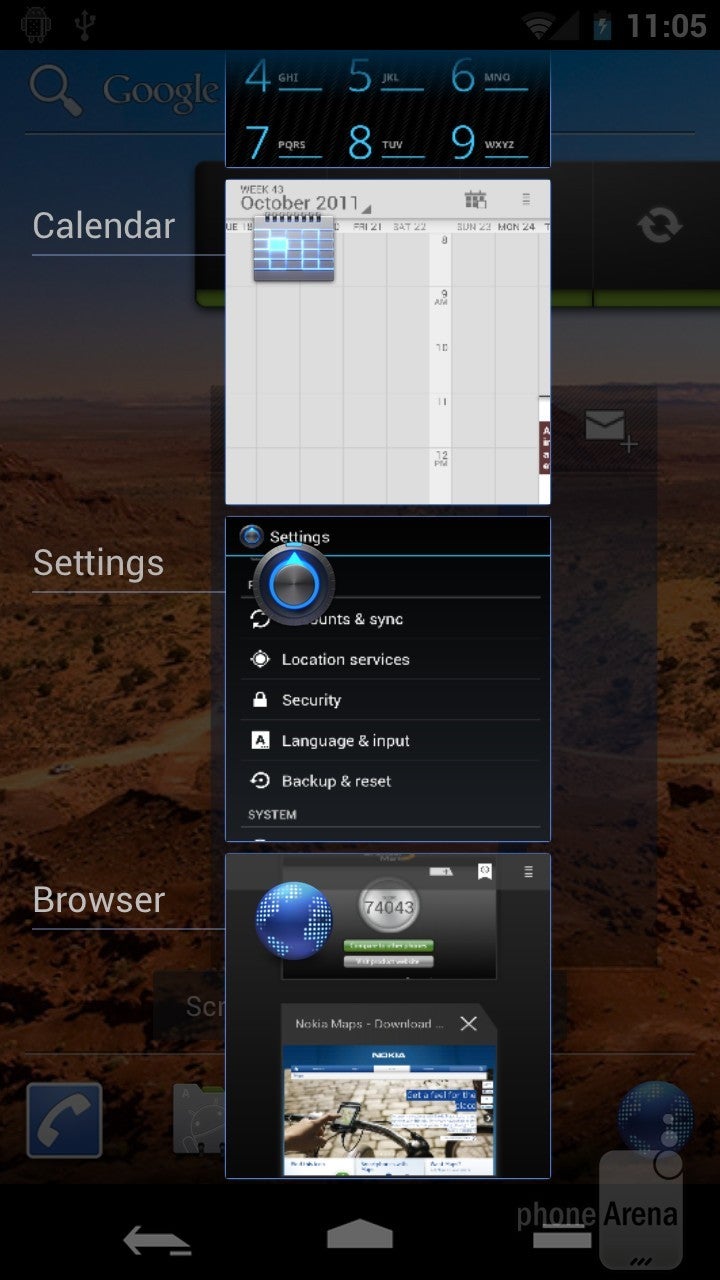 Multitasking
Being able to have multiple applications running at the same time, or multitasking, has been among Android's main advantages over iOS for a long time. However, its hold-the-home-button-for-a-couple-of-seconds-to-show-running-apps method wasn't exactly what we'd call quick and predisposing, and thankfully, it has now been replaced with a simple dedicated key. Oh, how much easier this is, and how much more we used it. Upon pressing the multitasking key, it brings up a scrollable list of your running apps (complete with a thumbnail), just like in Honeycomb. As you know, many kinds of "advanced" functionality have been supported by various mobile operating systems before, like multitasking and copy and paste, but their implementations haven't always been adequate for use on the smaller screen of a phone. Eventually, devs had to think of ways to implement those said functionalities that would make them easier to use, and the advancements that Google has made with regards to multitasking in ICS fall exactly into this category.
App support
In order to multitask, however, you'll need many apps! So how's the situation with support for apps designed for previous versions of the OS (because, obviously, there aren't many apps written for ICS right now)? It's fine, but not great. Most apps, especially simpler ones, will have no trouble running on an ICS device, but there are some more advanced products, like 3D games, which are not really supported by the platform. For example, we tried Asphalt 5 and it ran, but its interface was offset from the screen and the touch controls didn't work, so the game was virtually unplayable. However, we believe major app developers will be quick to update their games and applications to add Ice Cream Sandwich support.
Manufacturer UIs
So, we have this beautiful new interface, but what about those custom user interfaces that pretty much all manufacturers of Android phones tend to use? Will they continue to exist? Our guess is that phone and tablet manufacturers will continue to use their interface overlays in order to bring differentiation for their products. What we hope is that they'll at least spend some time beautifying and streamlining their proprietary software as well, since it won't be well received if they just get the pretty stock ICS and cover it with their same-old graphics. HTC's Sense looks good, but it could use a small refresher. Samsung's TouchWiz, on the other hand, needs to be both simplified and beautified, as it's still having that iPhone for kids look. All of these reformations might be more of a wishful thinking, but we do hope that at least some of these will happen. After all, who want a phone with a custom UI that looks worse than the stock one?
Conclusion
All in all, things are looking pretty good for Android right now. It has undergone a major redesign, positioning it much better in terms of approachability. The system now looks beautiful, complete and advanced, with only minor kinks to get worked out.
From its humble beginnings until today, Android has walked a long and bumpy path, but has eventually become a robust platform, suitable not only for geeks, but regular consumers as well. With the Ice Cream Sandwich update, Android phones and tablets are closer to being mass market products than ever before. And probably for the first time ever, this won't be due to a lower price, but to the quality of the platform itself. We are very happy and excited about this, and are looking forward to meeting more ICS devices along the way. Surely those will be appearing on the horizon very soon, but you know what? We can't wait!
Android 4.0 Ice Cream Sandwich Video Review: