Samsung Galaxy Note 20 Ultra vs Apple iPhone 11 Pro Max
6
We may earn a commission if you make a purchase from the links on this page.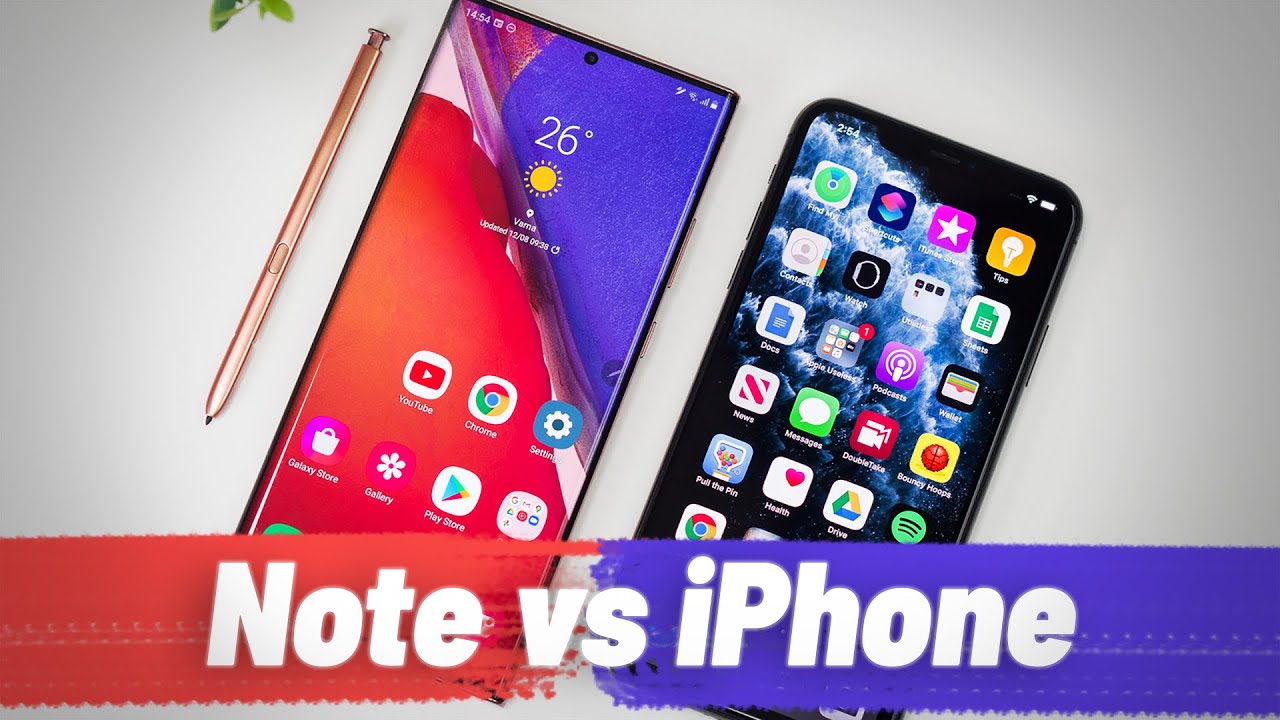 We've got two great contenders here —
Samsung
's
Galaxy Note 20 Ultra
is big, bad, incredibly high quality, and not ashamed to flaunt its hefty price tag. A worthy competitor for
Apple
's own mean flagship — the
iPhone 11 Pro Max
.
Which one is better? Now, isn't that a hard question? Saying that they are on par with each other might be considered a cop-out. But it's really hard to go with either one. Yes, you've got the base iOS vs Android argument, where I just say "Apple has these and these apps, Android is still playing catch up". But Samsung has a bunch of partnerships going on, which enhance its software portfolio as well.
Bottom line, they are snappy phones with awesome screens and fantastic cameras. The Note 20 Ultra has a stylus that will get you to fall in love with handwriting on a digital display and it certainly has better multitasking options. The iPhone 11 Pro Max does what iOS does best — smooth, fast, predictable performance and an App Store, which still has a couple of high-quality exclusive apps for creatives. But Samsung is definitely catching up in that field.
Galaxy Note 20 Ultra vs iPhone 11 Pro Max Display and Design

Samsung's Note phones have always had a screen that goes beyond the current perception of "that's too big". In 2020, that's a hard thing to accomplish as humongous displays on smartphones have pretty much become the norm. Still, with a 6.9-inch screen and a 19.3:9 aspect ratio, the Note 20 Ultra is gargantuan and it towers over the iPhone 11 Pro Max's 6.5-inch, 19.5:9 display.
Not only that, you get more real estate on the Note 20 Ultra's screen, as it doesn't have any notch — just a tiny hole for the selfie camera.
But how do the displays look? Well, they both have OLED panels, all made by Samsung. The iPhone comes with Apple's preferred color calibration — it's tame, it's accurate, it looks fantastic. The Galaxy Note 20 Ultra has the Natural mode, which produces more down-to-earth colors and a Vivid mode, which dials up the vibrancy for fans of classic punchy AMOLED screens.
The Galaxy Note 20 Ultra also has a 120 Hz refresh rate, making animations buttery smooth — it's really hard to go back to a 60 Hz screen once you've scrolled through your emails on a high refresh rate display. The iPhone 11 Pro Max happens to be locked at 60 Hz.
Display measurements and quality
In terms of design, both devices look and feel pretty great. Samsung always tweaks and evolves its designs by just a bit — the Note 20 Ultra certainly doesn't look like a whole new phone, but it does feel fresh. Apple, on the other hand, likes to stick to its designs, which is one reason why iPhones are instantly recognizable in a crowd. The iPhone 11 Pro Max still looks pretty and fits right in the hand with its curvy sides, but those who want something fresh and exciting might feel it's a bit dated.
These are both heavy devices — 208 g for the Note 20 and 226 g for the iPhone 11 Pro Max. You will definitely feel them in your pocket and they are meant for the dedicated poweruser that doesn't mind the extra heft and is looking for a two-hand phone.
Then, there are the camera modules on the back. The Internet had a meme ball with the iPhone 11 Pro's triple camera module when it first came out. Remember all the "stove" jokes? Well, nowadays, triple, quadruple, and quintuple cameras have become the norm. And boy, the camera bump on the Galaxy Note 20 Ultra is ginormous. It gets in the way when holding the phone and it definitely keeps it "propped up" when lying on a table.
This can either be something that'd annoy you or something that you like, since Samsung nailed the high-tech, industrial look of the module.
Speaking of which…
Galaxy Note 20 Ultra vs iPhone 11 Pro Max Camera and Audio
The aforementioned bumps do hold some of the best cameras you can get on a smartphone. The Galaxy Note 20 Ultra has a 108 MP main sensor, which takes 12 MP photos by default, a 12 MP ultra-wide camera, and a 12 MP telephoto camera. The iPhone 11 Pro Max has 12 MP sensors under all of its three lenses — the main wide-angle, ultra-wide-angle, and telephoto. Then, on the front, we have a 10 MP selfie camera on the Note 20 Ultra and a 12 MP one on the iPhone 11 Pro Max.
That's a lot of numbers. But it's all about how they perform. Smartphones employ a ton of software post-processing to give us the pictures we end up with… all done within a fraction of a second behind the curtains, while we carelessly tap that shutter button. So, let's take a look at some samples!
Here's the running theme: both do fantastic! Super-high dynamic range, thanks to the auto HDR algorithms on both phones, great colors, lots of details. You will spot that the iPhone photos are a bit warmer, while the Note 20 Ultra is a smidgen colder with colors slightly amped up (especially the greens).
Then, we have the zoom feature — the Galaxy Note 20 Ultra's periscope camera offers 5x lossless optical zooming and can then go up all the way to 50x digitally-assisted zoom. The iPhone 11 Pro Max's telephoto camera gets you a 2x zoom and can crop down to 10x digital zoom. So, you know… if birdwatching is your thing, probably the Note 20 Ultra has the better feature for you.
In terms of audio, both phones have stereo speakers in the popular setup — a bottom-firing, beefy speaker, and an amped-up earpiece. The Note 20 Ultra sounds a bit meatier with more lower mids, while the iPhone 11 Pro Max has a slight hump in the higher mids, providing a slightly "tinny" sound. But both phones have a good amount of bass, volume, a lot of detail, and keep away from distorting at high volumes.
Galaxy Note 20 Ultra vs iPhone 11 Pro Max Performance and Software
Comparing an Android device to an iPhone has always been sort of an apples-to-oranges thing. Since Android and iOS work differently at their core and treat hardware differently, simply staring at their specs sheets won't tell you much. So, we have to run the phones through their paces.
The Galaxy Note 20 Ultra is powered by the best chips Samsung has access to — the Qualcomm Snapdragon 865+ in the US, the Samsung Exynos 990 internationally. The iPhone 11 Pro Max has Apple's A13 Bionic chip — a record-setting powerhouse in its own right.
Needless to say, both of these can run anything you can find in their respective app stores without a hitch. When it comes to gaming or switching through apps — everything happens in a snap.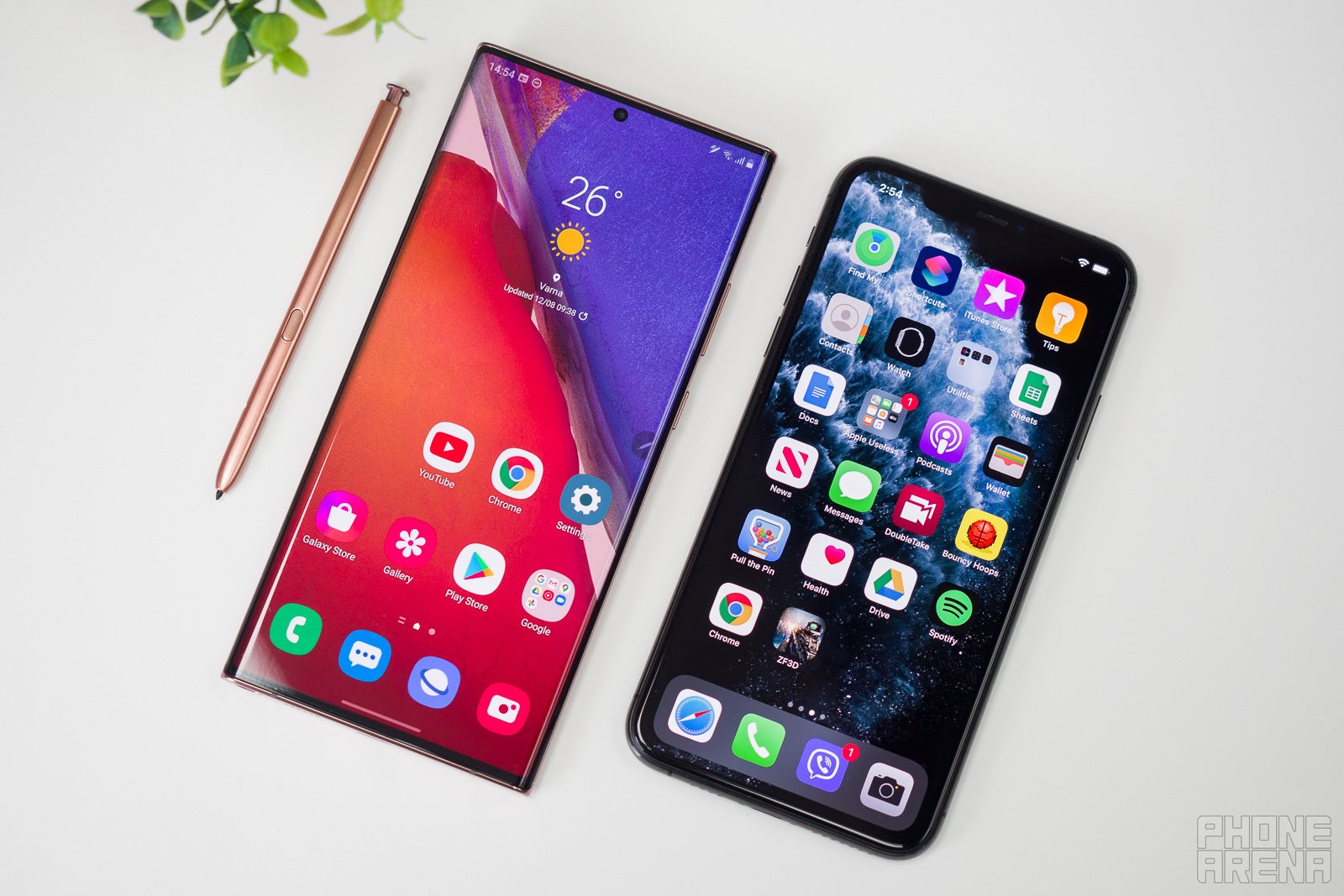 The two systems do handle multitasking very differently. The Note 20 Ultra features split-screen and picture-in-picture, while its 12 GB of RAM keeps everything readily available in the background. Very often, I switch back to an old app and find it exactly where I left off. Apple's iOS may fly quickly, but it works on a more of a "one at a time" philosophy. No split-screen, no floating windows, and whenever you leave an app, it gets frozen in the background.
The Note 20's productivity side is further enhanced by Samsung DeX — connect the phone to a monitor or smart TV, add a mouse and keyboard, and you've got yourself a desktop UI, which feels like home for Windows users. The iPhone has nothing to rival that aspect.
Of course, the Note 20 comes with a bunch of drawing and writing apps, so you can make full use of that excellent S Pen, as well as a partnership with Microsoft that will get you three months worth of Xbox Game Pass and Microsoft xCloud when it launches. Also, depending on where you buy, you may also get a free trial of YouTube Premium.
iPhone buyers will get a year of free Apple TV+, in case they haven't redeemed that with another Apple purchase in the past.
Galaxy Note 20 Ultra vs iPhone 11 Pro Max battery life
The Galaxy Note 20 Ultra certainly needs a lot of juice to keep all that multitasking and the 120 Hz screen going. And it gets all of that from a 4,500 mAh cell — an impressive power pack that does give us a full day of use, even if we abuse the phone heavily. The iPhone 11 Pro Max doesn't lag behind — a 3,969 mAh cell keeps the lights on for quite a while, even with heavy usage.
Both of them also support fast charging — the iPhone 11 Pro Max comes with an 18 W charger in the box, while the Note 20 Ultra comes with a 25 W power brick.
Recommended Stories