Samsung Galaxy Note 20 Ultra 5G vs S20 Ultra comparison
1
We may earn a commission if you make a purchase from the links on this page.
The Galaxy S21 series phones are now joining the premium segment of the smartphone market. One is bound to compare the newest and mightiest Galaxy S21 Ultra with the Note 20 Ultra. And now, both support the S Pen. If you're interested about how they compare with each other, check out our Galaxy S21 Ultra vs Galaxy Note 20 Ultra article!
##

We know many of you have been holding off buying the excellent
Galaxy S20 Ultra
for the past month or two, despite all the
great S20 Ultra deals
around, waiting for Samsung to detail the
Galaxy Note 20 Ultra
specs and pricing.
Well, we took the Note 20 and S20 "ultra" models for a comparison, and are glad to report that your patience has been rewarded, as
Samsung
is releasing a Note 20 Ultra that is not only better in many respects than the S20 Ultra, but is also cheaper at launch than Samsung's finest of the spring.
Note 20 Ultra vs Note 10+ comparison
In fact, we found the Note 20 Ultra on par with the Galaxy S20 Ultra in the camera samples quality and battery life departments, while beating it in every other category we reviewed, so your wait really hasn't been in vain.
Here's a quick list of a few Galaxy Note 20 vs S20 Ultra specs and features that beat the spring chicken, at least on paper:
LTPO panel with dynamic display refresh vs LTPS battery hog
Much faster EFS 3.1 vs 3.0 storage memory
Fast-focusing camera
Tougher Gorilla Glass Victus
Wireless DeX
One UI 2.5 vs 2.1
Note 20 Ultra price: $1299 for the 128GB model vs $1399
Just the last Galaxy Note 20 Ultra advantage over the S20 Ultra was worth the wait, not to mention the addition of a greatly improved S Pen, and the overall sleeker external design. In fact, the only component that the Note 20 Ultra gives way to the S20 Ultra in is the smaller battery but our testing showed that this is offset by the more frugal display and chipset technologies on Samsung's current champ.


Galaxy Note 20 Ultra 5G vs S20 Ultra design and displays
Score one for the Note 20 Ultra
Samsung went with unorthodox 19.3:9 aspect ratio for the Note 20 Ultra, making it shorter and slightly wider than the 20:9 S20 Ultra. We have to admit that we prefer the S20 Ultra design and form factor, as it looks less like a giant slab of rectangular glass, but the Note 20 Ultra, surprisingly, fits better in the hand thanks to its thinner nature. It is also more protected thanks to the newest Gorilla Glass version called Victus that is tougher against both drops and scratches than what's on the S20 Ultra.
In fact, the Note 20 is a culmination of Samsung's Infinity-O design that shaves the top and bottom bezels to the max, and moves the front camera in a centralized punch hole. Even the dry screen-to-body ratio numbers show this, as the Note beats with north of 91% here, making it the most compact phone for its 6.9" screen diagonal and a much lighter one than the S20 Ultra.
Speaking of the display, Samsung has taken the best of both display worlds, and developed a brand new OLED screen technology for the Note 20 series called HOP that will also trickle down to the iPhone 13 next year. HOP is an abbreviation of Hybrid Oxide and Polycrystalline silicon, indicating that it will combine the up to 20% decrease in power consumption that low-temperature polycrystalline oxide (LTPO) displays like the ones on the Apple Watch or Galaxy Watch Active employ, with the higher resolutions and lower costs of polycrystalline silicon (LTPS)-only panels like those on the Galaxy S20 Ultra.
How good is the new LTPO panel then? Well, as you can see in our display benchmarks below, it is very color-accurate, has a record high peak brightness which helps in outdoor visibility, and, above all, allows for a dynamic refresh rate.
Display measurements and quality
In the Galaxy S20 Ultra, the 120Hz display refresh mode is fixed in an either/or scenario with the 60Hz refresh, while on the Note 20 Ultra it adapts depending on the content, saving battery in the process. Samsung tips that it can go as low as 10Hz for static images which is pretty unprecedented, and is an invitation for battery life improvements.
Unfortunately, while the new Note 20 display tech introduces a lower power consumption and a dynamic refresh, a true 120Hz rate at the full 1440p resolution as seen in phones like the
OnePlus 8 Pro
, is still not present, as Samsung has some catching up to do when it comes to phones with the
Iris chip from Pixelworks
. Still, score one for the Galaxy Note 20 Ultra in this category, both in terms of design, and when it comes to display quality and features.
Galaxy Note 20 Ultra 5G vs S20 Ultra camera specs, pictures and video quality
A draw in image quality, faster focusing on the Note 20 Ultra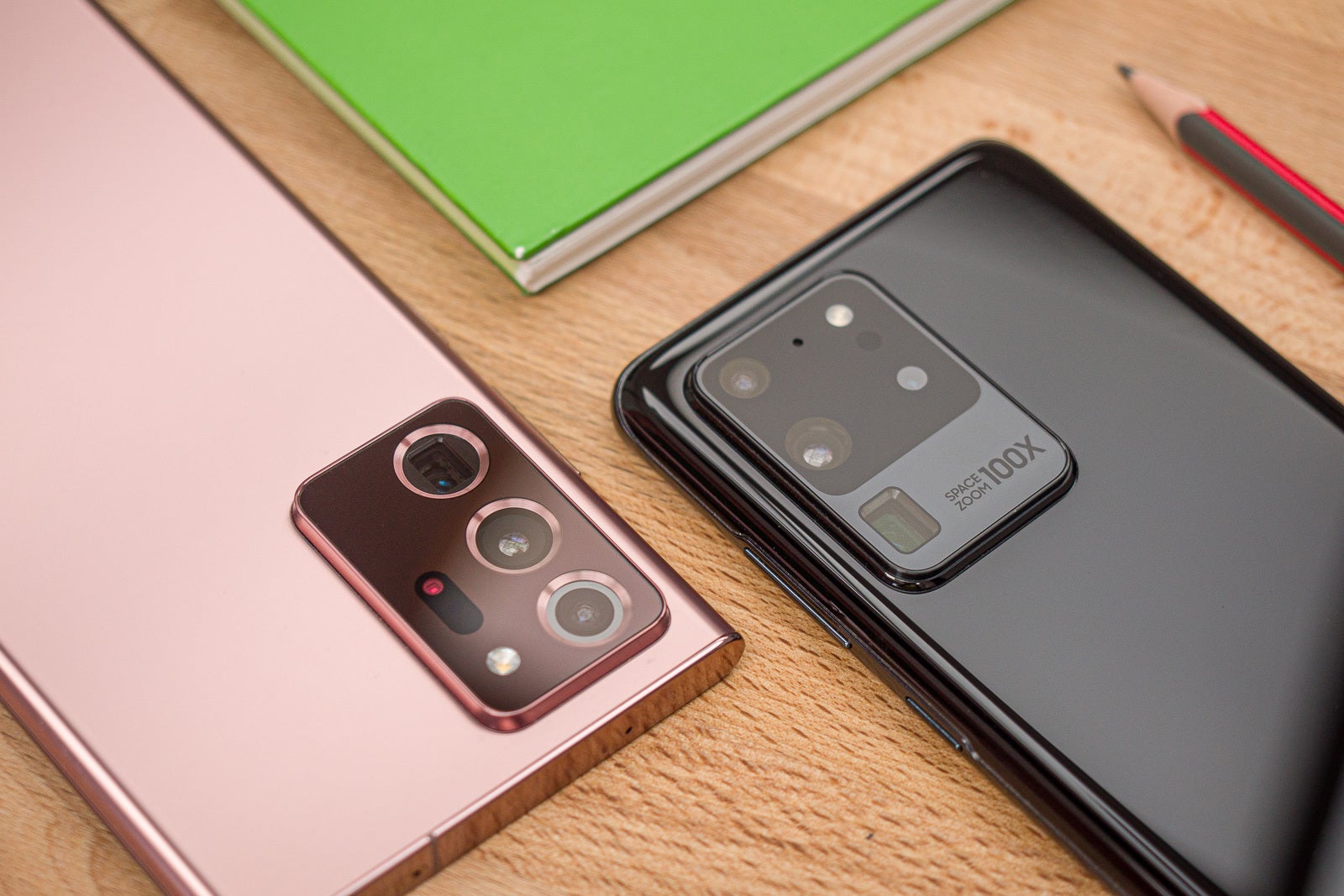 We hate to disappoint, but, looking at the Galaxy Note 20 Ultra vs S20 Ultra samples below, there is little to no difference in picture or video quality from the main sensor, both in daylight and in night shots. That's not a bad thing, mind you, as the S20 Ultra already employs one of the best phone camera kits.
Given that the Note 20 Ultra mimics its 108MP main and 12MP ultrawide sensors, you can expect largely the same results as the software managing those hasn't undergone many new iterations since the spring. The 5x periscope-style optical zoom lens, however, now has a 12MP sensor light at the end of its tunnel, instead of the high-res but small-pixel 48MP one on the S20 Ultra.
What we were most pleasantly surprised by, however, is that with the addition of the laser autofocus system on the Note 20 Ultra, the
S20 Ultra focusing speed
has been greatly improved. Don't expect shooting from distance closer than four inches or so to be sharp and clear, though, that
big-sensor focusing problem
still stays but you can use the ultrawide cam for those.
As you can see from the samples above, the camera samples are pretty uniform across the board with only a slightly warmer white balance coming out of the Note 20 Ultra kit compared to the S20 Ultra. Despite that there is a different sensor with larger pixels at the end of the light tunnel in the periscope camera of the Note 20 Ultra, zooming with it doesn't return better detail and sharpness than what the S20 Ultra is capable of, on the contrary.
The phones are capable of recording video at up to 8K definition and with cinematic 24fps if you so desire for getting perfect stills out of an 8K footage. The Note 20 Ultra, however, is capable of 1080p video recording at up to 120fps for the smoothest possible experience syncing up well with the 120Hz-capable display.
Galaxy Note 20 Ultra 5G vs S20 Ultra performance, processor benchmarks, and OneUI interface
Score two for the Note 20 Utra
Coming with the latest OneUI 2.5, and a faster Snapdragon 865+ processor, the Note 20 Ultra scores several points over the S20 Ultra in performance speed and new software features. The synthetic benchmarks show a slight increase in performance, indeed, but it's the newest OneUI that this raw power moves which is the more interesting to explore.
With the Galaxy Note 20 series One UI 2.5 iteration, Samsung introduced several notable new features, chief among which is allowing navigation gestures like back swipes, for third-party launchers. There is one rather obvious advantage for the Note on the software front, too, the Notes 2020 app that can employ the new pressure points and sensitivity of the latest S Pen.
Here are the Samsung One UI 2.5 vs One UI 2.1 differences and new features, as found on the Note 20 Ultra and S20 Ultra:
A 22:9 video recording ratio to match the new tall screen aspect ratios.
New video recording resolution and frame rate info in the Pro camera mode.
New focus options toggle in the Pro camera mode.
New YouTube icon in the default keyboard for easier video sharing in messaging and chat apps.
As usual, the Exynos 990 version of the Note 20 Ultra gives way to the Snapdragon 865+ model, but that's valid for the S20 Ultra variants as well. The phones are plenty powerful enough to run everything you throw at them, 12GB RAM and all, yet the 865+ vs 865 advantage is not only in peak speed but also at extra image processing and newer memory or connectivity standards support, score two for the Note 20 Ultra vs Galaxy S20 Ultra.
Note 20 Ultra Snapdragon 865 Plus vs S20 Ultra 865 vs Exynos 990


Snapdragon 865
Snapdragon 865+
Exynos 990
Production process
TSMC 7nm N7P
TSMC 7nm N7P
7nm EUV
Processor cores
1x Kryo 585 (custom A77) @2.84GHz

3x Kryo 585 @2.42GHz

4x @1.8GHz
1x Kryo 585 (custom A77) @3.1GHz

3x Kryo 585 @2.42GHz

4x @1.8GHz
2x Exynos M5@2.73GHz

2x Cortex A76@2.5GHz

4x Cortex A55@2GHz
GPU
Adreno 650 at 587MHz

Adreno 650 at 645MHz

Mali-G77 MP11
Modem
X55 5G modem (add-on)

up to

7.5 Gbps

over 5G, and 3 Gbps download speeds on LTE
X55 5G modem (add-on)
Exynos 5123
(Category 24)

Downloads up to 7.3Gbps (mmWave), 5.1Gbps (sub-6GHz), or 3Gbps (4G LTE), 8xCA

Uploads: up to 422 Mbps
AI co-processor
Yes, Hexagon 698
Yes, Hexagon 698
Yes, dual-core NPU
Video encode
8K HDR at 30fps
4K HDR at 120fps
8K HDR at 30fps
4K HDR at 120fps
8K HDR at 30fps
4K HDR at 120fps
Features support
QHD+ @144Hz or 4K@60Hz display refresh

up to 200MP single or 2x64MP dual camera

up to 16 GB DDR5

Qualcomm FastConnect 6800:

Bluetooth 5.1, Wi-fi 6
QHD+ @144Hz or 4K@60Hz display refresh

up to 200MP single or 2x64MP dual camera

up to 16GB DDR5



Qualcomm FastConnect 6900:



Bluetooth 5.2, Wi-fi 6E


UFS 3.0 storage support for up to 2.9GB/s speeds

Single-camera up to 108MP

up to 16 GB DDR5

120Hz display refresh rate
As you can see, there are three main areas where the Sanpdragon 865+ outshines the 865 - peak processing and graphics speed (the first mobile chip to break the 3GHz barrier), even more global 5G multiband connectivity, and the newest Bluetooth 5.2 and Wi-fi 6E standards support.
What is Bluetooth 5.2 and Wi-fi 6E?
The Wi-Fi 6E in Snapdragon 865+ means that the Note 20 Ultra is capable of operating on the 6 GHz band. It would work like the current WiFi 6 on 5 GHz but with way more channels that won't interfere or overlap. According to the Wi-Fi Alliance, Wi-Fi 6E can have "
14 additional 80 MHz channels and 7 additional 160 MHz channels
,"reducing congestion and interference.
New Bluetooth 5.2 vs Bluetooth 5.1 features:
Higher quality, lower-power audio codec.
Independent true wireless earbuds synchronicity, and broadcasting audio streams to multiple listeners in different languages.
Multiple apps can interact with a Bluetooth Low Energy device simultaneously, reducing latency and interference.
Galaxy Note 20 Ultra 5G vs S20 Ultra battery life and charging speeds
A draw, with slightly better S20 Ultra numbers thanks to the larger battery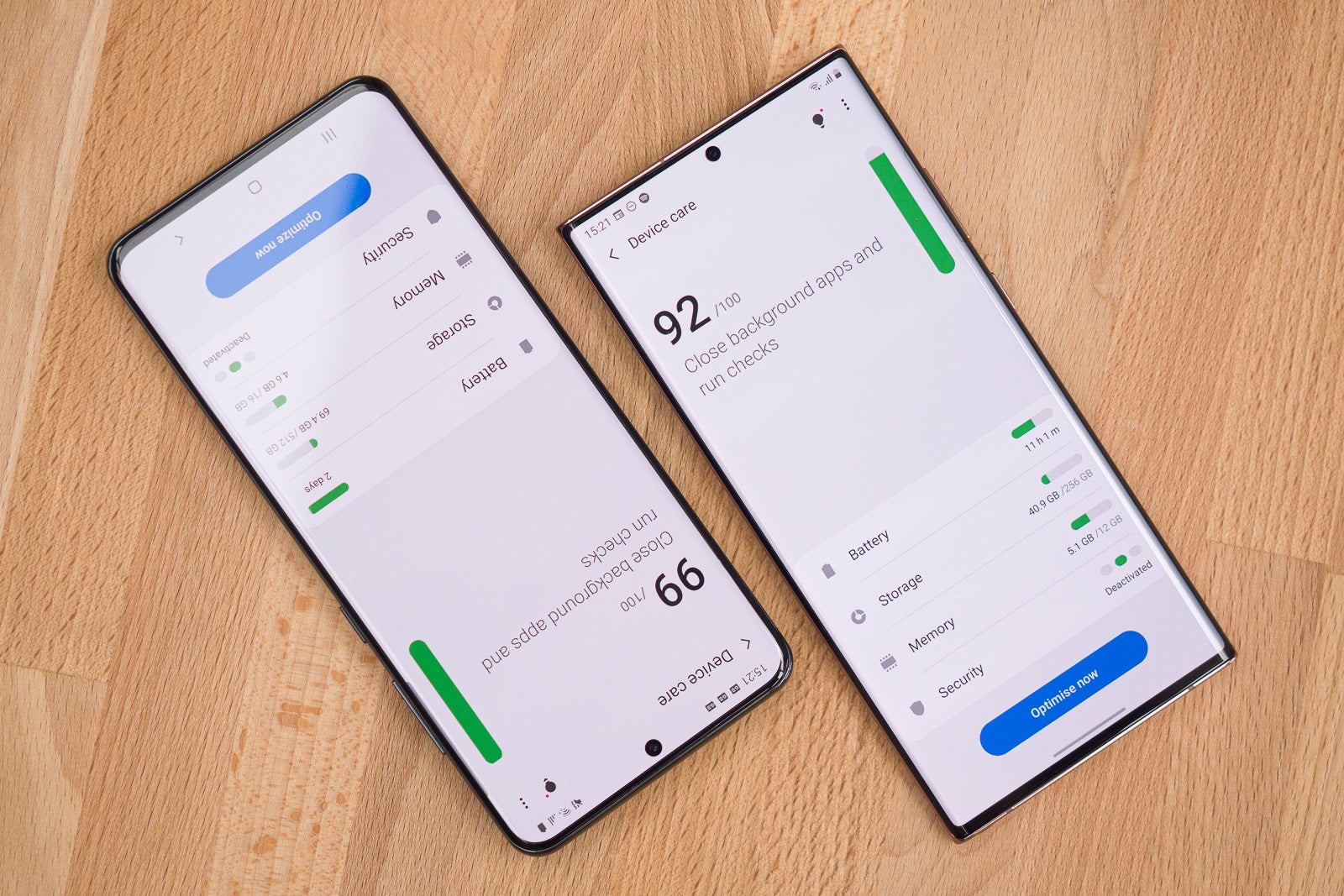 Perhaps the only area where the Note 20 Ultra gives ground to the Galaxy S20 Ultra, its 4500mAh battery capacity, is still at the top of its class, and actually performs on par. Surprisingly, the 5000mAh unit of the S20 Ultra eked out practically the same battery life in our browsing and scrolling test against the Note 20 Ultra, and the variable refresh rate of the new, more frugal Note display may have something to do with it.
The YouTube and gaming tests didn't fare as well, but there will likely be the inevitable grand post-release update to iron out any battery draining bugs that arise with real-life usage, and we'll redo the battery benchmarks if and when Samsung posts such an update.


Galaxy Note 20 Ultra (4500mAh)
Galaxy S20 Ultra (5000mAh)
Browsing + Scrolling
at 60Hz and 200 nits
-
12 hours 23 minutes
Browsing + Scrolling at 120Hz or Auto
9 hours and 32 minutes (Auto refresh)
9 hours and 15 minutes (120Hz)
YouTube at 60Hz
7 hours
10 hours and 29 minutes
Gaming at 60Hz
7 hours and 17 minutes
7 hours and 57 minutes
Charging
68 minutes
59 minutes
The same doesn't go for the charging speeds, as, despite its larger battery, the Galaxy S20 Ultra charges a bit faster - 59 vs 68 minutes - compared to the Note 20 Ultra. Both phones ship with a fast 25W charger in the box, or you can get Samsung's extra-strong 45W charger which, however, will add a negligible amount of speed to the charging process, so we can call it a draw in the battery life and charging fight of the Galaxy Note 20 Ultra and S20 Ultra juggernauts of Samsung.