Nothing Phone (1) review: insert "nothing" pun here
9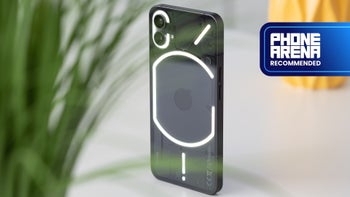 Nothing Phone (1) Intro
The Nothing Phone (1) was released in some markets in July of 2022. It did make its way to the USA via a limited capacity via a beta program, but the real deal is coming soon in the form of the
Nothing Phone (2)
— already teased and
set to launch
.
But that doesn't diminish from what the Phone (1) is — a very stylish, unique midranger, that offers the right specs where it matters, doesn't cost a lot, and gives you a slightly different take on the tired Android phone experience.
We dare say the Nothing Phone (1) is unique enough to carve out its niche. It's an upper-tier midranger with a good price-to-value ratio, a quirky design with a fresh way of delivering notifications. Its camera is not bad at all and its performance is stable.
Nothing Phone (1) in a nutshell
Cool-looking "Glyph" notification interface on the back
Great value price
Qualcomm Snapdragon 778G+, tuned for Nothing Phone (1)
A light take on Android with useful elements and fun, quirky looks
Possibly, maybe, at the heart of an ecosystem that we've seen nothing of right now
Table of Contents:
Nothing Phone (1) Unboxing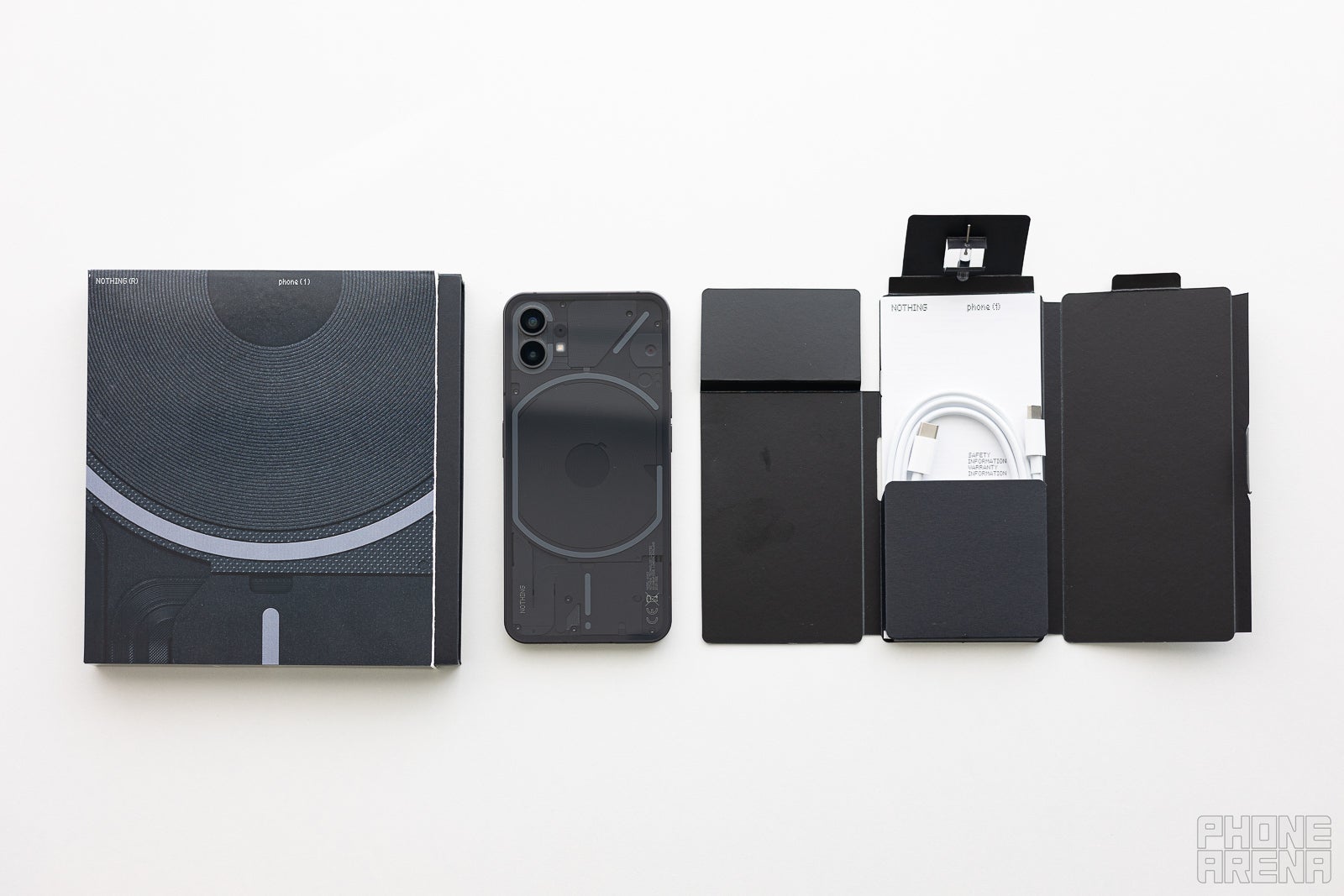 (Image credit - PhoneArena) Тhere is nothing but a phone inside the box of the Nothing Phone (1)
Inside the box of the Nothing Phone (1), there is nothing but a phone. OK, there's a cable, the small booklet, and a SIM ejector tool, but we just couldn't resist the easy pun.
Nothing Phone (1) Specs
Not top-shelf, but solid none the less
With a price tag of €469, it's clear that Nothing couldn't fit bleeding-edge hardware into the Phone (1). Nonetheless, the specs are pretty good — we haven't gotten to the performance section yet, but rest assured the Nothing Phone (1) is a solid runner.
| Specs | Nothing Phone (1) |
| --- | --- |
| Size and weight | 6.27 x 2.98 x 0.33 inches (159.2 x 75.8 x 8.3 mm) / 7.02 oz (193.5 g) |
| Display | 6.5" AMOLED, 120 Hz, 700 nits peak brightness |
| Processor | Qualcomm Snapdragon 778G+, 2.5 GHz, 6 nm |
| RAM | 8 GB / 12 GB |
| Storage | 128 GB / 256 GB |
| Software | Nothing OS 1.1.2 on top of Android 12 |
| Cameras | 50 MP wide, 50 MP ultra-wide, 16 MP selfie |
| Battery size | 4,500 mAh |
| Charging speeds | 33 W wired, 15 W wireless |
| Price | From €469 in Europe, US launch unknown |
As you can see, the only real compromise here, if we can call it that, is that the starting tier has "only" 128 GB of storage. That's still plenty enough for most users, but in case you are worried about the fact that there's no microSD card slot in the phone, maybe 256 GB is worth considering (a €30 uptick in price).
- Include a link to the full specs of the device after the table
Nothing Phone (1) Design & Colors
Quirky and fun, but is it functional?
The Nothing Phone (1) takes the "rounded rectangle" approach to its design – with flat sides, front, and back, and only the very corners of the device easing up for some rounded shapes. Yes, it looks a lot like a modern iPhone.
But the Nothing Phone (1) also nails a feel that is pretty nice – it's light and well balanced, yet reassuringly solid. Rest assured, the phone is a pleasure to hold in the phone and operate.
The huge selling point is, of course, that Glyph interface on the back. An array of 900 white LEDs that can blink and strobe to the rhythm of the baked-in ringtones. And yeah, Nothing has tuned that haptic motor to vibrate with very accurate clicks, too, so the whole phone feels like a mechanical gizmo as it clicks, clacks, and glows in your hands.
It's cool. You will definitely enjoy setting it up and showing it off to friends. Then, you will completely forget about it, unless you are in the small subset of people that regularly put their phone face-down on a table.
But if the Glyph interface had the sole purpose to give the Nothing Phone (1) its own recognizable look – just like the Apple logo on an iPhone – then it is well on its way to achieving that mission. At least among us smartphone geeks, jury is still out on whether the mainstream audience will care about the brand.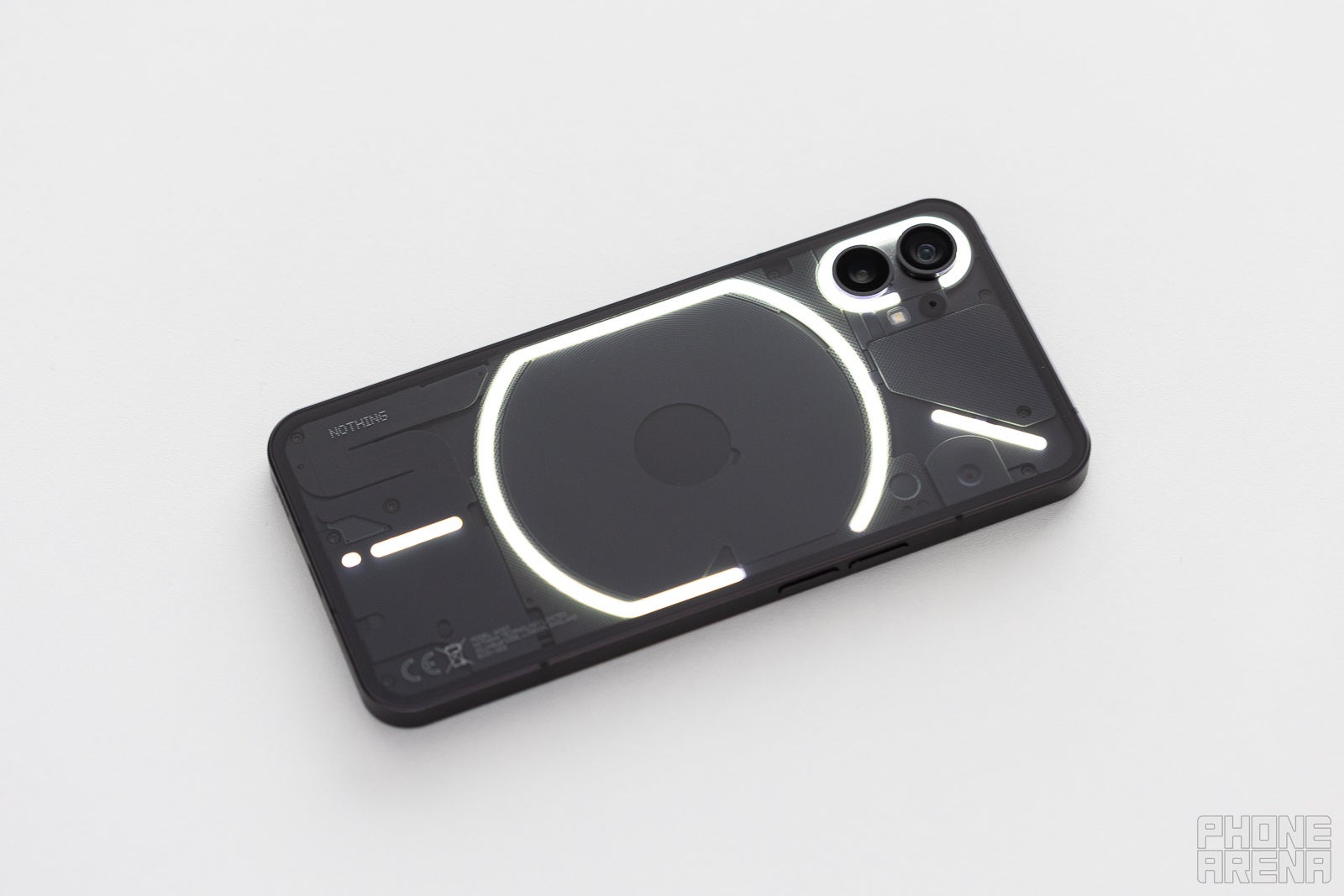 (Image credit - PhoneArena) The Glyph in its full glory
The front and back panels are protected by Gorilla Glass 5 – it's not the latest iteration of the hardened glass, but it's good enough. It was introduced in 2016 and the big deal about Gorilla Glass 5 was that it was made more resistant to shattering after drops, with repeated successful tests at 1.2 meter (waist-level) height.
That said, the phone's frame is made of aluminum, which helps keep it so light, but is also a bit soft and prone to bending, so don't go around thinking you can play frisbee with the Nothing Phone (1).
As for colors – you can have it in any color you wish… as long as you choose black or white.
Nothing Phone (1) Display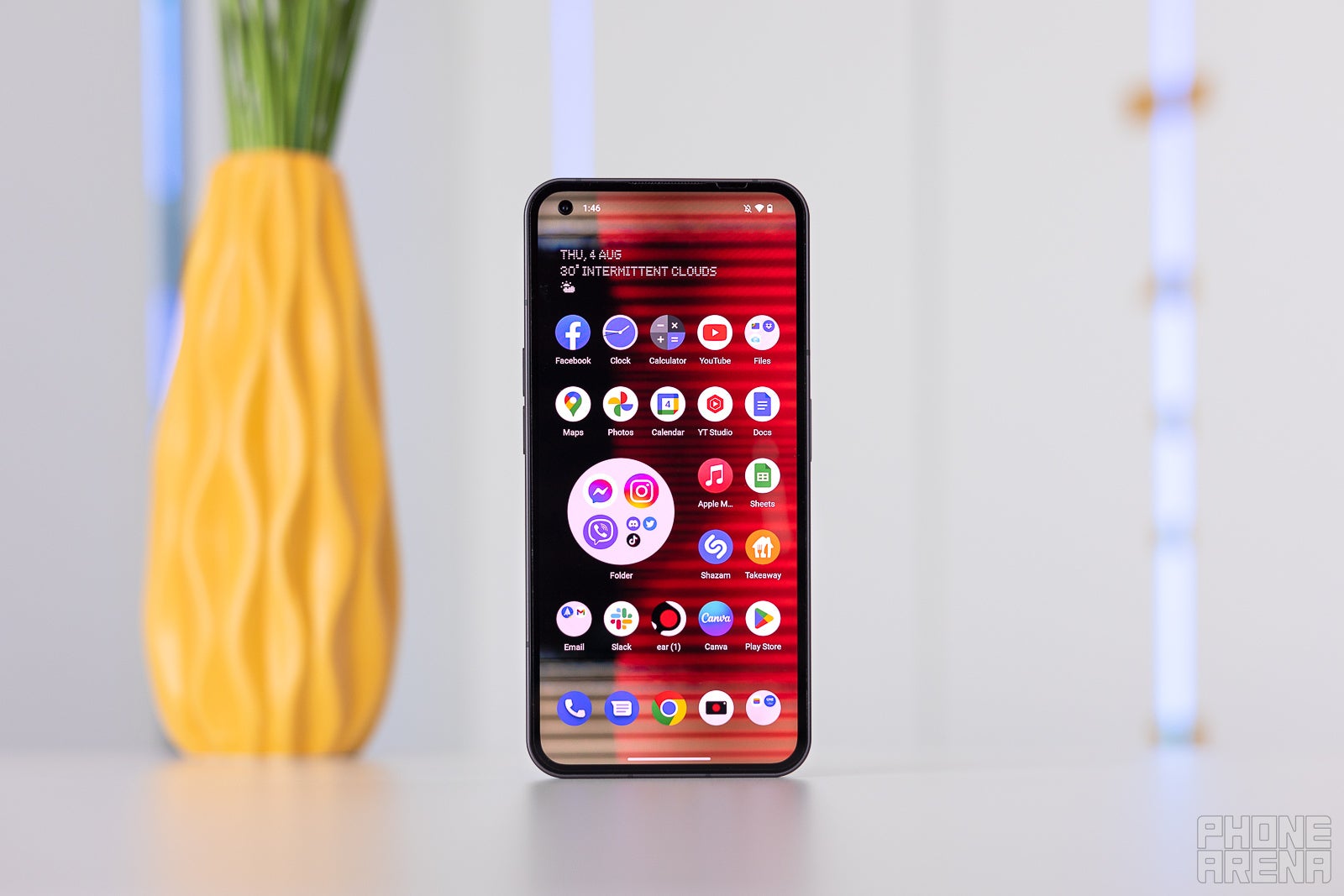 (Image credit - PhoneArena) AMOLED beauty
It's a fairly large, 6.5-inch AMOLED screen with a 20:9 ratio — the resolution is 1080 x 2400 pixels. It's sharp and colorful and has a couple calibrations from different tastes — for warmer colors and more tame saturation. Also, it's a high-refresh-rate panel, hitting 120 Hz for smooth animations.
The screen doesn't get crazy bright, but we didn't have much issue viewing it in direct sunlight.
It also supports an always-on mode where it shows you a clock and notification icons waiting for you. We figured this is worth mentioning for a smartphone that bases so much of its identity on the back-mounted notification light.
Display Measurements:
There's a fingerprint scanner under the screen, which is pretty accurate and sufficiently fast. We didn't have troubles with unlock delays or missed scans — it's pretty solid.
Nothing Phone (1) Camera
Pretty good, nothing to add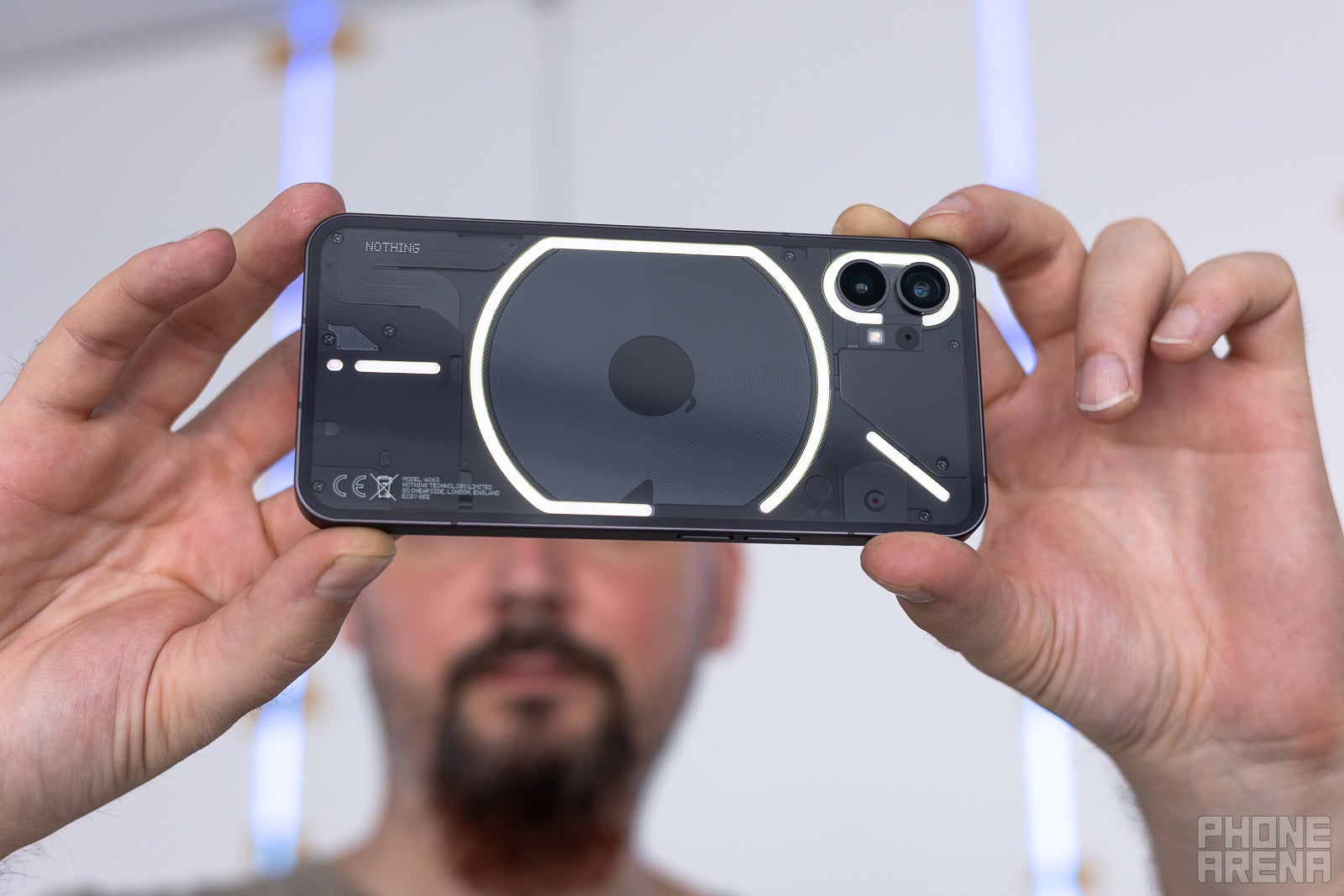 (Image credit - PhoneArena) You can use the Glyph as a soft light
The Nothing Phone (1) has two cameras on the back — a 50 MP main camera with a Sony IMX766 sensor and an F1.88 lens aperture, and a 50 MP ultra-wide camera with a Samsung JN1 sensor and F2.2 lens aperture. No telephoto, no zoom shenanigans, and most importantly — no "macro" camera or anything of the sort.
Most of the photos taken with the Nothing Phone (1) look pretty good! They may be slightly saturated, but rarely travel to the realm of unrealistic. Sometimes, the HDR misfires and we end up with a photo that has its colors dialed to 11. Or, sometimes, shadows are crushed.
But, in general, most of the time — we end up with a good picture! The Portrait Mode is certainly nothing to write home about — it's terrible at detecting subject edges and background depth.
The Camera app does allow for quick zooming to 2x by tapping a button. Holding it down gives you a zoom wheel that goes all the way up to 20x. We'd say that, at 2x, photos still look pretty well. At 4x, you can see details begin deteriorating and from then on — it's just extra zoom on tap that you probably won't be reaching for.
The selfie camera is a 16 MP Sony IMX471 sensor and its performance is not bad at all. Details are sharp and unflatteringly clear, and skin tone looks good.
At night, the cameras have a tougher time, as details become softer and the phone doesn't have a great Night Mode to pull those shadows up. You can use the Glyph light on the back as a soft ring light instead of the LED flash. That aside, the Nothing Phone (1) doesn't have many tricks up its sleeve to save night time photography.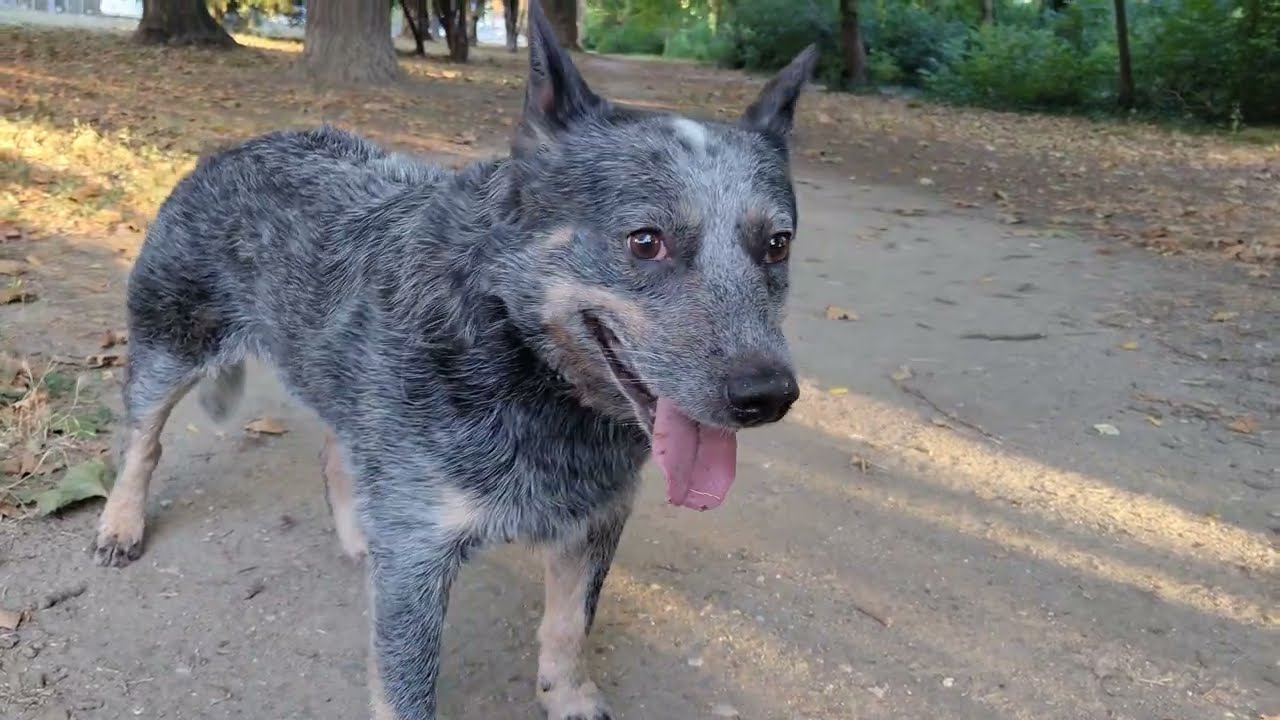 For video, the great colors, sharpness, and dynamics are also present. You can also spot the dual stabilization working hard and trying to straighten my footage as I throw the fetch ball. In general, very good video performance from this camera, even when I zoom at 2x.
Nothing Phone (1) Performance & Benchmarks
Solid, with the help of Qualcomm
The Nothing Phone (1) may not have the most expensive top-tier processor, but the Qualcomm Snapdragon 778G+ that's humming inside it is still pretty adequate. Plus, Nothing did partner with Qualcomm to supposedly get special tune-ups and knowhow on squeezing the best performance out.
For day-to-day activities, the Nothing Phone (1) is pretty snappy and responsive. We did get the occasional stutter or jitter when trying to perform actions as we are loading into an app, or interacting with one that has just installed and is still synching. But, when all is set up and our routine with the Phone (1) is settled, it performs just fine.
You can get the Nothing Phone (1) with either 8 GB RAM or 12 GB RAM — the former is pretty good for a smartphone in 2022, the latter is there to ensure some extra future-proofing. We have the 8 GB model and felt pretty comfortable with swapping between recent apps.
Performance Benchmarks:
Gaming performance was also not shabby at all — after all, the Snapdragon 778G+ was specifically developed for gaming phones. So, it's no surprise that the Nothing Phone (1) can run modern titles at medium to high settings.
Nothing Phone (1) Android version
The bulk of this review was written on release, when the Nothing Phone (1) ran on Nothing OS 1.1.2, which is based on Android 12. It's a very light reskin, with some tasteful additions here and there. We like the stylized widgets and the ability to have extra-large folders that allow you to tap on apps without actually opening the folder. They are like mini app drawers on your homescreen.
But if you are coming into this, thinking you will find some heavily customized experience, no you won't. This is specifically worth noting since Nothing came out with the fanfares, stating that the Phone (1) will be at the heart of a tech ecosystem that will be rich and enticing enough to rival Apple's.
We understand it's way too early to see such an ecosystem, but the Phone (1) doesn't even have any traces of hints of what exactly that might entail. It doesn't even have its own weather app — when you tap on the good-looking weather widget, you get redirected to a new Chrome tab that loads up Accuweather.com.
The Calendar app and the Calculator app are the stock Google ones, there's no Gallery — you just use Google Photos.
Yes, sure, OK, you can say "well there's no bloat!". If that is what you want — the Nothing Phone (1) surely delivers. And we are not going to complain about that — it's a no-nonsense, solid phone. But it does nothing (oooooh…) to back up its bold claims.
We should say that the Phone (1) does come with two baked-in integrations. One is, of course, for the Nothing Ear (1) and Nothing Stick earphones — it just reads the stats of the earbuds and case better.
The latest non-beta update also features an AirPods integration — if you happen to have AirPods paired to your Nothing Phone, the UI will now show the battery status of the earbuds, which is pretty cool. Android phones and Apple devices don't usually... "communicate" well.
Second, the Phone (1) offers pairing to a Tesla car, allowing you to start up the air conditioner or unlock the doors remotely. So, Nothing made an affordable smartphone… for Tesla drivers.
The launch was rocky with many small bugs plaguing the UI — nothing that breaks the phone, but small hiccups that ruined the flow. Now that we've had 3 months filled with patches, things are much smoother. Nothing promises 3 years of Android updates and 4 years of security updates, which is pretty good and on par with the competition.
Nothing Phone (1) Battery
Make sure you only game on 60 Hz
The Nothing Phone (1) holds a 4,500 mAh battery to keep the lights (all 900 of them) on. In general, we found it to last quite a while on a single charge — it doesn't drain a lot of percentages when in standby and regular tasks don't put a strain on the battery.
For browsing, for social media, YouTube or TikTok, chatting and emails — it's a very dependable performer. A full day was no issue and we were often able to cross that one-day line and charge the phone the next morning.
PhoneArena Battery Test Results:
However, when gaming, make sure you manually limit the phone to 60 Hz, as keeping the High Refresh Rate option on just melted through the battery. A lot of modern titles like Apex Legends will limit the screen to 50 or 60 FPS within the settings. Others, like Minecraft, will be more than happy to run at 120 FPS without asking and burn through 100% of power in 4 hours.
Nothing Phone (1) Charging Speeds
You can charge the Phone (1) up with a 33 W wall brick, which is not some super-insane quickcharge technology by today's standards, but it's pretty good — it gives us about 50% of charge in about half an hour.
Wireless charging is capped at 15 W, which is pretty standard nowadays, too.
Nothing Phone (1) Audio Quality and Haptics
Stereo speakers are a must nowadays and the Phone (1) has them — a bottom-firing driver and an earpiece that doubles as the second speaker. Sound is loud and detailed, though we do find that it lacks a bit of bottom end and it can sound harsh in the upper range. So, it's OK to watch your favorite YouTube talking head personalities, but it's not amazing for music.
The haptics of the Nothing Phone (1) are amazing — it clicks with accuracy and finesse, as its vibrations are tuned to sync with the ringtones and the Glyph LED on the back.
Nothing Phone (1) Competitors
The midrange
Google Pixel 6a
is a good competitor to the Nothing Phone (1), as it's nearly in the same price range and comes with Google's Tensor chip (same as in the "big" Pixels) and an incredibly good camera for its price class.
There's also the
Samsung Galaxy A53
, which offers a more complete camera package and the more well-established Samsung experience and ecosystem. There's that word — the thing Nothing claims it will have in the future.
The iPhone that most closely competes with the Nothing Phone is the
iPhone 12
, still available straight from Apple for the price of $599, which is double what a Nothing will cost you.
In that lineup, the Nothing Phone (1) does stand like a different enough product. The Glyph interface on the back, the design and feel, the specific branding around the UI — it's a cool phone. So, if you want to veer away from that beaten path, break that Samsung - Apple mould, then the Nothing Phone (1) is a good choice.
Nothing Phone (1) Summary and final verdict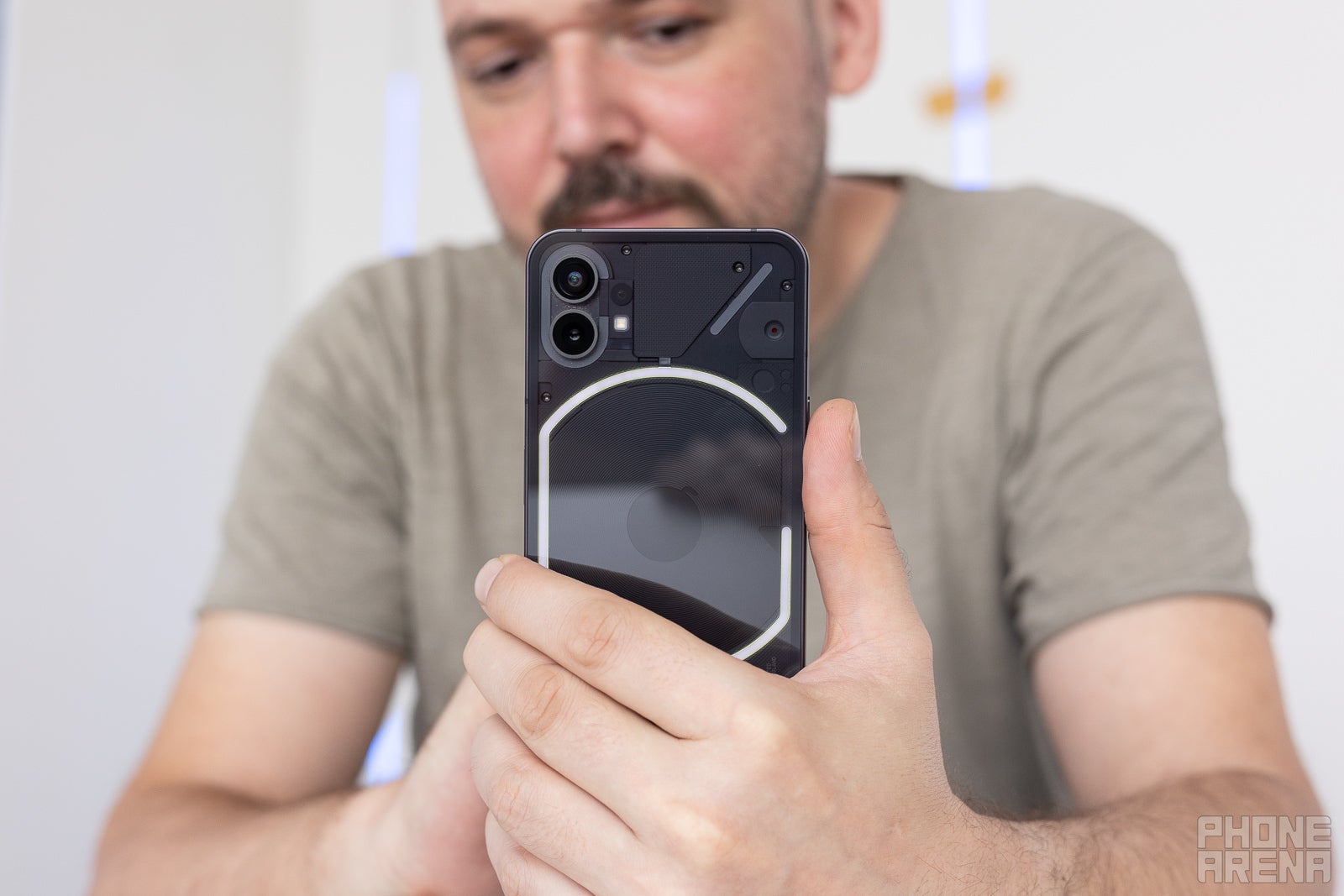 (Image credit - PhoneArena) Not bad... not bad at all!
As an "affordable flagship" type of device — the Nothing Phone (1) does tick all the boxes. It's a performer, it feels great in the hand, the battery can last you just fine through a day, and its cameras are adequate. The Glyph interface looks cool, but we doubt it will completely transform the way you interact with the phone… unless you specifically work hard on memorizing all the patterns and make it a point to keep the phone face down at all times.
As an industry-disrupter — we are skeptical. Nothing promises partnerships and an ever-growing ecosystem of… some smart devices? But, for what it is right now, the Nothing Phone (1) is a no-nonsense, upper-tier smartphone that does its job well. It's not the shining jewel at the middle of a new Internet of Things movement.
Bottom line, would we recommend the Phone (1) to someone who asks for a good $470 smartphone? Yes.
Recommended Stories