LG Optimus G Pro vs Sony Xperia Z
60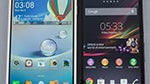 Introduction
Sony Xperia Z
or the
LG Optimus G Pro
? This will be one of the dilemmas before high-end phone buyers this season, so we stage a comparison to ease the decision-making process.
The Optimus G Pro we are using here is the version for Korea, and comes with a 5.5" Full HD screen, while the model announced for Japan has a 5" display, and which variation will hit the US and Europe in Q2, remains to be confirmed. Still, besides the screen size, both G Pro versions are identical, so you will get a pretty good overview in any case...
Design
The 5.5" Optimus G Pro version is very light and compact for a screen of this magnitude, thanks to the ultra-thin bezel around it, yet it is a challenge to operate safely with one hand, unlike the Xperia Z. Sony has used on-screen navigational keys, so its 5" flagship is pretty compact in its turn, and is thinner and lighter than the G Pro, making it more suitable for a daily driver in terms of ergonomics or plain old carry-around.
Sony's phone also sports a more premium feeling in the hand with its glass unibody and metal power key, and is easier to grip thanks to the rubbery sides that also add to its durability and seal off the water-tight chassis. Both handsets allow you to add more memory via a microSD slot, but the G Pro has a removable back cover, too, that lets you swap its largish 3140 mAh battery.
Displays
The
G Pro
houses a
5.5" screen
with a bit lesser 401ppi pixel density than the
5" 441ppi panel on the Z
, on account of the identical 1080x1920 pixel resolutions. In reality the density difference is invisible from a normal viewing distance, while LG's phone has the better display in almost any other aspect, especially viewing angles, which on the Sony Xperia Z are pretty bad for the phone's category, and one of the handset's weakest points.
Even when looked head-on, the colors and contrast of the TFT display on the Z look more washed out than on the IPS-LCD panel of the G Pro.
In terms of brightness both perform above average, with decent outside visibility, but, as we mentioned, colors and contrast deteriorate quickly on the Z with the slightest tilt of the phone.
Recommended Stories