Samsung Galaxy S4 vs Sony Xperia Z
99+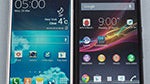 Introduction
There are a lot of Sony fans out there, and all of them are ready to swear by the awesomeness of the
Xperia Z
. However, are those numerous fans supporting Sony because they believe in the Xperia Z, or simply because the Sony brand strikes a chord with them? We guess it's both, but here's what – we here at PhoneArena respect Sony, just as much as we respect Samsung. We'll put both of their latest flagship smartphones, the Xperia Z and
Galaxy S4
, to test and see which one's going to finish with a higher score!
Design
Between the two, the Sony Xperia Z is the more striking smartphone in terms of visuals. Its rectangular shape gives it a strict and stylish appearance that comes to show that this phone isn't joking. At the same time, though, the rectangular shape actually makes the phone rather bulky and difficult to hold. In addition, the sharp edges framing the front and back sides of the body also contribute to the unpleasant feeling when holding the phone. That said, we do appreciate the glass exterior of the Xperia Z, which is much more ambitious than the plastic casing of the Samsung Galaxy S4.
Plastic or not, though, the Galaxy S4 is a champion among similarly sized phones, when it comes to comfort when using the phone. Being equipped with a similarly large display, the Galaxy S4 feels much smaller and lighter than the Xperia Z, which is a great achievement on Samsung's part. Of course, it'd be up to every customer to decide for themselves, but we prefer the compact and comfortable design of the Samsung Galaxy S4, regardless of its plastic exterior. It's just that the Xperia Z is cool, but not cool enough to make us willing to make a compromise with its bulkiness.
Display
Nowadays, it's just not cool if you're a smartphone and you don't have a 5" display with full HD resolution. And while both of these phones have this feature, we tend to prefer the screen of the Galaxy S4 over the one of the Xperia Z. In our opinion, the Super AMOLED panel of the GS4 is superior thanks to its higher contrast, more vibrant colors and much better viewing angles. The LCD screen of the Xperia Z just isn't lively enough to make us want to keep staring at it.
Resolution-wise, everything is top-notch, even with the Galaxy S4's PenTile matrix. With such high pixel densities, both displays look extremely sharp and detailed.
Display measurements and quality
Samsung Galaxy S4 360-Degrees View:
Sony Xperia Z 360-Degrees View:
Recommended Stories