Samsung Galaxy S4 vs LG Optimus G Pro
62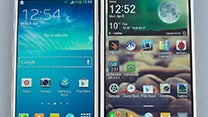 Introduction
LG has been making some pretty good moves lately, first releasing the notable Optimus G, and more recently the Optimus G Pro – a powerful phablet device with a large 5.5" screen and the Snapdragon 600 processor. However, since LG simply markets the Optimus G Pro as its best smartphone right now, we're just going to go ahead and compare it to Samsung's best smartphone, which is the Galaxy S4. This is not StarCraft II, but we promise you, guys, this Korea vs Korea battle will be just as intense!
Design
Although pretty similar in design language, we think that the Galaxy S4 has a definite edge in the appearance department. Both handsets are made of glossy plastic, which we like, though the characterstic texture on the back of the Optimus G Pro is a bit too expressive for our taste. Still, it's worth noting that we're testing te Korean variant of the Optimus G Pro, so that design element may not be preserved in the U.S variant.
In terms of size
, LG has done wonders with its phablet, which sits surprisingly comfortably in the hand thanks to its super-thin bezel. However, the same thing is also true for the Galaxy S4, which has a
super-thin bezel
of its own, and given its smaller screen, it's even more comfortable to use. Naturally, the GS4 is also lighter, which should be taken into account if you plan to be wearing it in your pocket.
Display
OK, so obviously the Optimus G Pro has a significantly bigger display at 5.5 inches, and that's something the Galaxy S4 can't change. What the GS4 can do, however, is to offer a more true-to-life AMOLED display than LG's IPS LCD. It used to be the other way around, with AMOLEDs struggling to compete with LCDs in the colors department, but something must have gone seriously wrong in the making of the Optimus G Pro's display, which is visibly colder-looking than the one of the Galaxy S4. Viewing angles are also better on Samsung's device, as the G Pro is quick to lose some precious contrast and brightness when looked at an angle.
However, the Optimus G Pro does have the brighter screen, which makes it easier to view outdoors. At least that is one area where LCD are still unsurpassed.
Samsung Galaxy S4 360-Degrees View:
LG Optimus G Pro 360-Degrees View:
Recommended Stories