HTC One vs Sony Xperia Z
99+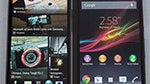 Introduction
Sony Xperia Z
and the
HTC One
will be one of the main flagship competitors this season, so a thorough comparison is warranted to help you choose.
The HTC One flaunts novel ideas like the UltraPixel camera and stereo speaker system at the front, to which the Xperia Z responds with a thin and light waterproof body, so which one is for you? Read on to find out...
Design
The phones weigh about the same, but One is shorter and narrower than the Xperia Z, which should help for better one-handed control, if its pretty aluminum unibody wasn't so slippery compared to the rubberized edges of Sony's phone, that allow for a much better grip. Moreover, the rubbery feeling of the Xperia Z has a perfectly good reason to be there, as the phone is waterproof, if you are looking for rugged before pretty, and still thinner than the One, despite the watertight body.
HTC, however, has graced the One with a timeless precision-cut aluminum chassis that sticks out like a sore thumb in the sea of plastic Androids. Not only that, but we get two amplified stereo speakers at the front, and also an IR blaster integrated in the power/lock button up top.
This same button Sony has placed in round metal form on the right where it belongs, directly under your thumb, while you have to stretch each time to reach it on the One. The overly thin volume rocker of the Z, however, is right smack in the middle of the right side, making it uncomfortable to feel and press, compared to the jagged one-piece metal key of the HTC One.
Display
Both handsets sport Full HD 1080x1920 pixels displays, with the HTC One having a slight edge in pixel density, as it sports a 4.7" panel, compared to the 5-incher on the Xperia Z. The pixel densities, however, are more than you need, and not the main advantage of the HTC One's display before the screen on the Xperia Z.
The colors and contrast of the 5" panel in the Xperia Z look much worse than on the HTC One. Even when looked at head-on, the Xperia Z exhibits washed-out tones and pretty greyish blacks in comparison to the vibrant colors and high contrast ratio of the One. Tilt the Z even a little, and the picture becomes significantly paler and even more washed-out, whereas the One sports one of the best viewing angles we've seen on a mobile display. Thus the screen on HTC's phone excels in everything compared to the one in the Xperia Z, save for the all-important brightness category, where both phones are pretty close, with a slight advantage of the HTC One in terms of outdoor visibility.
Display measurements and quality
HTC One 360-Degrees View:
Sony Xperia Z 360-Degrees View:
Recommended Stories