HTC 10 vs LG G5
26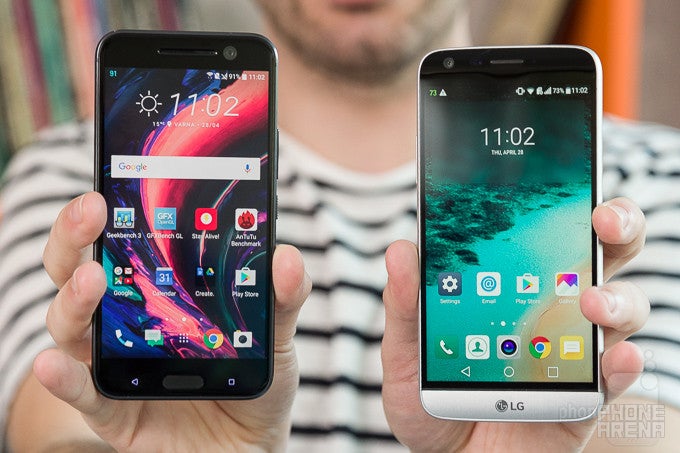 Introduction
The
HTC 10
is probably the first phone of HTC's flagship line that offers a very well-rounded package without perceivable weak points. HTC has been traditionally great in outer appearance, and this tradition has been further refined with the 10, but under the hood its last few high-end phones always left something to be desired, especially in the camera department.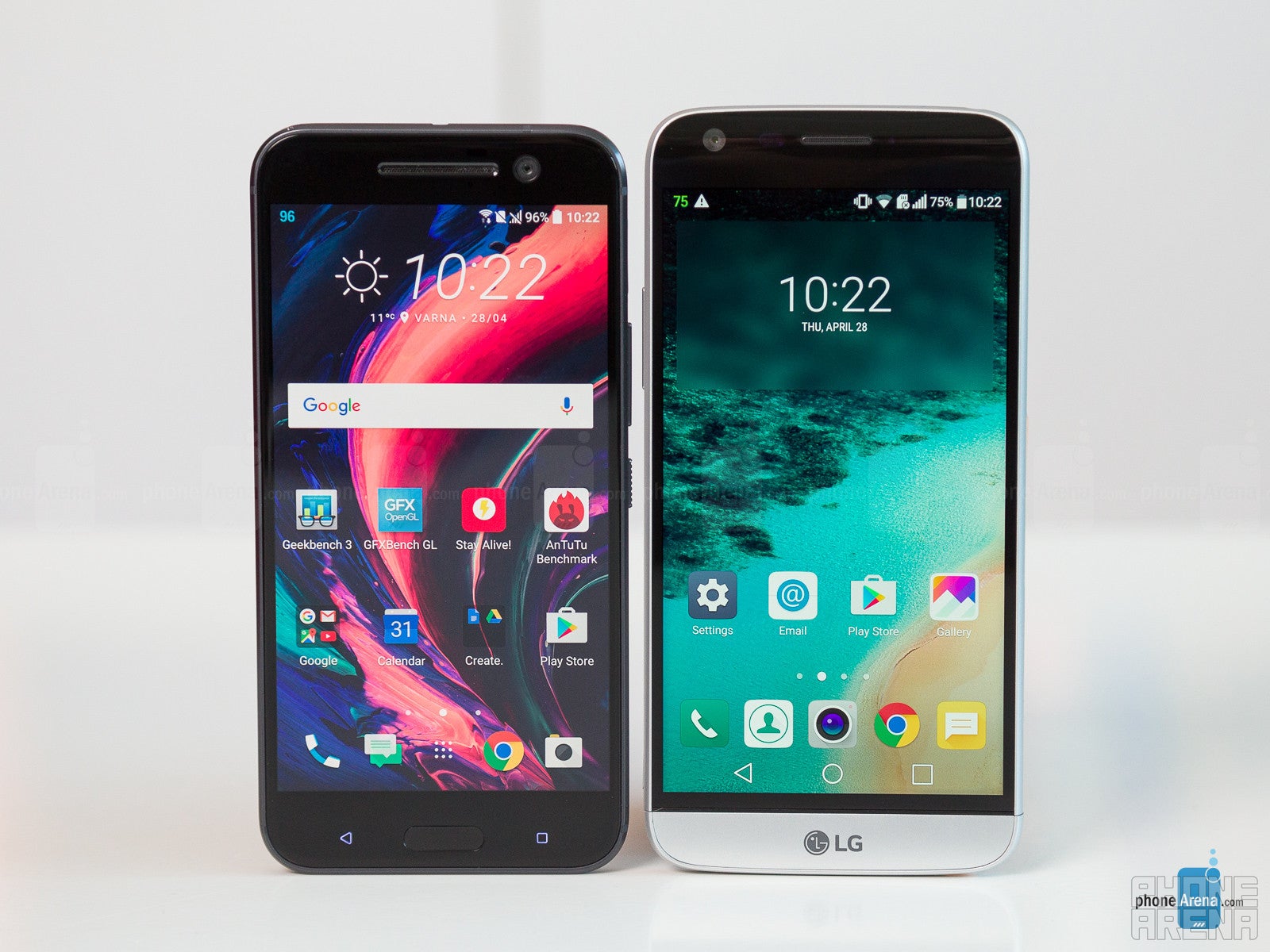 Well, HTC took the matter to heart and then some, offering a greatly improved camera sensor with the 10, along with Quad HD display, and a finger scanner. That is why we are clashing it with one of its chief rivals for the season, the
G5
. LG made this one with a crazy modular design, and a trendy dual camera, so let's see who's who in this salacious fight...
Design
Uninspiring design, but par excellence build quality for the HTC 10 goes against a larger, flimsier modular chassis on the G5.
HTC has always been a designer darling, making phones with full metal jackets before metal became the new plastic. It therefore didn't need to change much in the exterior of its newest high-end model to remain on the "premium" bandwagon, and yet it did introduce a little something extra – chamfered edges of the aluminum rear that make the 10look rather sophisticated.
LG, on the other hand, made a soapy aluminum phone with rounded corners, which is nevertheless slim and light, regardless of the modular design. We say modular, as the G5 sports a detachable bottom, making it feel flimsier when handled. The detachable half lets you swap the battery, which is a rare feat in flagships these days, or you can add various media-centric and other accessories that LG calls Friends.
HTC has been eschewing finger scanners so far, but the situation became unbearable last year, so it was forced to include a traditional one, placed in the capacitive home key beneath the display. LG has chosen a bit more unorthodox placement, as it's housing said button on the back, embedded in the lock/power key there. It feels a bit weird to just tap the HTC home key instead of clicking it in, as it looks like a physical one, but not weirder than placing said button on the rear, like LG did, so we can call it a draw.
As for tactile feedback, the lock keys have it deep and well, and HTC's sturdy metal power button even has toothed surface for easier recognition when you search to press it without looking. The volume rockers are another matter, though – that of HTC is solid, with hearty tactile feedback, while on the G5 the rocker feels a bit shallow, overly thin, and flimsier.
Display
HTC placed a 5.2" 1440 x 2560 pixels Quad HD display on the 10, instead of the Full HD panels it used before. It's a Super-LCD 5 one, and goes against the 5.3" LCD display at the G5's front with the same pixel count. While the resolution is plenty for those screen sizes, LG does differentiate with something a bit extra – an always-on feature that powers up a small section of the screen to display date, hour and pertinent notifications, though it consumes more battery in the process.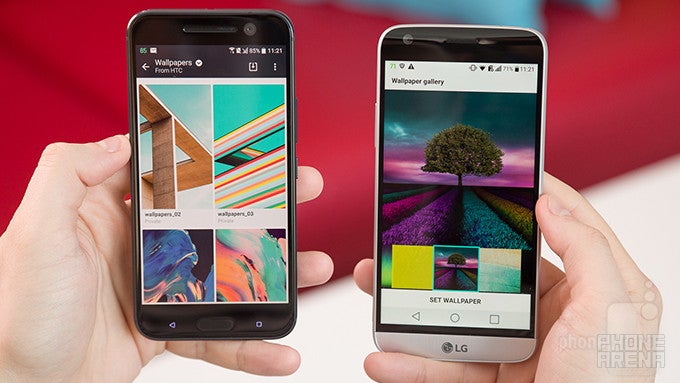 As for the screens' quality, they are both equally ho-hum in color presentation, as they lean towards the cold side of the spectrum, with unnatural hue saturation. That's not something the average user would be too irked about, though. Outdoors, the HTC 10 tends to be just a bit brighter than its counterpart, but both could do a lot better.
Display measurements and quality
Recommended Stories