Apple iPhone 7 vs HTC 10
32

Introduction
Apple's
iPhone 7
is the one device that gets all the attention right before the busy Holiday season starts. No matter whether you prefer Android or are infatuated with Apple, the iPhone - the world's best selling phone - will likely be at least something you consider before buying a new phone.
Then there's the financially troubled HTC. Financial trouble is bad for a company, but might be good for customers: for a device maker, it usually means that it pulls all stops to deliver a great new device. The
HTC 10
is one such effort.
It's only natural, then, to compare Apple's latest iPhone 7 against the HTC 10. In fact, both companies share a common DNA with design playing a crucial role in their devices. Both phones are made of metal and have stylish appearance, but they do differ in terms of their platform and actual specs. Let's see if there is one clear winner in this clash of flagships.
Design
Two solid metal phones and two refined designs, but the HTC 10 is a bit too heavy. The iPhone 7 also has water-protection that the 10 lacks.
For years on end, HTC has been known for bringing refined and stylish handsets on Android. In days when most phone makers made cheap-looking plastic phones, HTC stood tall with its sleek aluminum handsets. The HTC 10 is certainly one of that kin: a solid, well-put together device with an aluminum body and a characteristic trim on the back side giving it a more comfortable in-hand fit. The Apple iPhone 7 also feels somewhat similar with its monolithic metal construction: it's the more compact of the two, though, and replaces the sharp edges for a slightly curved sides that add to its in-hand comfort.
The HTC 10 is surprisingly heavy for a 5.2-inch phone: it tips the scales at 161 grams, and that heft is felt, so if you're looking for a lightweight handset, the HTC 10 is not it. The iPhone 7, in contrast, is much lighter: it weighs 138 grams.
For the first time on the iPhone 7, Apple uses a touch-sensitive area rather than a physically clickable home button. That's another similarity with the HTC 10, which also uses a capacitive home key. However, feedback from the iPhone 7's home button comes via Apple's proprietary vibration motor, the 'Taptic Engine', and it mimics the feel of a real button quite successfully (but is not fully convincing). HTC's button does not feature such tactile feedback. Both devices have fingerprint scanners built in the home key and on both we found them to be fast and accurate, but the one on the iPhone seems to have the more suitable round form and to get right reading a bit more often.
Apple is also upping the ante by adding water protection to its iPhone 7. The handset is IP67-certified for water- and dust-resistance, which is a great feat, but do keep in mind that Apple won't cover water-related damage in its warranty. Nonetheless, we consider this a plus against the HTC 10 which completely lacks such water protection.
Display
The 4.7" iPhone 7 display is a bit on the small side, but it features outstanding colors and the support for the wider DCI-P3 color gamut. The 5.2" Quad HD display on the HTC 10 is super sharp and also looks good.
There is an obvious difference in screen size between the iPhone 7 and HTC 10: Apple's device features a noticeably smaller, 4.7" LCD display with a resolution of 750 x 1334 pixels, while the HTC 10 has a mid-sized, 5.2" screen with a much higher, 1440 x 2560 pixel resolution.
Yes, the HTC 10 is the one that has the much sharper display on paper: it has pixel density of 565 pixels per inch (ppi) of screen space, while the iPhone has 326ppi, but in real life that difference is hardly even noticeable. The places where you do see it the most is when reading text and looking at it from very up close, but it's a very subtle difference and in most places both screens will appear equally sharp to the average user.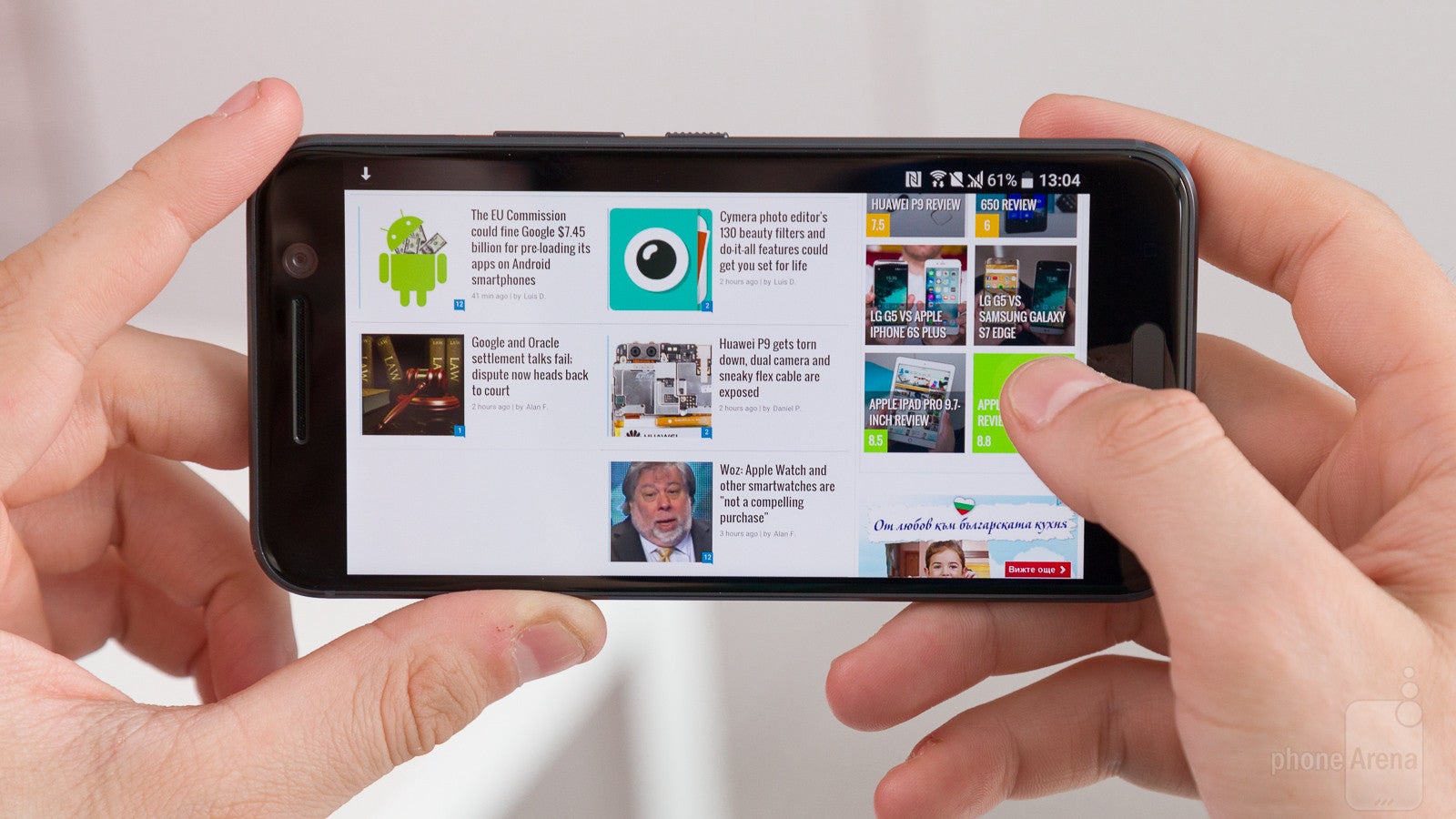 HTC 10 is the one that has the much sharper display on paper
When it comes to color, these are two of the finest displays out there. Certainly, two of the finest LCD displays. Not having AMOLED on either of these two means blacks do appear slightly grayish rather than perfectly black, but for all else the displays are excellent. The iPhone 7 is the first phone to support the DCI-P3 color space with native color management, meaning that the phone is able to show the wider, richer colors of DCI-P3 when they are there, but also fall back to sRGB when it needs to show sRGB content.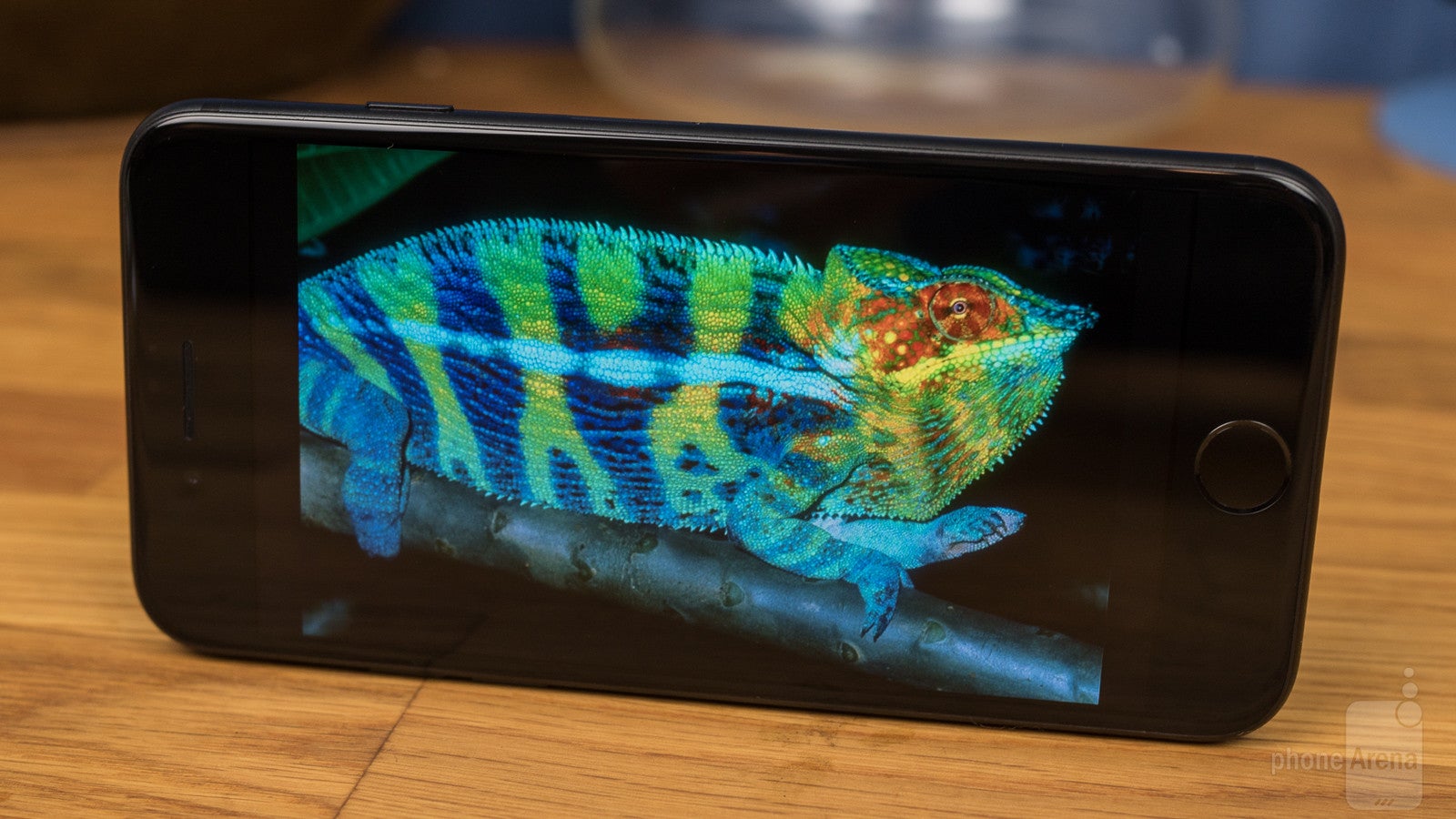 The iPhone 7 is the first phone to support the DCI-P3 color space
The HTC 10, on the other hand, lacks such fancy color management (no Android phone so far supports native color management), but does adhere to the sRGB color standard that is currently the de-facto caliber used for the majority of media. It is not perfectly balanced: it features slightly colder, bluish colors, but those are fairly minor complaints.
In terms of brightness, the HTC 10 reaches a peak of 432 nits which is below average and makes reading the display outdoors a bit of a challenge. The iPhone 7, in contrast, achieves an impressive 632-nit maximum brightness, and it is easy to read its screen even on a sunny day outdoors. Night owls won't be happy with the minimum brightness level on the HTC 10: if you use your phone at night, you want brightness to go as low as possible in order to avoid eye fatigue, and the HTC 10 only goes down to 7 nits, which is still too bright. The iPhone 7 not only has the useful Night Shift option, but also reaches a minimum brightness of only 2 nits.
Display measurements and quality
Recommended Stories