HTC 10 vs Samsung Galaxy S7
99+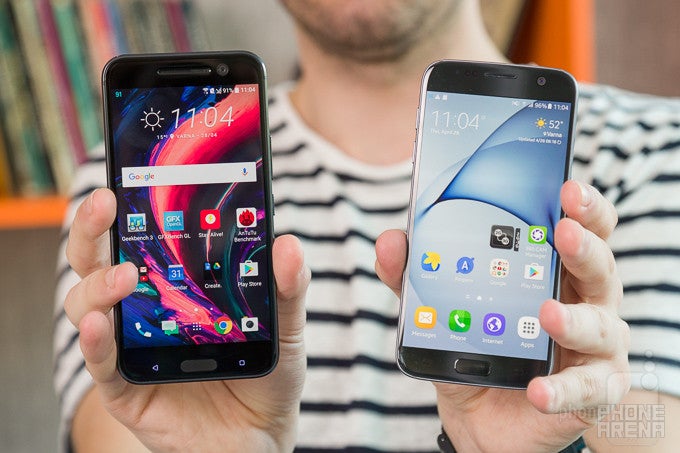 Introduction
If ever there was a favorable moment in time to be in the market for a high-end, it's got to be right now. It certainly feels like the flagships of the day are more polished than ever before. HTC's newly released
10
, along with Samsung's slightly older
Galaxy S7
, are two great examples.
Among our favorites for a best-of pick for the first half of 2016, these two check all the right boxes, and more. However, it's impossible not to appreciate the differences in underlying philosophy and subsequent execution with both.
It's high time we took a closer look and examined what these are and what they entail.
Design
While metal-made flagships are feeling like the norm today, it wasn't too long ago when we were dealing with predominantly plastic creations. While a practical pick—and also cheaper to implement—plastic has often been a thorn in the eye of those looking for a premium Android buy. That is, until the HTC One from over three years ago.
Still regarded as one of the most compelling designs HTC has ever come up, it's with a sigh of relief that we saw the company continue along that familiar tangent with the 10. Also featuring an aluminum body, the HTC 10 is a sight to behold in a mannish kind of way. It's a man's tool, not a boy's toy, but also different from its predecessors, with capacitive navigation keys, and none of them front-firing BoomSound speakers.
If we were to extend the macho metaphor a little bit further, we could say that while the HTC 10 feels like your typical, American muscle-type car, the Samsung Galaxy S7 would be the slick convertible that has a more universal and unisex appeal. A blend between glass and metal, the S7 is smaller, thinner, and lighter, all the while offering perks such as IP68-certification, meaning it's dust-tight and water-resistant.
When it comes to objective factors, such as ergonomics, we have to give it to Samsung here: the S7 is all-around smaller and easier to handle, and more grippy due to the glass backplate. On the other hand, we prefer the ridged power button of the 10, along with its more easily accessible volume rocker—in comparison, reaching the volume keys on the S7 is a stretch unless you're left-handed.
Display
After years of sticking to smaller displays with lower resolutions than its rivals—which wasn't necessarily a bad thing—HTC is finally beefing up on the specs with the 10. Packing a 5.2-inch LCD display with a Quad HD (1440 x 2560) res, the HTC 10 is evenly matched against the Galaxy S7 and its 5.1-inch AMOLED panel with the same pixel count. Rest assured that both provide an incredible level of detail—more so, in fact, than needed.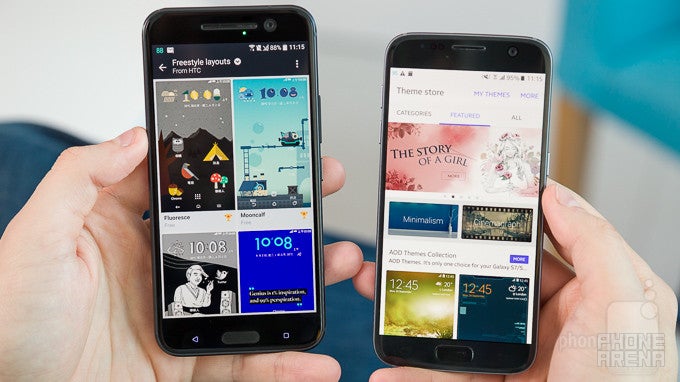 The Galaxy S7 wins out in terms of brightness —both at the top and low end. Peaking at over 480 nits and managing as little as 2 nits, Samsung's flagship overshadows the HTC 10, which is dimmer when it has to be bright, and brighter when it has to be dim (before you hit the sack).
Finally, it ought to be mentioned that the Galaxy S7 has an Always-On display feature, meaning it will display information even when the phone is sleeping—information such as the time and date, or your calendar. However, since this drains the battery and is of questionable use, we're unwilling to shoot some extra points over to Samsung's camp over this one.
Display measurements and quality
Recommended Stories