HTC 10 vs Apple iPhone 6s
99+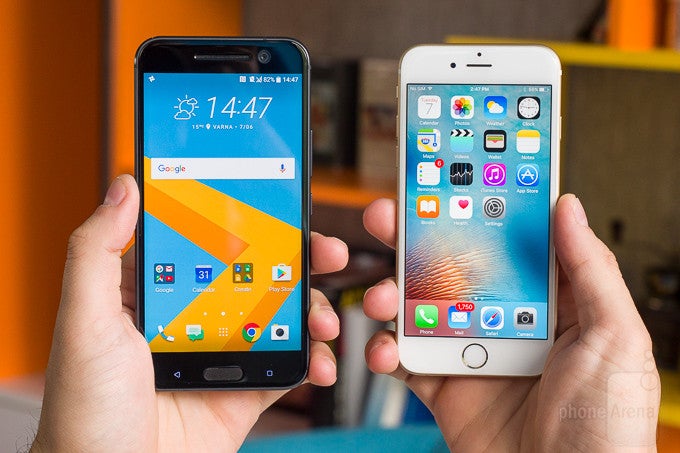 Introduction
HTC took to heart all the criticism that its last few flagships endured, mainly for their camera performance, and came back with the
HTC 10
this year that covers all bases. It is still housed in the premium metal chassis we know and like, but the camera has been given a special emphasis, and the software – a thoughtful overhaul.
That is why we are pitting it now against
Apple's iPhone 6s
, which also sports a solid metal housing and stellar camera, but is more compact thanks to the smaller screen size. Which one should you grab? Let's examine the details...
Design
The somewhat repetitive design of the HTC 10 is a direct match for the thin iPhone 6s that is housed in a chassis similar to its predecessor.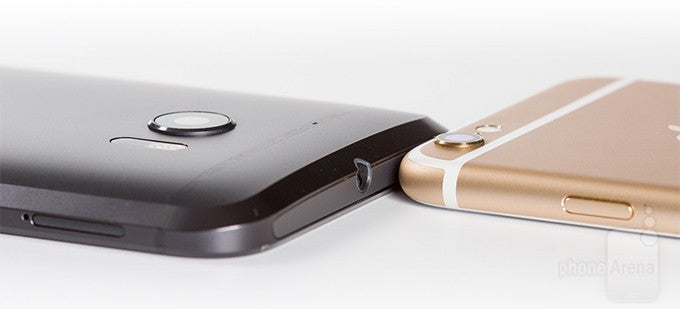 While metal may be becoming the new plastic, as even midrange phones from some makers come in aluminum or magnesium alloys these days, HTC and Apple have been making metal phones before it was the norm. Therefore, they didn't need to alter their design language to remain in the "premium" chassis segment. Granted, even the new chamfered edges of the aluminum rear on the HTC 10 can't help it become more stylish compared to the airy chassis of the iPhone 6s, simply because it is quite a bit larger and thicker.
Both phones sport touch finger scanners embedded in the home key underneath their displays, which are a breeze to operate. That same home key acts rather differently, though – on the iPhone 6s it is a physical button you can click down, while the HTC 10 uses a capacitive touch home, flanked by similar back and menu keys. The lock buttons and volume rockers on the phones' sides are a more standard fare, easy to feel and press, with responsive tactile feedback. HTC even added a toothed imprint on the power key for easier find when you search to press it without looking, which is a nice touch from practical standpoint.
Display
Brighter panel in the sun, more credible colors are on offer with the iPhone 6s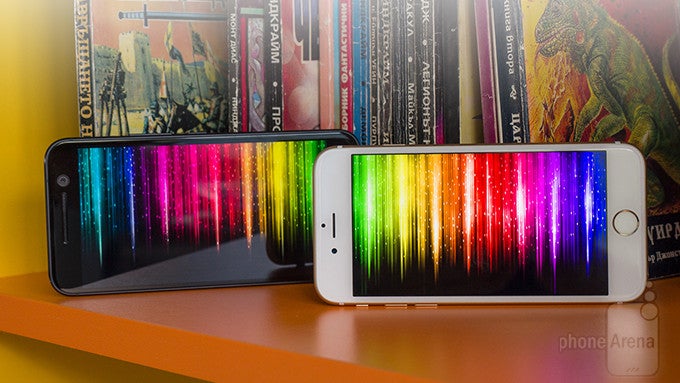 Both the HTC 10 and the iPhone 6s come with latest generation LCD displays, which, however, differ both in size and resolution. HTC offers a 5.2" 1440 x 2560 pixels Quad HD panel, while the iPhone 6s counts on a 4.7" display with 750 x 1334 pixels. Still, pixel density is not an issue with both, as the iPhone has a smaller diagonal, and letters as well as icon edges look smooth and crisp on both from a normal viewing distance.
When it comes to screen quality, the iPhone 6s has an almost spot-on color temperature and saturation, referenced to the standard sRGB gamut, while HTC 10 leans a bit towards the cold side of the spectrum, with a tad unnatural hues. Not quite a dealbreaker, but still.
The iPhone's brightness/screen reflection combo makes it the preferable choice for outdoor viewing. Moreover, the 6s offers a 3D Touch display that can distinguish between a light tap and a harder press, and react accordingly in both stock apps, as well as compatible third-party ones.
Display measurements and quality