HTC 10 vs Samsung Galaxy S7 edge
34

Introduction
We've come to know the
HTC 10
and the
Samsung Galaxy S7 edge
pretty well, and it's been our pleasure pretty much every step of the way. These are two of our favorite Android phones right now.
They're quite different, though. Real different, in fact. High and mighty, the Galaxy S7 edge continues along the tangent of established Samsung philosophy in terms of hardware and software design, and the same goes for struggling HTC and its flagship 10.
How do they differ, and can we conclude that one bests the other overall? Dig in to find out.
Design
Featuring an aluminum body, the HTC 10 is a sight to behold in a rather mannish type of way. It honestly feels like a man's tool, not a toy. It's also different from its predecessors, with capacitive navigation keys, and none of them front-firing BoomSound speakers.
If we were to extend the macho metaphor a little bit further, we could say that while the HTC 10 feels like your typical, American muscle-type car, while the Samsung Galaxy S7 edge is the slick, electrical BMW i8 that has a more futuristic, but also unisex appeal. A blend between glass and metal, the S7 edge is thinner and a bit lighter, but also bigger and offering perks such as IP68-certification, meaning it's dust-tight and water-resistant. While not as protected, the HTC 10 is at least splash-resistant.
When it comes to objective factors, such as ergonomics, we're conflicted. The S7 edge offers better grip due to the glass backplate, but it's also larger and the edge screens don't help ergonomics at all. The HTC 10 also has a nicely ridged power button on the right, and its volume rocker is more easily accessible. In comparison, reaching the volume keys on the S7 edge may be a bit of a stretch.
Display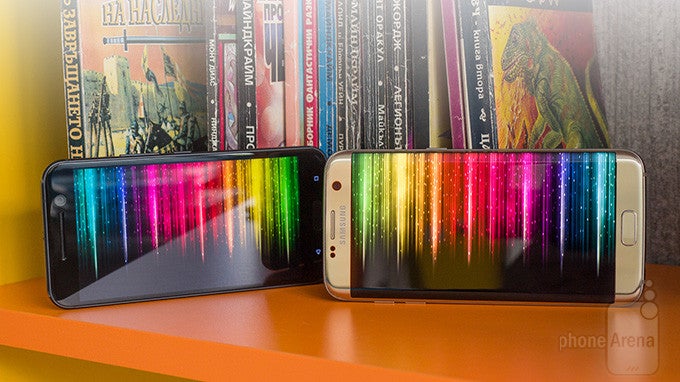 After years of sticking to smaller displays with lower resolutions than its rivals—which wasn't necessarily a bad thing—HTC is finally beefing up on the specs with the 10. Packing a 5.2-inch LCD display with a Quad HD (1440 x 2560) resolution, the HTC 10 nevertheless doesn't offer as much screen real estate as the the Galaxy S7 edge and its spacious, 5.5-inch AMOLED panel with the same pixel count. Rest assured that both provide an incredible level of detail – more so, in fact, than needed.
The Galaxy S7 edge wins out in terms of brightness —both at the top and low end. Peaking at over 490 nits and managing as little as 2 nits, Samsung's flagship overshadows the HTC 10, which is slightly dimmer when it has to be bright, and brighter when it has to be dim.
Finally, it ought to be mentioned that the Galaxy S7 edge has an Always-On display feature, meaning it will display information even when the phone is sleeping—information such as the time and date, or your calendar. However, since this drains the battery and is of questionable use, we're unwilling to shoot some extra points over to Samsung's camp over this one.
Display measurements and quality